'Fashion Police' Accused of Wage Theft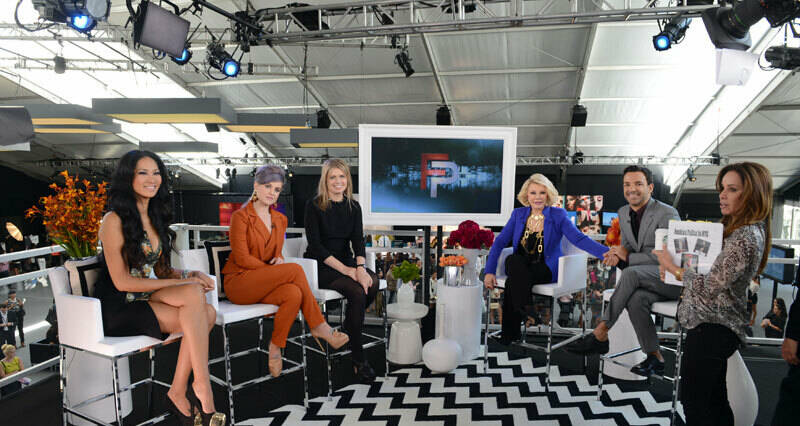 Joan Rivers spent years as a tele­vi­sion writer, includ­ing a stint on The Tonight Show. But this week, the pop­u­lar come­di­an is one of the tar­gets of a strike by TV writ­ers on the show Fash­ion Police, which Rivers co-hosts with Kel­ly Osbourne, Giu­liana Ran­cic and George Kot­siopou­los. (Her daugh­ter Melis­sa is exec­u­tive producer.)
Writ­ers on the E! Net­work show allege that their boss­es ignore Cal­i­for­nia wage-and-hour laws and have under­paid them by $1.5 mil­lion. Their strike, they say, will con­tin­ue until Fash­ion Police signs a Writ­ers Guild of Amer­i­ca con­tract, pro­vid­ing them with union pro­tec­tion and indus­try-stan­dard wages and benefits.
Tele­vi­sion jobs might seem glam­orous, but behind the scenes, writ­ers work long hours, and the glam­or fac­tor is often used to press them to stay silent about less-than-stel­lar con­di­tions on the job.
In the show, a spin-off of Rivers' pop­u­lar red-car­pet stints, she and her co-hosts dis­cuss celebri­ty fash­ion choic­es. While those cri­tiques may seem unscript­ed, there's a team of writ­ers behind the scenes per­fect­ing each snide remark and cut­ting take­down. Like many TV writ­ers and pro­duc­ers, the Fash­ion Police writ­ers say they work long hours, some­times pulling 16-hour shifts. Yet, accord­ing to the com­plaint they filed with Cal­i­for­ni­a's Divi­sion of Labor Stan­dards Enforce­ment, they don't get over­time pay, and their extra hours often go entire­ly uncompensated.
Not only is Rivers a co-host, but the writ­ers are employed by both E! and Rivers' pro­duc­tion com­pa­ny, Rug­by Pro­duc­tions. In a state­ment, Writ­ers Guild of Amer­i­ca West Pres­i­dent Chris Keyser said, ​"Through­out our his­to­ry, promi­nent mem­bers of the guild have stood up for their fel­low writ­ers to ensure they are treat­ed fair­ly and com­pen­sat­ed properly…Unfortunately, this has not been the case with Ms. Rivers."
The WGA is back­ing the strik­ers and has noti­fied its mem­bers that, under its Work­ing Rule 8, they are pro­hib­it­ed from writ­ing for the show while the strike continues.
The rise of real­i­ty TV and oth­er ​"non­fic­tion" tele­vi­sion pro­grams like Fash­ion Police has meant a shift in the work­ing con­di­tions for the writ­ers and pro­duc­ers who make them hap­pen. These shows appeal to exec­u­tives because they're rel­a­tive­ly cheap to pro­duce and often, like Fash­ion Police, non-union. Com­pared to rel­a­tive­ly well-com­pen­sat­ed posi­tions on union­ized script­ed dra­mas, the writ­ers and pro­duc­ers on cable pro­grams often labor in what have been called ​"white-col­lar sweat­shops." Yet a gig on a high-rat­ed show like Fash­ion Police is a step up the career lad­der for strug­gling work­ers in the enter­tain­ment field.
Giv­en this, if non-WGA writ­ers are approached to replace the strik­ers, they may be sore­ly tempt­ed, notes strik­er Eliza Skin­ner in a post on her blog. Skin­ner urges fel­low come­di­ans not to scab:
If you work the jobs when we're on strike the com­pa­ny has no rea­son to fix the sit­u­a­tion. If you are good enough to work the job now, you'll be good enough in a month. By that time, the pay rate for the exact same job could be 6 times as much. If you don't wait, it might nev­er get there.
In a com­pet­i­tive indus­try it can be hard to con­vince work­ers to stand togeth­er, and in rel­a­tive­ly high-end posi­tions that can seem like unat­tain­able dream jobs, it can be dif­fi­cult to con­vince work­ers to make demands of their employ­ers. Report­ing for Alter­Net in 2011, I spoke to a free­lance non­fic­tion TV pro­duc­er who called her job ​"a labor of love" and explained that such love of the job can con­vince writ­ers and pro­duc­ers to put in extra hours — but those extra hours quick­ly become the norm.
In an eco­nom­ic cli­mate in which all work­ers are told they should feel grate­ful just for employ­ment, jobs in the enter­tain­ment indus­try can seem like a lux­u­ry, but these shows make lots of mon­ey for net­work exec­u­tives. And, as WGAW's Keyser and WGAE pres­i­dent Michael Win­ship point out in a state­ment, the ​"writ­ers are an inte­gral part of that success."
This strike rep­re­sents an esca­la­tion in tac­tics as the guild push­es to orga­nize work­ers in this part of the sec­tor, and the work­ers fight to improve their con­di­tions. Their orga­niz­ing vic­to­ries hold lessons for those who would like to see oth­er high-sta­tus, high-stress, high-turnover white-col­lar jobs (such as those in tech­nol­o­gy) orga­nized. Though the enter­tain­ment indus­try in Los Ange­les has an unusu­al degree of union­iza­tion, giv­ing the WGA pow­er that unions don't have in oth­er fields, the Fash­ion Police exam­ple still pro­vides a mod­el for young, ambi­tious, white-col­lar ​"cre­ative" work­ers seek­ing to orga­nize and take col­lec­tive action.
As Eliza Skin­ner wrote, ​"We're fight­ing not just for our jobs, but for future writ­ers too. That is you, future writer."
Sarah Jaffe
is a for­mer staff writer at
In These Times
and author of
Nec­es­sary Trou­ble: Amer­i­cans in Revolt
, which Robin D.G. Kel­ley called ​
"
The most com­pelling social and polit­i­cal por­trait of our age." You can fol­low her on Twit­ter
@sarahljaffe
.