For Fast-Food Strikers in New York, It's About 'Moral Values'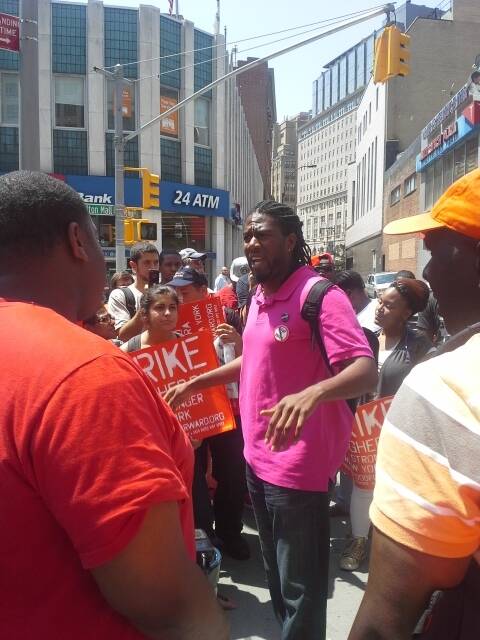 When the 40-odd workers and supporters arrived at the McDonald's on Court Street in downtown Brooklyn, a barricade was already set up. The march from the Wendy's at 425 Fulton Street — already a familiar target of the Fast Food Forward campaign — to the McDonald's, only took a few minutes, but the police were already testy in the heat.
Against a background of chants, from the now-famous ​"We can't survive on $7.25" to ​"If we don't get it, shut it down!", minister and City Council candidate Kirsten John Foy told Working In These Times, ​"It's a moral disgrace and an outrage that in 2013 the conversation about economic and social justice isn't just about collective bargaining, it's about stopping wage theft."
Like the ​"Moral Monday" protesters in North Carolina and the Dream Defenders' capitol occupation in Florida, Foy notes, the fast food campaign is taking back the language of moral values. ​"After 20 or 30 years of the conservative right putting their stamp on so-called moral values, we are reframing the debate around economic morality and social morality. Morality is about more than just life and death, it's about quality of life."
Kareem Starks, who works at the 24-hour McDonald's on Meeker St. in Brooklyn, worked all night on Sunday before setting off on the march. ​"I still haven't slept," he says at 1:30 on Monday.
This is the first time Starks has joined in the strikes, and to him, it feels big, like a real movement with coordinated actions with other workers across the country. He says that most of his coworkers are too scared to strike, but he decided he had to after a recent incident drove home for him how little he meant to his bosses.
His son's graduation from kindergarten was coming up, and he wanted to take his kids out for dinner to celebrate. He told his general manager, he says, and the manager said he'd try to get him some extra hours so he could make some extra money. But, Starks says, although he was called in on his day off, he was sent home early every other night of the week.
​"So at the end of the week when I got my paycheck, it was only 28 hours," says Starks. ​"How do I work six days and only get 28 hours? You basically used me to do your dirty work. That's not cool to me. You're taking away from my kids."
​"That's one of the reasons I felt like I had to come out here and speak up, because it happens all the time," he continues. ​"It's not just a situation with me. There's other people across the country going through the same exact nonsense and it needs to stop."
The real question on the minds of most observers of the fast food strikes, as they've grown and spread around the country, is, of course, ​"How do they win?" Many of the workers are probably asking themselves that question, too. McDonald's, in particular, has been the focus of plenty of bad press lately, from its use of payroll debit cards to its recent budgeting video that tacitly admits that its workers don't make enough to survive. But the company certainly shows no signs of cracking, even as New York mayoral candidates and members of Congress show up to protest on its doorstep.
A federal minimum wage increase would certainly be a victory workers could claim. Here in New York, a state increase passed this year against the predictions of many who thought Governor Andrew Cuomo wouldn't push for it.
But minimum wage increases alone won't solve the problems workers face, from wage theft to more personal, private abuses like Starks' situation. Legal protections for workers are almost always only as powerful as the collective clout of the workers they protect. Wage theft is illegal, yet happens constantly. Without a union, will any legal and legislative wins matter?
The supposed protector of workers' right to unionize, the National Labor Relations Board, recent nominations notwithstanding, has been broken a long time. A win for the fast-food workers would all but certainly look very different than voting in an NLRB election for union certification. In many ways, the workers are already acting like a union, though they don't have a majority in any particular shop. This week's actions in New York were the result of a strike vote by the organizing committee.
New York led the country in the fast food strikes. The movement here, Fast Food Forward, sprang up last fall as a collaboration between New York Communities for Change and the Service Employees International Union, and that pattern would be replicated in other states, with community groups or workers centers pairing with the union. This week's coordinated actions make it clear that this is one nationwide campaign, and it's escalating.
Yet labor campaigns are always local fights. The culture and tenor of a city shapes them: how they play out, who supports them, what their endgame is. And so it's worth noting that the fast food actions have become somewhat of a campaign event for New York's elected officials and would-be electeds, in the shadow of the mayor's race. This year will see the mayor's office change hands for the first time in 12 years, and the Democrats jostling for position nearly all see workers' issues as winning issues in a city that's become unaffordable for many of the people who make it run.
A new mayor and an activist city council could do a lot to make life better for these workers, but even elected officials cannot force companies to recognize a union. They too become simply community members showing up to give support, albeit community members who have a little bit more sway with the police and who may be taken more seriously by the bosses.
While it's almost comical how many politicians want to be seen supporting the fast food campaign now, City Councilmember Jumaane Williams has been there from the start. He jokes, ​"Last year, I accidentally sparked a little boycott at this Wendy's" — when a worker was fired after the first round of strikes last November, Williams famously pulled up to the sidewalk, tossed his car keys to an organizer, and headed into the store to lead chants until he and the rest of the crowd were moved to the sidewalk by the police. There they stayed until the manager agreed to take their worker back.
Today, when the manager on duty at that same Wendy's refused to let workers and supporters in the door to deliver a letter declaring their strike, Williams joined workers in ducking down an alley to get into the store through the back.
​"We knew it was going to be a long battle," Williams says. ​"But these are multibillion-dollar corporations, not mom-and-pop shops. They can afford a raise. It's clearly about greed."
Leading the chants in front of the Wendy's, he declared, ​"We're gonna get louder!"
For a limited time: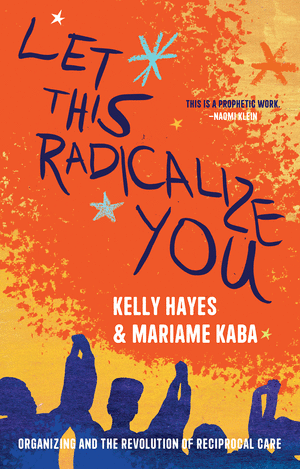 Donate $20 or more to support In These Times and we'll send you a copy of Mariame Kaba's new book, Let This Radicalize You.
Longtime organizers and movement educators Mariame Kaba and Kelly Hayes examine the political lessons of the Covid-19 pandemic, and the convergence of mass protest and mass formations of mutual aid. Featuring insights from a spectrum of experienced organizers, including Sharon Lungo, Carlos Saavedra, Ejeris Dixon, Barbara Ransby, and Ruth Wilson Gilmore and more.
"Kelly Hayes and Mariame Kaba have created a visionary and urgently needed guide to cultivating hope and action in treacherous times." —L.A. Kauffman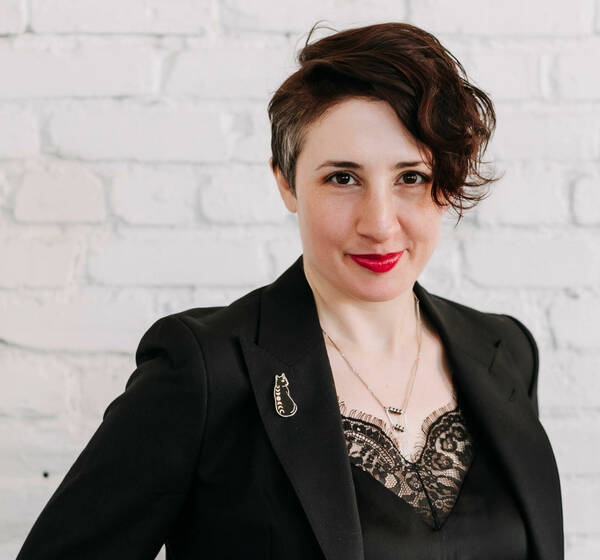 Sarah Jaffe is a Type Media Center Fellow, co-host (with Michelle Chen) of Dissent magazine's Belabored podcast, and a columnist at The Progressive. She was formerly a staff writer at In These Times and the labor editor at AlterNet. Her previous books are Work Won't Love You Back: How Devotion to Our Jobs Keeps Us Exploited, Exhausted and Alone and Necessary Trouble: Americans in Revolt, which Robin D.G. Kelley called ​"The most compelling social and political portrait of our age." You can follow her on Twitter @sarahljaffe.