Fast Food Workers in 236 Cities Pull Off Largest Strikes Yet as Other Low-wage Workers Join Fight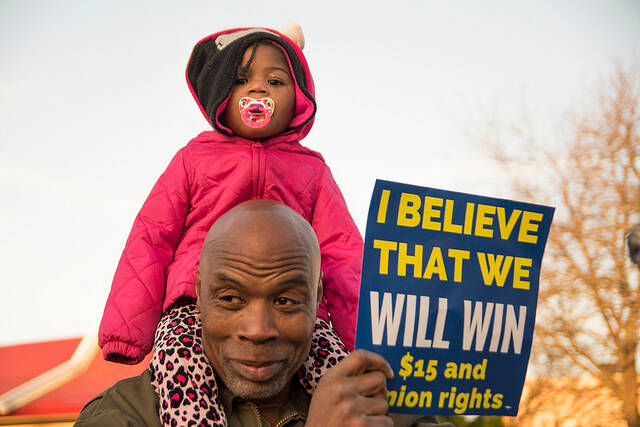 A hand-let­tered plac­ard, read­ing ​"McDonald's: Stop Fool­ing Around, $15 and a union," caught the spir­it of the crowd of at least 3,000 pro­tes­tors in Chica­go for a march to a McDonald's restau­rant in the down­town Loop area con­nect­ed to the Chica­go Board of Trade. In 236 cities in the U.S. and rough­ly 100 more around the world from Sao Paulo to New Zealand and from Glas­gow to Tokyo, accord­ing to protest spokes­peo­ple, fast food and oth­er low-wage work­ers joined togeth­er to pres­sure employ­ers like McDonald's to raise their work­ers' pay.
Orga­niz­ers claimed that it was the largest protest by low-wage work­ers in U.S. his­to­ry. And it may very well rank as one of the broad­est glob­al work­er protests ever under­tak­en against multi­na­tion­al cor­po­ra­tions — one rein­forced by recent inves­ti­ga­tions and law­suits in Europe against the com­pa­ny for vio­la­tions of labor, health, safe­ty, tax and oth­er laws.
With its intense pub­lic rela­tions cam­paign, the cam­paign ampli­fies the actions of fast food work­ers — some of whom walk off their assigned shifts as in a tra­di­tion­al strike. For brand-sen­si­tive con­sumer prod­uct com­pa­nies, many orga­niz­ers believe, such bad pub­lic­i­ty can cost com­pa­nies great­ly — and poten­tial­ly open up new orga­niz­ing possibilities.
These protests have also changed the polit­i­cal cli­mate, both local­ly and nation­al­ly. Seat­tle and Sea-Tac in Wash­ing­ton and San Fran­cis­co have raised their min­i­mum to $15 an hour. The same change may be pos­si­ble some­time soon in both Los Ange­les and the Dis­trict of Colum­bia. In Chica­go, polit­i­cal­ly embat­tled May­or Rahm Emanuel agreed under polit­i­cal pres­sure to raise the min­i­mum to $13 over sev­er­al years — far above what he would have con­tem­plat­ed a short while ago. The move­ment is like­ly to keep pres­sure over the com­ing year on Demo­c­ra­t­ic can­di­dates, even pres­i­den­tial aspi­rant Hillary Clin­ton, to advo­cate the high­er pay levels.
Some estab­lished unions have played key roles in build­ing this move­ment over the past two and a half years, most notably the Ser­vice Employ­ees Inter­na­tion­al Union — which has large­ly staffed and bankrolled the Fight for $15, but also by unions such as the Unit­ed Food and Com­mer­cial Work­ers, the ini­tia­tor of OUR­Wal­mart, and in Chica­go, the small but mil­i­tant Unit­ed Elec­tri­cal Work­ers, who found­ed Ware­house Work­ers for Jus­tice. WWJ mem­bers — includ­ing some from a warehouse/​assembly plant in the Chica­go sub­urbs that makes paper cups for McDonald's — joined in the April 15 rally.
The ranks of the April 15 ral­ly expand­ed with the par­tic­i­pa­tion of work­ers from many indus­tries beyond fast foods, such as home care and day care work­ers, stu­dent and col­lege cam­pus work­ers, air­port work­ers and many more (many of them exist­ing or poten­tial SEIU mem­bers). Rais­ing the min­i­mum to $15 an hour would help near­ly all of them. But con­di­tions for work­ers in many of these low-wage indus­tries are also wors­ened by man­age­ment prac­tices, such as employ­ing many part-time work­ers, some of whom have errat­ic sched­ules and income.
For exam­ple, full-time UPS work­ers typ­i­cal­ly start at around $18 an hour, but part-timers usu­al­ly make only around $11 an hour, even though they all belong to the Team­sters union. Indeed, as the Fight for $15 move­ment expands, it is pick­ing up sup­port from many work­ers who have low-wages despite hav­ing union con­tracts. Even start­ing assem­bly work­ers or parts plant work­ers in a tra­di­tion­al­ly high-wage and union­ized indus­try such as auto­mo­bile man­u­fac­tur­ing would ben­e­fit from set­ting a $15 bench­mark for pay.
Dar­rel Tuck­er, 52, start­ed work part-time for UPS at $8 an hour in New York when he was recruit­ed by a temp agency from his tem­po­rary home in a shel­ter. Now he has advanced to a full-time slot at close to $19 an hour. ​"One of the rea­sons I'm involved is I under­stand what it's like to strug­gle to make ends meet," he says, although he still relies on pub­licly sub­si­dized hous­ing in high-rent New York.
Indeed, one of the rea­sons that the demon­stra­tion was called on ​"Tax Day" was to empha­size how much low-wage work­ers rely on pub­lic ser­vices pro­vid­ed by tax­pay­ers as a result of employ­ers, such as McDonald's, not pay­ing ade­quate­ly, as a recent report from the Uni­ver­si­ty of Cal­i­for­nia at Berke­ley revealed.
Work should pay enough for a decent life, SEIU pres­i­dent Mary Kay Hen­ry said at an ear­ly morn­ing protest in the San Fran­cis­co bay area, and protest­ing work­ers found allies join­ing them in mutu­al sup­port from reli­gious groups, com­mu­ni­ty orga­ni­za­tions, and social jus­tice move­ments, such as #Black­Lives­Mat­ter.
Tim Sylvester, pres­i­dent of Tucker's Local 804 of the Team­sters and a can­di­date for the inter­na­tion­al union pres­i­den­cy, says he encour­aged his mem­bers to par­tic­i­pate on April 15 because ​"mem­ber-to-mem­ber mobi­liza­tion is the best way to show cor­po­ra­tions we have the power."
Fight for $15 is still large­ly a move­ment of work­ers with­out a for­mal and legal­ly rec­og­nized union struc­ture. But they are a union in deed if not name by virtue of their direct, col­lec­tive actions and their ideas. Indeed, their dar­ing act of set­ting what seemed an implau­si­ble goal of vir­tu­al­ly dou­bling most of the country's base wage in one giant leap, not with timid incre­men­tal steps, inspired work­ers around the country.
The worst-paid work­ers in Amer­i­ca have been the main­ly silent and most extreme vic­tims of the ris­ing inequal­i­ty and wage stag­na­tion for the past 40 years in Amer­i­ca. Their occu­pa­tions have also been — and are pro­ject­ed to be — the fastest grow­ing part of the work­force. Accord­ing to recent research by the Nation­al Employ­ment Law Project, around 42 per­cent of all work­ers earn less than $15 an hour.
Dis­pro­por­tion­ate­ly young, female and peo­ple of col­or, they are both the least union­ized work­ers in the coun­try and typ­i­cal­ly the most sym­pa­thet­ic to the idea of form­ing a union, even if they have lit­tle direct expe­ri­ence with orga­nized labor. They have also long been seen as a flu­id, unsta­ble work­force that would be extreme­ly dif­fi­cult to organize.
But many have shown that they are will­ing to act, even if they don't have a major­i­ty with them, and through those actions win sup­port not only from co-work­ers but also from the gen­er­al pub­lic. They are putting the pas­sion and impul­sive­ness of youth behind a moral project that has inspired wide­spread recog­ni­tion of the legit­i­ma­cy of their demands.
They have had to over­come the skep­ti­cism of many and the inac­cu­rate dis­missal of their work as sim­ply tem­po­rary, unskilled, and teen-ager, entry-lev­el work that didn't deserve decent wages. For exam­ple, one ex-mil­i­tary col­league of Tucker's said that McDonald's work­ers should not be paid wages that would be high­er than many more expe­ri­enced and skilled work­ers, espe­cial­ly since many of them couldn't even take his order correctly.
But don't tell that to Nan­cy Sal­ga­do, 28, sin­gle moth­er and col­lege stu­dent study­ing psy­chol­o­gy, and a long-time McDonald's work­er in Chica­go. She wit­nessed how ​"year after year the cor­po­ra­tion makes lots of mon­ey but work­ers don't. So you don't notice it when you're liv­ing in your own lit­tle world. But see­ing oth­er work­ers and under­stand­ing their strug­gle is my strength. After all, $15 an hour is not a rich life, just a way to pay the rent and bills."
For many years, there has been a wide­spread sen­ti­ment that fast-food and oth­er low-wage ser­vice work­ers would be impos­si­ble to orga­nize. SEIU, lat­er AFSCME, and a few oth­er unions have made progress, espe­cial­ly with those whose pay comes from gov­ern­ment sources (such as home health care givers). Serendip­i­tous­ly, on April 15, Good Jobs Nation was also for­mal­ly demand­ing that Con­gress act on the fed­er­al government's shame­ful record as the largest direct or indi­rect employ­er of low-wage work­ers in the coun­try, as huge num­bers of its con­trac­tors pay min­i­mum wage.
The ques­tion is still open for debate in the pri­vate sec­tor. For exam­ple, the Com­mu­ni­ca­tions Work­ers have start­ed a dri­ve to orga­nize bank work­ers, whose jobs are unsta­ble and poor­ly paid in the U.S., but union­ized, more skilled and much bet­ter paid rel­a­tive to nation­al stan­dards through­out most of the world. Yet it is unques­tion­ably dif­fi­cult in the U.S. as the long-run­ning cam­paign of the UFCW to orga­nize Wal­mart has found.
Orga­niz­ers are by neces­si­ty wild­ly hope­ful and pre­pared for the worst at the same time. One con­tin­u­ing ques­tion aris­es about cam­paigns such as Fight for $15: Can the labor move­ment make the con­ver­sion from a pop­ulist move­ment to a self-sus­tain­ing work­place orga­ni­za­tion? Is there an ​"endgame" to the very effec­tive but also very expen­sive cam­paign, an endgame that results in union­iza­tion? That, after all, is the oft-for­got­ten half of the Fight for $15 — and a Union (with­out man­age­ment interference).
"A union is very impor­tant," Sal­ga­do says. ​"We're not only fight­ing for $15 an hour but also to form a union with­out retal­i­a­tion. Hav­ing mon­ey with­out a union means we're still not pro­tect­ed, because we don't have any secu­ri­ty." She expects McDonald's to fight back, but says the recent raise won't fool many work­ers. ​"They're just try­ing to calm us down."
Sal­ga­do is not eas­i­ly calmed part­ly because she rec­og­nizes that even after she grad­u­ates from col­lege, she might still have dif­fi­cul­ty find­ing a job in her cho­sen field and may have to rely on jobs like those at McDonald's. And the mutu­al sup­port she found in the move­ment helps to give her greater under­stand­ing of the impor­tance of what she and oth­ers are doing.
"We're all lead­ers in this fight," she says. ​"We are all com­mit­ted to change our lives."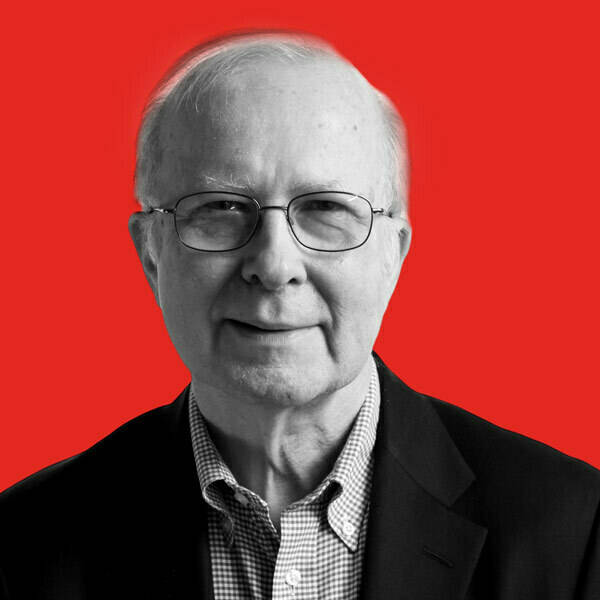 David Moberg, a senior edi­tor of In These Times, has been on the staff of the mag­a­zine since it began pub­lish­ing in 1976. Before join­ing In These Times, he com­plet­ed his work for a Ph.D. in anthro­pol­o­gy at the Uni­ver­si­ty of Chica­go and worked for Newsweek. He has received fel­low­ships from the John D. and Cather­ine T. MacArthur Foun­da­tion and the Nation Insti­tute for research on the new glob­al economy.