Fight for $15 and the Movement for Black Lives Join Forces on the Anniversary of MLK's Assassination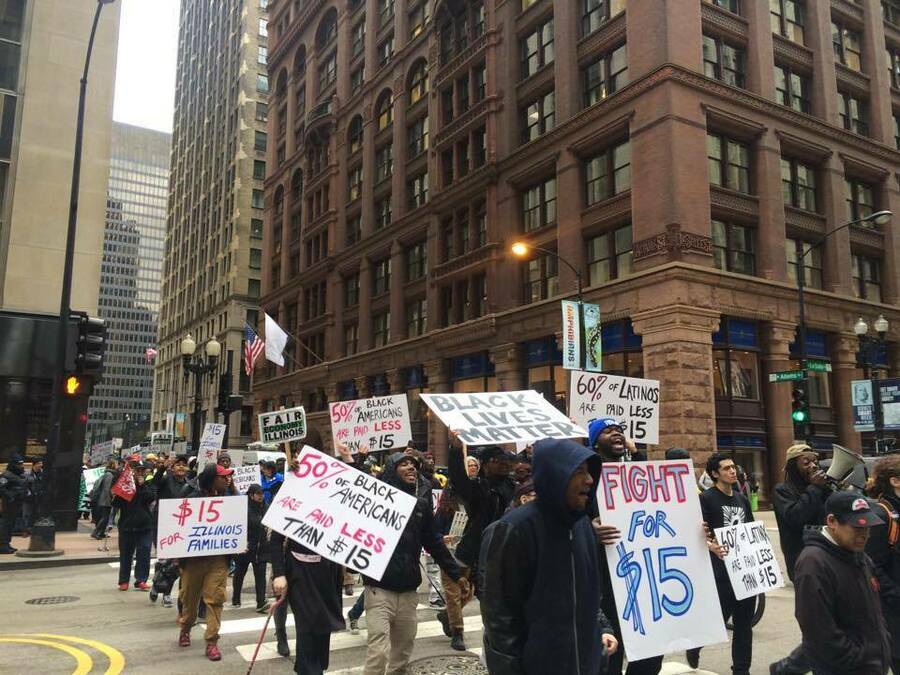 "Today, we are still fighting for King's dream," Parrish Thomas, a father and fast-food worker, told a crowd at Chicago's Federal Plaza.
He and dozens of others gathered Tuesday on the 49th anniversary of the assassination of Martin Luther King, Jr. as part of a nationwide day of action to fight for King's vision of racial and economic justice. The protests, which took place in some two dozen cities, were put together by the Movement for Black Lives and the Fight for $15 campaign — two of the nation's most powerful political movements — and mark the groups' first national joint action.
"I had to take up another job at KFC in addition to my job at Popeyes because I wasn't making enough at just one job," said Thomas. He spoke about the cycle of poverty in his family — about how his single mother had to work overtime for little pay to support her family, and how he now has to do the same to support his 1-year-old daughter. ​"If I don't fry the chicken, these corporations wouldn't make any profit, but I'm still not making a living wage."
Protesters rallied at three locations in Chicago: Federal Plaza, a McDonald's at the intersection of Adams Street and Wells Street, and the Illinois Policy Institute, a right-wing policy research organization, located in the heart of the financial district. At each place, members from Fair Economy Illinois, Black Lives Matter (BLM) Chicago, Fight for $15 and a community advocacy group called ONE Northside spoke about the history and legacy of King's assassination in the context of current organizing. Among those who shared their stories were fast-food workers and faith leaders.
In addition to targeting President Donald Trump, the Chicago action also specifically called out Illinois Gov. Bruce Rauner. The governor has a history of making anti-union moves and has been in negotiations with the state's largest public sector employees' union, the American Federation of State, County and Municipal Employees (AFSCME), for almost two years.
The protestors ranged from teenagers to senior citizens, and most were people of color. According to a report by the National Employment Law Project, Black, Latino, and female workers are overrepresented in the segment of the population that makes less than $15 an hour, with more than half of Black Americans and almost 60 percent of Latinos making less than this amount.
"I have to work for $10.25 an hour inside the shop, but I spend most of my time at work outside of the shop making deliveries for only $5.95 an hour," said Tarnarei Carter, 19, who works for Domino's Pizza, and is part Fight for $15. ​"Corporations like McDonald's make billions of dollars in profit while its workers live in poverty." She pointed to the company's golden arches behind her and shouted, ​"Hold your burger, hold your fries; make MY wage supersized!"
Similar actions and teach-ins were organized all around the country in at least two dozen cities including Memphis, Atlanta, Milwaukee, Denver and Boston. In Memphis, workers, civil rights leaders, and politicians marched on and held a memorial at the Lorraine Motel, where King was killed on April 4, 1968. At the time, he'd been visiting Memphis to support and attend a march in solidarity with the city's striking sanitation workers. The strike came on the heels of the deaths of two garbage collectors, Echol Cole and Robert Walker, who were crushed to death by a malfunctioning garbage truck. After their deaths, workers voted to strike.
"Poverty is violence, and over 300,000 people in Chicago are living in deep poverty," BLM Chicago organizer Kofi Ademola said at the protest. ​"The struggles against white supremacy and capitalism have always been intertwined."
Maha Ahmed
is a managing editor at
South Side Weekly
and was a Summer
2016
editorial intern at
In These Times
. She studies sociology and public policy at the University of Chicago and will graduate in
2017
.