Fight for $15 and the Movement for Black Lives Join Forces on the Anniversary of MLK's Assassination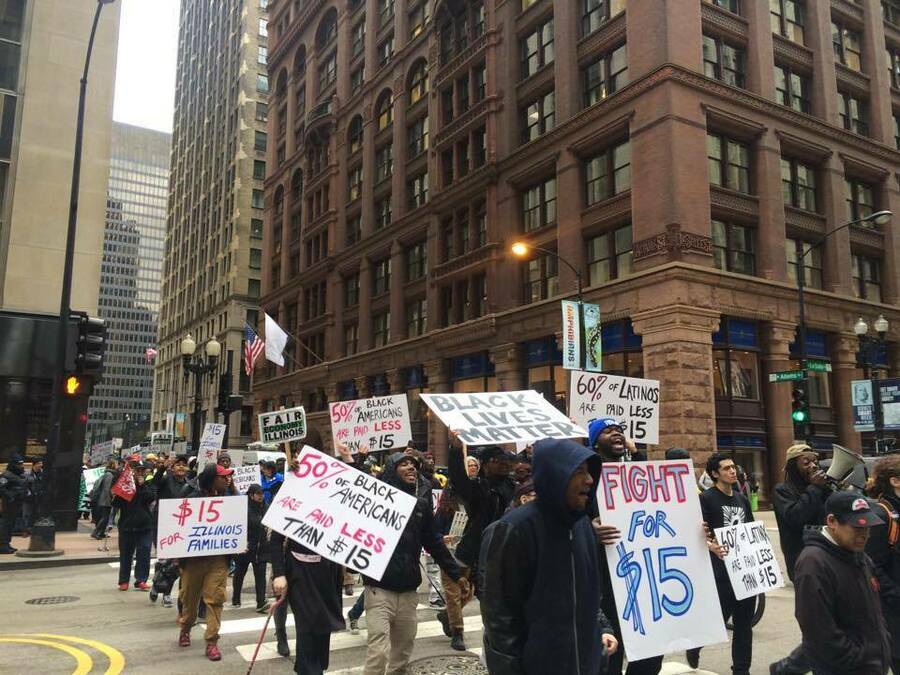 "Today, we are still fight­ing for King's dream," Par­rish Thomas, a father and fast-food work­er, told a crowd at Chicago's Fed­er­al Plaza.
He and dozens of oth­ers gath­ered Tues­day on the 49th anniver­sary of the assas­si­na­tion of Mar­tin Luther King, Jr. as part of a nation­wide day of action to fight for King's vision of racial and eco­nom­ic jus­tice. The protests, which took place in some two dozen cities, were put togeth­er by the Move­ment for Black Lives and the Fight for $15 cam­paign — two of the nation's most pow­er­ful polit­i­cal move­ments — and mark the groups' first nation­al joint action.
"I had to take up anoth­er job at KFC in addi­tion to my job at Popeyes because I wasn't mak­ing enough at just one job," said Thomas. He spoke about the cycle of pover­ty in his fam­i­ly — about how his sin­gle moth­er had to work over­time for lit­tle pay to sup­port her fam­i­ly, and how he now has to do the same to sup­port his 1‑year-old daugh­ter. ​"If I don't fry the chick­en, these cor­po­ra­tions wouldn't make any prof­it, but I'm still not mak­ing a liv­ing wage."
Pro­test­ers ral­lied at three loca­tions in Chica­go: Fed­er­al Plaza, a McDonald's at the inter­sec­tion of Adams Street and Wells Street, and the Illi­nois Pol­i­cy Insti­tute, a right-wing pol­i­cy research orga­ni­za­tion, locat­ed in the heart of the finan­cial dis­trict. At each place, mem­bers from Fair Econ­o­my Illi­nois, Black Lives Mat­ter (BLM) Chica­go, Fight for $15 and a com­mu­ni­ty advo­ca­cy group called ONE North­side spoke about the his­to­ry and lega­cy of King's assas­si­na­tion in the con­text of cur­rent orga­niz­ing. Among those who shared their sto­ries were fast-food work­ers and faith leaders.
In addi­tion to tar­get­ing Pres­i­dent Don­ald Trump, the Chica­go action also specif­i­cal­ly called out Illi­nois Gov. Bruce Rauner. The gov­er­nor has a his­to­ry of mak­ing anti-union moves and has been in nego­ti­a­tions with the state's largest pub­lic sec­tor employ­ees' union, the Amer­i­can Fed­er­a­tion of State, Coun­ty and Munic­i­pal Employ­ees (AFSCME), for almost two years.
The pro­tes­tors ranged from teenagers to senior cit­i­zens, and most were peo­ple of col­or. Accord­ing to a report by the Nation­al Employ­ment Law Project, Black, Lati­no, and female work­ers are over­rep­re­sent­ed in the seg­ment of the pop­u­la­tion that makes less than $15 an hour, with more than half of Black Amer­i­cans and almost 60 per­cent of Lati­nos mak­ing less than this amount.
"I have to work for $10.25 an hour inside the shop, but I spend most of my time at work out­side of the shop mak­ing deliv­er­ies for only $5.95 an hour," said Tarnarei Carter, 19, who works for Domino's Piz­za, and is part Fight for $15. ​"Cor­po­ra­tions like McDonald's make bil­lions of dol­lars in prof­it while its work­ers live in pover­ty." She point­ed to the company's gold­en arch­es behind her and shout­ed, ​"Hold your burg­er, hold your fries; make MY wage supersized!"
Sim­i­lar actions and teach-ins were orga­nized all around the coun­try in at least two dozen cities includ­ing Mem­phis, Atlanta, Mil­wau­kee, Den­ver and Boston. In Mem­phis, work­ers, civ­il rights lead­ers, and politi­cians marched on and held a memo­r­i­al at the Lor­raine Motel, where King was killed on April 4, 1968. At the time, he'd been vis­it­ing Mem­phis to sup­port and attend a march in sol­i­dar­i­ty with the city's strik­ing san­i­ta­tion work­ers. The strike came on the heels of the deaths of two garbage col­lec­tors, Echol Cole and Robert Walk­er, who were crushed to death by a mal­func­tion­ing garbage truck. After their deaths, work­ers vot­ed to strike.
"Pover­ty is vio­lence, and over 300,000 peo­ple in Chica­go are liv­ing in deep pover­ty," BLM Chica­go orga­niz­er Kofi Ade­mo­la said at the protest. ​"The strug­gles against white suprema­cy and cap­i­tal­ism have always been intertwined."
Maha Ahmed
is a man­ag­ing edi­tor at
South Side Week­ly
and was a Sum­mer
2016
edi­to­r­i­al intern at
In These Times
. She stud­ies soci­ol­o­gy and pub­lic pol­i­cy at the Uni­ver­si­ty of Chica­go and will grad­u­ate in
2017
.