What "TIFs" Are and How They Averted the Chicago Teachers Union Strike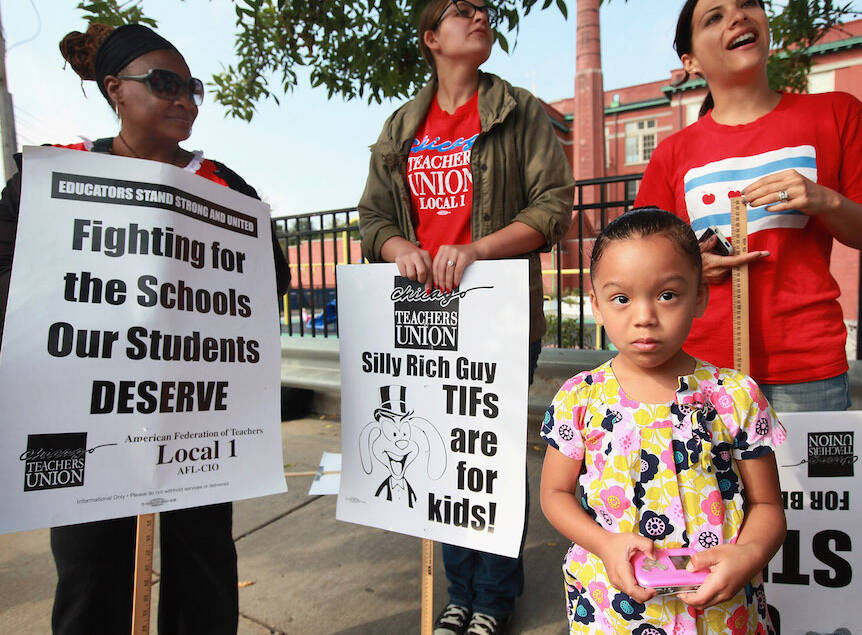 For four months, In These Times has worked with CivicLab's TIF Illu­mi­na­tion Project on a nation­wide inves­ti­ga­tion of tax incre­ment financ­ing (TIFs) — a wide­spread and lit­tle-under­stood tool to divert pub­lic funds to devel­op­ment projects. This is the first in a series of reports.
Late Mon­day evening, the Chica­go Teach­ers Union (CTU) tweet­ed that only one thing could avert the city­wide strike — its sec­ond in four years — sched­uled for the next day: ​"We're ask­ing for $500/​student for resources. Until the may­or decides to pro­vide from TIFs, nego­ti­a­tions continue."
A few min­utes before mid­night, CTU Pres­i­dent Karen Lewis announced at a press con­fer­ence that a ten­ta­tive agree­ment had been reached and the strike was off. Asked by a reporter whether May­or Rahm Emanuel had indeed agreed to release tax incre­ment financ­ing, or TIF, funds to the schools, Lewis said with a smile, ​"Well, it's not in the con­tract, but there are rumors…"
It seemed that indeed, the may­or had ​"decid­ed to pro­vide from TIFs." Lat­er, a may­oral spokeper­son con­firmed to WBEZ that Emanuel was releas­ing $88 mil­lion in TIF mon­ey to schools, far less than would be need­ed to fund the CTU's demand of an addi­tion­al $500 per pupil.
What are TIFs, and how did this obscure and shad­owy pub­lic financ­ing tool become cen­tral to the bat­tle over the future of Chica­go pub­lic schools?
On Sep­tem­ber 29, rough­ly a month after the city laid off more than 1,000 CPS employ­ees as a cost-cut­ting mea­sure, the CTU issued a 10-day notice of intent to strike. At issue was mon­ey: The city had pledged to cap the CPS bud­get for fis­cal year 2017 at $5.4 bil­lion — a $300 mil­lion reduc­tion from the pre­vi­ous year. In addi­tion to the lay­offs, the city was push­ing for numer­ous con­tract con­ces­sions to keep costs down, includ­ing increased health­care costs for teach­ers and cuts to spe­cial edu­ca­tion services.
The blame game when it comes to pub­lic edu­ca­tion fund­ing in Chica­go is a messy one. City offi­cials claim that Chica­go gets the short end of the stick com­pared to many dis­tricts down­state. They have been going back and forth with leg­is­la­tors in Spring­field to secure addi­tion­al fund­ing for fis­cal year 2017.
While acknowl­edg­ing the role of the state, the CTU cites the city's diver­sion of funds from schools to ​"pet projects" as evi­dence that the city is not broke — but rather, that May­or Rahm Emanuel sim­ply isn't pri­or­i­tiz­ing pub­lic school funding.
"Pet projects" is where TIFs enter the pic­ture. TIF dis­tricts have a bad rep­u­ta­tion in Chica­go, and for good rea­son. On paper, TIFs are a tool for cities to fun­nel prop­er­ty tax rev­enue into ​"blight­ed" areas that need eco­nom­ic invest­ment. In real­i­ty, accord­ing to an In These Times/​CivicLab inves­ti­ga­tion, almost half of Chica­go TIF mon­ey goes toward high-end devel­op­ment in the cen­tral busi­ness dis­trict down­town. Crit­ics argue that many TIF projects, like May­or Emanuel's con­tro­ver­sial plan to invest $55 mil­lion in a bas­ket­ball are­na for DePaul Uni­ver­si­ty, serve cor­po­rate rather than pub­lic interests.
But in these ​"cor­po­rate slush funds," as oppo­nents call them, pro­gres­sive city coun­cil mem­bers saw the poten­tial to invest in Chicago's schools and resolve the con­tract nego­ti­a­tions. On July 20, with CTU's backing,12th Ward Ald. George Car­de­nas and 10th Ward Ald. Susan Garza pro­posed the Chica­go Pub­lic Edu­ca­tion Revi­tal­iza­tion Ordi­nance to release TIF sur­plus mon­ey to the schools. Alder­men not­ed that the may­or could uni­lat­er­al­ly do the same with an exec­u­tive order, if he so chose. On Fri­day, sev­er­al par­ents spoke at city hall, call­ing on Emanuel and city coun­cil to release the TIF funds and pre­vent a strike.
"When our schools are in a cri­sis and lay­ing off hun­dreds of peo­ple, it becomes hard­er and hard­er to defend a DePaul sta­di­um or a gleam­ing high-rise down­town," says CTU Vice Pres­i­dent Jesse Sharkey.
The math on TIFs
In Chica­go, rough­ly 53 cents of each dol­lar in prop­er­ty tax­es is ear­marked for CPS. But when a TIF dis­trict is cre­at­ed, any increas­es in prop­er­ty tax rev­enue — from, say, new devel­op­ments or ris­ing prop­er­ty val­ues — are divert­ed to the TIF. Schools see no mon­ey from that prop­er­ty tax growth; instead, the entire dol­lar goes toward the TIF project, typ­i­cal­ly to pay pri­vate devel­op­ers. In These Times found that in 2015 alone, about $177 mil­lion that would have gone to CPS was siphoned off by TIFs around the city.
Accord­ing to Cook Coun­ty Clerk David Orr, the city declared a $116 mil­lion TIF sur­plus as of July 2016 — mon­ey sit­ting in TIF funds and not com­mit­ted to any project. There may be even more uncom­mit­ted TIF mon­ey sim­ply lying around. Orr not­ed that the city did­n't dis­close how it arrived at this fig­ure and ​"it's not clear which TIFs con­tributed to this sur­plus." Accord­ing to an In These Times/​Civi­cLab analy­sis, the total bal­ance in Chica­go TIF accounts at the end of 2015 was more than $1.3 billion.
The Chica­go Pub­lic Edu­ca­tion Revi­tal­iza­tion Ordi­nance man­dates that the city trans­par­ent­ly cal­cu­late the annu­al TIF sur­plus, then release the school's share of the sur­plus tax­es (rough­ly 53 per­cent) back to CPS. Car­de­nas tells In These Times that a new ver­sion of the pro­pos­al being draft­ed in com­mit­tee would devote an addi­tion­al 20 per­cent of the TIF sur­plus to CPS dur­ing par­tic­u­lar­ly ​"dis­tressed" times for the school district.
In addi­tion to being led by the Pro­gres­sive Reform Cau­cus, of which Alder­woman Garza is a part, the bill has the sup­port of the CTU and was draft­ed in con­sul­ta­tion with CTU mem­bers. Garza has been a CPS employ­ee since 1996 and is a mem­ber of the CTU. The union has been call­ing for the fun­nel­ing of TIF sur­plus into the schools since at least 2010.
It all comes down to money
"A lot of the dis­pute [with CPS] comes down to resources and rev­enues," says CTU Vice Pres­i­dent Sharkey. ​"It's hard to land nego­ti­a­tions with the board when you don't have a source of revenue."
Sharkey believes that Board of Edu­ca­tion mem­bers don't sup­port lay­offs, shrunk­en pro­grams and poor infra­struc­ture on prin­ci­ple, but are con­strained by lim­it­ed resources. A TIF sur­plus would grease the wheels for both sides of the negotiations.
Even though the ordi­nance would cre­ate a new stream of fund­ing for schools, the Board of Edu­ca­tion did not come out in sup­port. Sharkey believes this is because Chicago's Board of Edu­ca­tion is may­oral­ly appoint­ed, rather than elect­ed as in most cities. ​"They would rather be polit­i­cal­ly loy­al than to be com­mit­ted to stu­dents," says Sharkey.
The ordi­nance ​"inter­feres with the mayor's abil­i­ty to use TIF funds how­ev­er he sees fit," Sharkey says.
Emanuel opposed the ordi­nance when it was orig­i­nal­ly intro­duced over the sum­mer. The Sun-Times report­ed in August that the may­or teamed up with 47th Ward Ald. Ameya Pawar, one of the spon­sors of the ordi­nance, to draft an alter­nate TIF sur­plus pol­i­cy that would allow alder­men and Emanuel him­self dis­cre­tion in direct­ing TIF sur­plus­es toward CPS.
The log­ic was that by allow­ing alder­men to opt out of the ordi­nance, he'd be doing poor­er wards a favor. They'd have the choice of invest­ing in their ward's eco­nom­ic devel­op­ment instead of con­tribut­ing to a larg­er pool of mon­ey for schools across the city. Pawar told the Sun-Times, ​"TIFs locat­ed in neigh­bor­hoods that real­ly need eco­nom­ic devel­op­ment shouldn't have to have every dol­lar surplussed."
But the CTU and pro­gres­sive alder­men believe that fund­ing for CPS must be guar­an­teed. ​"In the­o­ry, [alder­man­ic dis­cre­tion] sounds good, but in real­i­ty, what you are doing is divid­ing and con­quer­ing," says Ramirez-Rosa.
"I think that Cardenas/​Garza ordi­nance is good pre­cise­ly because it takes the dis­cre­tion out of the hands of the may­or and then puts it into a process that auto­mat­i­cal­ly moves mon­ey into schools," agrees Sharkey.
The Sun-Times report­ed on Mon­day that, as a result of strike threats and intense last-minute pres­sure, May­or Emanuel was will­ing to ​"sub­stan­tial­ly" increase the $32 mil­lion dol­lars he orig­i­nal­ly allo­cat­ed in his pro­posed ordi­nance. Accord­ing the WBEZ, Emanuel's spokesper­son Adam Collins con­firmed that instead, approx­i­mate­ly $88 mil­lion in TIF sur­plus will go toward CPS. This is less than half of the $500 per stu­dent that CTU was demand­ing going into nego­ti­a­tions. With the finance com­mit­tee sched­uled to con­vene on Wednes­day, the sta­tus of the more robust ordi­nance is unclear. It could be the only hope for greater fund­ing for CPS after what Lewis called a ​"not-per­fect" agree­ment was reached.
Blight­ed schools?
Redi­rect­ing the TIF sur­plus to schools helps bring TIFs in line with their stat­ed pur­pose in Illi­nois: serv­ing ​"blight­ed" com­mu­ni­ties that have his­tor­i­cal­ly seen gov­ern­men­tal dis­in­vest­ment. This is part of the log­ic behind the Car­de­nas-Garza ordi­nance, which draws a con­nec­tion from the lan­guage of ​"blight" ​"under­per­for­mance" and ​"decay" in TIF pol­i­cy to the cur­rent drained state of Chica­go Pub­lic Schools.
"CPS is being cut to the bone, and the cuts that have occurred over the last three years have real­ly hurt our chil­dren," says Ramirez-Rosa. ​"If you look at a city with so much vio­lence, the school sys­tem can be a solu­tion to that vio­lence. School should be a place where chil­dren can go and feel safe, build rela­tion­ships with their edu­ca­tors, and flour­ish. This is why we need to fund our schools."
One edu­ca­tor who was good at build­ing rela­tion­ships with stu­dents is Xian Bar­rett, who taught social stud­ies and lan­guage arts at Brighton Park Ele­men­tary on Chicago's South­west side until he lost his job in August as part of the wave of layoffs.
Bar­rett saw stu­dents come to school every day with trau­ma and men­tal-health issues from out­side of the class­room. ​"Ear­ly on it became clear that my stu­dents need­ed a lot of men­tal health sup­port that was not avail­able," Bar­rett says. ​"Stu­dents in CPS specif­i­cal­ly are deal­ing with the vio­lence of incar­cer­a­tion and depor­ta­tion, and with par­ents work­ing long hours."
In response, he helped start a writ­ing cir­cle for 5th through 8th graders in which stu­dents could share their sto­ries and sup­port each oth­er. ​"What was strik­ing is that stu­dents were able to artic­u­late direct­ly that they were get­ting things out of the [writ­ing cir­cle]," Bar­rett says. ​"In par­tic­u­lar, they told me pret­ty explic­it­ly how the pow­er of writ­ing has ​'changed their lives.' "
To Bar­rett, this is the kind of the day-to-day impact that can come from ade­quate school fund­ing, which allows for well-paid teach­ers and well-resourced pro­grams. ​"12‑, 13‑, 14-year-olds who are hit­ting rock bot­tom, who aren't con­nect­ing to any­one — in those moments if you have a teacher and pro­grams and things that allow you to con­nect with peers and edu­ca­tors, that can be life-chang­ing," he says. ​"With more funds, we can keep pro­grams that attract kids to things that give them pow­er to make a bet­ter soci­ety, rather than to oth­er things in com­mu­ni­ties that are not as safe."
Bar­rett was laid off in August, along with the school's only coun­selor. The writ­ing pro­gram he cre­at­ed will no longer exist. Releas­ing TIF funds could pre­serve such pro­grams and keep edu­ca­tors like Bar­rett in the schools.
It remains to be seen whether CTU mem­bers will accept the ten­ta­tive deal, which appears to be based far less TIF mon­ey than the union had demand­ed, and what role the ordi­nance may still play.
But pro­gres­sive alder­men acknowl­edge that a TIF sur­plus is not a cure-all for CPS bud­get deficits. ​"We need to be work­ing toward fix­ing the edu­ca­tion fund­ing in Spring­field," says Ald. Ramirez-Rosa. ​"But until that hap­pens, the city has a respon­si­bil­i­ty to do what it can to help our kids. We need to pri­or­i­tize our chil­dren over the cor­po­ra­tions and busi­ness­es that ben­e­fit from the use of TIFs."
This sto­ry was made pos­si­ble by a grant from the Leonard C. Good­man Insti­tute for Inves­tiga­tive Report­ing.
Maha Ahmed
is a man­ag­ing edi­tor at
South Side Week­ly
and was a Sum­mer
2016
edi­to­r­i­al intern at
In These Times
. She stud­ies soci­ol­o­gy and pub­lic pol­i­cy at the Uni­ver­si­ty of Chica­go and will grad­u­ate in
2017
.