The Hope From Audacity: Fight for $15 Pulls Off "Most Disruptive" Day of Action Yet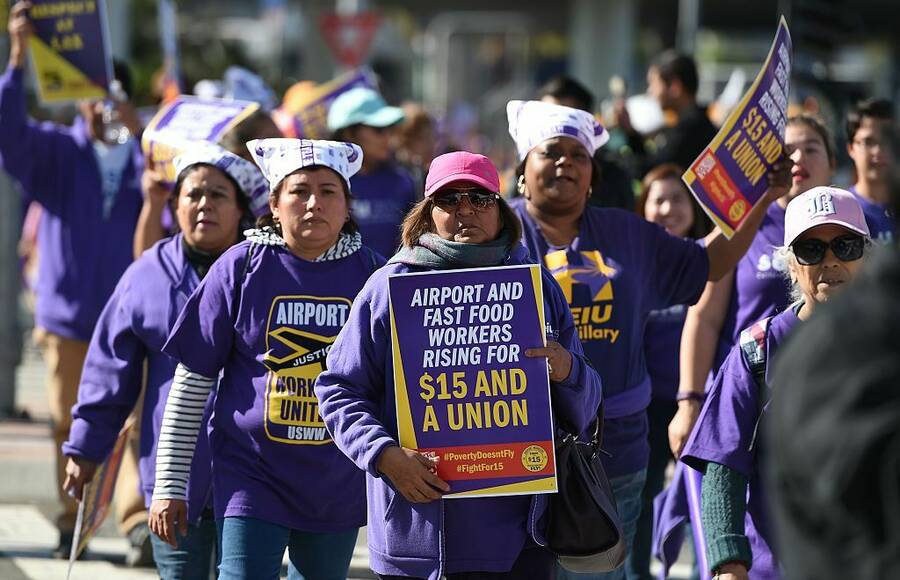 Chica­go — The move­ment known as Fight for $15 start­ed in New York City as a sur­prise one-day strike. The work­ers' demands then were sim­ple and bold. They want­ed a min­i­mum wage of $15 an hour and the right to orga­nize a union.
The work­ers who ini­ti­at­ed the cam­paign could no longer tol­er­ate lengthy debates over pen­ny increas­es to the state, local and fed­er­al min­i­mum wages. They called for more than dou­ble the fed­er­al min­i­mum wage, which stood then — and now — at $7.25 an hour.
This was a dream that seemed not only aspi­ra­tional but down­right crazy when Fight for $15 first launched. And it was put for­ward by some of the work­ers with the great­est need — occu­pants of the vir­tu­al­ly inter­change­able jobs of the vast mod­ern low-wage econ­o­my. These are the jobs that peo­ple take not just as a first job, but as the first of dozens of sim­i­lar jobs in a career with lit­tle progress.
To mark its fourth anniver­sary this week, the Fight for $15 orga­ni­za­tion staged its largest and ​"most dis­rup­tive" nation­al action to date, which includ­ed strikes, non-vio­lent civ­il dis­obe­di­ence and actions at major air­ports like the Chica­go O'Hare Inter­na­tion­al Airport.
Even though it still has a long way to go, Fight for $15 had rea­son to celebrate.
A new report from the Nation­al Employ­ment Law Project (NELP) cred­its Fight for $15 with win­ning an increase of $61.5 bil­lion in annu­al wages over its first four years, most­ly through state and local min­i­mum wage increas­es. In oth­er instances, employ­ers boost­ed work­ers' pay under pub­lic pressure.
On bal­ance, these vic­to­ries for rough­ly 19 mil­lion work­ers yield­ed a total raise more than 10 times larg­er than the raise U.S. work­ers received from the last fed­er­al min­i­mum wage hike in 2007, accord­ing to NELP. By Fight for $15's account­ing, its actions have raised wages for 22 mil­lion workers.
Still, employ­ers in the Unit­ed States pay less than $15 an hour to some 64 mil­lion workers.
Over the past four years, Fight for $15 has reached beyond its base in fast food restau­rants and launched orga­niz­ing efforts with a broad range of poor­ly-paid work­ers: home care and child care work­ers, ear­ly child­hood teach­ers, uni­ver­si­ty teach­ing assis­tants, Uber and oth­er ride-share com­pa­ny dri­vers, air­port work­ers and many oth­ers. It has also inspired more tight­ly orga­nized, con­ven­tion­al unions to reach out to oth­er low-paid, low-skilled work­ers, such as car wash­ers and retail sales clerks.
As the orga­ni­za­tion has grown, Fight for $15 has tak­en up new tac­tics and demands, in part reflect­ing the pre­oc­cu­pa­tions of its mem­bers. While its two core demands remain a $15 min­i­mum wage and union rights, the orga­ni­za­tion now also calls for an end to struc­tur­al racism, to police killings of black peo­ple and to depor­ta­tions of immigrants.
"

We can't keep liv­ing like this"

Before 6 a.m. Tues­day, a cool fall day, a crowd of sev­er­al hun­dred pro­tes­tors gath­ered out­side a McDonald's restau­rant in the gen­tri­fy­ing but still large­ly work­ing-class and immi­grant neigh­bor­hood of Ukrain­ian Vil­lage on Chicago's north­west side. Sup­port­ers unfurled a ban­ner from a near­by gro­cery store. It read: ​"We Demand $15 and Union Rights, Stop Depor­ta­tions, Stop Killing Black Peo­ple." The crowd chant­ed slo­gans, rang­ing from the humor­ous­ly blunt ("We work, we sweat. Put $15 on our check!") to the blunt­ly mil­i­tant ("If we don't get it. Shut it down!") and the over-opti­misti­cal­ly hero­ic ("El pueblo unido, jamas sera ven­ci­do!" Span­ish for ​"Unit­ed, the peo­ple will nev­er be defeated").

The crowd includ­ed local politi­cians like Cook Coun­ty Com­mis­sion­er and recent insur­gent may­oral can­di­date, Jesus ​"Chuy" Gar­cia, and work­ers whose jobs wors­ened recent­ly as well as many oth­ers whose jobs have nev­er been good. Uber dri­ver Dar­rell Imani rep­re­sent­ed one of the newest com­pa­nies whose work­ers have turned to Fight for $15 to pro­tect what they fear los­ing. When he start­ed dri­ving for Uber a cou­ple of years and about 12,000 rides ago, he typ­i­cal­ly earned rough­ly $25 an hour, or $40,000 a year.

"Now we can bare­ly pay for gas and ser­vices," he lament­ed. ​"We can't keep liv­ing like this. We can't. Uber dri­vers are on strike for liv­ing wages. I love doing it, but I want to be able to pay the bills. I'm try­ing to orga­nize the group to be a union. Uber is mak­ing bil­lions of dol­lars, but we are the ones who are mak­ing it for them."

Also in the crowd was Kei­th Kelle­her, pres­i­dent of SEIU Health­care Illi­nois, Indi­ana, Mis­souri and Kansas, a large local union. He has a long his­to­ry of try­ing, and often suc­ceed­ing in orga­niz­ing implau­si­ble groups of work­ers. In Detroit, Kelle­her briefly orga­nized ham­burg­er chain out­lets. He man­aged to orga­nize wide­ly dis­persed home care work­ers in Chica­go and oth­er parts of Illi­nois. And just a few years ago, he led a march of retail clerks and fast food work­ers down North Michi­gan Avenue, the swank shop­ping strip of down­town Chicago.

"It has solid­i­fied in my mind that orga­niz­ing can't just be about wages, hours and work­ing con­di­tions," Kelle­her says. ​"It also is not just tra­di­tion­al orga­niz­ing. This [Fight for $15] is the wave of the future. Work­ers want a union, and you can build orga­ni­za­tions off of this. That's the challenge."

Orga­niz­ing in the future may look much more like ear­li­er peri­ods of Amer­i­can labor his­to­ry when ​"open shops" were com­mon, mean­ing that indi­vid­ual work­ers could join or not join a union, Kelle­her said. Open shops could become the rule again, as a result of the spread of right-to-work laws and the pos­si­bil­i­ty of con­ser­v­a­tive judges over­rul­ing unions' right to col­lect a ​"fair share" of nor­mal dues to cov­er expens­es of rep­re­sent­ing work­ers who do not join the union.

Kelleher's home care work­ers' union start­ed along the mod­el of an open shop, then won an agree­ment to have the state gov­ern­ment ​"check off," or col­lect, dues. But the Supreme Court lat­er ruled that the home and child care work­ers in Kelleher's union were not full-fledged state employ­ees and, there­fore, the union could not have dues deduct­ed from their pay­checks. The union now col­lects dues itself from about 65,000 of its more than 90,000 mem­bers, a remark­able achieve­ment giv­en how dis­persed those work­ers are.

If employ­ers think an open shop will weak­en unions by mak­ing them less sta­ble, Kelle­her cites an unat­trib­uted max­im: ​"Where you don't have per­ma­nent orga­ni­za­tion, you have per­ma­nent war."
"

With a union, you're stronger"

The air­port strike at O'Hare, the world's fourth busiest air­port, was one of the more dra­mat­ic actions. A year ago, Ser­vice Employ­ees Inter­na­tion­al Union (SEIU) Local 1 launched a cam­paign to orga­nize about 2,000 O'Hare work­ers, employed by a mod­est num­ber of con­trac­tors for tasks that include clean­ing air­plane cab­ins, pro­vid­ing trans­port for pas­sen­gers with mobil­i­ty prob­lems, han­dling bag­gage and oth­er services.

Forty years ago, these work­ers were employed direct­ly by each air­line and wages and ben­e­fits were attrac­tive. But those arrange­ments col­lapsed under pres­sure from strong out­side forces. Air­lines increas­ing­ly sub­con­tract­ed work to inde­pen­dent, spe­cial­ized firms, which com­pet­ed for work from the air­lines and thus felt pres­sure to cut labor costs. And with dereg­u­la­tion of the air­line indus­try, the car­ri­ers were sub­ject to pres­sures to cut cost, which was eas­i­er to do when they employed con­trac­tors rather than direct hires.

Also, there was an econ­o­my-wide shift towards what David Weil, now the admin­is­tra­tor of the Labor Department's Wage and Hour Divi­sion, called the ​"fis­sured work­place," where more pow­er­ful ele­ments of the enter­prise or work­place try to min­i­mize their respon­si­bil­i­ty for any­thing except max­i­miz­ing prof­its. Pres­i­dent Ronald Reagan's break­ing the strike and union of the air traf­fic con­trollers fur­ther legit­imized an anti-work­er strat­e­gy that air­line man­agers can deploy. One of the con­se­quences is that from 2002 to 2012 out­sourc­ing of bag­gage porter jobs more than tripled from 25 per­cent to 84 percent.

Despite hav­ing mul­ti­ple employ­ers, with a var­ied work­force, ​"work­ers' resolve is very strong," says Tom Bal­anoff, pres­i­dent of SEIU Local 1. An esti­mat­ed 400 work­ers at O'Hare took part in the strike Tuesday.

"I think work­ers know the air­lines can pay," Bal­anoff says. ​"The air­lines haven't talked to us yet, but I think we got their atten­tion," and he believes the union has the polit­i­cal as well as indus­tri­al strength to prevail.

Andrew Pawelko hopes that's true. A for­mer auto paint detail work­er, he now works as the lead in a cab­in clean­ing crew for Prospect, a major con­trac­tor to big airlines.

"I like clean­ing and detail work," he says, but ​"the job needs more pay."

Pawelko, who took part in the strike, makes $12.50 an hour; mem­bers of his crew make $10.75. At a pre­vi­ous job, the employ­er per­suad­ed work­ers to get rid of their union. A short time lat­er, Pawelko's ben­e­fits were cut.

"Union rights," he says, ​"100 per­cent we need it, all of us."

Rasheed Ato­lagbe-Aro, 50, a recent immi­grant from Nige­ria, is anoth­er strong union sup­port­er who joined the strike, part­ly because of issues con­cern­ing safe­ty and the high pres­sures at work.

"It's high risk," he says. ​"The spray used to clean is at a very seri­ous lev­el. But you're fired if you refuse to come to work. With a union, you're stronger."

Although Fight for $15 is not a union, it can pro­vide a way to fight on behalf of broad poli­cies that help all low-wage work­ers, even if it has not yet cre­at­ed or even defined more local­ized vehi­cles to deal with indi­vid­ual mem­ber griev­ances, con­tracts and oth­er tra­di­tion­al union tasks like sign­ing up mem­bers, col­lect­ing dues and pro­vid­ing ser­vices. Such are some of the con­cerns about the group's uncon­ven­tion­al, loose struc­ture, its lack of empha­sis on for­mal mem­ber­ship and dues and its heavy finan­cial depen­dence on the 1.8 mil­lion-mem­ber SEIU.

Can even a finan­cial­ly-strong union con­tin­ue to under­write such an ambi­tious under­tak­ing? What is the opti­mal amount of SEIU con­trol over Fight for $15?

"We're hop­ing to build this move­ment," Mary Kay Hen­ry, pres­i­dent of SEIU, said as she stood on a bal­cony at O'Hare along with more than a thou­sand mem­bers and sup­port­ers of Fight for $15, not­ing that Fight for $15 mus­tered actions in 340 cities and 20 air­ports in a sin­gle day, com­bin­ing ral­lies and march­es with more logis­ti­cal­ly-com­pli­cat­ed tac­tics, such as civ­il dis­obe­di­ence. ​"Our plan is not to shape the orga­ni­za­tion into unions as we have known them, but some­thing different."

Hen­ry takes inspi­ra­tion from the way that the labor move­ment in Den­mark, for instance, has raised fast food work­er wages and work­place stan­dards dra­mat­i­cal­ly by sit­ting down and talk­ing with cor­po­rate lead­ers in the field to nego­ti­ate an agree­ment. She says she hopes to do the same, per­haps with­in the com­ing year, by sit­ting down with McDonald's, Burg­er King and Wendy's — the big three in burg­ers — to nego­ti­ate an indus­try-wide agreement.

"Work­ers say a union is the way jobs become good jobs, the way to have a voice," she said. ​"Orga­niz­ing is the way to improve our lives."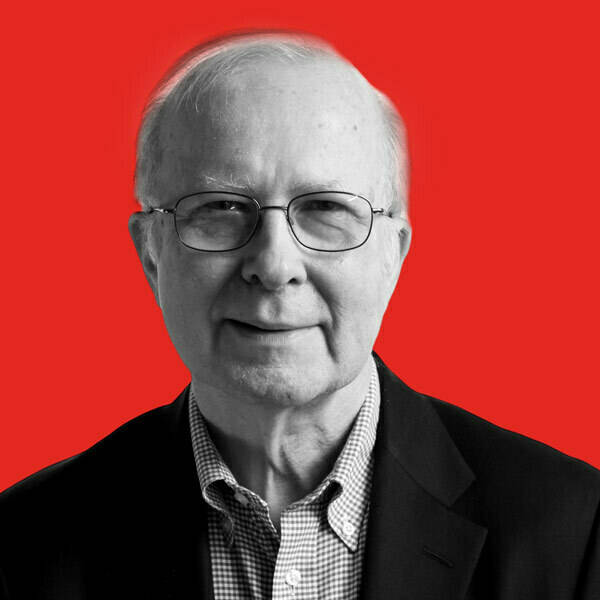 David Moberg, a senior edi­tor of In These Times, has been on the staff of the mag­a­zine since it began pub­lish­ing in 1976. Before join­ing In These Times, he com­plet­ed his work for a Ph.D. in anthro­pol­o­gy at the Uni­ver­si­ty of Chica­go and worked for Newsweek. He has received fel­low­ships from the John D. and Cather­ine T. MacArthur Foun­da­tion and the Nation Insti­tute for research on the new glob­al economy.