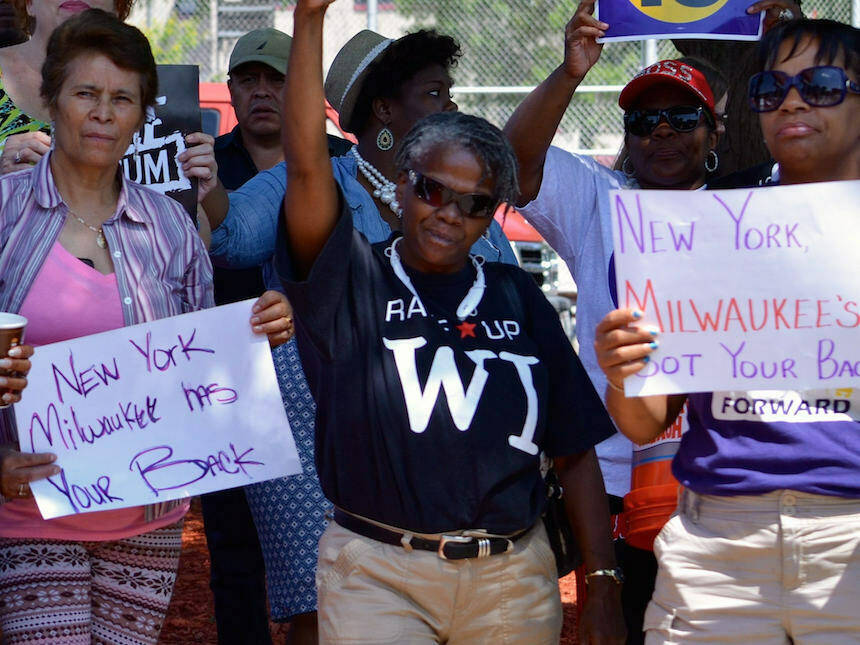 Fight for $15 has become the most high-pro­file seg­ment of the Amer­i­can labor move­ment in recent years, help­ing shift pub­lic per­cep­tion enough to secure min­i­mum wage hikes in places as dis­parate as Chica­go and Arkansas. But Fight for $15 has­n't had much luck actu­al­ly mak­ing good on its tit­u­lar promise of reach­ing a $15 per hour min­i­mum wage, with the excep­tion of wage ordi­nances in lib­er­al urban enclaves like Seat­tle, San Fran­cis­co and Los Angeles.
At least, it had­n't — until May, when New York Gov­er­nor Andrew Cuo­mo ini­ti­at­ed a wage board whose rec­om­men­da­tion of a $15 per hour wage floor for fast food work­ers has since been accept­ed and enact­ed by the state's Labor Com­mis­sion­er. The vic­to­ry — ben­e­fit­ing work­ers in both lib­er­al urban and con­ser­v­a­tive rur­al dis­tricts — is the largest yet in the move­men­t's effort to take $15 mainstream.
It should come as no sur­prise, then, that the cam­paign wants to repli­cate the wage board strat­e­gy wher­ev­er it can.
Mary Kay Hen­ry, Pres­i­dent of the Ser­vice Employ­ees Inter­na­tion­al Union (SEIU), which has been the prin­ci­pal finan­cial sup­port­er and orga­niz­er of Fight for $15, told Buz­zfeed that the move­ment would seek ​"to set up wage boards every­where in the coun­try." Her col­league Hec­tor Figueroa, the pres­i­dent of influ­en­tial SEIU local 32BJ, echoed the sen­ti­ment in a sub­se­quent TV inter­view, say­ing: ​"If we are to win, we have to repli­cate the strat­e­gy to raise the stan­dards in oth­er states." Dan Can­tor, nation­al direc­tor of the Work­ing Fam­i­lies Par­ty, felt the same way. ​"We're keen to see this repli­cat­ed," he said. ​"It's huge."
And just last week, the cam­paign announced it would be hold­ing ​"Peo­ple's Wage Board" hear­ings in 30 cities around the U.S., though those boards' rec­om­men­da­tions will not be legal­ly binding.
The wage board — a process by which a gov­er­nor calls a com­mis­sion to inves­ti­gate and raise pay for a giv­en sec­tor — is a ves­tige of New Deal pro­gres­sivism. Though it is not a stand­ing body, the wage board author­i­ty nev­er­the­less serves a pur­pose iden­ti­cal to many of the gov­ern­ment agen­cies born of that era: to pro­tect work­ing Amer­i­cans from mar­ket down­turns. With the abil­i­ty to bypass polit­i­cal­ly fraught state leg­is­la­tures, gov­er­nors could ensure that wages kept up with the rate of infla­tion and ris­ing costs of liv­ing; sim­i­lar­ly, in cities where cit­i­zens have the polit­i­cal will to pass wage hikes, local gov­ern­ments would­n't have to wait on state leg­is­la­tures and gov­er­nors for raises.
In New York over the past few decades alone, Gov. Mario Cuo­mo used a 1986 wage board to close loop­holes in the state's min­i­mum wage law and to bol­ster over­time rules; in 2009, Gov. David Pater­son uni­lat­er­al­ly raised the wages of tipped work­ers in the hotel and restau­rant indus­tries. Now, Gov. Andrew Cuo­mo has used the law to raise wages for fast food workers.
A wage board is made up of three, six, or nine mem­bers, as deter­mined by the state's Labor Com­mis­sion­er, who also selects the board­'s mem­bers. Despite being able to alter the board's size, the Labor Com­mis­sion­er must give it a con­sis­tent make­up every time: one-third of its mem­bers rep­re­sent busi­ness, one-third rep­re­sent labor and one-third rep­re­sent the pub­lic. After inves­ti­gat­ing the wages in a giv­en sec­tor, the board deliv­ers a wage rec­om­men­da­tion to the states's Labor Com­mis­sion­er, who can then accept, reject or mod­i­fy it. At that point, he or she issues a wage order which, like any state reg­u­la­tion, goes through a notice and com­ment peri­od before going into effect.
Because it must con­duct a for­mal inves­ti­ga­tion of the sec­tor in ques­tion, the wage board ends up doing what few oth­er gov­ern­ment agen­cies have been will­ing to do: actu­al­ly lis­ten to workers.
Over the course of four full-day hear­ings held through­out the state over the month of June, hun­dreds of fast food work­ers described the sheer impos­si­bil­i­ty of mak­ing ends meet on the state's $8.75 min­i­mum wage.
"You could see how moved the wage board mem­bers were by the work­er tes­ti­mo­ny," says James Par­rot, deputy direc­tor and chief econ­o­mist at the Fis­cal Pol­i­cy Insti­tute, who him­self par­tic­i­pat­ed in the hear­ings. ​"It real­ly affect­ed their ulti­mate rec­om­men­da­tion of $15 an hour. … The wage board and Gov­er­nor Cuo­mo have been will­ing to do what fed­er­al and state leg­is­la­tures have not."
The wage board, how­ev­er, is no panacea. Wage boards are only on the books in New Jer­sey, Mass­a­chu­setts and Cal­i­for­nia. (Inter­est­ing­ly, Wis­con­sin had a board for decades until Gov. Scott Walk­er elim­i­nat­ed it in what Can­tor calls ​"one of the more cyn­i­cal moves from an über-cyn­i­cal politi­cian." Con­necti­cut also recent­ly repealed its wage board authority.)
Due to these lim­i­ta­tions, some think New York's state-lev­el wage board vic­to­ry can't be repli­cat­ed any­where else.
"I don't think a wage board strat­e­gy is very promis­ing in the short term in New Jer­sey, Mass­a­chu­setts or Cal­i­for­nia," says Paul Sonn, gen­er­al coun­sel at the Nation­al Employ­ment Law Project, which has advised Fight for $15 since its incep­tion. ​"The strat­e­gy works best in states that have a gov­er­nor who is more pro­gres­sive than the leg­is­la­ture," he adds. In those three states, the oppo­site is true.
Then again, with his ties to the devel­op­ment and finance indus­tries, Andrew Cuo­mo is hard­ly a staunch pro­gres­sive. ​"The gov­er­nor did it because he need­ed a way to make the Left hap­py," says Can­tor. A sim­i­lar push from lib­er­als in those oth­er states might force their respec­tive gov­er­nors to make the kind of cal­cu­la­tion that Cuo­mo did.
New Jer­sey, run by Repub­li­can pres­i­den­tial can­di­date Gov. Chris Christie, is like­ly a lost cause on this issue. Mass­a­chu­setts and Cal­i­for­nia, on the oth­er hand, are already home to strong min­i­mum wage cam­paigns. The Mass­a­chu­setts leg­is­la­ture is con­sid­er­ing a bill that would set a $15 per hour wage floor for both fast food and retail work­ers, a sec­tor-spe­cif­ic strat­e­gy resem­bling the one used by New York's wage board.
Cal­i­for­nia pro­gres­sives, mean­while, are seek­ing a statewide $15 per hour min­i­mum wage ref­er­en­dum for the 2016 bal­lot. The ini­tia­tive's pro­po­nents are count­ing on the rel­a­tive­ly large, lib­er­al turnout of the upcom­ing pres­i­den­tial cycle to take wages fur­ther than Gov. Jer­ry Brown would on his own.
Yet in both Mass­a­chu­setts and Cal­i­for­nia, a wage board may still come into play. Advo­cates could use the threat of a wage board cam­paign to gain sup­port from each state's Gov­er­nor and his allies, who like­ly fear a poten­tial tar­get­ed attack from the press-savvy Fight for $15.
But with New York gov­er­nor Andrew Cuo­mo already hav­ing buck­led under such pres­sure, per­haps the next tar­get for a wage board cam­paign should be New York. Rais­ing wages to $15 per hour for anoth­er sec­tor would prove just how much the move­ment has grown beyond fast food. Since Gov. Cuo­mo recent­ly came out in sup­port of a $15 min­i­mum wage for the state, Fight for $15 plans to seek such a wage hike in New York's next leg­isla­tive ses­sion, but the cam­paign under­stands that such an effort is like­ly to fall short in the state's Repub­li­can-con­trolled Sen­ate. When it does, says an offi­cial at an orga­ni­za­tion involved with Fight for $15, the cam­paign will pur­sue a wage board review for mul­ti­ple low-wage sec­tors. Anoth­er offi­cial who has con­sult­ed with the Fight for $15 coali­tion believes that, in such a case, the gov­er­nor could call a wage board to imple­ment the entire raise him­self, effec­tive­ly accom­plish­ing the same thing as suc­cess­ful min­i­mum wage legislation.
"The wage board fight did­n't end at fast food," declares Ade­mo­la Oye­fe­so, Polit­i­cal Direc­tor for the Retail, Whole­sale, Depart­ment Store Union (RWD­SU). Back in July, Mary Kay Hen­ry assured that, if nec­es­sary, the move­ment would ​"go sec­tor by sec­tor," but was unsure ​"if the gov­er­nor [was] antic­i­pat­ing [that]." He bet­ter get prepared.
A broad­er wage board strat­e­gy faces the chal­lenge of find­ing a leg­is­la­ture with mem­bers who are unable to pass a min­i­mum wage raise, but nev­er­the­less will­ing to empow­er a wage board to car­ry it out. ​"Peo­ple's Wage Boards" might not be able to issue legal­ly bind­ing rec­om­men­da­tions, but they could help build momen­tum around state-lev­el hikes. And in red states where a state-lev­el min­i­mum wage hike is impos­si­ble, per­haps a wage board bill would appeal to mod­er­ate law­mak­ers who wouldn't have to bear direct respon­si­bil­i­ty for the raise.
Ulti­mate­ly, the suc­cess or fail­ure of any forth­com­ing wage board strate­gies will rest on the work­ers them­selves. ​"None of this would've hap­pened with­out the work­ers being so orga­nized," says Par­rot. ​"This effort will go as far as they can take it."
Max Zahn
is a free­lance reporter in Brook­lyn, New York.