The largest employer of union labor in the country reached an agreement this weekend with some 10,000 of its workers that includes a pay raise of nearly 9 percent over three years.
Telecommunications giant AT&T made the deal, which has yet to be ratified, with the International Brotherhood of Electrical Workers, members of which are mostly located in Illinois and northwest Indiana. Some workers in New Jersey, Pennsylvania, New England, California and Pacific Northwest are also covered by the terms.
Workers affected by the deal provide customer service and other support for the landline telecommunications network.
The three-year agreement includes a pay raise of 3 percent during each of the first two years and of 2.75 percent in the third year, along with a 2-percent pension increase each year. (Both wage and pension changes could be adjusted in the third year based on cost-of-living increases as determined by the Consumer Price Index.)
Ronald E. Kastner, chairman of the IBEW​'s negotiating committee, said:
IBEW members are a big part of AT&T's past and present success, and we expect that their value will be recognized and rewarded for years to come as a result of these talks.
It's the third agreement that AT&T has made with its workers across the country who have been working under the terms of expired contracts.
About 120,000 employees of the Dallas-based AT&T are union members.
The company and the Communications Workers of America also recently agreed to new tentative contract terms for about 50,000 workers in the Midwest and West.
On August 13, CWA announced it had reached an agreement affecting some 23,000 workers in California, Nevada and Hawaii with wage and pension terms similar to the IBEW agreement.
CWA District 9 Vice President Jim Weitkamp said of that agreement:
We achieved our members' key goals: to maintain workers' standard of living, safeguard health care and enhance employment security…. Considering we are in the worst recession in history, what we accomplished was no small feat.
This contract is expected to be ratified by September. CWA and AT&T are still discussing terms affecting workers in the East, Southwest and Southeast, whose contract expired in April.
The CWA represents about 700,000 workers in industries that include telecommunications, broadcasting, healthcare, public safety and printing.
IBEW represents 725,000 workers in various fields, including telecom, broadcasting, construction, utilities, government, manufacturing and railroads. They work in the U.S., Canada, Puerto Rico, Guam and Panama.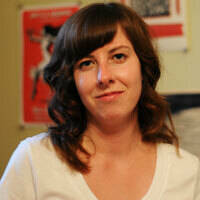 Emily Udell
is a writer for Angie's List Magazine in Indianapolis. In
2009
, she finished a stint drinking bourbon and covering breaking news for
The Courier-Journal
in Louisville, Ky. Her eclectic media career also includes time at the Associated Press,
Punk Planet
(R.I.P.),
The Daily Southtown
in southwest Chicago, and Radio Prague in the Czech Republic. She co-hosted and co-produced
In These Times
' radio show ​
"
Fire on the Prairie
" from
2003
to
2006
.