Fired Whole Foods Worker Fights for Cold Weather Protections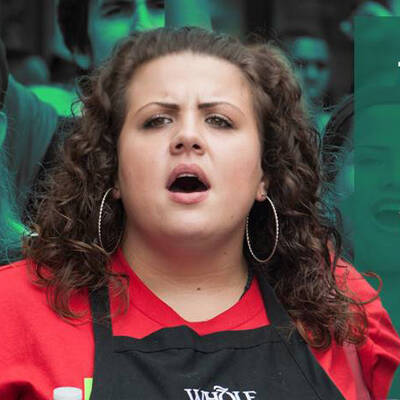 As a dangerous cold front swept through Chicago in recent weeks, many low-wage workers still had to brave subzero temperatures to get to their jobs and avoid missing out on much-needed earnings.
Rhiannon Broschat, 25, is one such worker. A part-time cashier at Whole Foods in Chicago, Broschat is also a single parent. And when the inclement weather forced Chicago Public Schools to close its buildings for the second day in a row last Tuesday, Broschat had only a day's notice to find adequate childcare for her 10-year-old son with special needs.
Though public schools and some workplaces had closed, she says, she was still expected at Whole Foods. ​"I debated back and forth about maybe leaving him at home alone, but it just didn't make sense for me to risk his safety," says Broschat, who is studying criminal justice at Northeastern Illinois University.
Left with little choice but to stay home, Broschat called Whole Foods, letting them know she had a childcare-related emergency and wouldn't make it in to her shift. To her surprise, Broschat was fired the next day. Management's reason, according to Broschat: she had abused the attendance policy.
Thanks to climate change, many scientists predict environmental disasters will become increasingly common in the near future. And as the risk of unexpected catastrophes grows, so does the necessity of protecting low-wage workers, who have little, if any, financial cushion to deal with such misfortunes.
In Chicago, Broschat's case has been taken up by the Workers Organizing Committee of Chicago, the Service Employees International Union-funded group instrumental in organizing the Fight for 15 campaign. The group has organized flyerings outside of Broschat's store on the city's North Side and started an online petition asking for her reinstatement. Leaders also plan to hold a picket outside Whole Foods' regional office on Wednesday, which will be attended by Chicago Teachers Union president Karen Lewis.
Deivid Rojas, communications director at WOCC, says the group has a basic goal of raising wages to $15 an hour for fast-food workers in the city. But beyond that, the campaign also encourages workers in individual stores or regions to organize around specific issues.
To that end, the Whole Foods attendance policy that Broschat says she was fired under had actually been challenged by workers at the same store over the summer, says Rojas.
​"It used to be that if you got sick [while working] at Whole Foods, it counted against you," says Rojas. As part of the company's attendance rules, Broschat confirms, calling off work means employees receive a ​"point." And getting six points in six months, she says, leads to being fired.
In January this year, according to a document obtained by In These Times, Whole Foods told employees in its Midwest region that the attendance requirement would be amended. Among the reasons now listed for an excused absence is ​"a Metro wide weather disaster … which affects a significant number of people" — such as the much-publicized ​"polar vortex." Broschat believed that the expanded qualifications would allow her to stay home from work during the freeze without being penalized.
​"I really didn't think that they would not honor our new revised attendance policy," says Broschat, who had worked at Whole Foods for a year and a half. ​"I personally felt as if they were making it sound as if I didn't want to come to work."
A Whole Foods spokesperson declined to comment, saying the store did not speak to current or former employees' work history.
As important as planning for extreme weather may be, however, advocates point out that it shouldn't take a calamity for workers to justify taking time off. And Fight for 15 organizers aren't the only ones trying to win protections for low-wage workers that go beyond higher wages or healthcare. Advocacy group Jobs With Justice is behind several initiatives for paid sick day legislation, which has taken off in New York City, in addition to Caring Across Generations, a campaign to improve the system for long-term care workers.
Sarita Gupta, executive director of Jobs with Justice, says she sees the demand for paid sick days and other measures that allow people to care for themselves and their loved ones as a way to broaden the discussion around the needs of low-wage workers. The movement is working to ​"catch up to [their] realities," she says — realities that sometimes include temperatures below 15 degrees Fahrenheit.
Meanwhile, Broschat plans to continue organizing to get her job back. She doesn't just believe the Whole Foods policy is unfair; she also hopes her case will encourage other workers to fight for what they need, both in and out of the workplace.
​"I know what it is to struggle, I know what it is to live paycheck to paycheck," she says. ​"It's important to get the word out and try to fight for better living wages and benefits."
Yana Kunichoff
is a Chicago-based investigative journalist and documentary producer. Her work has appeared in the Guardian, Pacific Standard and the Chicago Reader, among others. She can be reached at yanakunichoff at gmail​.com.