Not Covered: Why Our National Flood Insurance Program is (Also) Underwater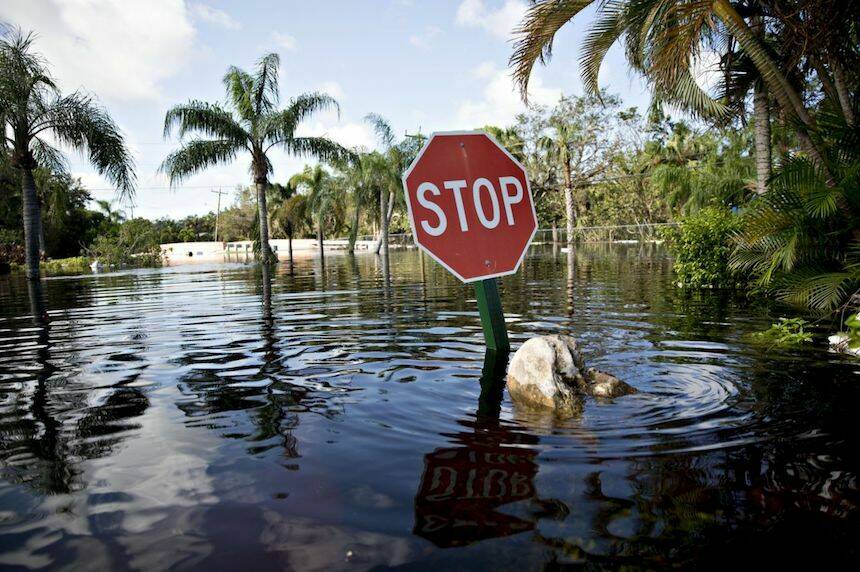 Editor's Note: The fol­low­ing analy­sis was first pub­lished short­ly after Hur­ri­cane Har­vey dev­as­tat­ed a large por­tion of South Texas (killing more than 70 peo­ple and cost­ing yet-to-be-tal­lied bil­lions of dol­lars in flood dam­ages) but three days before Hur­ri­cane Irma made land­fall at Cud­joe Key, in the low­er Flori­da Keys, on the night of Sep­tem­ber 10. Before hit­ting the U.S. main­land, Irma tore a path of destruc­tion through numer­ous islands in the Caribbean.
In Flori­da, search-and-res­cue oper­a­tions are still under­way, entire neigh­bor­hoods have been destroyed and mil­lions of peo­ple statewide are with­out pow­er. Mean­while, res­i­dents who heed­ed evac­u­a­tion warn­ings are anx­ious­ly await­ing the chance to return to their homes and busi­ness­es — in some cas­es, only to find out what lit­tle the storm left of the struc­tures and pos­ses­sions they left behind.
In both states, even with hypo­thet­i­cal­ly unlim­it­ed finan­cial assis­tance, rebuild­ing the infra­struc­ture that's been lost will take years. Unfor­tu­nate­ly, a major­i­ty of these loss­es are unin­sured. Worse still, the fed­er­al pro­gram estab­lished in 1968 to help peo­ple recov­er from cat­a­stroph­ic flood dam­age is already $25 bil­lion in debt.
What is flood insurance?
Home­own­ers' insur­ance does not cov­er dam­age to a home caused by flood­ing. A home­own­er must have a sep­a­rate pol­i­cy to cov­er flood-relat­ed loss­es, defined as water trav­el­ing along or under the ground.
Most such poli­cies are under­writ­ten by the Nation­al Flood Insur­ance Pro­gram, which is part of the Fed­er­al Emer­gency Man­age­ment Agency (FEMA). The Nation­al Flood Insur­ance Pro­gram was estab­lished in 1968 to address the lack of avail­abil­i­ty of flood insur­ance in the pri­vate mar­ket and reduce the demand for fed­er­al dis­as­ter assis­tance for unin­sured flood loss­es. Anoth­er pur­pose was to inte­grate flood insur­ance with flood­plain man­age­ment, which includes such things as adopt­ing and enforc­ing stricter build­ing codes, retain­ing or restor­ing wet­lands to absorb flood­wa­ters and requir­ing or encour­ag­ing home­own­ers to make their homes more flood-resistant.
The Nation­al Flood Insur­ance Program's activ­i­ties are fund­ed large­ly by the pre­mi­ums and fees paid by its pol­i­cy­hold­ers, sup­ple­ment­ed by a small amount of gen­er­al funds to help pay for flood risk map­ping. Because the Nation­al Flood Insur­ance Pro­gram serves the pub­lic inter­est, some believe that more of its fund­ing should be borne by taxpayers.
Home­own­ers can pur­chase a fed­er­al flood pol­i­cy direct­ly from the Nation­al Flood Insur­ance Pro­gram or through a pri­vate insur­er. Sep­a­rate­ly, some pri­vate insur­ers sell their own flood poli­cies on a lim­it­ed basis for prop­er­ties that are over­charged by the Nation­al Flood Insur­ance Program.
How many Amer­i­can home­own­ers have flood insurance?
It is dif­fi­cult to deter­mine exact­ly how many home­own­ers have flood insurance.
The Nation­al Flood Insur­ance Pro­gram had just under five mil­lion poli­cies in force as of June 30. Of these poli­cies, approx­i­mate­ly 68 per­cent were on sin­gle-fam­i­ly homes and 21 per­cent on con­do units. There is no source on how many pri­vate flood poli­cies are in force, but my sense is that it is very small rel­a­tive to the num­ber of Nation­al Flood Insur­ance Pro­gram policies.
In recent years, the num­ber of such poli­cies has been drop­ping across the coun­try. Some of the coun­ties hard­est hit by Har­vey, for exam­ple, such as Har­ris (which includes Hous­ton), have expe­ri­enced sig­nif­i­cant declines.
A more reveal­ing — and more dif­fi­cult to ascer­tain—stat is the share of home­own­ers in a dis­as­ter area who actu­al­ly have flood insur­ance. In Har­ris Coun­ty, for exam­ple, experts esti­mate that only about 15 per­cent of home­own­ers are insured for floods — though the per­cent­age should be high­er in areas near coastlines.
Real estate data com­pa­ny Core­L­og­ic esti­mates that approx­i­mate­ly 70 per­cent of flood loss­es from Har­vey will be uninsured.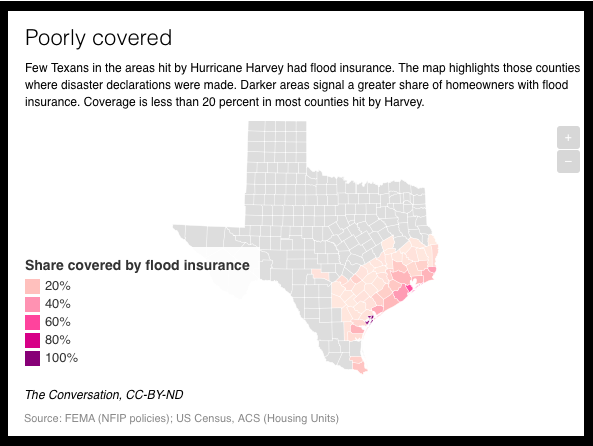 Why do peo­ple at great risk of flood­ing for­go insurance?
A num­ber of fac­tors affect a homeowner's deci­sion to buy flood insur­ance (or not).
Peo­ple who per­ceive that their expo­sure to floods is high are more like­ly to buy it, all oth­er things equal. And the manda­to­ry pur­chase require­ment forces own­ers of mort­gaged homes locat­ed in Spe­cial Flood Haz­ard Areas — areas at high risk for flood­ing — to buy insurance.
How­ev­er, 43 per­cent of home­own­ers incor­rect­ly believe that their home­own­ers' insur­ance cov­ers them for flood losses.
Oth­er fac­tors also come into play, such as a lack of infor­ma­tion, the dif­fi­cul­ty of cal­cu­lat­ing flood risk and the expec­ta­tion that the gov­ern­ment will pro­vide dis­as­ter assis­tance — which is rarely the case.
What does flood insur­ance cover?
With a Nation­al Flood Insur­ance Pro­gram pol­i­cy, a home­own­er can pur­chase cov­er­age on a dwelling up to $250,000 and the con­tents of a home up to $100,000. It does not cov­er costs asso­ci­at­ed with ​"loss of use" of a home.
The Nation­al Flood Insur­ance Pro­gram pol­i­cy lim­its have been in effect since 1994 and need to be updat­ed to account for the increase in the replace­ment cost of homes and the actu­al cash val­ue of their con­tents. Although not the best mea­sure of the replace­ment cost, the medi­an price of new homes sold in the U.S. has soared 132 per­cent since 1994.
Some home­own­ers buy addi­tion­al flood pro­tec­tion from pri­vate insur­ers to make up any shortfall.
Why is the Nation­al Flood Insur­ance Pro­gram underwater?
The Nation­al Flood Insur­ance Pro­gram has faced con­sid­er­able crit­i­cism over its under­writ­ing and pric­ing poli­cies, which have result­ed in a sub­stan­tial debt. Essen­tial­ly, its pre­mi­ums are not high enough to cov­er how much it pays out on claims and its oth­er costs.
Part of the prob­lem is that about 20 per­cent of the prop­er­ties the pro­gram insures pay a sub­si­dized rate. But many oth­er Nation­al Flood Insur­ance Pro­gram pol­i­cy­hold­ers are also pay­ing pre­mi­ums sub­stan­tial­ly less than what it costs to insure them because the rates do not ade­quate­ly account for the cat­a­stroph­ic loss­es incurred dur­ing years when more major storms than nor­mal strike, such as Kat­ri­na and Rita in 2005 and Sandy in 2012. As a result, the Nation­al Flood Insur­ance Pro­gram owes an accu­mu­lat­ed debt of $25 bil­lion to the U.S. Treasury.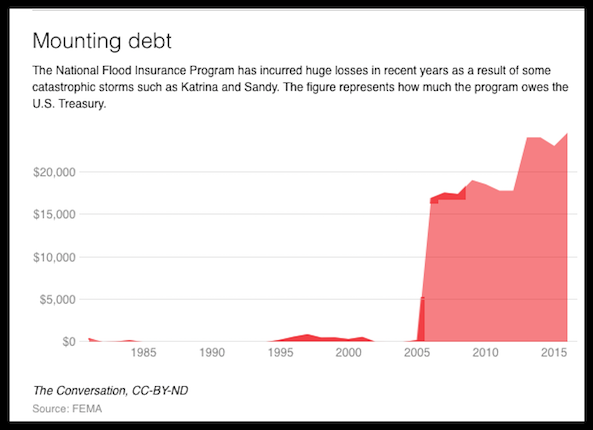 Hur­ri­cane Har­vey (and poten­tial­ly oth­er storms such as Irma that may fol­low) will sub­stan­tial­ly increase this debt. Core­L­og­ic esti­mates that Nation­al Flood Insur­ance Pro­gram-insured flood loss­es from Har­vey alone will be $6 bil­lion to $9 billion.
In the short term, Con­gress will have to increase the Nation­al Flood Insur­ance Program's bor­row­ing author­i­ty for it to pay the claims that will result from Har­vey and oth­er storms this year. Law­mak­ers could make a gen­er­al fund appro­pri­a­tion to for­give all or a por­tion of the Nation­al Flood Insur­ance Program's debt, but it has shown no inter­est in doing so.
These inad­e­quate rates also exac­er­bate the moral haz­ard cre­at­ed by flood insur­ance. Peo­ple are more like­ly to buy, build or rebuild homes in flood-prone areas and have dimin­ished incen­tives to invest in flood risk mit­i­ga­tion, such as by ele­vat­ing their home, if they can buy insur­ance at below-cost rates.
What can be done to fix the program?
Leg­isla­tive efforts to reform the Nation­al Flood Insur­ance Pro­gram to put it on firmer fis­cal foot­ing have pro­duced mixed results.
The Big­gert-Waters Act of 2012 made a num­ber of changes to the pro­gram, such as increas­ing pre­mi­ums and oth­er changes to make it ​"more finan­cial­ly sta­ble," that would have gone a long way to restore its fis­cal sol­ven­cy. How­ev­er, an out­cry from home­own­ers in high-risk areas such as coastal Flori­da led to the Home­own­ers Flood Insur­ance Afford­abil­i­ty Act, passed in 2014, that lim­it­ed or rescind­ed many of the Big­gert-Waters rate increases.
Fun­da­men­tal­ly, the pro­gram that mil­lions of Amer­i­cans rely on to help them rebuild their lives after a dev­as­tat­ing flood needs to be fixed. Its dire finan­cial straits could be resolved by either mak­ing tax­pay­ers foot more of the bill or increas­ing pre­mi­ums clos­er to full-cost rates for most home­own­ers, while also rais­ing total cov­er­age levels.
At the same time, the gov­ern­ment needs to do more to con­vince or com­pel more at-risk home­own­ers to buy flood insur­ance — which would be hard­er to do if it were to raise rates. To me, this sug­gests that increas­ing tax­pay­er sup­port for the NFIP will have to be part of the solu­tion so that pricey pre­mi­ums don't become a deter­rent to some­one buy­ing insurance.
With the like­li­hood of much more flood­ing in the com­ing weeks and years, more needs to be done to mit­i­gate the risk, includ­ing pro­duc­ing more accu­rate and time­ly maps of the flood risk in var­i­ous areas, espe­cial­ly high-risk areas, edu­cat­ing peo­ple about what those risks real­ly mean and help­ing relo­cate home­own­ers as necessary.
("How Flood Insur­ance Works: 6 Ques­tions Answered" was first pub­lished by The Con­ver­sa­tion and is repost­ed on Rur­al Amer­i­ca In These Times thanks to a Cre­ative Com­mons license. Robert W. Klein does not work for, con­sult, own shares in or receive fund­ing from any com­pa­ny or orga­ni­za­tion that would ben­e­fit from this arti­cle, and has dis­closed no rel­e­vant affil­i­a­tions beyond the aca­d­e­m­ic appoint­ment above.)
Robert W. Klein
is an Asso­ciate Pro­fes­sor and Direc­tor of the Cen­ter for Risk Man­age­ment Insur­ance Research at Geor­gia State Uni­ver­si­ty. Before that, Klein served as the direc­tor of research for the Nation­al Asso­ci­a­tion of Insur­ance Com­mis­sion­ers. He also served as a staff econ­o­mist for the Michi­gan Insur­ance Bureau and the Michi­gan Sen­ate Fis­cal Agency.