This Florida Stealth Offensive Against Unions Could Preview GOP Onslaught in 2018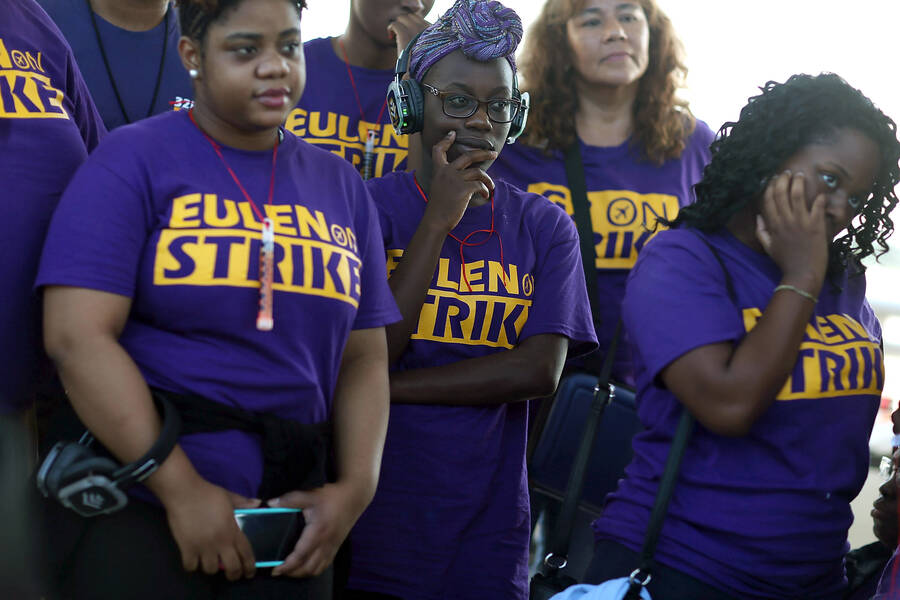 Flori­da Repub­li­cans are push­ing a bill designed to deal the state's unions a death blow. House Bill 25, which was intro­duced by Long­wood state Rep. Scott Plakon, would decer­ti­fy any union in which 50 per­cent of the work­ers don't pay dues, thus pre­vent­ing them from being able to col­lec­tive­ly bar­gain. Despite the fact that unions nego­ti­ate for the ben­e­fit of all their work­ers, no employ­ee is forced to pay dues in Flori­da, because it's a ​"Right to Work" state.
Right to Work poli­cies are pur­pose­ly con­struct­ed to reduce the resources of orga­nized labor, as many work­ers real­ize they can ben­e­fit from their union's col­lec­tive bar­gain­ing efforts with­out giv­ing them any mon­ey. In prac­tice, HB25 large­ly tar­gets unions that lean left, exempt­ing the few work­er orga­ni­za­tions that typ­i­cal­ly back the GOP: fire­fight­er, police and cor­rec­tions unions.
This same exact move was just attempt­ed by state Repub­li­cans. HB11 was the effec­tive­ly the same bill, but it died dur­ing the 2017 leg­isla­tive ses­sion in May. ​"This is divide and con­quer … It's an out­right attack on labor unions," Demo­c­ra­t­ic Rep. Wen­gay New­ton said at the time. ​"The right to bar­gain should be upheld and shouldn't be inter­fered with."
Not only has the failed leg­is­la­tion been res­ur­rect­ed as HB25, but it's been fast-tracked for a floor vote when the 2018 leg­isla­tive ses­sion begins next month. Typ­i­cal­ly, bills need approval from mul­ti­ple com­mit­tees, but HB25 was assigned to just one pan­el: the Repub­li­can-con­trolled Gov­ern­ment Account­abil­i­ty Com­mit­tee. The bill eas­i­ly passed 14 – 9, despite one Repub­li­can vot­ing with the Democ­rats and activists protest­ing the action out­side. Mem­bers of the com­mit­tee received letters from Amer­i­cans for Pros­per­i­ty, the Koch-fund­ed con­ser­v­a­tive advo­ca­cy group, urg­ing them to vote for the bill.
HB25 would dis­pro­por­tion­ate­ly impact women employ­ees, who make up the major­i­ty at the unions that would be tar­get­ed, while the pre­vi­ous­ly men­tioned male-dom­i­nat­ed orga­ni­za­tions would remain pro­tect­ed. This fact was brought up was brought up dur­ing the Gov­ern­ment Account­abil­i­ty Com­mit­tee by Demo­c­ra­t­ic Rep. Kris­ten Jacobs. ​"I know you said that was not your intent," Jacobs said to Plakon. ​"But when you look at the work­ers affect­ed by this bill — over 80 per­cent are women. Now if you look at the unions exempt­ed … they are large­ly made up of men."
The leg­is­la­tion could end col­lec­tive bar­gain­ing for most teach­ers in the state, and Florida's con­ser­v­a­tive law­mak­ers haven't exact­ly con­cealed their dis­dain for the orga­ni­za­tions. ​"The teach­ers' union is fix­at­ed on halt­ing inno­va­tion and com­pe­ti­tion in edu­ca­tion," said House Speak­er Richard Cor­co­ran dur­ing his swear­ing-in cer­e­mo­ny in 2016. ​"They are lit­er­al­ly try­ing to destroy the lives of a hun­dred thou­sand children."
Unit­ed Teach­ers of Dade, Miami's pub­lic teach­ers union, has between 13,000 and 14,000 mem­bers. But if stripped of their col­lec­tive bar­gain­ing rights, they'd be unable to fight for the 30,000 teach­ers who work in the dis­trict. ​"HB25 is an unnec­es­sary and destruc­tive bill that tar­gets women-dom­i­nat­ed indus­tries by seek­ing to erad­i­cate their labor rights," UTD pres­i­dent Kar­la Her­nan­dez-Mats told In These Times. ​"There is a bla­tant dis­parate treat­ment being applied by the leg­is­la­ture between major­i­ty male and female pro­fes­sions and their unions, and it is unfor­tu­nate to see that our state law­mak­ers are attempt­ing to move our coun­try back­wards instead of forward."
Florida's unions are already up against the odds with­out HB25. Not only is Flori­da a Right to Work state, its con­sti­tu­tion pro­hibits pub­lic employ­ees from strik­ing. Just how dev­as­tat­ing could this bill be for labor? Its poten­tial impact can be gleaned from Florida's last Annu­al Work­force Report. Only 2.8 per­cent of AFSCME state employ­ees and 7.9 per­cent of Flori­da Nurs­es Asso­ci­a­tion mem­bers pay dues. Even the Police Benev­o­lent Asso­ci­a­tion, the strongest union in the state, would be decer­ti­fied if the leg­is­la­tion applied to them. Only 45.7 per­cent of their mem­bers pay dues, just below the bill's 50 per­cent threshold.
The Trump admin­is­tra­tion has suc­cess­ful­ly stacked the Nation­al Labor Rela­tions Board with pro-busi­ness forces, inter­vened against pub­lic employ­ee unions in a land­mark Supreme Court case, and moved to over­turn the few labor vic­to­ries that occurred under Oba­ma. But what's hap­pen­ing at a nation­al lev­el is tak­ing place at an accel­er­at­ed rate with­in var­i­ous states. HB25 is rem­i­nis­cent of a sweep­ing anti-union bill that was passed in Iowa at the begin­ning of 2017. That leg­is­la­tion stripped more than 100,000 work­ers of their col­lec­tive bar­gain­ing rights and, just like Flori­da, the bill was fast-tracked and police unions were exempt. Near­ly all of these bills are sim­i­lar to Scott Walker's infa­mous Act 10, the vast attack on orga­nized labor in Wis­con­sin in 2011.
If HB25 is suc­cess­ful, it could pro­vide yet anoth­er blue­print for state law­mak­ers look­ing to crush orga­nized labor in 2018.
"
Michael Arria
is the U.S. cor­re­spon­dent for Mon­doweiss. Fol­low him on Twit­ter: @michaelarria.