For Laquan McDonald and All Victims of Police Brutality, We Have To Win
If the progressive movement can't organize itself to fight back against racism and injustice in Chicago and around the country, police murders like those of Laquan McDonald, Freddie Gray and Rekia Boyd will never stop.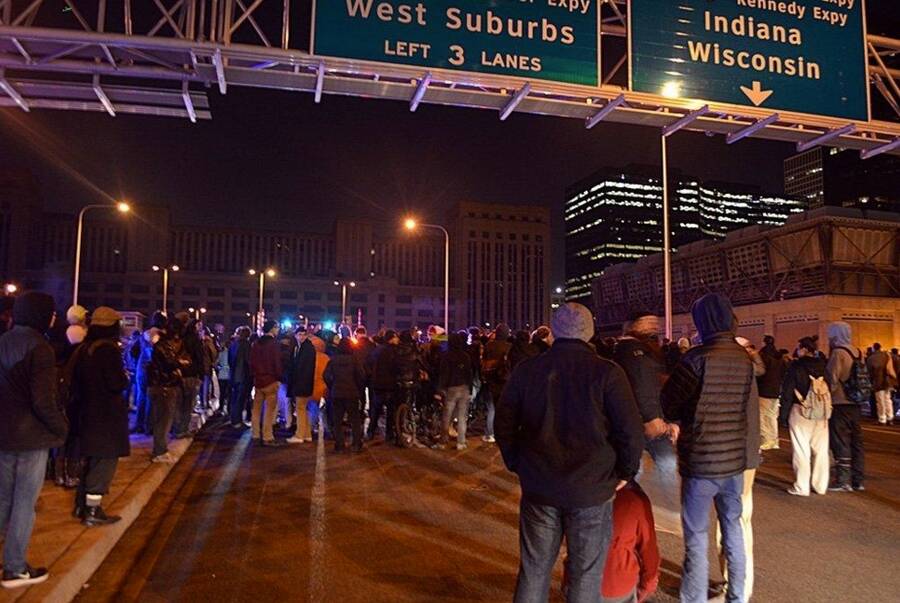 There is no ache more pro­found as the expe­ri­ence of los­ing a loved one, so my heart goes out to LaQuan McDon­ald's fam­i­ly. This young man is more than a sym­bol of a vio­lent and moral­ly bank­rupt sys­tem — he was someone's child. So, let my first words be words of love and con­do­lences of his family.
After all of this anger is vented and emotions run dry, if we do not move this power into policy, we will have rattled our sabers for nothing.
Six­teen shots. Four hun­dred some-odd days. Count­less tears and emp­ty promis­es. Laquan was mur­dered by the state. And we have to rec­og­nize that this moment is not an iso­lat­ed inci­dent — not in Chica­go and not in Amer­i­ca. Any­one who believes that Chica­go police chief Gar­ry McCarthy, May­or Rahm Emanuel or State's Attor­ney Ani­ta Alvarez care at all for this boy is delud­ed and dis­con­nect­ed from the real­i­ties our black com­mu­ni­ties face. These three have no con­cept of truth. They can't han­dle the bur­den of admit­ting that they have failed in their most sacred duty, to pro­tect and serve, and instead have become sym­bols of oppres­sion, cor­rup­tion and racism. Their pret­ty words are full of poi­son, and their vil­lain­ous record speaks loud­er than any press con­fer­ence. They nev­er loved us, and they nev­er will.
While this city erupt­ed in pain and protest, May­or Emanuel was at a Christ­mas tree light­ing cer­e­mo­ny, keep­ing up the cha­rade that every­thing is just fine in Chica­go. Alvarez' office wait­ed over a year to charge Jason Van Dyke, the offi­cer who shot McDon­ald, until a dogged jour­nal­ist pried the dash cam video out of the department's hands and forced them to release it to the pub­lic. And we all know her office let offi­cer Dante Servin get away with 22-year-old Rekia Boyd's 2012 mur­der for as long as they could get away with it. McCarthy's blue wall of silence has Alvarez's office on one side and city hall on the oth­er. None of them can be trust­ed, and none of them should be able to keep their jobs.
But, those of us in the ​"move­ment" are not with­out blame. If ​"we who believe in free­dom shall not rest," that means as long as one of us is oppressed, none of us should rest com­fort­ably. After march­ing in the streets last night, being led by the fear­less lead­er­ship of Black youth in our city, I have been chas­tened to do bet­ter by my com­mu­ni­ty. We have to exam­ine how our own ​"lib­er­al" and ​"pro­gres­sive" sys­tems allow oppres­sion and priv­i­lege to taint our deci­sions, even in the midst of dis­plays of sol­i­dar­i­ty. Last night, I saw the press flock to white allies, who were read­i­ly avail­able with a sound­bite, instead of redi­rect­ing the focus to the youth and Black folks who were lead­ing the fight. If our the­o­ry of change is that the peo­ple most affect­ed by the issues of injus­tice should be lead­ing us, then we have to prac­tice what we preach.
Being anti-racist means that you active­ly shift the dynam­ics of pow­er that sup­port racism. In the move­ment for Black lives, if you aren't Black, you shouldn't be clam­or­ing for the lime­light, lead­ing march­es or try­ing to be anyone's sav­ior; this is the time for you to lis­ten, sup­port and use your priv­i­lege to lift up Black lead­er­ship. This isn't the time for elect­ed offi­cials to pos­ture and grand­stand — it's time for them to stand up against the racist and clas­sist sys­tems and take to the streets with us. We have to hum­ble our­selves in front of our broth­ers and sis­ters and lis­ten to what they know, or else we show that we don't real­ly know any­thing at all.
I don't want to hear any Black-on-Black crime sta­tis­tics. Yes, vio­lence in our com­mu­ni­ties is a real issue, and all black lives mat­ter every­where. But the root caus­es of crime and vio­lence in our com­mu­ni­ty is the pover­ty and lack of resources that have sys­tem­at­i­cal­ly desta­bi­lized our com­mu­ni­ties for decades. You know who con­trols the resources, stands in the way of equi­table rev­enue solu­tions, sup­ports the 1% and destroys pub­lic edu­ca­tion? These same clowns who are now ask­ing us all to be ​"peace­ful, patient, and respectful."
At the Chica­go Teach­ers Union's mass ral­ly ear­li­er this week, a Chica­go Pub­lic Schools stu­dent took the micro­phone and men­tioned that if we don't pay atten­tion to the inter­sec­tion­al­i­ty of issues, we will miss the for­est for the trees. Every­thing is con­nect­ed. We have to require the divest­ment of mon­ey from the poli­cies and sys­tems that uphold pover­ty (mil­i­ta­riza­tion of police, cor­po­rate loop­holes and sub­si­dies, tax cuts for the wealthy) and invest those funds into edu­ca­tion and oth­er pro­grams and poli­cies that will con­tribute to the long-term sus­tain­abil­i­ty of our most mar­gin­al­ized com­mu­ni­ties. If a bud­get is a moral doc­u­ment, then our city's and state's bud­gets should reflect the moral­i­ty that people's lives mat­ter more than cor­po­rate greed. All this has hap­pened before, and will hap­pen again if we don't inter­rupt the cycle.
After all of this anger is vent­ed and emo­tions run dry, if we do not move this pow­er into pol­i­cy, we will have rat­tled our sabers for noth­ing. As long as we are let­ting our ene­mies dic­tate our tac­tics, box us in and keep us fight­ing amongst our­selves they will always be a step ahead of us. This move­ment can­not be script­ed. Our talk­ing points will ring hol­low if they are not from the heart. The late Hueron Wilks, who was a long-time orga­niz­er at Action Now whom I had the plea­sure of work­ing with, always used to say ​"what comes from the heart touch­es the heart." If we are speak­ing from our hearts, from a place of love, we will reach one another.
We will make mis­takes, but that's a part of growth. We will dis­agree, but that will chal­lenge us to refine or rein­force our beliefs. We will miss oppor­tu­ni­ties, not get the ​"cred­it we deserve" and make all sorts of unsound deci­sions. But that can't stop us. Let them call us dis­or­ga­nized, let them mar­gin­al­ize us ​"too young" or ​"too angry." Let them call us irrel­e­vant. We will chal­lenge one anoth­er, sharp­en each other's words and actions, and become the pre­cise and pow­er­ful instru­ment for jus­tice that will lead us all towards liberation.
We have to use what­ev­er plat­forms we have to redi­rect the nar­ra­tive back to the demands of the com­mu­ni­ty. We have to rearrange our pri­or­i­ties and demand that our elect­ed offi­cials do the same or else we are com­plic­it in our own destruc­tion. We are already stand­ing on the shoul­ders of those who have fought before us. Let's con­tin­ue to uplift each oth­er, stand up for each oth­er, and fight back. Laquan McDon­ald and his fam­i­ly, and all the oth­er Laquans and Rekia Boyds and Fred­die Grays around the coun­try are count­ing on us to get it togeth­er. We can't let the sys­tems and peo­ple who killed him, kill our move­ment as well.
Kate­lyn John­son
is Exec­u­tive Direc­tor of
Action Now
, a grass­roots com­mu­ni­ty orga­ni­za­tion work­ing to build pow­er and fight for racial, social and eco­nom­ic jus­tice in low-income Black com­mu­ni­ties in Chica­go. She is also Co-exec­u­tive direc­tor of the Black­roots Alliance. She grad­u­at­ed from North Park Uni­ver­si­ty in
2004
and has ded­i­cat­ed her career to address­ing issues of sys­temic oppres­sion and devel­op­ing grass­roots leaders.