Legal Weed Is Great, But Black and Brown Communities Can't Be Left Behind
Marijuana legalization must bring both equity and justice for those most impacted by the War on Drugs.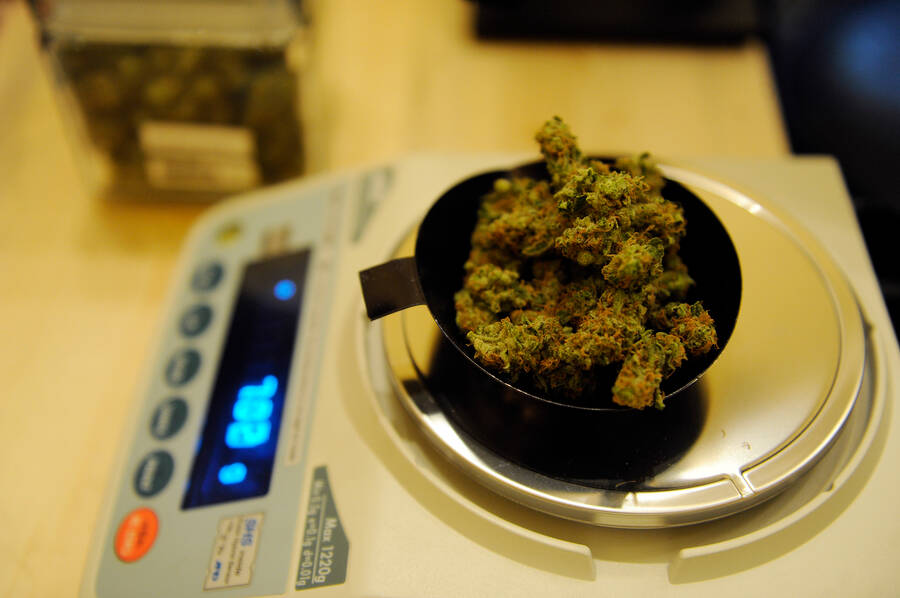 In March 2017, Illi­nois State Rep. Kel­ly Cas­sidy and Sen. Heather Steans began co-draft­ing the Tax & Reg­u­late Cannabis like Alco­hol bill. In the near­ly two years since, Chica­go NORML, a local chap­ter of the Nation­al Orga­ni­za­tion for the Reform of Mar­i­jua­na Laws, has encour­aged Illi­nois leg­is­la­tors to pri­or­i­tize social equi­ty and crim­i­nal jus­tice in the final ver­sion of the bill.
Racial equity in cannabis legislation cannot simply come as lip service from politicians, it has to be a robust policy that's centered on the indemnity and inclusion of the communities who have suffered while marijuana was illegal.
In a Jan­u­ary 2018 speech to indus­try stake­hold­ers, then-can­di­date and now Illi­nois gov­er­nor-elect JB Pritzk­er promised to ​"inten­tion­al­ly include black and brown entre­pre­neurs" in man­ag­ing legal mar­i­jua­na busi­ness­es in the state in order to address ​"his­tor­i­cal­ly sys­temic racism."
Now, out­go­ing Chica­go May­or Rahm Emanuel has announced that recre­ation­al mar­i­jua­na should be legal­ized — and that the result­ing rev­enue should go toward fix­ing the city's pen­sions crisis.
While it's crit­i­cal­ly impor­tant both for Black and Brown entre­pre­neurs to gain equal access to the bur­geon­ing mar­ket and to address pen­sion short­falls, using mar­i­jua­na rev­enue to fill bud­get gaps and back­logged debt does a grave dis­ser­vice to the decades of inequity faced by com­mu­ni­ties of col­or as a result of the War on Drugs. Illi­nois law­mak­ers are fac­ing a his­toric oppor­tu­ni­ty to cen­ter equi­ty as they craft mar­i­jua­na legal­iza­tion leg­is­la­tion, and com­mu­ni­ty groups are mobi­liz­ing to make sure that's pre­cise­ly what they do.
When orga­niz­ers with the Black­Roots Alliance, a coali­tion of com­mu­ni­ty orga­ni­za­tions cen­tered on sup­port­ing Black lead­er­ship and build­ing inde­pen­dent polit­i­cal pow­er, start­ed knock­ing on doors about this issue, a major­i­ty of peo­ple they talked to said they felt left out of the dis­cus­sion around mar­i­jua­na legalization.
While our elect­ed offi­cials may want to fast track this mar­i­jua­na leg­is­la­tion to fix the pen­sion cri­sis, Black com­mu­ni­ties — which have been dis­pro­por­tion­ate­ly impact­ed by cannabis arrests and dis­crim­i­na­to­ry sen­tenc­ing prac­tices nation­al­ly at a rate of 4:1 over white pop­u­la­tions (7:1 in Cook Coun­ty) — demand more from our pub­lic ser­vants. We need legal­iza­tion ini­tia­tives that address crim­i­nal jus­tice reform and dis­par­i­ties in the cannabis mar­ket­place while also revers­ing and repair­ing the most egre­gious effects of the War on Drugs upon com­mu­ni­ties of color.
The annu­al tax rev­enue result­ing from recre­ation­al cannabis in Illi­nois is pro­ject­ed to reach into the hun­dreds of mil­lions of dol­lars. The com­mu­ni­ties hard­est hit by pover­ty and the effects of the War on Drugs should receive a sig­nif­i­cant por­tion of that rev­enue, and they should get it first. Rev­enue from recre­ation­al mar­i­jua­na sales should be re-invest­ed into restora­tive jus­tice pro­grams and be used to fund pub­lic schools in low-income areas, jobs pro­grams and a vari­ety of equi­table on-ramps into the new indus­try ear-marked for return­ing cit­i­zens and peo­ple from low-income com­mu­ni­ties. Any legal­iza­tion bill should also pro­vide imme­di­ate expunge­ments or resen­tenc­ing of mar­i­jua­na-relat­ed cases.
Since mid-2018, mem­bers of the Black­Roots Alliance and Chica­go NORML have been talk­ing to vot­ers in Black and Brown com­mu­ni­ties as well as thou­sands of peo­ple who have signed peti­tions, and these res­i­dents are clear that they want the recre­ation­al mar­i­jua­na tax rev­enue rein­vest­ed in their communities.
This Feb­ru­ary, Chicagoans in a num­ber of these com­mu­ni­ties may have the oppor­tu­ni­ty to weigh in on how they feel such rev­enue should be used at the bal­lot. The Black­Roots Alliance and Chica­go NORML deliv­ered sig­na­tures in Novem­ber 2018 to the Chica­go Board of Elec­tions demand­ing that the Feb­ru­ary 2019 munic­i­pal elec­tion bal­lot include a ref­er­en­dum ques­tion ask­ing vot­ers in wards and precincts across Engle­wood, Garfield Park and Austin — neigh­bor­hoods of col­or — if they would like to see recre­ation­al mar­i­jua­na tax rev­enue rein­vest­ed in their com­mu­ni­ties. Specif­i­cal­ly, the peti­tion asks the elec­tions board to put the fol­low­ing ques­tion on the ballot:
In the event that the use and sale of recre­ation­al mar­i­jua­na is legal­ized in the State of Illi­nois, should the City of Chica­go appro­pri­ate tax rev­enue to fund neigh­bor­hood rein­vest­ment in low income, dis­en­fran­chised com­mu­ni­ties hit hard by the war on drugs?
If law­mak­ers are seri­ous about mak­ing sure the cannabis indus­try in Illi­nois is equi­table and fair, they must include ear­marks on the rev­enue from mar­i­jua­na sales for the com­mu­ni­ties that have been hit the hard­est by social inequities relat­ed to mar­i­jua­na prohibition.
Rec­og­niz­ing the short win­dow of time avail­able to shape the cannabis indus­try in Illi­nois, Chica­go NORML and Black­Roots Alliance plan to bring the issues of racial equi­ty and restora­tive jus­tice in the cannabis indus­try to the fore­front of the public's atten­tion. State leg­is­la­tors have rec­og­nized the imbal­ance of access for minori­ties in the med­ical cannabis pro­gram and vowed to cor­rect them. But as they con­sid­er options to address the lack of equi­ty and minor­i­ty own­er­ship in the pro­posed recre­ation­al bill, it's impor­tant that all aspects of the leg­is­la­tion and its asso­ci­at­ed rev­enue address these challenges.
It's encour­ag­ing to hear elect­ed offi­cials talk­ing about ​"when" we legal­ize mar­i­jua­na as opposed to ​"if" — but the dis­course must shift to ​"how" we are going to use the mon­ey asso­ci­at­ed with legal­iza­tion to make our state stronger and life bet­ter for our most at-risk communities.
To become the nation's cannabis ​"gold stan­dard" we must also be seri­ous about tak­ing ade­quate time to devel­op the social equi­ty com­po­nents that will ensure those who have his­tor­i­cal­ly car­ried the weight of the cannabis indus­try can come out of the black mar­ket and have a fair shot at ben­e­fit­ing from the suc­cess of legal­ized recre­ation­al marijuana.
Racial equi­ty in cannabis leg­is­la­tion can­not sim­ply come as lip ser­vice from politi­cians, it has to be a robust pol­i­cy that's cen­tered on the indem­ni­ty and inclu­sion of the com­mu­ni­ties who have suf­fered while mar­i­jua­na was ille­gal. Plain and sim­ple, this equi­ty looks like peo­ple get­ting out of jail, expunge­ments of records, peo­ple from low-income com­mu­ni­ties gain­ing pri­or­i­tized access to the mar­ket and rev­enue going towards high-impact com­mu­ni­ty pro­grams that help clear hur­dles to pros­per­i­ty for low-income communities.
Legal­iz­ing mar­i­jua­na is not just anoth­er rev­enue stream, because its pro­hi­bi­tion has streamed direct­ly from racist poli­cies. But Illi­nois now has the oppor­tu­ni­ty to get it right and turn this moment into a stream of equi­ty and jus­tice, set­ting us apart as a tru­ly pro­gres­sive state.
Edie Moore, Exec­u­tive Direc­tor Chica­go NORML, con­tributed to this piece.
Kate­lyn John­son
is Exec­u­tive Direc­tor of
Action Now
, a grass­roots com­mu­ni­ty orga­ni­za­tion work­ing to build pow­er and fight for racial, social and eco­nom­ic jus­tice in low-income Black com­mu­ni­ties in Chica­go. She is also Co-exec­u­tive direc­tor of the Black­roots Alliance. She grad­u­at­ed from North Park Uni­ver­si­ty in
2004
and has ded­i­cat­ed her career to address­ing issues of sys­temic oppres­sion and devel­op­ing grass­roots leaders.