In late September HarperCollins will be publishing The O'Reilly Factor for Kids, in which the Fox News pundit promises to "bring you, America's youth, a code of ethics by which to live." In this upcoming volume, O'Reilly "lays bare the unvarnished truths about sex, money, smoking, drugs, alcohol, and friends." Yikes. According to the description: "[O'Reilly] also shares wisdom on such subjects as death, politics, and God … Whether you take the tests he's provided, take the advice he doles out, or just take a cue from the personal stories he shares, you're bound to make smarter choices in your life, and that's all Bill asks for."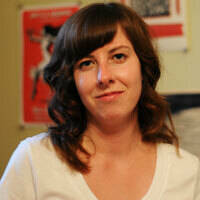 Emily Udell
is a writer for Angie's List Magazine in Indianapolis. In
2009
, she finished a stint drinking bourbon and covering breaking news for
The Courier-Journal
in Louisville, Ky. Her eclectic media career also includes time at the Associated Press,
Punk Planet
(R.I.P.),
The Daily Southtown
in southwest Chicago, and Radio Prague in the Czech Republic. She co-hosted and co-produced
In These Times
' radio show ​
"
Fire on the Prairie
" from
2003
to
2006
.