For Unionists, Iraq's Oil War Rages On
The leader of Iraq's oil union is being threatened with prison--again.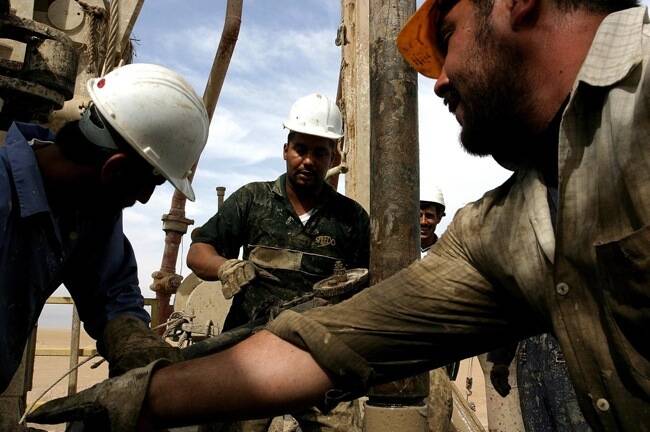 Many Iraqi oil work­ers thought the fall of Sad­dam Hus­sein would mean they would final­ly be free to orga­nize unions, and that their nation­al­ly owned indus­try would be devot­ed to financ­ing the recon­struc­tion of the coun­try. But the real­i­ty could not have been more dif­fer­ent. Ear­li­er this month, the head of the Iraqi Fed­er­a­tion of Oil Unions, Has­san Juma'a (below right), was hauled into a Bas­ra court­room and accused of orga­niz­ing strikes, a charge for which he could face prison time. The union he heads is still tech­ni­cal­ly ille­gal: Saddam's ban on pub­lic-sec­tor unions was the sole Sad­dam-era dic­tate kept in place under the U.S. occu­pa­tion, and Iraqi Prime Min­is­ter Nouri Mali­ki has­n't shown any inter­est in chang­ing it since most U.S. troops left.
Foreign corporations operating in Iraq have a long history of trying to bring in a workforce from outside the country. The oil union has led many fights since 2003 to force them to keep the native Iraqi workforce.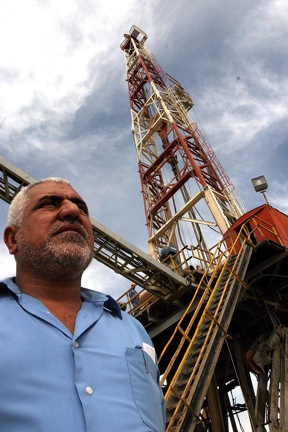 And the oil indus­try? The big multi­na­tion­al petro­le­um giants now run the nation's fields. Between 2009 and 2010, the Mali­ki gov­ern­ment grant­ed con­tracts for devel­op­ing exist­ing fields and explor­ing new ones to 18 com­pa­nies, includ­ing Exxon­Mo­bil, Roy­al Dutch Shell, the Ital­ian Eni, Rus­si­a's Gazprom and Lukoil, Malaysi­a's Petronas and a part­ner­ship between BP and the Chi­nese Nation­al Petro­le­um Cor­po­ra­tion. When they start­ed, the U.S. mil­i­tary pro­vid­ed the ini­tial secu­ri­ty umbrel­la pro­tect­ing all of their field operations.
The Min­istry of Oil tech­ni­cal­ly still owns the oil, but func­tions more as the multi­na­tion­als' adjunct, while strip­ping work­ers of their rights. Since 2003 the min­istry has denied the union its right to exist and retal­i­at­ed against its lead­ers and activists. As the oil cor­po­ra­tions rush in to lay claim to devel­op­ing fields, min­istry spokesman Assam Jihad told the Iraq Oil Report in 2010, ​"Union­ists insti­gate the pub­lic against the plans of the oil min­istry to devel­op [Iraq's] oil rich­es using for­eign development."
In 2011, Has­san Juma'a and Fal­ih Abood, pres­i­dent and gen­er­al sec­re­tary of the Fed­er­a­tion of Oil Employ­ees of Iraq, were first sub­ject to legal action by the min­istry and threat­ened with arrest. Many of the union's elect­ed offi­cers have been trans­ferred from jobs they'd held for years to remote loca­tions far from their fam­i­lies, in an effort to break up its struc­ture and pun­ish activists. ​"The gov­ern­ment does­n't want work­ers to have rights, because it wants peo­ple to be weak and at the mer­cy of employ­ers," said Juma'a.
The repres­sion has been unsuc­cess­ful in sti­fling dis­sent, how­ev­er. This year has seen esca­la­tions in both work­ers protest­ing bro­ken promis­es of bet­ter wages and treat­ment, and in local farm­ers object­ing to the seizure of their land and the lack of jobs to replace their lost income.
In Feb­ru­ary hun­dreds of work­ers demon­strat­ed on three sep­a­rate occa­sions out­side the build­ing of the gov­ern­ment-run South Oil Com­pa­ny in Bas­ra, call­ing for its direc­tor and his aides to resign. The com­pa­ny, man­aged by the nation­al oil min­istry, promised to build hous­ing for work­ers, an urgent neces­si­ty in a province still recov­er­ing from war. Work­ers said they hadn't been paid their nor­mal bonus­es for two years and accused the com­pa­ny of hir­ing tem­po­rary work­ers, and then keep­ing them in that sta­tus indef­i­nite­ly instead of giv­ing them per­ma­nent jobs. They also demand­ed bet­ter med­ical care, espe­cial­ly for those suf­fer­ing the effects of expo­sure to deplet­ed ura­ni­um. This heavy met­al was used exten­sive­ly in shells and oth­er muni­tions by U.S. forces, and war rem­nants are still piled high in neigh­bor­hoods and across the countryside.
In one of the largest protests, union mem­bers joined farm­ers in a demon­stra­tion at the West Qur­na 1 field, oper­at­ed by Exxon­Mo­bil. They demand­ed high­er pay­ment for land tak­en to devel­op the field, and for jobs cre­at­ed by oil devel­op­ment. Mohammed al-Traim, the sheikh of the Beni Man­sour tribe, told the Iraq Oil Report, ​"We have become farm­ers with­out land."
A des­per­ate situation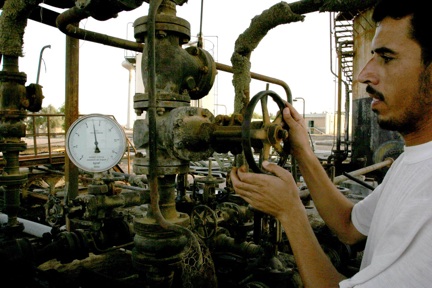 Farm­ing is the tra­di­tion­al occu­pa­tion for most fam­i­lies in south­ern Iraq, who have been cul­ti­vat­ing the soil there for hun­dreds of years. The Iraqi gov­ern­ment set up a com­mit­tee to com­pen­sate them when oil com­pa­nies moved in, but farm­ers accuse it of gross­ly under­valu­ing their land. ​"Com­pen­sa­tion for one don­um (six-tenths of an acre) is about one mil­lion Iraqi dinars ($833)," Abdul Sheikh told the Iraqi Oil Report. ​"But if we had the chance to grow toma­toes in that one don­um, we could make more than 5 mil­lion dinars." Oth­ers were offered com­pen­sa­tion in a range from $80 to $1,250 per donum.
Mean­while, Exxon­Mo­bil pumps 450,000 bar­rels a day from a field with reserves esti­mat­ed at 8.7 bil­lion. Cur­rent crude oil prices hov­er at around $100 per bar­rel, giv­ing the val­ue of a day's pro­duc­tion at the field of $45 million.
The com­pen­sa­tion lev­els might keep a fam­i­ly fed and alive for a few months. But then what? That dilem­ma fuels the demand for jobs, the source of ongo­ing con­flict since the occu­pa­tion start­ed – pit­ting work­ers and farm­ers against the gov­ern­ment and the oil com­pa­nies. For­eign cor­po­ra­tions oper­at­ing in Iraq have a long his­to­ry of try­ing to bring in a work­force from out­side the coun­try. The oil union has led many fights since 2003 to force them to keep the native Iraqi work­force, and to hire from the local population.
Yet unem­ploy­ment in Iraq con­tin­ues at lev­el unimag­in­able in the Unit­ed States. ​"There has basi­cal­ly been no change in the unem­ploy­ment sit­u­a­tion since the occu­pa­tion start­ed," said Qasim Hadi, who orga­nized Iraq's Union of the Unem­ployed when the occu­pa­tion began, in a 2011 inter­view. ​"There are more than 10 mil­lion unem­ployed peo­ple in Iraq – about 60 – 70 per­cent of the work­force." Accord­ing to the unem­ployed union, gov­ern­ment unem­ploy­ment sta­tis­tics are arti­fi­cial­ly low because they don't count many peo­ple. ​"Women aren't count­ed," Hadi says, cit­ing just one exam­ple, ​"because the gov­ern­ment says their hus­bands or fathers are respon­si­ble for sup­port­ing them."
The Iraqi gov­ern­ment only admits to an unem­ploy­ment rate of 16 per­cent, and pays unem­ploy­ment ben­e­fits to a quar­ter of them. Ben­e­fits are low, about $110 a month, and if there's more than one unem­ployed per­son in the fam­i­ly, ben­e­fits are reduced.
Inter­na­tion­al outcry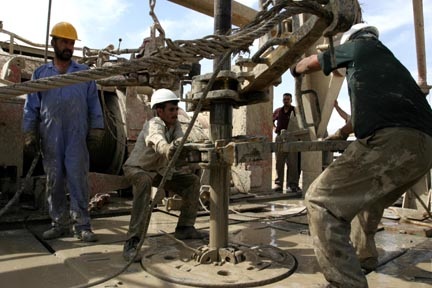 At first, gov­ern­ment author­i­ties denied rumors that they would pun­ish work­ers involved in this February's demon­stra­tions. ​"We will not pun­ish any pro­test­ers and all their demands will be ful­filled," announced Bas­ra provin­cial coun­cil head Sabah al-Bez­zouni. But after the largest of the Bas­ra demon­stra­tions this spring, on Feb­ru­ary 27, the Min­istry of Oil took action against the union orga­niz­ers. The Bas­ra court issued charges against Juma'a and gave him until April 7 to find a lawyer. Mean­while, al-Bez­zouni sought to take over the union's role as the work­ers' rep­re­sen­ta­tive in their griev­ances against the South Oil Company.
Labor unions in Europe and the Unit­ed States are protest­ing the threats against Juma'a and his union. In a let­ter to Mali­ki, they not­ed that eight oth­er union pro­test­ers had also been sum­moned to the oil min­istry ​"to inves­ti­gate their role in recent demon­stra­tions in Bas­ra, where work­ers engaged in peace­ful protest to express their legit­i­mate demands." The let­ter reviewed the long his­to­ry of the denial of work­ers rights since the begin­ning of the occu­pa­tion, espe­cial­ly the enforce­ment of Law 150, which bans unions in the pub­lic sector.
​"The Iraqi government's con­tin­ued repres­sion of free­dom of asso­ci­a­tion and work­er rights, based on laws issued under a dic­ta­tor­ship, is in direct con­tra­dic­tion with the prin­ci­pals of democ­ra­cy and jus­tice that the Iraqi gov­ern­ment promis­es its peo­ple," the unions wrote. ​"The gov­ern­ment of Iraq should imme­di­ate­ly can­cel the orders issued by the Min­istry of Oil to union activists, includ­ing all trans­fer orders, rep­ri­mands and arbi­trary penal­ties against union activists. Charges against Has­san Juma'a Awad, and any oth­er work­ers who have had retal­ia­to­ry legal action tak­en against them, should be dropped."
Signed by (among oth­ers) Britain's huge pub­lic sec­tor union UNITE; the CGIL, Italy's biggest labor fed­er­a­tion; the AFL-CIO and U.S. Labor Against the War in the Unit­ed States, the let­ter is still open for oth­er orga­ni­za­tions to sign at the web­site U.S. Labor Against the War.
David Bacon
is a writer, pho­tog­ra­ph­er and for­mer union orga­niz­er. He is the author of The Right to Stay Home: How US Pol­i­cy Dri­ves Mex­i­can Migra­tion (
2013
), Ille­gal Peo­ple: How Glob­al­iza­tion Cre­ates Migra­tion and Crim­i­nal­izes Immi­grants (
2008
), Com­mu­ni­ties With­out Bor­ders (
2006
), and The Chil­dren of NAF­TA: Labor Wars on the US/​Mexico Bor­der (
2004
). His web­site is at dba​con​.igc​.org.