'Forget About Morality'
Two Oscar-nominated documentaries present footage of Israel and Palestine you'll never see on network TV.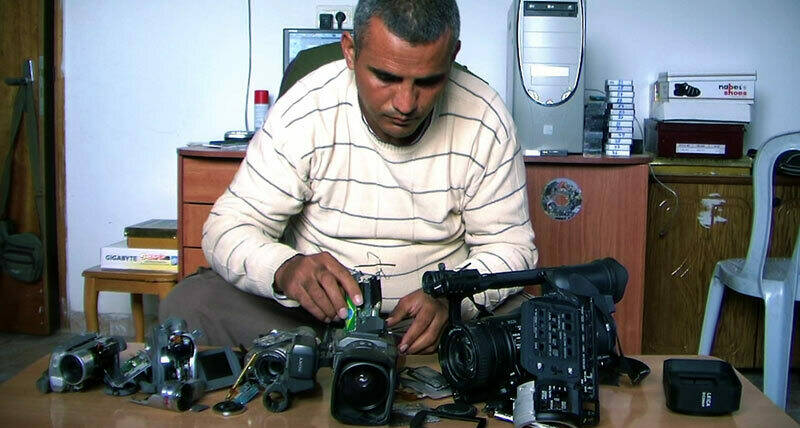 It may be that the Israeli-Pales­tin­ian con­flict has reached some kind of crit­i­cal mass of media expo­sure. Secrets are becom­ing impos­si­ble to keep, as atroc­i­ties are record­ed on cell phones and in civil­ian doc­u­men­taries made with noth­ing but a cheap cam­era and a bel­ly­ful of ire. Along­side Vibeke Løkkeberg's 2012 Tears of Gaza, two Oscar-nom­i­nat­ed doc­u­men­taries—The Gate­keep­ers and 5 Bro­ken Cam­eras—etch a hair-rais­ing trip­tych of the dire state of affairs for Arabs in Gaza and the West Bank.
Here you get a rare glimpse of exactly what the interface between a West Bank resident and the Israeli army has been like.
Dror Moreh's The Gate­keep­ers is an earnest attempt at biop­sy­ing the soul of Israel in the decades since 1967, by exam­in­ing the his­to­ry of the Shin Bet, Israel's inter­nal secu­ri­ty agency respon­si­ble for deal­ing with the Pales­tini­ans, the PLO, Hamas and domes­tic ter­ror­ists. Noto­ri­ous­ly secre­tive, the Shin Bet shields the iden­ti­ty of all of its mem­bers, save for its direc­tors, six of whom Moreh has assem­bled here in their retire­ments, from the decep­tive­ly cud­dly grand­pa Avra­ham Shalom (1981−86) to the inci­sive Avi Dichter (2000−05). One by one, the direc­tors recount the his­to­ry of the orga­ni­za­tion in a cloud of doubt and rue, freely acknowl­edg­ing the moral gray areas in which they worked, where pris­on­ers died in cus­tody and house bomb­ings killed inno­cents. Appar­ent­ly, the inter­ro­ga­tions rou­tine­ly car­ried out have been, for decades, Abu Ghraib-worthy.
The his­to­ry is fas­ci­nat­ing enough to over­come the film's intru­sive dig­i­tal tran­si­tions. And clear­ly, Moreh's inten­tions are sol­id, as when he con­fronts Shalom about the 1984 ​"Kav 300" inci­dent, in which two bus hijack­ers were sum­mar­i­ly exe­cut­ed by the Shin Bet, and Shalom resigned after being accused of cov­er­ing it up (which he still denies). ​"For­get about moral­i­ty," Shalom grum­bles. But while Moreh shows us news footage of bloody bus bomb­ings, we see noth­ing of the Israeli assaults on Pales­tini­ans. Since these were actions tak­en by the Army, not the Shin Bet, they're not on Moreh's docket.
He's bought his sub­jects' basic premise, of course — the movie sees the occu­pa­tion of the Pales­tin­ian ter­ri­to­ries, and the height­ened state of mil­i­tary vio­lence it entails, as mere­ly frus­trat­ing and unten­able for Israelis. It is not a moral cri­sis, an abuse of pow­er, in and of itself. This is an under­stand­able posi­tion com­ing from these sat­is­fied old sol­diers, but Moreh should've tak­en a les­son from, say, Claude Lanz­mann, who wouldn't have let a bunch of old Six Day War desert fox­es con­trol his nar­ra­tive. It's telling that Moreh claims inspi­ra­tion from Errol Mor­ris' The Fog of War, which let U.S. Defense Sec­re­tary Robert McNa­ma­ra off the hook for the geno­ci­dal esca­la­tions in South­east Asia.
The oth­er shoe drops with Emad Bur­nat and Guy Davidi's 5 Bro­ken Cam­eras, a per­son­al account by Bur­nat, who was a Pales­tin­ian res­i­dent of olive-farm­ing, set­tle­ment-encroached Bil'in on the West Bank when he start­ed video­tap­ing his fourth son as a baby in 2005. A sep­a­ra­tion wall was being built, and Bur­nat began tap­ing his village's fear­less protests, which are rou­tine­ly sup­pressed by Israeli troops with gas grenades and open gun­fire. As the title sug­gests, Bur­nat goes through five cam­eras film­ing on the front­line between Pales­tini­ans wield­ing ban­ners and throw­ing rocks, and Israeli sol­diers who think noth­ing of shoot­ing chil­dren, destroy­ing homes and — as caught on tape — hold­ing down a pro­test­er and unload­ing a rifle round into his leg.
Here you get a rare glimpse of exact­ly what the inter­face between a West Bank res­i­dent and the Israeli army has been like — that is, a free-for-all, where Pales­tini­ans are regard­ed as lit­tle more than scrub growth to be shunt­ed aside for the sake of the rel­a­tive­ly wealthy Jews hap­pi­ly mov­ing into their new set­tle­ment con­dos. Hon­est­ly, the burn­ing of Bil'in's olive trees at night, which the set­tlers rou­tine­ly do, is bald evi­dence of malfea­sance and injus­tice that no cant about ​"secu­ri­ty" can mitigate.
In five years of film­ing, we see Bil'in go from a green, hilly vil­lage to a bull­dozed con­struc­tion site, and Bur­nat finds him­self in harm's way scores of times. (At least three of his cam­eras are sniper-shot off his shoul­der.) 5 Bro­ken Cam­eras is even-tem­pered because Bur­nat is, seem­ing­ly. And so the ​"Holy Shit" feel­ings of out­rage are all ours, ignit­ed by first­hand footage you'll nev­er see on net­work TV or described on the New York Times edi­to­r­i­al page.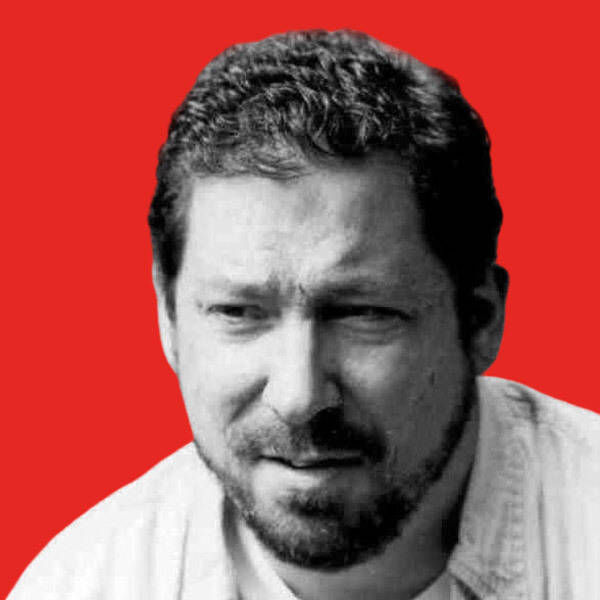 Michael Atkin­son
is a film review­er for
In These Times.
He has writ­ten or edit­ed many books, includ­ing
Exile Cin­e­ma: Film­mak­ers at Work Beyond Hol­ly­wood
(
2008
) and the mys­tery nov­els
Hem­ing­way Dead­lights
(
2009
) and
Hem­ing­way Cut­throat
(
2010
). He blogs at
Zero For Con­duct
.