Fossil Fuel Companies Are Enlisting Police to Crack Down on Protesters
An analysis by In These Times found, in at least seven states, the oil industry has backed critical infrastructure bills that criminalize pipeline protests.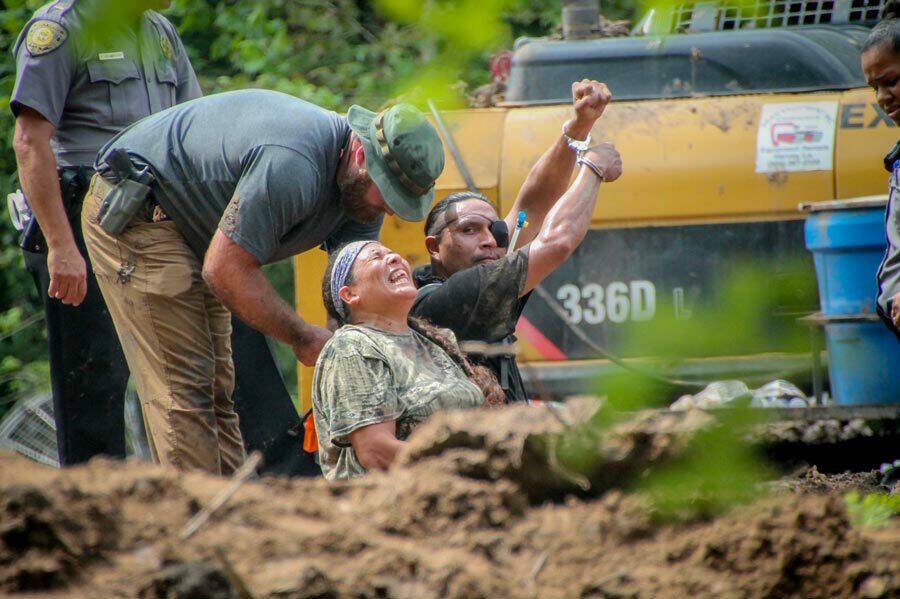 Researchers con­clud­ed in Jan­u­ary that human­i­ty has a hope, a 64 per­cent chance, of keep­ing the tem­per­a­ture rise below the inter­na­tion­al tar­get of 1.5 degrees Cel­sius — if the phase­out of fos­sil fuel infra­struc­ture begins now and every car, plane and pow­er plant in exis­tence gets replaced by a zero-car­bon alter­na­tive at the end of its life span.
State lawmakers across the country are advancing bills to increase penalties for demonstrators who interfere with 'critical infrastructure,' such as pipelines and gas terminals.
"We are basi­cal­ly say­ing we can't build any­thing now that emits fos­sil fuels," said Christo­pher Smith of the Uni­ver­si­ty of Leeds, the lead researcher.
Mean­while, the mul­ti-tril­lion-dol­lar fos­sil fuel indus­try is in the midst of an enor­mous infra­struc­ture expan­sion. A 2018 indus­try report pro­ject­ed that $791 bil­lion in oil and gas pipelines would be con­struct­ed in North Amer­i­ca between 2018 and 2035.
Already, activists are coun­ter­ing indus­try influ­ence by block­ing pipeline con­struc­tion, shut­ting down refiner­ies, mobi­liz­ing coal towns against moun­tain­top removal min­ing and inter­ven­ing in glob­al cli­mate talks. But the fos­sil fuel indus­try has the advan­tage of a nation­al pol­i­tics and a law enforce­ment appa­ra­tus that pro­tect the inter­ests of cap­i­tal over those of the public.
As Dal­las Gold­tooth, a ​"keep it in the ground" cam­paign­er for the Indige­nous Envi­ron­men­tal Net­work, puts it: ​"The oil indus­try and state col­lude to keep the sta­tus quo."
The com­pa­nies that pro­duce fos­sil fuels and those that burn them, such as automak­ers and util­i­ty com­pa­nies, spent $2 bil­lion between 2000 and 2016 to influ­ence cli­mate leg­is­la­tion in the Unit­ed States, out­spend­ing envi­ron­men­tal groups and renew­able ener­gy lob­by­ists 10 to 1. The Trump admin­is­tra­tion has since offered indus­try ​"unprece­dent­ed access," accord­ing to oil exec­u­tives them­selves in a glee­ful 2017 meet­ing of the Inde­pen­dent Petro­le­um Asso­ci­a­tion of Amer­i­ca, a tape of which was obtained by The Cen­ter for Inves­tiga­tive Report­ing. A 2018 study found that the Envi­ron­men­tal Pro­tec­tion Agency is now at its most pro-busi­ness, anti-reg­u­la­to­ry point in its near­ly 50-year history.
Glob­al­ly, fos­sil fuel com­pa­nies have spread their influ­ence through­out UN cli­mate talks, suc­cess­ful­ly push­ing neolib­er­al reforms like emis­sions trad­ing schemes and car­bon off­sets — mea­sures that give lip ser­vice to cli­mate action while encour­ag­ing the use of fos­sil fuels.
To neu­tral­ize its oppo­si­tion, the fos­sil fuel indus­try has sought to cap­ture the ​"big green" lead­ing envi­ron­men­tal advo­ca­cy groups. BP has donat­ed mil­lions to the Nature Con­ser­van­cy and shared a board mem­ber with the World Wildlife Fed­er­a­tion (WWF) until 2014. Efforts to get the big greens to dis­tance them­selves from fos­sil fuel com­pa­nies have seen some suc­cess, and many now refuse direct dona­tions (includ­ing the WWF), but some part­ner­ships per­sist: The Envi­ron­men­tal Defense Fund (EDF) and the Nature Con­ser­van­cy con­tin­ue to work with BP and Shell, respec­tive­ly, and the EDF still calls nat­ur­al gas ​"an impor­tant fuel source."
When the car­rot doesn't work, the ener­gy indus­try is hap­py to use the stick. In the 1990s, for exam­ple, Shell infa­mous­ly pres­sured Niger­ian police and mil­i­tary forces to orches­trate a crack­down on indige­nous pro­test­ers in the oil-rich Ogo­ni­land region, leav­ing an esti­mat­ed 2,000 peo­ple dead and 30,000 home­less. In 2016 and 2017, police from across the Unit­ed States and Nation­al Guard troops pro­tect­ed the inter­ests of Ener­gy Trans­fer Part­ners, the com­pa­ny build­ing the Dako­ta Access Pipeline, by bru­tal­ly sup­press­ing water pro­tec­tors at the Stand­ing Rock Sioux Reservation.
Now, state law­mak­ers across the coun­try are advanc­ing bills to increase penal­ties for demon­stra­tors who inter­fere with ​"crit­i­cal infra­struc­ture," such as pipelines and gas ter­mi­nals. They are using mod­el leg­is­la­tion devel­oped by the Amer­i­can Leg­isla­tive Exchange Coun­cil (ALEC), which counts fos­sil fuel com­pa­nies Koch Indus­tries and Chevron among its mem­bers. (Oth­er ener­gy com­pa­nies, includ­ing BP, Exxon and Shell, gave up their mem­ber­ships as ALEC became more noto­ri­ous). An analy­sis by In These Times found the oil indus­try has direct­ly lob­bied for these bills in many states — in effect, work­ing with the gov­ern­ment to rede­fine crim­i­nal­i­ty and then using that def­i­n­i­tion to lock up its oppo­nents. With the fate of the plan­et at stake, these front­line bat­tles pose a cru­cial ques­tion about what con­sti­tutes harm against soci­ety. Is it ​"crim­i­nal" for an indus­try to dri­ve the glob­al cli­mate cri­sis in order to reap prof­its? Or is it ​"crim­i­nal" to (lit­er­al­ly) get in the way?
The fos­sil fuel indus­try tar­gets large, sus­tained, direct-action mobi­liza­tions like those at Stand­ing Rock because of their effi­ca­cy. After thou­sands gath­ered to stop the Dako­ta Access Pipeline, includ­ing indige­nous peo­ple from around the world, images of water pro­tec­tors star­ing down tanks and heavy weapon­ry broke into the main­stream press and illus­trat­ed the industry's bru­tal­i­ty. The demon­stra­tions even wrung action from Pres­i­dent Barack Oba­ma, who typ­i­cal­ly con­ced­ed to indus­try despite his cli­mate promis­es. Late in the game, Oba­ma put a tem­po­rary block on the pipeline (which was lat­er over­turned by the Trump administration).
Stand­ing Rock helped build a mass move­ment for action on cli­mate change, with thou­sands trav­el­ing to the camp and stay­ing for weeks or months to show sup­port. Anti-pipeline actions have pro­lif­er­at­ed since, with high-pro­file stand­offs against Enbridge's Line 3 expan­sion in Min­neso­ta, the Bay­ou Bridge Pipeline in Louisiana and the Key­stone XL pipeline in Montana.
But the fos­sil fuel indus­try has drawn its own inspi­ra­tion from Stand­ing Rock. In 2017, indus­try asso­ci­a­tions rep­re­sent­ing dozens of ener­gy com­pa­nies sent a let­ter urg­ing the state leg­is­la­tors who are mem­bers of ALEC to sup­port crit­i­cal infra­struc­ture leg­is­la­tion, which defines tres­pass­ing on ener­gy plants and pipelines as a felony. The indus­try has since pub­licly sup­port­ed, lob­bied for or tes­ti­fied on behalf of crit­i­cal infra­struc­ture bills intro­duced in at least sev­en states: Iowa, Illi­nois, Louisiana, Min­neso­ta, North Dako­ta, Okla­homa and Wyoming. Some­times the leg­is­la­tors intro­duc­ing crit­i­cal infra­struc­ture bills them­selves have indus­try ties, like Ohio state Sen. Frank Hoagland ®, who runs a secu­ri­ty com­pa­ny that teach­es oil and gas firms to pre­pare for ​"eco-ter­ror­ists or eco-resistance."
So far, known indus­try-backed bills have passed only in Iowa, Louisiana, North Dako­ta and Okla­homa. But at least 11 new crit­i­cal infra­struc­ture bills — and count­ing — have been intro­duced in 2019, with a bill in Indi­ana pass­ing the leg­is­la­ture. And it's not just crit­i­cal infra­struc­ture bills: South Dako­ta recent­ly passed two sweep­ing bills that crim­i­nal­ize pipeline protests by oth­er means.
Louisiana's law, which ele­vates tres­pass­ing on oil pipelines from a mis­de­meanor to a felony pun­ish­able by up to five years in prison and a fine of $1,000, went into effect Aug. 1, 2018. Fif­teen peo­ple protest­ing the Bay­ou Bridge Pipeline have been charged under the law.
Mean­while, the line is blur­ring between police and pri­vate­ly hired secu­ri­ty firms. In 2013, ener­gy infra­struc­ture com­pa­ny Kinder Mor­gan asked a Penn­syl­va­nia police depart­ment for off-duty offi­cers to ​"deter protests." Though off-duty, the police were uni­formed and dri­ving squad cars. In 2017, after more than 400,000 gal­lons of oil spilled from the Key­stone pipeline in Mar­shall Coun­ty, S.D., Tran­sCana­da hired off-duty police to cor­don off the area, includ­ing pub­lic roads. Sev­er­al of the arrests in Louisiana were by off-duty police offi­cers hired as guards by Ener­gy Trans­fer Part­ners, which is build­ing the pipeline.
"We thought we were talk­ing to the law, but as it turns out, we were talk­ing to the secu­ri­ty for a pipeline com­pa­ny," says Cher­ri Foytlin, an indige­nous water pro­tec­tor who serves on the advi­so­ry coun­cil of the L'eau Est La Vie (Water Is Life) protest camp. ​"But then it turned out it was one and the same." Foytlin was arrest­ed in Sep­tem­ber 2018 and charged with two felonies under the new Louisiana law.
Those liv­ing in the ​"sac­ri­fice zones" that bear the brunt of fos­sil fuel pol­lu­tion and extreme weath­er, which are dis­pro­por­tion­ate­ly com­mu­ni­ties of col­or, have adopt­ed the bold­est tac­tics to shut down fos­sil fuel projects. ​"Some peo­ple have more to lose and so they're will­ing to put more on the line," Foytlin says. ​"For the Bay­ou Bridge pipeline, the peo­ple direct­ly affect­ed will be the peo­ple in St. James Parish. The poi­son will go in their air. If there is an acci­dent, they will be the ones to burn to death. Their kids will get can­cer. They have to speak up to defend themselves."
Protest repres­sion hits these com­mu­ni­ties the hard­est. At Stand­ing Rock, law enforce­ment set up mil­i­tary-style check­points and beat water pro­tec­tors, who also faced tear gas, water hoses and rub­ber bul­lets. Pri­vate guards employed by Ener­gy Trans­fer Part­ners unleashed dogs. More than 800 peo­ple were arrest­ed, with Native Amer­i­cans fac­ing the harsh­est charges and sen­tenc­ing. Red Fawn Fal­lis, who is Oglala Lako­ta, was hand­ed the longest sen­tence: four years and nine months.
"Indige­nous resis­tance has always been a threat to the Unit­ed States," says Glenn Mor­ris, Fal­lis' uncle, who serves on the lead­er­ship coun­cil of the Amer­i­can Indi­an Move­ment of Col­orado. ​"They will try to repress it at every opportunity."
In 2017, with the sup­port of the Amer­i­can Petro­le­um Insti­tute, 84 Con­gress mem­bers, includ­ing four Democ­rats, sent a let­ter urg­ing the attor­ney gen­er­al to charge anti-pipeline pro­test­ers with ter­ror­ism under the Patri­ot Act. ​"They have devel­oped this whole meme or frame­work that abo­rig­i­nal, trib­al, indige­nous peo­ple are ter­ror­ists when they try to oppose the pipelines," explains Daniel Shee­han, coop­er­at­ing attor­ney with the Water Pro­tec­tor Legal Collective.
Today's crit­i­cal infra­struc­ture bills, too, ​"play a dual role in demo­niz­ing social move­ments," accord­ing to Chip Gib­bons, pol­i­cy and leg­isla­tive coun­sel for Defend­ing Rights and Dis­sent. ​"In order to jus­ti­fy these bills, leg­is­la­tors fre­quent­ly resort to bom­bas­tic lan­guage smear­ing non­vi­o­lent protest as being akin to ter­ror­ism, mobs or sab­o­tage." When Wyoming state Sen. Leland Chris­tensen ® intro­duced the crit­i­cal infra­struc­ture bill in 2018, for exam­ple, he said the leg­is­la­tion would hold account­able ​"orga­ni­za­tions that spon­sor this kind of eco-terrorism."
Ear­li­er attempts to clas­si­fy eco­log­i­cal activism as domes­tic ter­ror­ism took off with a post‑9/​11 ​"Green Scare" pushed by the fur and bio­med­ical indus­tries, which led to FBI sur­veil­lance, arrests, pros­e­cu­tions and indict­ments. Fed­er­al and state law­mak­ers adopt­ed ALEC mod­el leg­is­la­tion that harsh­ly penal­ized ​"tres­pass­ing" on ani­mal research facilities.
Oil com­pa­nies and gov­ern­ment agen­cies are now employ­ing coun­tert­er­ror­ism tac­tics against pipeline pro­test­ers. Accord­ing to report­ing for the Guardian by Adam Fed­er­man and Paul Lewis, the FBI sur­veilled Key­stone XL pipeline pro­test­ers from 2012 to 2014, as well as activists with 350.org's Break Free From Fos­sil Fuels cam­paign. In 2016, the FBI opened a ter­ror­ism inves­ti­ga­tion of Stand­ing Rock water protectors.
Ener­gy Trans­fer Part­ners employed secu­ri­ty firm Tiger­Swan to mon­i­tor Stand­ing Rock. Tiger­Swan, the cre­ation of a for­mer U.S. Army spe­cial forces offi­cer, rou­tine­ly referred to water pro­tec­tors as ​"ter­ror­ists" in reports obtained by The Inter­cept, and met with Home­land Secu­ri­ty, the FBI and state agen­cies to iden­ti­fy ​"per­sons of interest."
Both Tiger­Swan and the FBI hired infor­mants at Stand­ing Rock, a tac­tic known to desta­bi­lize move­ments by sow­ing dis­trust. Red Fawn Fal­lis faced civ­il dis­or­der and weapons charges; the gun in ques­tion was brought into camp by FBI infor­mant Heath Har­mon, whom Fal­lis says start­ed a duplic­i­tous roman­tic rela­tion­ship with her. ​"As long as the accu­sa­tion against Red Fawn was that she was engaged in Gand­hi­an civ­il dis­obe­di­ence and they bru­tal­ized her, she had uni­fied sup­port," says Glenn Mor­ris. ​"But the moment police alleged she had a gun, peo­ple start­ed aban­don­ing her."
"What about the guns that the cops have?" Mor­ris con­tin­ues. ​"They have thou­sands and thou­sands of guns. They had armored per­son­nel carriers."
When the FBI's secret Coin­tel­pro oper­a­tion, short for coun­ter­in­tel­li­gence pro­gram, dis­rupt­ed left­ist move­ments in the 1950s and 1960s, move­ments often didn't know Cointelpro's full reach and role in stok­ing divi­sions until years lat­er. As Assa­ta Shakur, a for­mer mem­ber of the Black Lib­er­a­tion Army, wrote in her auto­bi­og­ra­phy, ​"Nobody back then had ever heard of the coun­ter­in­tel­li­gence pro­gram set up by the FBI."
The move­ments tar­get­ed by Coin­tel­pro, like the Black Pow­er and the Amer­i­can Indi­an move­ments, were those that the gov­ern­ment most feared because of their rev­o­lu­tion­ary pow­er. Sec­tors of the grow­ing cli­mate move­ment, with their goal of upend­ing one of the world's most pow­er­ful indus­tries, like­ly stir sim­i­lar fears — a sign of their effectiveness.
Move­ment lead­ers like Foytlin remain unde­terred. ​"We just have to con­tin­ue to chal­lenge these sys­tems and stop them from mov­ing for­ward until there is jus­tice," she says. ​"Peo­ple have to be brave. This is no joke. I've had child wel­fare called on me four times, I've had peo­ple attack me phys­i­cal­ly. We're just out here try­ing to pro­tect what we love."
In the left­ist tra­di­tion of sup­port­ing polit­i­cal pris­on­ers, the Water Pro­tec­tor Legal Col­lec­tive, as well as ad hoc groups of move­ment lawyers and water pro­tec­tors, have pro­vid­ed sup­port for those arrest­ed. Local groups across the coun­try, from envi­ron­men­tal­ists to labor to Black Lives Mat­ter, are also mobi­liz­ing to stop anti-protest bills. A nation­al Pro­tect Dis­sent Net­work — whose part­ners include the Nation­al Lawyers Guild, Law for Black Lives and Pales­tine Legal — sup­ports those efforts.
One col­lec­tive defense strat­e­gy is to argue in court that direct action to stop fos­sil fuel extrac­tion is nec­es­sary to safe­guard the plan­et and soci­ety. While ver­sions of this argu­ment have been attempt­ed for years, 2018 saw its suc­cess for the first time, win­ning acquit­tals for pipeline pro­test­ers in Massachusetts.
In the end, what's need­ed to both com­bat these crack­downs and turn the tide on cli­mate change is one and the same: to build con­sen­sus about the real pur­vey­ors of harm.
As Mor­ris puts it, ​"Peo­ple had bet­ter get their philo­soph­i­cal analy­sis straight about who the real crim­i­nals are in this soci­ety — and who has the right to defend them­selves from those criminals."
Sarah Lazare is a web edi­tor at In These Times.Simon Davis-Cohen edits the ​
"
Ear to the Ground" newslet­ter, which tracks state leg­is­la­tion and com­piles under-report­ed local stories.