Like Fracking, Factory Farms Are Profitable and Ecologically Insane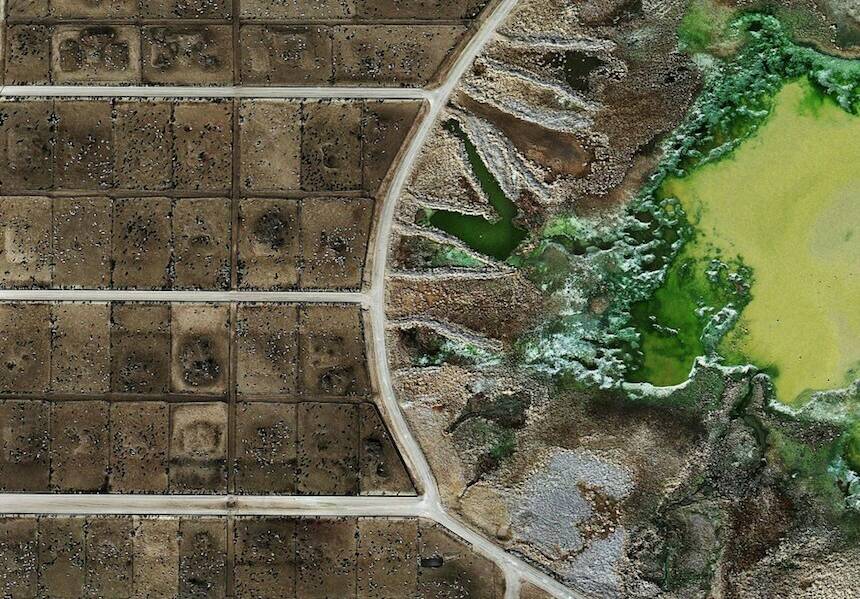 [Editor's Note: The term ​"manure" is inac­cu­rate­ly used in the sto­ry below to describe the waste gen­er­at­ed by Con­fined Ani­mal Feed­ing Oper­a­tions (CAFOs). For cen­turies, manure — an agri­cul­tur­al­ly essen­tial fer­til­iz­er derived from ani­mal exc­re­ta — has been used by peo­ple who val­ue soil fer­til­i­ty and healthy plants, but indus­tri­al farms with thou­sands of con­fined ani­mals are a new sys­tem out­side of that scale. As the author makes clear, the vol­ume of ani­mal exc­re­ta gen­er­at­ed by these oper­a­tions has cre­at­ed a pol­lu­tion cri­sis in rur­al com­mu­ni­ties across the nation (and in the Great Lakes). Why? Because it's not used as a fer­til­iz­er. CAFOs are not farms, after all. Animal exc­re­ta becomes manure in its use, or planned use, to sup­port plant growth. Its mere exis­tence doesn't get that hon­or­able title. So when cor­po­rate agribusi­ness exec­u­tives sit around a table and ask, ​"How the hell are we going to get rid of this stuff?" they are not talk­ing about manure. They've got a waste dis­pos­al prob­lem, which they dump on their neigh­bors.]
In 2008, Cabot Oil and Gas start­ed frack­ing oper­a­tions in Dimock, Penn. It was around that time the com­mu­ni­ty start­ed notic­ing their water was turn­ing brown and mak­ing peo­ple and ani­mals sick. One woman's water well explod­ed. Frack­ing had come to town.
It's a famil­iar sto­ry in oth­er rur­al com­mu­ni­ties — from Penn­syl­va­nia to Mon­tana and Texas — where frack­ing has con­t­a­m­i­nat­ed drink­ing water resources and emit­ted tox­ic air pol­lu­tion asso­ci­at­ed with high­er rates of asth­ma, birth defects and cancer.
But the sto­ry is sim­i­lar in oth­er com­mu­ni­ties where frack­ing or oth­er extreme fos­sil fuel extrac­tion isn't hap­pen­ing. Air and drink­ing water that's been dan­ger­ous­ly pol­lut­ed from indus­tri­al oper­a­tions affect com­mu­ni­ties across Iowa, includ­ing the state's largest city, Des Moines. Pol­lut­ing facil­i­ties are oper­at­ing in Cen­tral Ore­gon, North Car­oli­na, Wis­con­sin and Mary­land. None of those places are frack­ing, but they are host to anoth­er envi­ron­men­tal haz­ard fac­ing rur­al com­mu­ni­ties: fac­to­ry farms.
Like the fos­sil fuel car­tel, this high­ly con­sol­i­dat­ed indus­try pri­or­i­tizes prof­its at the cost of our envi­ron­ment. Fac­to­ry farms are an indus­tri­al mod­el for pro­duc­ing ani­mals for food where thou­sands of cows, pigs or birds are raised in con­fine­ment in a small area. While farms can and do apply manure as a fer­til­iz­er to crop­land, fac­to­ry farms pro­duce more manure than near­by fields can absorb, lead­ing to runoff into sur­face waters and con­t­a­m­i­nants leach­ing into ground­wa­ter. And stor­ing con­cen­trat­ed quan­ti­ties of manure releas­es tox­ins like ammo­nia and hydro­gen sul­fide into the air, threat­en­ing near­by com­mu­ni­ties — and even lead­ing to work­er deaths. The near­ly half a mil­lion dairy cows on fac­to­ry farms in Tulare Coun­ty, Calif., pro­duce five times as much waste as the New York City met­ro­pol­i­tan area and car­ries chem­i­cal addi­tives and pathogens like E. coli, many of which are antibi­ot­ic resistant.
Fac­to­ry farms are also an issue of envi­ron­men­tal injus­tice. In North Car­oli­na coun­ties that con­tain hog fac­to­ry farms, schools with larg­er per­cent­ages of stu­dents of col­or, and those with greater shares of stu­dents receiv­ing free lunch­es are locat­ed clos­er to hog farms than whiter and more afflu­ent schools. Just like with fos­sil fuel infra­struc­ture, these tox­ic facil­i­ties are more like­ly to be in places that are least able to resist their development.
Anoth­er thing fac­to­ry farms have in com­mon with fos­sil fuels: They are a dan­ger to the cli­mate. Live­stock pro­duc­tion con­tributes 14.5 per­cent of all human-caused green­house gas emis­sions. Methane emis­sions from the diges­tive process­es of cat­tle con­tribute 39 per­cent of the green­house gas emis­sions from live­stock pro­duc­tion, and manure stor­age and pro­cess­ing con­tribute 10 per­cent. Addi­tion­al­ly, mono­cul­ture crops like corn and soy are a hall­mark of our high­ly con­sol­i­dat­ed food sys­tem and are one of the rea­sons we can raise mass quan­ti­ties of live­stock. These crops con­tribute near­ly half of the emis­sions from the sec­tor. Mean­while, more sus­tain­able meat pro­duc­tion meth­ods like small­er farms and grass-fed oper­a­tions may have low­er green­house gas emis­sions than fac­to­ry farms. With­out a rapid tran­si­tion away from fac­to­ry farm­ing, we will not avoid cat­a­stroph­ic cli­mate change.
Yet attempts to reg­u­late fac­to­ry farms have been weak-kneed and inef­fec­tive. For exam­ple, fed­er­al law requires they report sig­nif­i­cant releas­es of tox­ic pol­lu­tants like ammo­nia. But the Envi­ron­men­tal Pro­tec­tion Agency (EPA) actu­al­ly does lit­tle to mon­i­tor, much less pre­vent, these emis­sions. In 2009, for exam­ple, the agency rolled back reg­u­la­tions so that only the largest facil­i­ties had to report these emis­sions — and only to local, not nation­al, emer­gency response offi­cials. In 2018 Con­gress went even fur­ther, grant­i­ng an exemp­tion from report­ing require­ments for air emis­sions cre­at­ed by manure on farms. Sim­i­lar­ly, the EPA does not col­lect com­pre­hen­sive data on fac­to­ry farm size or loca­tion, mak­ing over­sight impos­si­ble. And while the Clean Water Act reg­u­lates water pol­lu­tion from indus­tri­al facil­i­ties, the EPA has looked the oth­er way; the agency esti­mat­ed in 2011 that less than half of the facil­i­ties required to get dis­charge per­mits had actu­al­ly obtained them.
Calls to ban frack­ing have been pro­lif­er­at­ing since we have found that it is too dan­ger­ous to sim­ply reg­u­late. The inher­ent risks to our envi­ron­ment, our cli­mate, and our com­mu­ni­ties are sim­ply too much.
Now, we need to say the same thing about fac­to­ry farms. Both indus­tries are putting rur­al com­mu­ni­ties at risk so that large pol­lut­ing com­pa­nies can become larg­er and more prof­itable. Cli­mate advo­cates who are already fac­ing down the fos­sil fuel indus­try should find com­mon cause with those who are fight­ing to stop indus­tri­al agri­cul­ture in their community.
Sys­temic change is need­ed. We can't shop our way out of the dam­age that is being done to our envi­ron­ment by sim­ply choos­ing to reduce meat con­sump­tion or ride bikes to work. While these are mean­ing­ful steps, we must also demand pol­i­cy action. It's time to reverse the decades of pro-indus­try pol­i­cy that have made Big Ag and Big Ener­gy big­ger and bad­der, and cre­ate poli­cies that start phas­ing out pol­lu­tion from agri­cul­ture and energy.
We know how to do it: We need to demand mean­ing­ful laws and reg­u­la­tions — includ­ing bans on new pol­lut­ing fac­to­ry farms and fos­sil fuel infra­struc­ture — that pri­or­i­tize peo­ple over prof­it. This is already hap­pen­ing at the state lev­el in places like Iowa, but we need to work at all lev­els, start­ing now, to enact the changes we need to pro­tect our envi­ron­ment, our water and our communities.
(Wenon­ah Hauter wrote this arti­cle for YES! Mag­a­zine and it is repost­ed on Rur­al Amer­i­ca In These Times thanks to a Cre­ative Com­mons license. For more infor­ma­tion about Food & Water Watch, click here.)
Wenon­ah Hauter
is the founder and exec­u­tive direc­tor of Food
&
Water Watch and Food
&
Water Action Fund. Wenon­ah has three decades of expe­ri­ence cam­paign­ing and writ­ing on food, water, ener­gy and envi­ron­men­tal issues. She has trained and men­tored hun­dreds of orga­niz­ers and activists across the coun­try and worked at the nation­al, state and local lev­els to devel­op pol­i­cy posi­tions and leg­isla­tive and field strate­gies to secure real wins for com­mu­ni­ties and the environment.