Framing the 'RNC 8
Members of anarchist organization face terrorism charges, nearly eight years in prison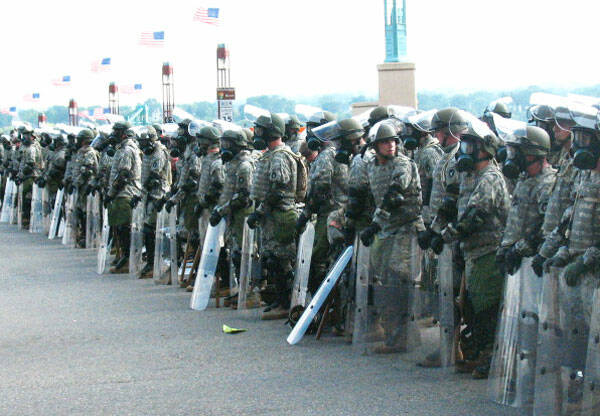 We wanted to make sure you didn't miss the announcement of our new Sustainer program. Once you've finished reading, take a moment to check out the new program, as well as all the benefits of becoming a Sustainer.

ST. PAUL, Minn. – The city that became a battlefield between police and protesters, who took to the streets during the Republican National Convention (RNC) in early September, is now embroiled in a new fight – a legal battle over freedom of speech and assembly.
"If the police are able to preemptively shut down dissent, people will be afraid to have even simple political meetings," says Luce Guillen Givins, one of the accused.
In an unprecedented application of Minnesota's version of the federal Patriot Act, eight members of the RNC Welcoming Committee, an anarchist organization, each face up to seven and a half years in prison for charges of ​"conspiracy to riot in furtherance of terrorism" for their alleged roles in RNC protest activities.
The charges against the eight individuals, now known as ​"The RNC 8," follow a yearlong investigation in which the Ramsey County Sheriff's Department, with the help of state and federal agencies, used an undercover agent and two paid informants to infiltrate and collect information on the organization.
On Aug. 30 and 31, the weekend preceding the RNC, the investigation culminated in a series of preemptive raids on several homes in the Twin Cities that the American Civil Liberties Union and the National Lawyer's Guild (NLG) have condemned.
"The scariest thing about this is that no one is accused of actually doing anything, they have been charged with conspiring," says attorney Jordon Kushner, an NLG member who is representing defendant Luce Guillen Givins. ​"What is worse is they are labeling people advocating traditional civil disobedience as terrorists. In my opinion, the intent of this is to stifle people's desires to exercise their First Amendment rights."
According to the sheriff department's application for a search warrant, authorities initiated an investigation on Aug. 29, 2007. Based on publicly available information on the organization, police determined there was ​"reasonable suspicion" that the RNC Welcoming Committee was planning to engage in ​"criminal activity" in the days leading up to, and during, the RNC.
During the course of the investigation, agents placed the RNC Welcoming Committee under surveillance and infiltrated the group. The preemptive raids were executed on ​"probable cause" derived from informants' claims that the homes contained incendiary and explosive devices, as well as allegations that members had discussed kidnapping delegates and sabotaging airports.
During the raids, police seized property and jailed eight alleged leaders of the RNC Welcoming Committee. They were not charged until Sept. 3, the day before the convention ended. The second-degree conspiracy to riot charge carries a maximum five-year penalty, however, the additional state Patriot Act charge of ​"furtherance of terrorism" allows for a 50 percent increase in the maximum penalty.
In a Sept. 3 statement, president of the Minnesota Chapter of the NLG, Bruce Nestor, who was at the scene of the raids, said police found no evidence of incendiary or bomb-making materials, and instead seized common household items such as computers, paint and hatchets for chopping wood, among other things. Nestor also noted that allegations that the anarchists intended to kidnap or sabotage airports came from paid informants.
"Based on past abuses of such informants by law enforcement, the National Lawyer's Guild is concerned that such police informants have incentives to lie and exaggerate threats of violence and to also act as provocateurs in raising and urging support for acts of violence," the statement said.
Givins, one of the RNC 8, says she wasn't surprised police cracked down on protesters, but believes the nature of the arrests has serious implications.
"If the police are able to preemptively shut down dissent, people will be afraid to have even simple political meetings," she says.
Kushner says he fears a return to ​'60s-style police infiltration of radical groups.
"We haven't seen this kind of police activity since the Chicago 8," he says, referring to the arrest of eight organizers during the 1968 Democratic National Convention in Chicago. ​"What has happened with these criminal charges is very extreme and dangerous because people are being prosecuted for political reasons."
Be a Sustainer
We surveyed thousands of readers and asked what they would like to see in a monthly giving program. Now, for the first time, we're offering three different levels of support, with rewards at each level, including a magazine subscription, books, tote bags, events and more—all starting at less than 17 cents a day. Check out the new Sustainer program.
Sam Stoker
is a freelance reporter based in Chicago.