French Workers Step Up Labor Strikes: "With This Law, We're Going Toward a Catastrophe"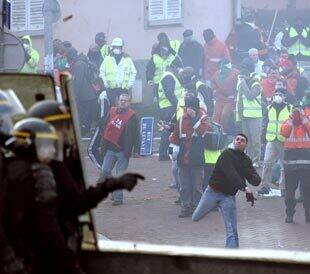 PARIS — France takes its sum­mer vaca­tion seri­ous­ly: Fam­i­lies enjoy weeks of paid time off. Major cities emp­ty out. Stu­dents go on break. This year, it's also when the rul­ing Social­ist gov­ern­ment approved a deeply unpop­u­lar and sweep­ing set of labor reforms — arguably, the most sig­nif­i­cant roll­back of work­ers' rights since the nation's wel­fare state rose from the ash­es of World War II.
From March to July, hun­dreds of thou­sands of work­ers, stu­dents, union­ists and sym­pa­thiz­ers protest­ed against the so-called Loi Tra­vail. With the coun­try back from its col­lec­tive break — and the hot­ly-con­test­ed law start­ing to take effect — rab­ble-rousers are ready to hit the streets again. This Thurs­day, oppo­nents have called for anoth­er round of strikes and protests against the reforms, demand­ing the gov­ern­ment with­draw the law.
"The objec­tive is the same," says Eric Beynel, spokesman for Sol­idaires, one of sev­er­al unions to endorse the lat­est round of protests. ​"We thought the law was bad before it was adopt­ed. Just because it was adopt­ed, more­over in a com­plete­ly unde­mo­c­ra­t­ic way, doesn't mean we should stop the mobi­liza­tion. It's only log­i­cal to continue."
Though unlike­ly, a vic­to­ry for Beynel and com­pa­ny would not be unprece­dent­ed. French gov­ern­ments have a his­to­ry of with­draw­ing laws amid pop­u­lar protest — most recent­ly, in 2006, after stu­dents marched and occu­pied uni­ver­si­ties against youth-ori­ent­ed labor reforms.
Labor's gripes with the Loi Tra­vail are many: At the top of the list is a pro­vi­sion that under­mines large-scale col­lec­tive bar­gain­ing agree­ments. Near­ly the entire French work­force is cov­ered by these union-nego­ti­at­ed deals — enshrined into law under the Pop­u­lar Front gov­ern­ment of the 1930s.
With few excep­tions, before the lat­est reforms, com­pa­ny-lev­el agree­ments could not include weak­er stan­dards than those with­in indus­try-wide agree­ments. How­ev­er, the new law autho­rizes employ­ers to reach deals that, for exam­ple, can force employ­ees to work longer hours and receive less over­time com­pen­sa­tion than what's pre­scribed by their indus­try-wide agree­ments. For a com­pa­ny seek­ing to tap into the French labor mar­ket and shape job con­di­tions to its lik­ing — Ama­zon, for instance — the ben­e­fits are clear.
For peo­ple like David Jour­dan, they're less obvious.
"We're los­ing pro­tec­tion," says Jour­dan, 41, an edi­tor for the media con­glom­er­ate Info­pro and union rep­re­sen­ta­tive with the infor­ma­tion and com­mu­ni­ca­tion divi­sion of the Gen­er­al Con­fed­er­a­tion of Labor, France's largest labor con­fed­er­a­tion, bet­ter known as the CGT. ​"There's a risk now that at each com­pa­ny, unions could reach much worse agree­ments at the com­pa­ny-lev­el and lose many rights that took years and years to obtain."
Under the cur­rent indus­try-wide agree­ment, Jour­dan points out, laid-off jour­nal­ists enjoy five times the nation's legal min­i­mum of sev­er­ance pay. And they're enti­tled to two days of vaca­tion if they move. Both ben­e­fits may grad­u­al­ly evap­o­rate, Jour­dan worries.
Also with­in the reform: Pro­vi­sions that make it eas­i­er for com­pa­nies to pur­sue so-called ​"eco­nom­ic lay­offs," adjust their col­lec­tive bar­gain­ing agree­ments and make employ­ees work longer hours. The law also cre­ates a com­mis­sion charged with propos­ing fur­ther labor reforms with­in two years — some­thing that leads many in the labor move­ment to believe the worst has yet to come.
Manuela de Oliveira, 53, works at the super­mar­ket chain Casi­no in Lyon and serves as a union rep­re­sen­ta­tive with the CGT.
"I've been a union mem­ber for 15 years so it's true that every law against labor, any­thing that makes us regress in France, I've par­tic­i­pat­ed in it all," she says. ​"But with this law, we're going toward a catastrophe."
Giv­en the stakes, the par­tic­i­pa­tion of unions is per­haps unsur­pris­ing. But the move­ment has also relied on a less pre­dictable cast of char­ac­ters: Young peo­ple, stu­dents, non-union­ized work­ers who dis­cov­ered the move­ment on social media and those who par­tic­i­pat­ed in ​"Nuit Debout," or ​"Up All Night," an Occu­py-style protest that sprung up after a March labor protest in Paris.
For Jas­pal de Oliveira Gill, 20, an under­grad­u­ate stu­dent and head of the stu­dent union at the Uni­ver­si­ty of Paris I, Pan­théon-Sor­bonne, the debate isn't about eso­teric labor reg­u­la­tions. She wor­ries the law will direct­ly aggra­vate the eco­nom­ic inse­cu­ri­ty plagu­ing French youth, who suf­fer from an unem­ploy­ment rate of 24 per­cent. (The nation­wide rate is 10 percent.)
"This (law) isn't about cre­at­ing jobs, this is about mak­ing it eas­i­er to fire peo­ple," says de Oliveira Gill. ​"There's a stan­dard for lay­offs — the last one to arrive at a job is the first one to be let go — and the last ones to arrive are often stu­dents. It's stu­dents who are hit first. This law is extreme­ly threat­en­ing for all work­ers, but above all the most pre­car­i­ous ones, women and students."
Danielle Tar­takowsky, pres­i­dent of the Uni­ver­si­ty of Paris VIII and award-win­ning his­to­ri­an of French social move­ments, says the protests have been boost­ed by a wide coalition.
Among demon­stra­tors, she says, the sense of frus­tra­tion and ​"dis­pos­ses­sion" is sky-high: Polls show sev­en in 10 are opposed to the law but that hasn't stopped an already unpop­u­lar Social­ist gov­ern­ment from pur­su­ing the reforms. The bill's means of pas­sage adds to pro­test­ers' sense of griev­ance: the gov­ern­ment passed the law by rely­ing three times on an arcane con­sti­tu­tion­al pro­vi­sion that allows it to green-light leg­is­la­tion with­out a vote from the Nation­al Assem­bly — pro­vid­ed it can sur­vive a vote of confidence.
Still, Tar­takowsky remains skep­ti­cal about the movement's future. The protest fig­ures have fall­en from their spring peak. And the gen­er­al eco­nom­ic sit­u­a­tion doesn't bode well for the with­hold­ing of one's labor: ​"We're in a cli­mate that's eco­nom­i­cal­ly dif­fi­cult with extreme­ly high unem­ploy­ment — some­thing that weighs on the abil­i­ty of peo­ple to mobi­lize for strikes," she says.
Super­mar­ket employ­ee de Oliveira Gill says the protest fig­ures don't reflect the true lev­el of opposition.
"Peo­ple are with us," she says. ​"Wher­ev­er you go, you talk about this law, peo­ple are with you but they don't go out in the street. They're shy, they're afraid, I don't know."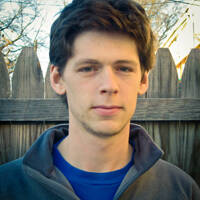 Cole Stan­gler
writes about labor and the envi­ron­ment. His report­ing has also appeared in The Nation, VICE, The New Repub­lic and Inter­na­tion­al Busi­ness Times. He lives in Paris, France. He can be reached at cole[at]inthesetimes.com. Fol­low him
@colestangler
.