A Guide to 'Friedrichs,' the SCOTUS Case That Could Decimate Public Sector Unions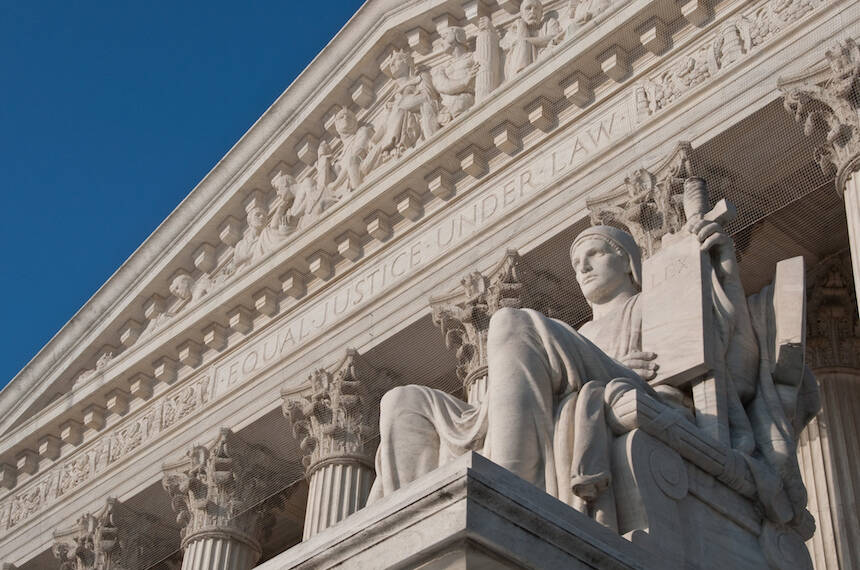 The Supreme Court began hear­ing argu­ments today in Friedrichs v. Cal­i­for­nia Teach­ers Asso­ci­a­tion. The plain­tiff, Cal­i­for­nia teacher Rebec­ca Friedrichs, and the orga­ni­za­tions on the Right that are behind her are argu­ing that pub­lic sec­tor employ­ers vio­late indi­vid­u­als' First Amend­ment rights by com­pelling employ­ees to pay union fees. The case could in effect force all pub­lic sec­tor unions to oper­ate under ​"right-to-work" rules and dec­i­mate pub­lic sec­tor union mem­ber­ship — bad news for an already bat­tered Amer­i­can labor movement.
In These Times has cov­ered the case close­ly since its begin­ning. Here, we've round­ed up some of our arti­cles on the case and its impli­ca­tions for U.S. unions.
Friedrichs aims to over­turn a near­ly 40-year prece­dent, estab­lished in the 1977 Abood v. Detroit Board of Edu­ca­tion case, which allows for the use of ​"fair share" fees for pub­lic sec­tor unions. Labor attor­ney Moshe Mar­vit argues that this case threat­ens pub­lic sec­tor unions and could cost them mil­lions of dol­lars, thou­sands of mem­bers and what remains of their insti­tu­tion­al power.
Shaun Rich­man argues that unions could use the Right's argu­ment in the case and turn it on its head: Since the case inter­prets con­tracts as polit­i­cal, union­ized work­ers are com­pelled, by the gov­ern­ment, to rep­re­sent work­ers who dis­agree with them, thus vio­lat­ing their First amend­ment rights.
Tak­ing stock of the ris­ing threat in both the pri­vate and pub­lic sec­tors, Rich­man also argues that the labor move­ment needs an equal­ly bold response. He explains the poten­tial upside (and pit­falls) to ​"mem­bers-only" unions, which Friedrichs would impose on the pub­lic sector.
Although labor sup­port­ers fear that an unfa­vor­able rul­ing in Friedrichs would have the effect of pass­ing a nation­al right-to-work law for all pub­lic employ­ees and per­mit some work­ers to become ​"free rid­ers" who use union resources for rep­re­sen­ta­tion but don't pay for that rep­re­sen­ta­tion, some evi­dence sug­gests the Supreme Court may not rule against unions in this case. And even if they do, it won't mean the end of the labor move­ment, David Moberg writes.
Anoth­er case, Bain v. Cal­i­for­nia Teach­ers Asso­ci­a­tion rais­es sim­i­lar ques­tions and points as Friedrichs. The case was even­tu­al­ly thrown out, but Moshe Mar­vit lays out the right-wing argu­ments under­ly­ing these cas­es, put for­ward by anti-union groups such as Stu­dents­First and the Cen­ter for Indi­vid­ual Rights.
A rul­ing against unions in Friedrichs could force unions towards a more rad­i­cal, rank-and-file, social move­ment union­ism, includ­ing orga­niz­ing and grass­roots activism some would like to see more of in the labor move­ment today. Unions might have to become more bot­tom-up, rad­i­cal and demo­c­ra­t­ic in order to sur­vive, writes Ari Paul.
Saman­tha Winslow explains how unions are prepar­ing for Friedrichs, includ­ing mem­ber­ship dri­ves, attempts at rebuild­ing unions, and orga­niz­ing mod­els and sol­i­dar­i­ty with oth­er pub­lic sec­tor unions. ​"Recom­mit­ment dri­ves" are also part of the prepa­ra­tion for what may be to come in the wake of an anti-union decision.
By look­ing back to an ear­li­er peri­od of the labor move­ment, there is proof that pub­lic sec­tor work­ers have orga­nized and mobi­lized even with­out the legal rights to do so. Saman­tha Winslow says that while Friedrichs could deal a blow to unions and prece­dents which work­ers fought to earn, work­ers have demon­strat­ed that adver­si­ty has also served as a cat­a­lyst for organization.
In the face of Friedrichs, social move­ment union­ism and con­nect­ing at-large union mem­ber­ship with advo­ca­cy and leg­isla­tive cam­paigns is key, accord­ing to Shaun Rich­man. He pro­pos­es that unions fight for mean­ing­ful job pro­tec­tions for all work­ers in a state, not just union­ized work­ers, writ­ing that it could be called the ​"right to your job" law.
After a day of oral argu­ments, Moshe Mar­vit argues that the plain­tiff's argu­ments in Friedrichs strong­ly reflect our post-Cit­i­zens Unit­ed world.
Things are look­ing bad for unions at the Supreme Court. What should labor's response be? Shaun Rich­man says it has to include work­ers' most pow­er­ful weapon: the strike.
Ben Rosen­field
is a Fall
2015
Edi­to­r­i­al Intern at In These Times. He grad­u­at­ed from the Uni­ver­si­ty of Mass­a­chu­setts-Amherst in
2014
, where he stud­ied Polit­i­cal Sci­ence and Span­ish. After grad­u­at­ing, he lived in Buenos Aires, Argenti­na, for sev­en months, where he researched the country's social move­ments and their ties with the inter­na­tion­al left.