From the WWE to the White House: The Anti-Worker History of Trump's SBA Pick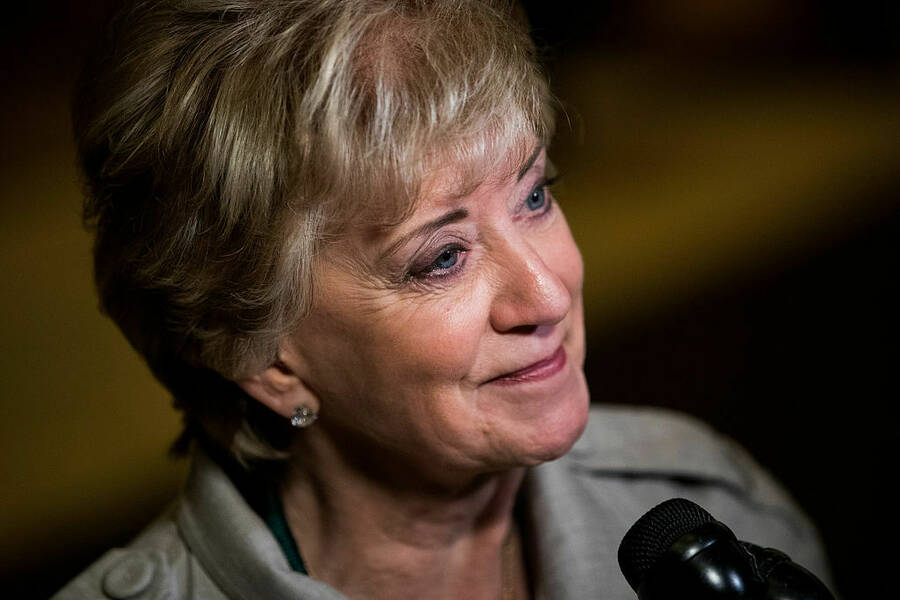 This month, Pres­i­dent-elect Don­ald Trump con­tin­ued his trend of appoint­ing wealthy busi­ness­men and women with lit­tle gov­ern­ment expe­ri­ence to gov­ern­ment posts by nom­i­nat­ing for­mer World Wrestling Enter­tain­ment (WWE) chief exec­u­tive Lin­da McMa­hon to head the Small Busi­ness Admin­is­tra­tion (SBA).
Most news reports on her appoint­ment have focused on her net worth and the fact that she donat­ed $7 mil­lion to Trump's cam­paign. Few have talked about the WWE's ques­tion­able labor record under McMahon.
Under the stew­ard­ship of McMa­hon and her hus­band, Vince, the WWE racked up a long list of con­tro­ver­sies when it comes to its han­dling of the busi­ness' lifeblood — the wrestlers them­selves. From long­time alle­ga­tions of encour­age­ment of drug abuse and unsafe work prac­tices to the WWE's refusal to treat wrestlers as prop­er full-time work­ers, McMahon's record on work­ers' rights is spot­ty at best.
With McMa­hon now like­ly to head a gov­ern­ment depart­ment respon­si­ble for train­ing and edu­cat­ing small busi­ness­es and entre­pre­neurs, her nom­i­na­tion rais­es ques­tions about whether she will encour­age or impart some of these dubi­ous prac­tices to employ­ers at the expense of workers.
Rock bot­tom labor standards
Wrestlers con­tract­ed to the McMahon's WWE have a habit of dying young. To some extent, this is a prod­uct of their cho­sen pro­fes­sion. Pro­fes­sion­al wrestling is an incred­i­bly haz­ardous spec­ta­cle that requires both the will­ing­ness and ath­let­ic pre­ci­sion to car­ry out per­ilous stunts, as well as the phys­i­cal strength to with­stand enor­mous stress and pres­sure on the body.
The WWE's par­tic­u­lar poli­cies do not help mat­ters, how­ev­er. The com­pa­ny makes its ath­letes abide by a gru­el­ing sched­ule that sees them wrestling as much as four to five nights a week, trav­el­ing from city to city, with no off-sea­son.
"There's no sched­ule like the WWE's," wrestler Sami Zayn told the BBC this year. ​"Year-round, for­ev­er, no, like, light at the end of the tunnel."
The top brass at the WWE have been accused pre­vi­ous­ly of pres­sur­ing wrestlers to ignore injuries. In a tell-all inter­view, for­mer WWE super­star CM Punk recount­ed how he was repeat­ed­ly pres­sured to wres­tle through mul­ti­ple injuries, includ­ing what lat­er turned out to be an undi­ag­nosed staph infec­tion. (WWE denies Punk's ver­sion of events and the doc­tor involved is suing him for defamation).
In 2015, two for­mer wrestlers sued the com­pa­ny, claim­ing it had encour­aged dan­ger­ous stunts like steel chair shots to the head, leav­ing wrestlers with con­cus­sions and long-term neu­ro­log­i­cal dam­age, while dis­cour­ag­ing them from get­ting med­ical help for injuries. This year, a group of some 60 for­mer wrestlers, includ­ing a num­ber of the company's big­ger names from the 1980s, sued the WWE for sim­i­lar rea­sons, alleg­ing a link between their wrestling injuries and a degen­er­a­tive brain dis­ease. (The com­pa­ny has called the suit ​"anoth­er ridicu­lous attempt by the same attor­ney who has pre­vi­ous­ly filed class-action law­suits against WWE, both of which have been dis­missed.") The com­pa­ny only out­right banned chair shots to the head in 2010, when the prob­lem reared its head mid­way through McMahon's first Sen­ate campaign.
Kon­stan­tine Kyros, an attor­ney rep­re­sent­ing the group of wrestlers, told In These Times that that the WWE has led a ​"sys­tem­at­ic effort … to deprive the wrestlers of their rights through an improp­er work­place struc­ture and unreg­u­lat­ed work­ing conditions."
"There is a clear nexus between [McMahon's] pro­posed cab­i­net role and the role she had as CEO of the WWE," says Kyros.
The phys­i­cal pres­sures McMahon's for­mer com­pa­ny places on wrestlers are cou­pled with drug-relat­ed haz­ards. There's no doubt that some WWE wrestlers devel­op drug addic­tions due to the hard-par­ty­ing, rock­star-like lifestyle that accom­pa­nies the job. McMa­hon her­self claimed that the high death rate among wrestlers could be sim­ply chalked up to their ​"per­son­al habits."
Con­trary to her claims, how­ev­er, some wrestlers, have devel­oped sub­stance abuse issues to deal with the pain of injuries and the men­tal stress of a nev­er-end­ing sched­ule. Oth­ers rav­aged their bod­ies through steroid abuse, per­va­sive through­out the indus­try par­tic­u­lar­ly in its ear­ly years, and a neces­si­ty for the cre­ation of the hyper-mus­cled physiques the indus­try has long favored.
For years, the WWE (then the WWF) employed Dr. George Zaho­ri­an, who in 1991 was con­vict­ed of drug traf­fick­ing. His lawyer at the time defend­ed him, explain­ing that steroids were ​"used through­out the WWF. Wrestlers either use them or they don't participate."
In 2007, Lin­da McMa­hon tes­ti­fied to Hen­ry Waxman's House Over­sight Com­mit­tee that the com­pa­ny sus­pend­ed its ran­dom steroid-test­ing pro­gram in 1996 after five years, because so few pos­i­tive results were being found. The com­pa­ny lat­er rein­sti­tut­ed a drug-test­ing pol­i­cy in 2005 after the death of wrestler Eddie Guer­rero from heart fail­ure, linked to steroids, yet even after it did so, Wax­man report­ed that 40 per­cent of wrestlers were test­ing pos­i­tive for steroids and oth­er drugs even when warned in advance.
By all indi­ca­tions, McMa­hon was heav­i­ly involved. She told Wax­man that as CEO her respon­si­bil­i­ties includ­ed ​"work­ing day-to-day" with her hus­band, the ​"dri­ving force behind WWE." Most damn­ing­ly, a 1989 memo writ­ten by McMa­hon that sur­faced years lat­er fea­tured her ask­ing anoth­er exec­u­tive to tell Zaho­ri­an to stop com­ing to the company's events and to ​"clue him in on any action that the Jus­tice Depart­ment is think­ing of tak­ing," after being tipped off that an inves­ti­ga­tion into Zaho­ri­an was about to be launched.
Short­ly after the memo was sent, an exec­u­tive did just that, and Zaho­ri­an shipped all his files on wrestlers to his attorney's office, though the WWE lawyer said the files were not destroyed. Near­ly two decades lat­er, McMa­hon told Wax­man that Zaho­ri­an had ​"dis­trib­uted steroids unbe­knownst to us."
The result of all this has not been pret­ty. One study found that wrestlers aged between 45 and 54 had a mor­tal­i­ty rate 2.9 times greater than that of the gen­er­al Amer­i­can male pop­u­la­tion. Anoth­er study found that more than 46 per­cent of deceased male wrestlers who worked for the WWE between 1977 and 2012 died because of heart com­pli­ca­tions, ver­sus some 26 per­cent of men who died of heart dis­ease between 2000 and 2008 in the gen­er­al male population.
At least a part of this can be chalked up to the lack of reg­u­la­tions on the WWE. In the late 1980s, McMa­hon per­son­al­ly and suc­cess­ful­ly per­suad­ed the Penn­syl­va­nia state leg­is­la­ture that wrestling was sim­ply enter­tain­ment, rather than a sport, which negat­ed the need for ath­let­ic reg­u­la­tion. She then fol­lowed this up with a years-long lob­by­ing cam­paign in the fed­er­al and state gov­ern­ments, which involved the WWE spend­ing more than $1 million.
The mon­ey was worth it: Wrestling is now dereg­u­lat­ed in more than half the states, and the com­pa­ny beat back sev­er­al state efforts to man­date drug-testing.
Union bust­ing and ​
"

death clauses"

The health prob­lems faced by wrestlers at McMahon's for­mer com­pa­ny are com­pound­ed by what have been alleged to be exploita­tive labor conditions.

Despite man­dat­ing a non-stop sched­ule for their wrestlers that gives the com­pa­ny a large amount of say over vir­tu­al­ly every aspect of its talent's dai­ly lives, the WWE insists that its per­form­ers are not employ­ees, but inde­pen­dent con­trac­tors. This means that the com­pa­ny, which record­ed a total rev­enue of $659 mil­lion in 2015 and whose chair­man and CEO is a bil­lion­aire, can save mon­ey on pay­ing out con­tri­bu­tions to Social Secu­ri­ty, Medicare and unem­ploy­ment insurance.

As con­trac­tors, wrestlers could the­o­ret­i­cal­ly go to anoth­er com­pa­ny. But the WWE essen­tial­ly owns a vir­tu­al monop­oly in the indus­try. What's more, the com­pa­ny tends to own the rights to the wrestler's ring name, char­ac­ter and more, hob­bling them from con­tin­u­ing their career out­side of the company.

More seri­ous­ly for work­ers whose pay­check is based on phys­i­cal fit­ness and extreme­ly dan­ger­ous work, the WWE doesn't cov­er its wrestlers' health insur­ance. As of 2016, the com­pa­ny forces wrestlers to buy health insur­ance, set­ting them up to pay sky high pre­mi­ums, giv­en their risk­i­ness to insurers.

McMahon's com­pa­ny has also been known to slip so-called death claus­es into con­tracts, releas­ing the WWE from lia­bil­i­ty for a wrestler's death whether in the ring, due to any injuries aris­ing from the work or even because of the company's neg­li­gence. When McMa­hon was chal­lenged on this dur­ing her 2010 Sen­ate cam­paign, a spokesper­son said the com­pa­ny has ​"nev­er exer­cised that option." Except it had, some 10 years ear­li­er, after the fam­i­ly of Owen Hart — who died after a botched entrance result­ed in a 78-foot fall — sued the com­pa­ny. (The WWE ulti­mate­ly set­tled the case for $18 million).

Some of these issues could have been avoid­ed with the help of a union. But in the hands of the McMa­hons, the WWE has been vir­u­lent­ly anti-union, quash­ing an ear­ly orga­niz­ing effort by wrestler (and for­mer Min­neso­ta Gov­er­nor) Jesse Ven­tu­ra in the 1980s.

In These Times reached out mul­ti­ple times to the WWE via email to com­ment on the var­i­ous alle­ga­tions against it. No one responded.
Two failed campaigns
McMahon's two U.S. Sen­ate runs in Con­necti­cut — one in 2010 and again in 2012 — also offer lit­tle reas­sur­ance for workers.
McMa­hon spent an esti­mat­ed $100 mil­lion on her two failed cam­paigns. Dur­ing the course of her cam­paign, it emerged that the McMa­hons, who had gone bank­rupt ear­ly on in their mar­riage — a fact McMa­hon had used to shore up her relata­bil­i­ty to work­ing peo­ple — had nev­er paid back some of their cred­i­tors, despite becom­ing fab­u­lous­ly wealthy lat­er in life. They owed almost $1 mil­lion to 26 cred­i­tors in 1976, or about $3.9 mil­lion in 2012 dol­lars. Under pres­sure dur­ing her sec­ond cam­paign, McMa­hon report­ed­ly said that she and her hus­band would repay pri­vate cred­i­tors involved in their bankruptcy.
In 2010, when asked if the min­i­mum wage should be reduced to help strug­gling small busi­ness­es, McMa­hon replied that ​"we ought to look at all of those issues in terms of what man­dates are being placed on busi­ness­es and can they afford them." (She lat­er said she had mis­heard the ques­tion and did not sup­port decreas­ing the min­i­mum wage). Upon fur­ther ques­tion­ing, McMa­hon revealed that she didn't even know what the Con­necti­cut min­i­mum wage was, nor whether employ­ees at the WWE earned it.
McMahon's final cam­paign closed out with accu­sa­tions by some of her campaign's for­mer part-time work­ers that she had failed to pay them after the elec­tion was over. The checks the cam­paign sub­se­quent­ly sent the work­ers fol­low­ing their com­plaints bounced, which the cam­paign claimed was a mis­take. How­ev­er, anoth­er work­er was hand­ed an enve­lope with a check (that even­tu­al­ly bounced) and a con­dom inside it, and told he was ​"screwed" after talk­ing to a news station.
All of this, cou­pled with McMahon's inex­pe­ri­ence in the pub­lic sec­tor, doesn't bode well for the future work­ers of small busi­ness­es in Amer­i­ca. Since 1953, the SBA's mis­sion has been to ​"pre­serve free com­pet­i­tive enter­prise and to main­tain and strength­en the over­all econ­o­my of our nation."
But McMahon's his­to­ry — run­ning a near monop­oly that has been accused for decades of dis­re­gard­ing its employ­ees' health, safe­ty and fair treat­ment — risks turn­ing its mis­sion into one that sac­ri­fices work­ers for profits.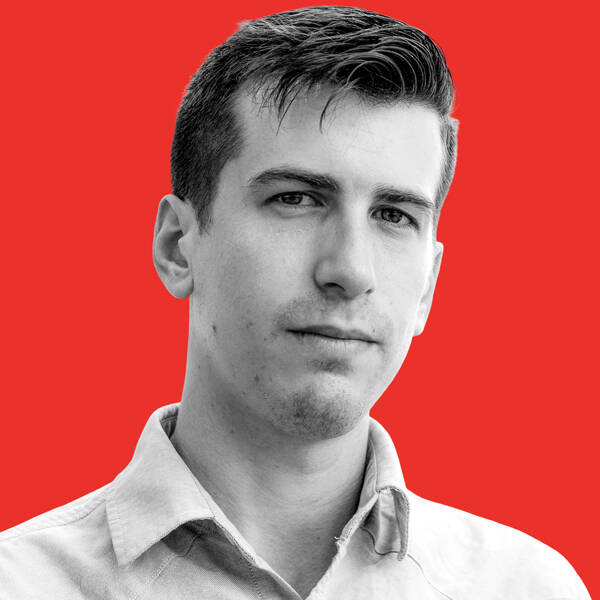 Branko Marcetic
is a staff writer at Jacobin mag­a­zine and a
2019
 – 
2020
Leonard C. Good­man Insti­tute for Inves­tiga­tive Report­ing fel­low. He is work­ing on a forth­com­ing book about Joe Biden.