Gaga for Google
The Internship: a study in the psychology of mass digital conformity.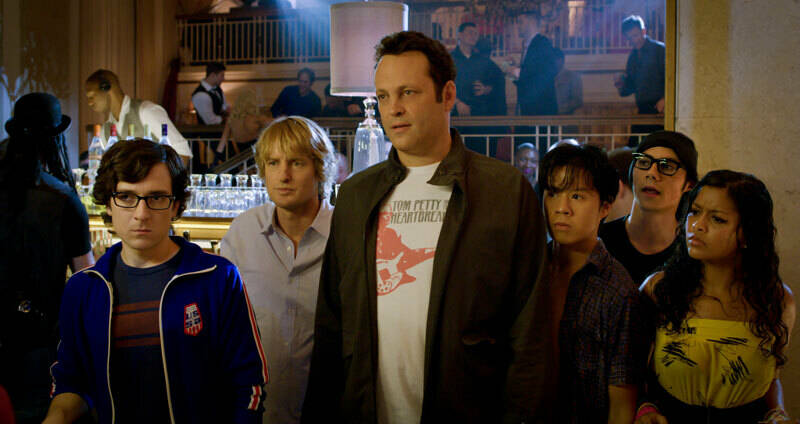 Polls show a sol­id major­i­ty of Amer­i­cans con­tin­ue to sup­port the rit­u­al sac­ri­fice of their per­son­al call data on the altar of our nev­er-end­ing war with Ocea­nia — er, excuse me, ter­ror­ism — even after sor­did rev­e­la­tions brought to light by whistle­blow­er Edward J. Snowden.
Google has spent none of the company's multimillion-dollar lobbying budget to try to get Congress to overhaul any offending provisions of the Foreign Intelligence Surveillance Act (FISA).
There's some­thing fatal­is­tic about this bedrock sup­port for the new police state. Could it be less a show of stub­born loy­al­ty to fed­er­al spook­ery than a sort of learned help­less­ness, bred in the fin­ger­tips of an Amer­i­can pub­lic long used to mar­keters hov­er­ing over their Face­book and Google accounts, track­ing — and then des­per­ate­ly seek­ing to mon­e­tize — every key­stroke they make?
Sum­mer movie­go­ers had a proof-text for this hunch. In The Intern­ship, a Vince Vaughn-Owen Wil­son bud­dy com­e­dy, the Wed­ding Crash­ers duo play laid-off, mid­dle-aged sales­men dri­ven into a tour of duty as aspir­ing geeks at the grand, rain­bow-hued Google cam­pus in Moun­tain View, Calif. Hijinks ensue, as they try to adapt their old-dude peo­ple skills to the cool and clean rig­ors of prof­itable data trans­mis­sion. Their younger col­leagues are won over by their seedy charm, and our heroes see their pluck reward­ed with jobs at the world's coolest company.
But what's of real inter­est is the social back­ground of the film. The Intern­ship is an unre­lieved study in the psy­chol­o­gy of mass dig­i­tal con­for­mi­ty — ren­dered far more insid­i­ous, of course, in the Google workplace's absolute con­vic­tion that it detests all man­ner of conformity.
Need­less to say, prod­uct place­ment abounds in the chip­per, faux-cre­ative Google work­place, with the search giant's whole suite of data-min­ing online ser­vices trot­ted out and cel­e­brat­ed in ador­ing detail. And to remind view­ers of the sheer sun­ny hip­ness of it all, we see young Googlers con­fi­dent­ly bop­ping through every phase of their work­days: enthu­si­as­ti­cal­ly show­ing up for code meet­ings, pow­er nap­ping in high-tech pods and awak­en­ing, refreshed, to spout moti­va­tion­al slo­gans from Mal­colm Gladwell.
The bat­tal­ion of sum­mer interns, bewitched by it all, are bent on mim­ic­k­ing every facet of the company's creepy work­place ethos. For all the movie's fever­ish paeans to new-media ​"cre­ativ­i­ty," it nev­er occurs to any­one — least of all our plucky, rule-break­ing pro­tag­o­nists — to ask whether extend­ing the brand-dom­i­na­tion of a glob­al info-car­tel amounts to a wor­thy aim in life. As The Intern­ship grinds on to its duly appoint­ed uplift­ing finale (in which the win­ning intern team mem­bers are lit­er­al­ly danc­ing for joy at the promise of — hur­rah! — a full-time job in this worka­holic hellscape), you half-expect the relent­less­ly youth­ful, well-scrubbed and code-hap­py Google work­force to break out into a cho­rus of ​"Tomor­row Belongs to Me."
Back in the world of total gov­ern­ment sur­veil­lance, Google was try­ing to pull off its own set of beguil­ing dance moves. The Snow­den leaks made it clear that Google has been hand­ing over user data to the NSA since 2009 — mak­ing the firm's glib ​"Don't Be Evil" cre­do come off as a bit­ter joke. How­ev­er, the company's tac­ti­cal bid to cre­ate more ​"open­ness" around the NSA scan­dal — via an open let­ter request­ing clear­ance to pub­li­cize the war­rants empow­er­ing the sur­veil­lance pro­gram — proved no less disin­gen­u­ous than its ini­tial denials. Under law, Google needs Attor­ney Gen­er­al Eric Holder's author­i­ty to release the details of the sur­veil­lance pro­gram— and cyn­i­cal­ly under­stands that such a request will nev­er be grant­ed. Worse, as Valleywag's Sam Bid­dle has not­ed, Google has spent none of the company's mul­ti­mil­lion-dol­lar lob­by­ing bud­get to try to get Con­gress to over­haul any offend­ing pro­vi­sions of the For­eign Intel­li­gence Sur­veil­lance Act (FISA), the leg­is­la­tion that gov­erns the oper­a­tion of the shad­ow sur­veil­lance state. Oth­er bad actors in this saga, such as AT&T, Microsoft and Ver­i­zon, have all man­aged to seek mod­i­fi­ca­tions to FISA — but nei­ther Google nor Face­book, the biggest play­ers in online com­merce, has both­ered to do so.
But then, who wants to believe that a joy­ful, off­beat cam­pus throng­ing with such quirky and lov­able geeks is but the rain­bow-col­ored façade of an author­i­tar­i­an info-state? Bet­ter, by far, to lie back and think of Owen Wilson.