Sword-and-Sorcery Into Plowshares: Game of Thrones' Anti-War Message
The hit HBO drama makes a carefully constructed argument for the futility of war.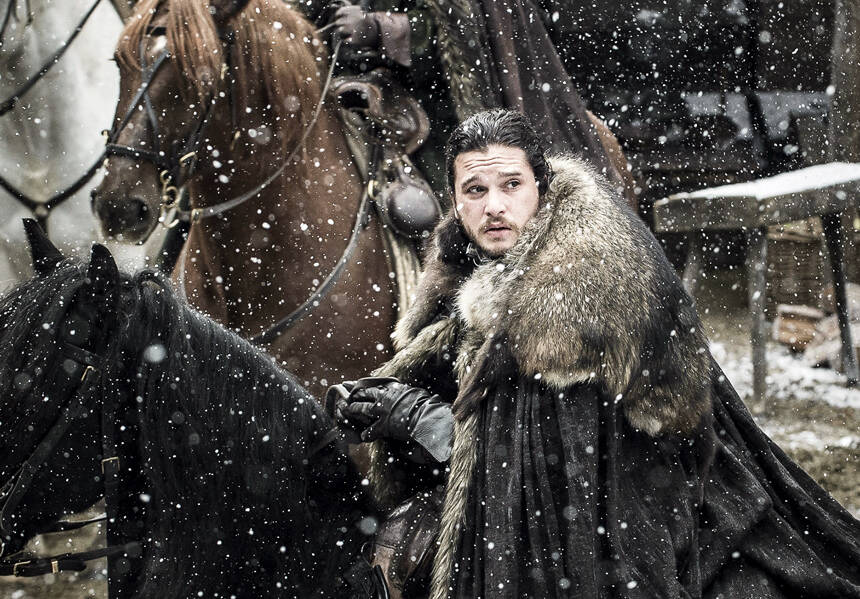 The sprawl, the spec­ta­cle, the sex, the swords, the sor­cery — if you're look­ing for rea­sons why Game of Thrones has become the most pop­u­lar show on TV, they're easy to find. But the epic fan­ta­sy might also be pop culture's most promi­nent anti-war satire since Dr. Strangelove. It's one long shag­gy dog joke at the expense of mil­i­tary con­flict. For the bulk of its six-plus sea­sons, Game of Thrones has chron­i­cled the bloody pow­er strug­gles of var­i­ous aris­to­crats and their hap­less fol­low­ers — while, unbe­knownst to most, an army of demons and zom­bies in the icy north­ern wastes mass­es to swoop down and slaugh­ter them all. The wars mak­ing up most of the series' action are not only point­less, but self-defeat­ing: The only ene­my these char­ac­ters need to be fight­ing is a super­nat­ur­al one.
Every fight between humans undercuts the solidarity of the peasant-class men and women whom Jon will one day need to call upon to combat the true foe.
Some­how this les­son is often missed, both by moral­ists who find the series' vio­lence exploita­tive and ​"bad fans" (as The New York­er​'s Emi­ly Nuss­baum calls them) in it for the behead­ings. Per­haps it's the sim­plic­i­ty of the con­ceit that hides the anti-war mes­sage in plain sight. Or maybe it's the show's unflinch­ing depic­tion of man's inhu­man­i­ty to man that enables view­ers to con­fuse por­tray­ing vio­lence with endors­ing it.
Yet the show has been true to the approach of George R. R. Mar­tin, author of the nov­els on which the show is based and a con­sci­en­tious objec­tor dur­ing America's assault on Viet­nam. As Mar­tin said in a 2012 inter­view, he does not shy away from cap­tur­ing the ​"emo­tion­al stir­ring we feel when we see the ban­ner fly­ing in the wind and we hear the bugles charge" — which, ​"those of us who are opposed to war … tend to for­get." How­ev­er, he not­ed, ​"If you're going to write about war and vio­lence, show the cost. Show how ugly it is. Show both sides of it."
For its first few sea­sons, Game of Thrones mis­di­rect­ed view­ers with a tale of civ­il war between the Starks and the Lan­nis­ters. Lat­er, that cen­tral con­flict spi­der­webs, with blood­thirsty less­er lords enter­ing the fray. Mean­while, to the east, the deposed heir to the Iron Throne, Daen­erys Tar­garyen, leads a rag-tag alliance of sol­diers and freed slaves (plus three semi-tame drag­ons) against their for­mer mas­ters. Noble as this cause may be, her main goal remains unseat­ing the Lan­nis­ters and reclaim­ing the throne — in oth­er words, play­ing the tit­u­lar game.
So it has fall­en to Jon Snow, a black-clad bas­tard raised in House Stark, to attend to the real sto­ry. On the far side of the Wall, a 700-foot-tall, con­ti­nent-wide defen­sive for­ti­fi­ca­tion, looms a threat far more fear­some than any rival House. This is the stalk­ing ground of the White Walk­ers, icy demons with crys­tal-blue eyes whose slain foes rise again as an army of the dead. If they win, they'll bring an eter­nal win­ter that could wipe out all life on the planet.
Even at the Wall, how­ev­er, sense­less infight­ing often car­ries the day. Sea­son 4's cen­ter­piece, ​"The Watch­ers on the Wall," shows Jon and the forces he com­mands defend against the ​"wildlings," rus­tic humans unfor­tu­nate enough to live on the wrong side of the Wall. It's a tooth-and-nail strug­gle for sur­vival, but also a refugee cri­sis: The wildlings are only try­ing to flee the undead hordes. Indeed, Jon's empa­thy for their plight even­tu­al­ly leads him to allow them through peace­ful­ly, an act of mer­cy for which his xeno­pho­bic under­lings mur­der him. Every fight between humans under­cuts the sol­i­dar­i­ty of the peas­ant-class men and women — rou­tine­ly draft­ed into their sup­posed bet­ters' bat­tles — whom Jon will one day need to call upon to com­bat the true foe.
The show's cre­ators use metic­u­lous audio and visu­al cues to con­vey this mes­sage, depict­ing death and hor­ror on a scale pre­vi­ous­ly unimag­in­able on tele­vi­sion. The series' first major bat­tle, Sea­son 2's ​"Black­wa­ter," has the Lan­nis­ters fend off an invad­ing fleet with ​"wild­fire," an explo­sive anal­o­gous to napalm. Direc­tor Neil Mar­shall, whose pri­or films dou­ble as minor-key dirges about the cost of vio­lence, scores the bat­tle with the screams of burn­ing, drown­ing men — a sound effect most TV shows would just as soon eschew.
Oth­er bat­tle sequences make war's con­se­quences even clear­er. In ​"The Bat­tle of the Bas­tards," Jon's sol­diers col­lide with the forces of the psy­chot­ic Ram­say Bolton in a fight so intense that the bod­ies actu­al­ly pile up into a geo­graph­i­cal fea­ture of the bat­tle­field — a moun­tain that the sur­vivors must climb, or suf­fo­cate under and die.
As far as the show is con­cerned, that's what war is: a pile of mas­sa­cred bod­ies. It's the laser focus of the pow­er­ful on accru­ing more pow­er, regard­less of the costs — the pile­up of the dead, the pil­lag­ing of the land, the immis­er­a­tion of the liv­ing — and heed­less of exter­nal threats. In the new sea­son, over­com­ing this lethal myopia has become the char­ac­ters' cen­tral chal­lenge. The real world may not have White Walk­ers, but in them we see the all-too-real forces threat­en­ing us all: loom­ing cli­mate cat­a­stro­phe, the grind­ing inequal­i­ty of late cap­i­tal­ism, the bru­tal­i­ty not of our so-called ene­mies but of war itself. We can face them togeth­er, or keep play­ing the game.
We're for­tu­nate to have a series will­ing to make this case force­ful­ly, with­out didac­ti­cism. Until next year's finale, we won't know what polit­i­cal sys­tem will arise south of the Wall when (and if) human­i­ty beats back its exis­ten­tial threat, and there's no rea­son to think it will be an improve­ment. But while solu­tions may be in short sup­ply, the illus­tra­tion of the futil­i­ty and waste of war is, well, stark. Game of Thrones chal­lenges us to rise above our squab­bling and con­front the com­mon threats ahead.
Sean T. Collins
has writ­ten for the
New York Times
,
Rolling Stone
, Vul­ture, Pitch­fork,
Vice
,
The Comics Jour­nal
and oth­er pub­li­ca­tions. With his part­ner, car­toon­ist Julia Gfrör­er, he co-edit­ed
Mir­ror Mir­ror II
, a comics and art anthol­o­gy pub­lished in June. He can be found online at
SeanT​Collins​.com
and
BoiledLeather​.com
, on Twit­ter @theseantcollins.