Gaming for Good
A human rights organization tries to make change online—with a very bleak vision of America in 2049.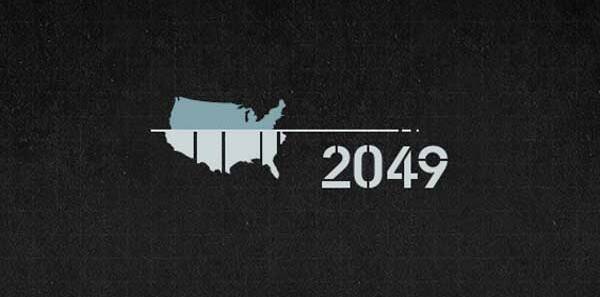 We wanted to make sure you didn't miss the announcement of our new Sustainer program. Once you've finished reading, take a moment to check out the new program, as well as all the benefits of becoming a Sustainer.

Defending human rights in America – is there an app for that? There is now, on Facebook at least, thanks to a new game called America 2049. It sends players into a dystopian future as an agent for the Council on American Heritage, a fictional watchdog group that ​"stands for the stuff America is made of, like baseball and apple pie," according to its website, which was created in conjunction with the new game.
As users progress through the game, they confront an increasingly complex web of plots and characters in a country stripped of basic liberties.
Council agents hunt down presumed terrorists, which, in the world of 2049, might include an outspoken homosexual or someone in a mixed-race relationship, to name just a few of the criminalized behaviors America 2049 players must contend with. As users progress through the game, they confront an increasingly complex web of plots and characters in a country stripped of basic liberties.
Launched in early April, the game is a project of New York- and India-based human rights group Breakthrough, which uses pop culture and social media to promote its agenda. (The organization also uses star power to attract attention; professional actors including Cherry Jones of 24, Anthony Rapp of Rent and Victor Garber of Alias are featured in videos promoting America 2049.) Beyond traditional advocacy efforts to combat the stigma against HIV-positive individuals, curb violence against women and ensure due process and civil liberties for immigrants, the group's website says its major aim is to ​"build human rights culture" from the ground up.
"Human rights have to begin at home, and we really feel the best way to reach people at home is through the power of pop culture, which is what distinguishes us from other social groups," Mallika Dutt, founder and president of Breakthrough, told The Huffington Post in April. ​"There's a lot of literature out there right now about how gaming has the potential to be a transformative experience."
Breakthrough's first online game, ICED (I Can End Deportation), highlighted the plight of immigrants. Released in 2008, more than 150,000 people played it. Dutt is confident America 2049 will enjoy similar success. Choosing Facebook as the platform for the game ​"came out of Breakthrough's desire to reach beyond the gaming community and connect with the broader public," she says. (Half the U.S. population older than 12 now uses Facebook.)
The game's bleak vision of the future can be jarring. In one scene, a young woman sits alone in a dark room and details her struggle to obtain a (no longer legal) abortion. Part of an interracial couple, she laments her choice between an illegal abortion or having a biracial child only permitted, she notes, in ​"looser parts of the country." As they progress through the game, players are prompted to visit different websites created by Breakthrough and are invited to real world America 2049-themed events to supplement their online experience with in-person interaction.
The gaming world is noticing Breakthrough's multimedia approach to activism. Games for Change, a nonprofit global advocate for socially conscious video games, nominated America 2049 for its annual Transmedia Award, which recognizes games that are ​"part of a larger cross media campaign." Dutt says Breakthrough hopes ​"the recent attention to gaming for social change will inspire others to really push the boundaries of what's possible in this space."
While the future of socially conscious gaming is unclear, America 2049's impact on at least one player is not. After playing a few rounds, 21-year-old Chrisja van der Sluis ​"felt some anger well up…because things were said or happening that contradict my beliefs in regard to discrimination and equality." America 2049 is different from more typical Facebook fare, she says. ​"Games like Farmville, you can play them when you're bored, when you're sleepy, when you're drunk, even – you don't have to have an active mind," Van der Sluis explains. America 2049 ​"isn't comparable. It's challenging."
Be a Sustainer
We surveyed thousands of readers and asked what they would like to see in a monthly giving program. Now, for the first time, we're offering three different levels of support, with rewards at each level, including a magazine subscription, books, tote bags, events and more—all starting at less than 17 cents a day. Check out the new Sustainer program.
Erica Lipper
(
2
) is a teacher and a writer. She is a former In These Times editorial intern and a former intern at The American Prospect.