Why the Minneapolis Political Establishment Is Scared of Ginger Jentzen
The socialist city council candidate is running on a platform of rent control and reducing inequality—and she's massively outraising her opponents.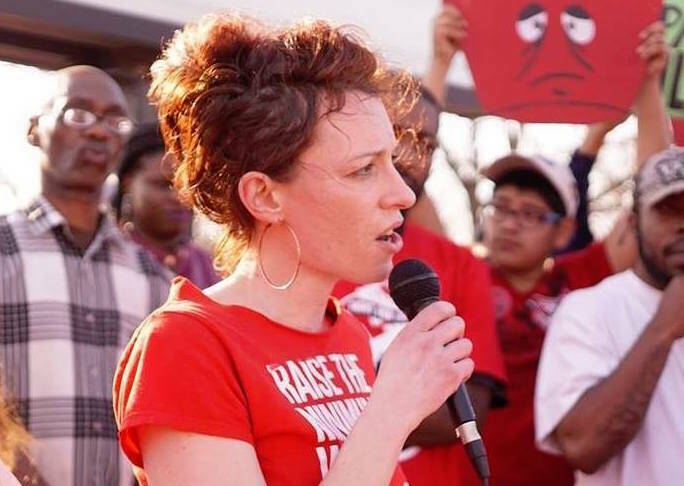 In many ways, Gin­ger Jentzen's race for city coun­cil in Min­neapo­lis' Third Ward encap­su­lates the cur­rent hopes of the polit­i­cal rev­o­lu­tion, as well as the road­blocks it faces. The long­time organizer's cam­paign has brought togeth­er pro­gres­sive unions, social­ist orga­ni­za­tions, grass­roots vol­un­teers and their allies across the city. Mean­while, big busi­ness and the polit­i­cal estab­lish­ment are open­ly mobi­liz­ing against Jentzen and the pro­gres­sive agen­da she's run­ning on.
"My campaign is focused on making Minneapolis affordable for all and building on the $15 campaign to make the city serve the interests of working people."
A for­mer ser­vice work­er and exec­u­tive direc­tor of 15 Now — an orga­ni­za­tion ded­i­cat­ed to rais­ing work­ers' wages — Jentzen, who is run­ning on the Social­ist Alter­na­tive tick­et, has been endorsed by both her par­ty and the Demo­c­ra­t­ic Social­ists of Amer­i­ca (DSA). Social­ist Alter­na­tive is a Trot­sky­ist par­ty that endorsed Jill Stein for pres­i­dent in 2016. In June, fol­low­ing years of orga­niz­ing by groups includ­ing 15 Now, Min­neapo­lis passed a $15 min­i­mum wage, to be phased in over the next sev­en years.
Despite refus­ing to accept cor­po­rate mon­ey, Jentzen has out­raised her three oppo­nents — two Democ­rats and a Green Par­ty can­di­date — by his­toric num­bers, rak­ing in over $140,000 as of mid-Octo­ber, and is now the tar­get of an out­side spend­ing spree by busi­ness inter­ests. These cor­po­rate inter­ests are seek­ing to com­bat her efforts to fight for afford­able hous­ing in a work­ing-class dis­trict that in recent years has seen a dra­mat­ic shift from home­own­ers to renters.
In a fundrais­ing e‑mail, Steve Cramer, pres­i­dent of the Down­town Coun­cil, Jonathan Wein­hagen, pres­i­dent of the Min­neapo­lis Cham­ber of Com­merce, and Kevin Lewis, pres­i­dent of the Build­ing Own­ers and Man­agers Asso­ci­a­tion, wrote, ​"If you thought it was impos­si­ble for a com­mit­ted Social­ist to run on a plat­form of rent con­trol and estab­lish­ing a munic­i­pal income tax to pay for social engi­neer­ing … meet: Gin­ger Jentzen," who they described as a ​"lead­ing can­di­date" in the Third Ward.
Ahead of the Novem­ber 7 elec­tion, Jentzen talked with In These Times about the most impor­tant issues affect­ing vot­ers in her dis­trict, how her race demon­strates the old-fash­ioned bat­tle between cap­i­tal and work­ers, and the new oppor­tu­ni­ties for social­ists of dif­fer­ent stripes to bridge move­ment and elec­toral work.
Duhalde: What inspired you to run?
Jentzen: I think my can­di­da­cy flows some­what nat­u­ral­ly from the 15 Now cam­paign and how we end­ed up win­ning. We built a real­ly pow­er­ful move­ment and orga­nized a coalition.
My cam­paign is focused on mak­ing Min­neapo­lis afford­able for all and build­ing on the $15 cam­paign to make the city serve the inter­ests of work­ing peo­ple. My expe­ri­ence has been that move­ments haven't been wel­comed by City Hall. I've seen hur­dle after hur­dle put for­ward by the polit­i­cal estab­lish­ment here.
It was real­ly a pow­er­ful expe­ri­ence to see what we could achieve through build­ing a move­ment that was actu­al­ly engag­ing com­mu­ni­ties all across Min­neapo­lis. We've been iden­ti­fied as a city that has some of the stark­est racial and eco­nom­ic inequal­i­ties in the coun­try, with enor­mous wealth gaps between black and white residents.
I think if we had some­one from the out­set real­ly lay­ing down a mark­er, and using their posi­tion in the city coun­cil to con­tin­u­ous­ly orga­nize both inside and out­side of City Hall for work­ing com­mu­ni­ties to rep­re­sent them­selves, then I think we poten­tial­ly could have won the $15 wage far soon­er. I aim to put an eye on orga­niz­ing City Hall, mobi­liz­ing around the issues we need to be solved in Min­neapo­lis. Things like rent con­trol, high­er wages and putting pres­sure on devel­op­ers to build afford­able hous­ing. We need all of these things, but they won't be achieved if we don't con­tin­u­ous­ly orga­nize and build a move­ment to win them.
Duhalde: Tell me about your district.
Jentzen: This is one of the old­est neigh­bor­hoods in the city of Min­neapo­lis. It cov­ers a lot of work­ing and mid­dle-class home-own­ers in the north­ern part of the ward. It's also becom­ing increas­ing­ly renter-based, and that's caus­ing a bit of ten­sion in the ward.
There's lots of devel­op­ment hap­pen­ing, and much of it is on the lux­u­ry end. There has been a lot of anger grow­ing around the enor­mous influ­ence of big devel­op­ers on City Hall, push­ing a prof­it-dri­ven agen­da. There aren't enough afford­able hous­ing units to ensure that peo­ple can con­tin­ue to live and work in the city.
Duhalde: What are the main issues in your campaign?
Jentzen: I have made a pub­lic pledge not to accept cor­po­rate, exec­u­tive or big devel­op­er mon­ey while run­ning for office and through my tenure in City Hall. We've real­ly been empha­siz­ing the idea that my cam­paign is not for sale. Like Bernie Sanders, I think that you can­not serve two boss­es. You can­not ful­ly rep­re­sent the needs of work­ing peo­ple while you are accept­ing mas­sive dona­tions from big devel­op­ers try­ing to prof­it off of our hous­ing crisis.
At the core of this cam­paign is rais­ing the demands — demands for ten­ant pro­tec­tions, for rent con­trol, to tax big devel­op­ers and to build more afford­able hous­ing. We have also dis­cussed expand­ing pub­lic tran­sit and social ser­vices for peo­ple in need, rather than keep­ing them in fear of depor­ta­tion, home­less­ness and cuts to health­care. We are try­ing to raise the ques­tion of what it would mean to actu­al­ly have a city built around these issues.
Duhalde: Can you talk about the con­nec­tion between move­ment and elec­toral work, and how Social­ist Alter­na­tive and DSA are work­ing togeth­er to sup­port your campaign?
Jentzen: See­ing a can­di­date like Bernie Sanders rais­ing the pro­gram that he did in the pres­i­den­tial elec­tion, and then hav­ing mil­lions of peo­ple, espe­cial­ly young peo­ple, come out to sup­port and build the polit­i­cal rev­o­lu­tion against the bil­lion­aire class, I think it was an extreme­ly excit­ing prospect for social­ists across the country.
For Social­ist Alter­na­tive and DSA, I think we have to con­tin­ue to build that polit­i­cal rev­o­lu­tion, rais­ing demands like Medicare for All, and con­crete­ly orga­niz­ing around them through out­reach in work­ing-class com­mu­ni­ties, wher­ev­er we have our chapters.
Mem­bers of DSA in the area have played an excel­lent role in rais­ing the pro­file of the cam­paign and hav­ing big­ger dis­cus­sions around Medicare for All. Peo­ple are very much con­cerned with what their health­care is going to look like over the com­ing months and years. I think the best way to fight Trump­care is to build a move­ment for Medicare for All.
I think these types of ini­tia­tives are extreme­ly impor­tant to how we fig­ure out the best way for­ward to com­bat the cor­po­rate agen­da, the Trump agen­da, and both win vic­to­ries and also chal­lenge the cap­i­tal­ist sys­tem as a whole.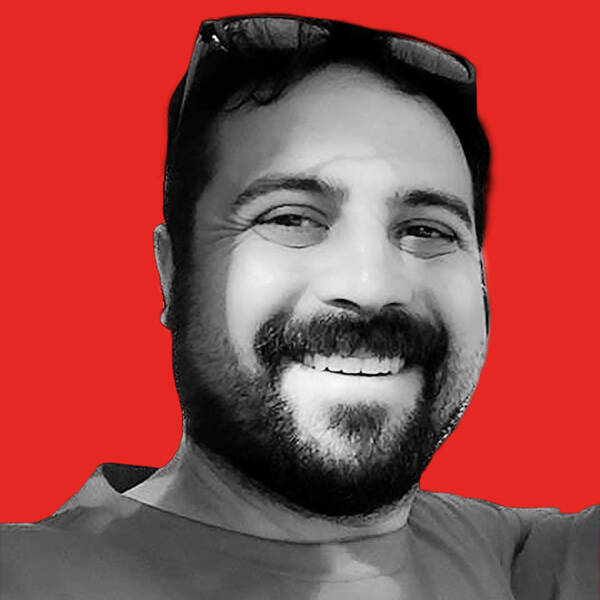 David Duhalde
is the vice chair of the Demo­c­ra­t­ic Social­ists of Amer­i­ca Fund, DSA's sis­ter edu­ca­tion­al non­prof­it. He is the for­mer polit­i­cal direc­tor of Our Rev­o­lu­tion and for­mer deputy direc­tor of DSA.