Giuliani: Hero or Race Baiter?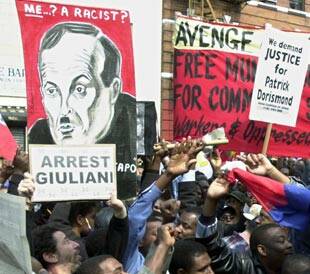 Rudolph Giuliani's eight years as may­or of New York bridged two polit­i­cal eras: the racial­ly cod­ed pol­i­tics of the late 20th cen­tu­ry, which tar­get­ed the ​"patho­log­i­cal" African-Amer­i­can poor as Pub­lic Ene­my No. 1, and the post‑9/​11 police state, which trans­formed dis­senters into ​"ter­ror­ist" suspects.
Of course, the con­ven­tion­al wis­dom lauds Giu­liani as ​"the man who cleaned up New York" and ​"the hero of 9⁄11." Kevin Keating's forth­com­ing doc­u­men­tary, Giu­liani Time, decon­structs that leg­end with a mix of inter­views, peri­od news footage, and the occa­sion­al bit of Michael Moore-style humor. The film opens May 12 in New York.
The Giu­liani Time fol­lows Giuliani's rise from the son of a small-time mob­ster to a fed­er­al pros­e­cu­tor in the Rea­gan admin­is­tra­tion, where he gained promi­nence for his vin­dic­tive pur­suit of mob­sters and Hait­ian refugees. It tracks his may­oral­ty from the unof­fi­cial open­ing of his 1993 cam­paign, lead­ing a mob of white cops in shout­ing ​"Bull­shit" at City Hall (then occu­pied by David Dink­ins, New York's first black may­or), to his polit­i­cal col­lapse in 2000, when can­cer and much-pub­li­cized mar­i­tal prob­lems forced him to drop out of a Sen­ate race against Hillary Clinton.
Crime-fight­ing is the cor­ner­stone of the Giu­liani leg­end. In 1990 and 1991, with heav­i­ly armed gangs bat­tling for con­trol of the crack trade, the city aver­aged six mur­ders a day. Giu­liani sup­port­ers such as Myron Mag­net of the Man­hat­tan Insti­tute, his main advo­cate in this film, sim­ply point to the num­bers: By the time Giu­liani left office, crime had dropped to the lev­els of the mid-'60s, with mur­ders below three a day. But the decline of New York crime in the ​'90s began under Dink­ins and par­al­leled a nation­wide decline. Did Giuliani's poli­cies – in par­tic­u­lar, ​"qual­i­ty of life" polic­ing, pros­e­cut­ing small offens­es like pub­lic drink­ing and pot-smok­ing (and even reviv­ing a Pro­hi­bi­tion-era ban on danc­ing in bars!) – real­ly bring it down in New York? William Brat­ton, Giuliani's first police com­mis­sion­er (who admits he nev­er got along with the may­or) cites the use of com­put­ers to pin­point high-crime loca­tions – and the 6,000 new police offi­cers hired by Dinkins.
"Qual­i­ty of life" polic­ing was actu­al­ly most suc­cess­ful in reduc­ing the per­cep­tion of crime. Giuliani's cam­paign against the men­ace of ​"squeegee men" epit­o­mized this; it played to the fears of white car own­ers who were so ter­ri­fied of being accost­ed by a ragged-look­ing black man that they want­ed them all locked up.
But the racial sub­text of Giuliani's poli­cies even­tu­al­ly caused his polit­i­cal down­fall. The 1999 police killing of Amadou Dial­lo, an African immi­grant shot 19 times because he pulled a wal­let dur­ing a police stop, cracked the mayor's invin­ci­bil­i­ty. Giu­liani dis­missed the ensu­ing protests as ​"sil­ly," which trans­lat­ed to many as cal­lous and racist.
The oth­er key racial-code issue of the era was wel­fare. Giu­liani imposed a puni­tive manda­to­ry-work pol­i­cy, using wel­fare recip­i­ents to do laid-off city work­ers' old jobs for less than min­i­mum wage while couch­ing it in rhetoric about ​"end­ing depen­den­cy." The film jux­ta­pos­es black wel­fare recip­i­ents com­plain­ing that they need ​"real jobs" with footage of Giu­liani wel­fare com­mis­sion­er Jason Turn­er, who responds to a union leader's com­plaint about ​"slave labor" by declar­ing, ​"Work is what sets you free." (That's ​"Arbeit macht frei" in Ger­man, but Keat­ing opts to cut to an old movie-com­e­dy ver­sion of a 19th-cen­tu­ry work­house instead of to the more sin­is­ter inscrip­tion over the gates of Auschwitz.)
Was Giu­liani a racist? For­mer city edu­ca­tion com­mis­sion­er Rudy Crew, one of the few black offi­cials in his admin­is­tra­tion, says his sup­port of school vouch­ers was racist. And all three of Giuliani's may­oral races were racial­ly polar­ized: He won more than two-thirds of the white vote and less than 20 per­cent of the black vote.
The film large­ly skips over two sig­nif­i­cant areas: Giuliani's poli­cies on hous­ing and protest sup­pres­sion. The may­or expend­ed a lot of ven­om on home­less peo­ple beg­ging for quar­ters, but the land­lords rais­ing rents past $1,000 a month were among his biggest sup­port­ers. He cut the city's hous­ing-con­struc­tion pro­grams dra­mat­i­cal­ly and he dis­creet­ly sup­port­ed the gut­ting of its rent con­trols. The city's hous­ing cri­sis has accel­er­at­ed; today, home­less­ness is the high­est it's been since the Depres­sion, and near­ly 29 per­cent of New York ten­ants spend more than half their income on rent, up from 25 per­cent in 2002.
Giu­liani also pio­neered many of the tac­tics against polit­i­cal protests that have gone nation­al since 9⁄11: an over­whelm­ing and over­bear­ing police pres­ence, pre-emp­tive arrests, and cor­ralling demon­stra­tors into cat­tle pens. His suc­ces­sor, the less puri­tan­i­cal but more plu­to­crat­ic Michael Bloomberg, has ampli­fied those poli­cies, deny­ing per­mits for large anti­war ral­lies and jail­ing almost 2,000 peo­ple dur­ing the 2004 Repub­li­can Convention.
While the film begins and ends with images of Giu­liani talk­ing about the 9⁄11 attacks, it doesn't do much to dis­sect his image as a ​"hero" of 9⁄11 – the moment of his polit­i­cal res­ur­rec­tion, and per­haps the most over­rat­ed part of the Giu­liani lega­cy. Maybe he looked coura­geous next to the scared rab­bit star­ing at My Pet Goat, but his most con­crete response to the attacks was try­ing to get the 2001 may­oral elec­tion post­poned, on the grounds that only he could han­dle the crisis.
Giu­liani Time posits itself as a warn­ing in case the for­mer Duce of Gotham runs for pres­i­dent. He may be too ​"lib­er­al" for the Repub­li­cans' Tal­iban­ic wing – he's spent more time schmooz­ing rich gay cam­paign donors than cru­sad­ing against sodomite abom­i­na­tions – but if he does gain trac­tion, be afraid.