The Cannabis War
Supreme Court decides one battle, but activists vow to fight on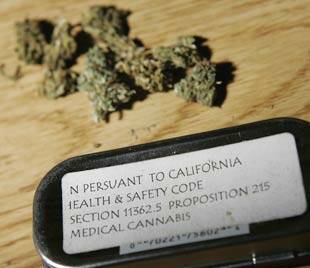 Home­grown med­ical mar­i­jua­na qual­i­fies as inter­state com­merce, the Supreme Court ruled June 6, in the sec­ond major set­back it has deliv­ered to pot patients.
By a 6 to 3 mar­gin, the Court refused to grant an injunc­tion pro­tect­ing Cal­i­for­nia med­ical-mar­i­jua­na users Angel McClary Raich and Diane Mon­son from fed­er­al pros­e­cu­tion. As Mon­son grows her own and Raich gets hers donat­ed by anoth­er Cal­i­for­nia res­i­dent, the two women had argued that their sup­ply is nei­ther inter­state nor com­merce, so the fed­er­al gov­ern­ment does not have the right to super­sede Cal­i­for­ni­a's law allow­ing med­ical use.
Jus­tice John Paul Stevens, who wrote the major­i­ty opin­ion, acknowl­edged that Raich and Mon­son had ​"strong argu­ments" for med­ical mar­i­jua­na; Mon­son suf­fers severe back spasms, and Raich, who suf­fers from a host of afflic­tions, says she would be dead with­out mar­i­jua­na. But the main issue in this case, he wrote, was ​"whether Con­gress' pow­er to reg­u­late inter­state mar­kets for med­i­c­i­nal sub­stances encom­pass­es the por­tions of those mar­kets that are sup­plied with drugs pro­duced and con­sumed locally."
Per­son­al med­ical-cannabis cul­ti­va­tion could increase the over­all pot sup­ply to the point where it would affect inter­state com­merce, Stevens argued, and allow­ing it would under­mine the reg­u­la­tions need­ed to con­trol ille­gal drugs and ensure the safe­ty of legal medicines.
That log­ic, Jus­tice San­dra Day O'Con­nor respond­ed in dis­sent, would ​"extend Com­merce Clause author­i­ty to some­thing as mod­est as the home cook's herb gar­den." The Court's def­i­n­i­tion of eco­nom­ic activ­i­ty, she wrote, is so broad that it ​"threat­ens to sweep all of pro­duc­tive human activ­i­ty into fed­er­al reg­u­la­to­ry reach."
In a sep­a­rate dis­sent, Jus­tice Clarence Thomas wrote that the fed­er­al gov­ern­ment has the right to sup­press local mar­i­jua­na cul­ti­va­tion or use, but Cal­i­for­nia could legit­i­mate­ly exempt med­ical grow­ers and users from pros­e­cu­tion. The Bush admin­is­tra­tion, he added, had failed to offer ​"any obvi­ous rea­son why ban­ning med­ical mar­i­jua­na use is nec­es­sary to stem the tide of inter­state drug trafficking."
Iron­i­cal­ly, Thomas wrote the major­i­ty opin­ion in the Court's 2001 deci­sion, which held that since Con­gress has ordained that mar­i­jua­na has no legit­i­mate med­ical use, clin­ics could not claim ​"med­ical neces­si­ty" as a defense against pot-sell­ing charges.
The inter­state-com­merce argu­ment, sev­er­al advo­cates say, was a weak­er case than the med­ical-neces­si­ty defense. ​"I did not think that was the best argu­ment," says Rep. Bar­ney Frank (D‑Mass.), who has intro­duced a bill to bar the fed­er­al gov­ern­ment from pros­e­cut­ing med­ical-mar­i­jua­na users in states where it is legal. ​"It would have had very neg­a­tive impli­ca­tions for fed­er­al pow­er." The Com­merce Clause is the basis for numer­ous fed­er­al laws, from occu­pa­tion­al-safe­ty reg­u­la­tions to ban­ning racial dis­crim­i­na­tion in hotels.
"It was the lib­er­als who did it in," notes Allen St. Pierre of the Nation­al Orga­ni­za­tion for the Reform of Mar­i­jua­na Laws. The Court's lib­er­al jus­tices, he explains, were clear­ly sym­pa­thet­ic to the patients' plight, but uncom­fort­able with weak­en­ing the Com­merce Clause's use.
The rul­ing does not inval­i­date med­ical-mar­i­jua­na laws in the 11 states that have them, and most pot pros­e­cu­tions are state-lev­el. Instead, it leaves the sta­tus quo intact: Under fed­er­al law, any­one who grows or dis­trib­utes pot is a felon – even if they're giv­ing it to a migraine suf­fer­er who's going to vom­it if he can't get a cou­ple of tokes quickly.
Med­ical-mar­i­jua­na providers have sim­ply been defy­ing the law with the sanc­tion of local gov­ern­ments. Under John Ashcroft, the Bush admin­is­tra­tion made med­ical pot a top pri­or­i­ty, going after even small-scale grow­ers; fed­er­al agents destroyed Diane Mon­son's six-plant gar­den in 2002. But it was embar­rassed when sev­er­al high-pro­file cas­es back­fired. After a 2002 raid on the Wo/​Men's Alliance for Med­ical Mar­i­jua­na (WAMM) col­lec­tive out­side San­ta Cruz, Calif., result­ed in a con­fronta­tion between armed DEA agents and patients in wheel­chairs, San­ta Cruz Coun­ty won a tem­po­rary injunc­tion halt­ing future raids. ​"We plan to go on. Peo­ple are dying. We can't stop," says a WAMM volunteer.
Imme­di­ate­ly after the Raich deci­sion, Ore­gon offi­cials announced that the state would tem­porar­i­ly stop issu­ing new ID cards for pot patients, and Alas­ka is con­sid­er­ing a sim­i­lar move. In Cal­i­for­nia, which has over 150 med­ical-mar­i­jua­na providers, local gov­ern­ments have been more sup­port­ive. ​"It real­ly does­n't affect us," says Jane Weir­ick of the Com­pas­sion and Care Cen­ter in San Fran­cis­co, which will ​"absolute­ly" keep operating.
State efforts will con­tin­ue. Rhode Island's state sen­ate approved a med­ical-mar­i­jua­na bill on June 7, and New York's leg­is­la­ture may enact one this year. Nation­al­ly, Reps. Mau­rice Hinchey (D‑N.Y.) and Dana Rohrabach­er (R‑Calif.) have intro­duced a bud­get amend­ment that would bar the use of fed­er­al funds to arrest, raid or pros­e­cute patients in states where med­ical mar­i­jua­na is legal.
"I'm kind of encour­aged," says Frank. ​"This is one issue where the more pub­lic it becomes, the bet­ter we do, though obvi­ous­ly we're far from our goal."