Giving Gay Rights a Sporting Chance
The day when America's athletes can play gay is drawing closer.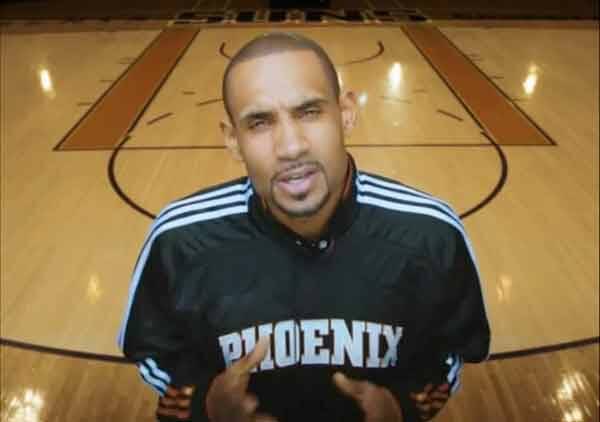 Before New York's momentous legalization of marriage equality this summer, former New York Giants player David Tyree made a video with the National Organization for Marriage. ​"It's a strong word," said the wide receiver, but gay marriage is the beginning of America's slide toward ​"anarchy."
But his ominous warning may be becoming more of an exception than the rule in American locker rooms. Consider the emerging critical mass of athletes publicly supporting marriage equality and challenging homophobia: Baltimore Ravens linebacker Brendan Ayanbadejo and New York Rangers forward Sean Avery have made advocacy videos in Maryland and New York, respectively. Grant Hill teamed up with fellow Phoenix Suns basketball player Jared Dudley to film a ​"Think B4 You Speak" anti-homophobic language video in April. And several Major League Baseball teams, including the Boston Red Sox, Chicago Cubs and World Series champion San Francisco Giants, have shot videos for Dan Savage's ​"It Gets Better" anti-bullying campaign.
Taken together, it's a stunning amount of support from a sports culture that has historically been mired in homophobia.
"We have made a lot of progress over the last ten years," says Pat Griffin, project director for Changing the Game, the sports-focused athletic advocacy wing of the Gay, Lesbian & Straight Education Network, which launched last summer. ​"The visibility of so many straight allies, especially men, represents a huge change."
One of those allies is NBA legend and TNT basketball analyst Charles Barkley, who has become one of the most vocal supporters of gay rights in the athletic arena. Earlier this summer, in a radio interview, Barkley sent shockwaves through the sports media landscape when he said that he had several gay teammates, and that their sexual orientation did not concern him. Barkley, who retired in 2000, went on to note that any player who claims he didn't have a gay teammate is a ​"stone-freakin' idiot."
Barkley's interview came after Rick Welts, president and CEO of the Phoenix Suns, courageously came out of the closet. ​"It bothers me when I hear these reporters and jocks get on TV and say, ​'Oh, no guy can come out in a team sport. These guys would go crazy,' " Barkley continued. ​"I'd rather have a gay guy who can play than a straight guy who can't play."
The more athletes speak out in support of gay rights, Griffin says, the easier it gets: ​"There's been several male athletes with progressive attitudes speaking out, and now the dam has been broken."
Ironically, Hill and Dudley's ​"Think B4 You Speak" video, which aired during the NBA Finals, was filmed the same day that Los Angeles Lakers player Kobe Bryant notoriously called an NBA referee a ​"fuckin' faggot" during a game. ​"Sports," Griffin observes, ​"has always been associated with traditional visions of masculinity. As long as that is the norm, all others are seen as trespassing on male turf."
While it has always been difficult for homosexual men to be accepted by the narrow definition of athletic normalcy, it's been even tougher for women, says Griffin, author of Strong Women, Deep Closets: Lesbians and Homophobia in Sport. ​"The lesbian label is still effectively used to marginalize female athletes," she says, noting a double standard for male and female athletes regarding the reaction to their support for gay rights.
While it may be easier for straight male athletes to advocate gay rights, it seems more difficult for men to come out of the closet. Not a single American male athlete has ever come out while still playing for a professional sports team. (An Irish hurler and a Welsh rugby player have come out in recent years, however.) The most notable athlete to announce his homosexuality is John Amaechi, who came out after retiring from the NBA in 2003. The most notable athlete to come out while still playing a major team sport in the United States is the WNBA's Sheryl Swoopes. Amaechi lasted five seasons in the NBA, while Swoopes has made the all-star team six times. Yet ​"when Swoopes came out, it was nothing like it was for Amaechi," notes Griffin, who now works with Amaechi through Changing the Game.
In the end, it isn't about individual athletes so much as America's sports culture – from the front office to the locker rooms to the fans – becoming more open and inclusive. There's now as much support in the sports community for that to happen as there has ever been. As former NBA MVP and longtime gay rights supporter Steve Nash said recently, ​"Anyone who's not ready for this needs to catch up."