Bipartisan Consensus: Detroit's New, Publicly Financed Hockey Arena is a Terrible Idea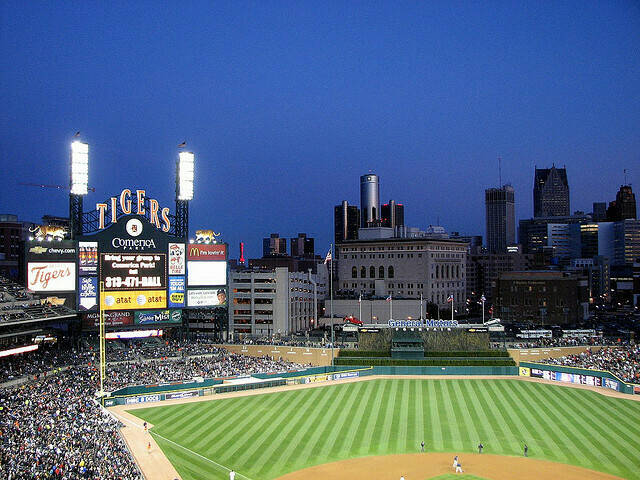 As eulogists across the country speculate on how much money bankrupt Detroit can make by selling off everything from Diego Rivera
&
rsquo;s famous mural of a socialist utopian auto industry to the original Howdy Doody doll, it appears that at least one part of the Motor City won
&
rsquo;t end up on the auction block: its hockey arena. In fact, it looks like
&
ldquo;Hockeytown's
&
rdquo; Red Wings
&
mdash;that is to say, billionaire owner Mike Ilitch, of Caesar
&
rsquo;s Pizza fame
&
mdash;will be the recipient of a brand new, $
450
million sports arena, nearly half of which will be paid for publicly with tax dollars. Tax dollars for a sports stadium? In bankrupt Detroit? That is some impressive fuzzy math indeed. Because if there
&
rsquo;s one thing that both progressives and free market conservatives have repeatedly agreed upon, it
&
rsquo;s that urban development through the tax-funded construction of privately-owned sports stadiums just doesn
&
rsquo;t work. And it won
&
rsquo;t this time around, either.
The argument in favor of publicly funded, private stadium development is that it will both create jobs and bring consumer money into the community. However, as studies have shown, for the hefty amount of taxes levied on a region, the economic benefits associated with sports infrastructure are extremely limited. According to Neil deMause, co-author of
&
nbsp;Field of Schemes: How the Great Stadium Swindle Turns Public Money into Private Profit, $
18
billion in tax revenue has been allocated toward the construction of private sports stadiums over the past decade alone.
&
ldquo;If anything,
&
rdquo; deMause tells me,
&
ldquo;the numbers have gotten larger, as stadiums have gotten more expensive.
&
rdquo; The proposed hockey arena
&
ldquo;is not that different from the Tigers deal,
&
rdquo; continues deMause. Back in
2000
, Detroit
&
rsquo;s longtime baseball team moved out of its legendary Tiger Stadium and into the new Comerica Park, which, according to Ball​park​sOf​Base​ball​.com, cost $
300
million
&
mdash;
65
percent of which was paid for by tax revenue. Of course, deMause adds,
&
ldquo;Detroit wasn
&
rsquo;t bankrupt [then]. It is now.
&
rdquo; The progressive case against tax-funded stadiums has been extensively made by authors like deMause and sports columnist Dave Zirin, as well as by academics like Smith College economist Andrew Zimbalist, and Judith Grant Long, an assistant professor of urban planning at Harvard University whose new book,
&
nbsp;Public-Private Partnerships for Major League Sports Facilities,
&
nbsp;
&
ldquo;examines the financial arrangements for over
100
ballparks, stadiums, and arenas, and shows how host public partners pay far more to subsidize these facilities than is commonly understood,
&
rdquo; according to her website. But it isn
&
rsquo;t just progressives who oppose publicly financed stadiums.
&
ldquo;Public funding for sports stadiums has been found, in dozens of studies over several decades, to fall short of its promised benefits and to cost taxpayers more than expected,
&
rdquo;
&
nbsp;Bloomberg
&
rsquo;s
&
nbsp;editors write, noting that a study by Long
&
ldquo;found that public subsidies for stadiums are typically
40
percent more expensive for taxpayers than initially advertised.
&
rdquo; The notoriously conservative Heartland Institute, whose mission is to
&
ldquo;discover, develop and promote free-market solutions to social and economic problems,
&
rdquo; agrees.
&
ldquo;Sports stadium subsidies impose a huge cost to society,
&
rdquo;
&
nbsp;writes Heartland
&
rsquo;s president Joseph Bast.
&
ldquo;Unearned rent being held onto by professional sports franchises, made possible largely by public subsidies for new sports stadiums and arenas, is a huge injustice and deadweight loss to the nation.
&
rdquo; Closer to Detroit, the Midland, Michigan-based Mackinac Center for Public Policy, another self-described free-market think tank, has also repeatedly railed against publicly financed stadium schemes. In blog post, Mackinac research assistant
&
nbsp;Jarrett Skorup writes: Despite statements from legislators (
&
lsquo;
8
,
300
construction jobs
&
rsquo;), local
&
lsquo;economic development officers
&
rsquo; (
&
lsquo;makes good business sense
&
rsquo;) and business leaders involved in the deal (
&
lsquo;$
1
.
8
billion in economic impact
&
rsquo;), it is important to remember that there are almost no economic studies that
&
nbsp;find that stadium deals via direct subsidies or tax incentives are a good deal for taxpayers. In another post,
&
ldquo;More Corporate Welfare for Detroit: New Red Wings arena should not be subsidized,
&
rdquo;
&
nbsp;Skorup writes:
&
ldquo;The problem with these types of projects is that they get lots of media and political attention but the actual economic results are poor. The reality is that these projects, while high profile, make up only a small part of the overall economy.
&
rdquo; The free-marketers over at
&
nbsp;Bloomberg, Heartland and Mackinac are right: Tax-funded stadiums don
&
rsquo;t make fiscal sense. But they're part of an epidemic of private-public partnerships (to paraphrase
&
nbsp;Long
&
rsquo;s new book) where wealth redistribution is practiced in its most ugly form, as taxes collected from large groups of citizens are transferred to affluent individuals for the benefit of their own private enterprise, when such funds could be better spent on schools, hospitals, or other forms of real community investment. Unfortunately, this is how local politics have been run over the past
30
years, deMause says, and it has little to do with the political party with which an individual is aligned.
&
ldquo;The people who are complaining are not the ones making the decisions,
&
rdquo; he says. Progressives and conservatives may disagree on how best to address Detroit's fiscal woes. But both camps clearly oppose urban development through tax-funded private stadium schemes. It
&
rsquo;s time for those in power to heed their advice.