Is the sup­posed safe­ty advan­tage of GMO crops over con­ven­tion­al chem­i­cal pes­ti­cides a mirage?
Accord­ing to biotech lore, the Bt (Bacil­lus thuringien­sis) pes­ti­cides intro­duced into many GMO food crops are nat­ur­al pro­teins whose tox­ic activ­i­ty extends only to nar­row groups of insect species. There­fore, says the indus­try, these pes­ti­cides can all be safe­ly eat­en (by humans).
How­ev­er, this is not the inter­pre­ta­tion we arrived at after our analy­sis of the doc­u­ments accom­pa­ny­ing the com­mer­cial approval of 23 typ­i­cal Bt-con­tain­ing GMO crops.
In our pub­li­ca­tion, authored along with Madeleine Love and Ange­li­ka Hilbeck of the Swiss Fed­er­al Insti­tute of Tech­nol­o­gy (ETH), we show that com­mer­cial GMO Bt tox­ins dif­fer great­ly from their nat­ur­al pre­cur­sors. These dif­fer­ences are impor­tant. They typ­i­cal­ly cause GMO Bt pro­teins to be more tox­ic. Worse, they also cause them to be active against many more species than nat­ur­al forms of Bt toxins.
Mon­san­to, Syn­gen­ta, and Dow are the prin­ci­pal mak­ers of GMO crops intend­ed to kill pests. The vast major­i­ty of these GMO insec­ti­ci­dal crops, which include GMO corn, GMO soy­beans, and GMO cot­ton, are engi­neered to con­tain a fam­i­ly of pro­tein pes­ti­cides called Bt tox­ins. Such crops may con­tain up to six dif­fer­ent Bt trans­genes.
Bt tox­ins get their name from the bac­te­r­i­al species from which they are orig­i­nal­ly derived, Bacil­lus thuringien­sis. Biotech seed com­pa­nies and gov­ern­ment offi­cials com­mon­ly refer to GMO Bt tox­ins (which are also called Cry tox­ins) as ​"nat­ur­al". Com­mon­ly also, they state that GMO ver­sions are iden­ti­cal to the Bt tox­ins used in organ­ic agri­cul­ture or in forestry.
But, as we found, GMO Bt tox­ins are clear­ly dis­tinct from nat­ur­al Bt tox­ins and those used in more tra­di­tion­al farm­ing methods:
1. Where­as nat­ur­al Bt tox­ins are insol­u­ble crys­tals with com­plex struc­tures built around a DNA mol­e­cule (see illus­tra­tion), all GMO Bt tox­ins are sol­u­ble pro­teins (with no DNA).
2. Many GMO Bt tox­ins are trun­cat­ed proteins.
3. Parts of Bt tox­ins are often com­bined to make hybrid GMO mol­e­cules that don't exist in nature.
4. GMO Bt tox­ins often have added to them syn­thet­ic or unre­lat­ed pro­tein molecules.
5. Some are mutat­ed to replace spe­cif­ic amino acids.
6. And far from least, all GMO Bt pro­teins stud­ied by us were addi­tion­al­ly altered inside plant cells. It seems that the GMO crop plant itself invari­ably cre­ates changes in Bt toxins.
Thus, not a sin­gle one of the 23 Bt com­mer­cial lines that we ana­lyzed was iden­ti­cal to nat­ur­al or his­tor­i­cal­ly used ver­sions of Bt tox­ins. All had at least two of the above cat­e­gories of alter­ations, but most had many more. To call GMO Bt pro­teins nat­ur­al, as biotech com­pa­nies stan­dard­ly do, is there­fore mis­lead­ing and sci­en­tif­i­cal­ly wrong.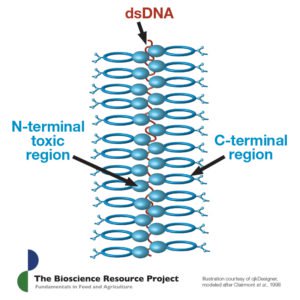 Sub­units of Cry1 crys­tals show­ing the DNA core. (Image: Inde­pen­dent Sci­ence News)
Bio­log­i­cal and tox­i­co­log­i­cal significance
The bio­log­i­cal mean­ing of these alter­ations is not dis­cussed in the com­mer­cial appli­ca­tions that we stud­ied. How­ev­er, we found it can be inferred, at least in part, from a the­o­ret­i­cal under­stand­ing of the tox­i­c­i­ty of nat­ur­al Bt proteins.
It is first nec­es­sary to note that the nat­ur­al Bt mol­e­cules pro­duced by B. thuringien­sis are non-tox­ic crys­tals. The actu­al tox­i­co­log­i­cal­ly active pro­tein is a much small­er sol­u­ble frag­ment. To get from one to the oth­er the crys­tal must first be eat­en, then dis­solved, then processed by the gut enzymes of a tar­get organ­ism, all in a pre­cise sequence. The exact phys­i­o­log­i­cal and enzy­mat­ic con­di­tions required for each step are par­tic­u­lar to each tox­in and quite rare in nature. This require­ment for exact­ing con­di­tions is, in large part, where the tox­i­co­log­i­cal speci­fici­ty of nat­ur­al Bt tox­ins originates.
Once processed in this way, the much small­er but now acti­vat­ed tox­in mol­e­cule attach­es to recep­tors in the gut and makes holes in its mem­branes. This caus­es the vic­tim to be digest­ed from the inside by the con­tents its own gut, which includes B. thuringien­sis.
This com­plex mech­a­nism of tox­i­c­i­ty can be con­cep­tu­al­ized as the sequen­tial removal of a series of inhibito­ry struc­tures that act like the safe­ty catch on a gun or the sheath on a sword. Pro­cess­ing pre­vents pre­ma­ture or inap­pro­pri­ate tox­i­co­log­i­cal activ­i­ty such as the mak­ing of holes in the bacteria's own membranes.
The key infer­ence from this under­stand­ing is that GMO devel­op­ers, by sol­u­bi­liz­ing or short­en­ing Bt tox­ins, have removed some or all of the inhibito­ry struc­tures that make nat­ur­al ver­sions safe for most organisms.
Thus, the stan­dard the­o­ry of Bt tox­in acti­va­tion implies that, by cre­at­ing Bt tox­ins that are more sim­i­lar to the tox­i­co­log­i­cal­ly active form, GMO devel­op­ers are doing two things. First, they are mak­ing each Bt pro­tein more active towards known tar­get species. More wor­ry­ing­ly, they are mak­ing them poten­tial­ly haz­ardous towards an entire­ly new, though large­ly unknown, range of organ­isms. So, while the pub­lic expla­na­tion for using GMO Bt pes­ti­cides is that their tox­i­c­i­ty is lim­it­ed to a few species, this ratio­nale is being under­cut by plac­ing them into GMO crops.
The­o­ry only goes so far, how­ev­er. There is anoth­er way to ascer­tain the effects of the changes made to com­mer­cial Bt tox­ins. That is to mea­sure them. As we show, there are indeed pub­lished papers report­ing that GMO Bt tox­ins are more tox­ic than nat­ur­al Bt tox­ins. For exam­ple, co-author Ange­li­ka Hilbeck has shown that a Bt tox­in called Cry1Ab is unex­pect­ed­ly tox­ic to neu­ropter­an insects. Researchers in the Unit­ed States sep­a­rate­ly showed that the GMO corn MON810 unex­pect­ed­ly affect­ed cad­dis­flies, where­as non-GMO corn did not. Oth­er researchers have shown that few­er than 14 pollen grains can kill swal­low­tail but­ter­flies. These and oth­er results strong­ly sug­gest that GMO Bt tox­ins can behave very dif­fer­ent­ly than nat­ur­al ones.
Patent­ing supertoxins
A third way to deter­mine the effects of changes made to Bt pro­teins is to find a patent in which the devel­op­er describes in detail the alter­ations they have made to a com­mer­cial Bt tox­in, and the increase in poten­cy that result­ed from these alterations.
In U.S. Patent No. 6,060,594 Mon­san­to describes how they made muta­tions in a nat­ur­al Bt tox­in called Cry3b that made this nat­ur­al tox­in into, in their own words, a ​"super tox­in." One such super tox­in was sub­se­quent­ly intro­duced to make the com­mer­cial GMO corn MON863. Anoth­er was used to make GMO corn MON88017. The Bt tox­in in MON863 was, accord­ing to the patent, 7.9‑fold more active than the nat­ur­al ver­sion. These enhanced tox­ins, claimed the patent, ​"have the com­bined advan­tages of increased insec­ti­ci­dal activ­i­ty and con­comi­tant broad spec­trum activity."
This find­ing com­pelling­ly sup­ports our con­tention that altered GMO tox­ins are more potent in their tox­i­c­i­ty and effec­tive against a broad­er range of species. But Mon­san­to curi­ous­ly omit­ted this infor­ma­tion when it applied for a reg­u­la­to­ry exemp­tion from Envi­ron­men­tal Pro­tec­tion Agency (EPA) for the tox­in in MON863. Instead, Mon­san­to argued that that the Bt pro­tein in MON863 was tox­i­co­log­i­cal­ly equiv­a­lent to the nat­ur­al Bt pro­tein precursor.
This is a resur­fac­ing of the his­toric con­tra­dic­tion that has marked biotech­nol­o­gy since its incep­tion. Claim­ing to be iden­ti­cal to old meth­ods when safe­ty is the issue and nov­el when the ques­tion is patents. It would sure­ly be inter­est­ing to sit down EPA and the Patent Office togeth­er at the same table.
But that is still not all. As men­tioned briefly above, all Bt tox­ins are fur­ther altered by the plants into which they have been intro­duced. This cre­ates unique tox­in mol­e­cules that dif­fer even fur­ther from nat­ur­al ones. The bio­log­i­cal expla­na­tions for these alter­ations are not clear, they may be spe­cif­ic to indi­vid­ual trans­gene inser­tion events, or the cause may be bio­chem­i­cal pro­cess­ing of the Bt tox­in inside plant cells. But what­ev­er that expla­na­tion, these alter­ations also may enhance the tox­i­c­i­ty of the Bt mol­e­cule or alter its range of affect­ed organisms.
To under­stand this point bet­ter it is impor­tant to appre­ci­ate that all com­mer­cial­ized GMOs rep­re­sent unique genet­ic events. Each event has been specif­i­cal­ly select­ed for pes­ti­ci­dal effec­tive­ness in the green­house of the devel­op­er from among thou­sands of oth­er, pre­sum­ably less effec­tive, breed­ing lines. This selec­tion step cre­ates the prob­a­bil­i­ty that a com­mer­cial GMO will have unique and unex­pect­ed tox­i­co­log­i­cal prop­er­ties that are respon­si­ble for that effectiveness.
Impli­ca­tions and inferences
Our analy­sis is of impor­tance for many rea­sons. First are the real-world eco­log­i­cal impli­ca­tions. Accord­ing to our esti­ma­tions, a series of inde­pen­dent alter­ations are cre­at­ing enhance­ments in Bt pro­tein tox­i­c­i­ty. If each indi­vid­ual enhance­ment gives rise to a many-fold increase in tox­i­c­i­ty, which accord­ing to indus­try data it often does, then the cumu­la­tive effect is like­ly to be very large.
(This is par­tic­u­lar­ly so when the vast quan­ti­ties of Bt tox­ins present in each GMO crop field are con­sid­ered. Not only are Bt pro­teins present in every cell of each GMO plant, but stacked GMO crop vari­eties increas­ing­ly have many dif­fer­ent Bt trans­genes. It is easy to imag­ine that GMO Bt crops may be hav­ing large effects on agri­cul­tur­al ecosystems.)
Sec­ond, there is a les­son here sure­ly for new gen­er­a­tions of biotech­nolo­gies. What our paper shows is that gov­ern­ment reg­u­la­tors across the globe have opt­ed to assume that Bt tox­ins, no mat­ter how much they have been altered, whether acci­den­tal­ly or on pur­pose, have a tox­i­co­log­i­cal pro­file that is unchanged.
Such an inter­pre­ta­tion is high­ly con­ve­nient for appli­cants want­i­ng to roll out potent nov­el tox­ins, but it is use­less for pro­tect­ing pub­lic health and the envi­ron­ment. Such dis­re­gard of the sci­en­tif­ic evi­dence, laid out in full by us for the first ever time, is part of an unfor­tu­nate wider pat­tern—which we have been doc­u­ment­ing—of adop­tion by GMO reg­u­la­tors of indus­try-friend­ly the­o­ret­i­cal frame­works and interpretations.
It is the ques­tion for our times: How to inte­grate sci­ence into deci­sion-mak­ing but ensure it is applied rig­or­ous­ly and impar­tial­ly and there­fore in the pub­lic interest?
"Have Mon­san­to and the Biotech Indus­try Turned Nat­ur­al Bt Pes­ti­cides into GMO ​'Super tox­ins'?" was first pub­lished on inde​pen​dentscience​news​.org and is repost­ed on Rur­al Amer­i­ca In These Times with permission.