The GMO label­ing issue has qui­et­ed down some but there is still plen­ty to dis­cuss. On Jan­u­ary 19, the USDA pro­posed its lat­est def­i­n­i­tion of genet­i­cal­ly mod­i­fied food, for label­ing pur­pos­es, and it includes loop­holes for gene edit­ing. How­ev­er, it's not uncom­mon for rea­son­able peo­ple to imag­ine that GMO label­ing is a sideshow to the real busi­ness of the food move­ment. After all, most GMO foods and GMO crops are visu­al­ly indis­tin­guish­able from non-GMOs, and tiny non-GMO labels can look pret­ty irrel­e­vant on the side of a soda bot­tle con­tain­ing whole cup­fuls of sugar.
Last week, Michael Pol­lan, Olivi­er de Schut­ter, Mark Bittman and Ricar­do Sal­vador made that error, call­ing GMO label­ing ​"parochial."
Grant­ed, they wrote ​"impor­tant but parochial," but qual­i­fy­ing the sig­nif­i­cance of GMO label­ing in any way was a mistake.
The first issue is that GMOs are legal­ly dis­tinct from non-GMO crop vari­eties. They pos­sess an enhanced legal sta­tus that has enabled GMOs to become a gush­ing prof­it cen­ter for agribusi­ness. These rights not only allow their own­ers to steer farm­ers' her­bi­cide use, which also increas­es prof­its, but also allows them to legal­ly pre­vent inde­pen­dent research that would oth­er­wise con­tra­dict their adver­tis­ing claims. The share price of Mon­san­to reached $142 in 2008, reflect­ing the enor­mous prof­itabil­i­ty of mas­sive­ly increas­ing seed prices on the back of GMO introductions.
Those prof­its have in turn fuelled a set of key agribusi­ness activ­i­ties. One was the acqui­si­tion of near­ly the entire inde­pen­dent glob­al seed busi­ness, which now resides in very few hands. The sec­ond was a clus­ter of enhanced PR and lob­by­ing activ­i­ties that were nec­es­sary to defend GMOs. Rather than hide in the shad­ows, agribusi­ness cor­po­ra­tions need­ed to come out swing­ing in defense of the inde­fen­si­ble. This neces­si­tat­ed, among oth­er things, a much high­er degree of con­trol over teach­ing con­tent and research at pub­lic uni­ver­si­ties. Thus, GMOs spe­cial legal sta­tus has enabled an unprece­dent­ed abil­i­ty to con­trol both the present and the future of agriculture.
Con­flat­ing sci­ence with progress
GMOs are also con­flat­ed with sci­ence and there­fore progress. They have the intel­lec­tu­al role of pre­sent­ing agribusi­ness as the inno­v­a­tive and dynam­ic fron­tier of agri­cul­ture, in con­trast to those peo­ple who base their efforts on eco­log­i­cal diver­si­ty, local exper­tise, or deep knowl­edge. This cut­ting edge image is key to the agribusi­ness busi­ness mod­el of reap­ing tax breaks and subsidies.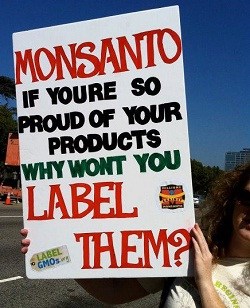 A woman holds a sign in sup­port of Cal­i­for­nia Prop 37 — the 2012 bal­lot mea­sure that called for the manda­to­ry label­ing of genet­i­cal­ly engi­neered food. (Pho­to: Pin​trest​.com)
All around the world, tax­pay­er mon­ey sup­ports and sub­si­dizes agribusi­ness, which is exis­ten­tial­ly depen­dent on these ben­e­fits. In the final analy­sis, how­ev­er, the GMOs-as-progress argu­ment is cir­cu­lar: Agribusi­ness is inno­v­a­tive because it uses GMOs and GMOs show how inno­v­a­tive they are. It's smoke and mir­rors, but politi­cians fall for it every day, deliv­er­ing mas­sive trans­fers of wealth every year from the pub­lic to the pri­vate sec­tor.
The bio­log­i­cal truth of GMOs in the field is equal­ly dis­turb­ing. The vir­tu­al dis­ap­pear­ance of Monarch but­ter­flies has received much atten­tion and there are three lead­ing expla­na­tions regard­ing the cause. The loss of their lar­val host plants, milk­weeds, to farm­land is one pos­si­bil­i­ty; poi­son­ing of their cater­pil­lar lar­vae after con­sum­ing insec­ti­cide-filled pollen from Bt insect-resis­tant GMOs is a sec­ond; and tox­i­c­i­ty from the neon­i­coti­noid pes­ti­cides used to treat GMO seeds is the third. The first two both stem direct­ly or indi­rect­ly from GMO use in agri­cul­tur­al fields. Milk­weeds grow in and around crops. Before GMOs, they could not be erad­i­cat­ed and now they can.) Most like­ly, how­ev­er, all three of these caus­es are a fac­tor and GMO agri­cul­ture is like­ly dec­i­mat­ing many oth­er species too.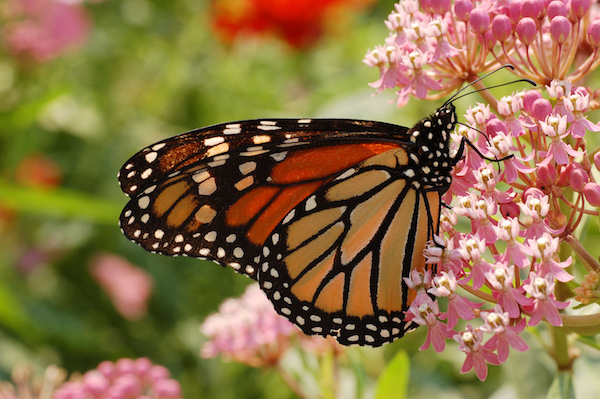 The monarch but­ter­fly (Danaus plex­ip­pus) is a milk­weed but­ter­fly in the fam­i­ly Nymphal­i­dae. (Pho­to: Wiki­me­dia Commons)
Mon­archs are love­ly, but they are not oth­er­wise spe­cial. Their sig­nif­i­cance is as sen­tinels. Plant­i­ng milk­weeds and pol­li­na­tor way sta­tions to specif­i­cal­ly pre­serve a sen­tinel species does not res­cue an agri­cul­tur­al ecosys­tem, but it will mask the symp­toms. Agribusi­ness is right now hop­ing that no one will notice the dif­fer­ence, and that by bring­ing back mon­archs it can obscure the facts of their killing fields. Inter­na­tion­al­ly, GMOs threat­en to trans­form agri­cul­ture in coun­tries like India where mil­lions of peo­ple who make a liv­ing by labor­ing in fields are at risk of get­ting dis­placed by her­bi­cide-tol­er­ant crops, such as mustard.
"

Don­ald Trump won't make it worse because it can't be worse"

At the human con­sump­tion end of the food chain, if you live in the Unit­ed States, no one is pro­tect­ing you from poten­tial GMO health haz­ards. Mak­ers of GMO crop vari­eties don't even have to noti­fy the FDA of a new prod­uct. And if the mak­er deems the prod­uct is not a pes­ti­cide, they don't have to noti­fy the EPA either. Don­ald Trump won't make it worse because it can't be worse. This is non-par­ti­san con­tempt for pub­lic health.

What are the poten­tial health haz­ards? One impor­tant exam­ple is the famous (or infa­mous) rat study of NK603 corn by the French research group under pro­fes­sor Gilles-Eric Sérali­ni. To date, it is the only long-term study of the effects of GMOs on a mam­mal. If you ignore the tumors that most peo­ple focused on, the study also found major kid­ney and liv­er dys­func­tion in the treat­ed ani­mals. This dys­func­tion was evi­dent from bio­chem­i­cal mea­sure­ments and visu­al­ly appar­ent under the micro­scope. The results, how­ev­er, are of no inter­est to U.S. reg­u­la­tors, even in prin­ci­ple, because they fall between juris­dic­tions. Nonethe­less, from this we can con­clude that GMOs — the lead­ing edge of indus­tri­al agriculture's busi­ness mod­el — are often direct­ly and indi­rect­ly harmful.

The ques­tion is not of GMO safe­ty, how­ev­er, but whether or not they should be labeled. Imag­ine that organ­ic food was not allowed to be labeled. Would there be such an orga­nized and pow­er­ful chal­lenge to indus­tri­al food? What label­ing does for the agri­cul­ture and food sys­tem is to allow the pub­lic to express its dis­may and dis­agree­ment with the direc­tion of cor­po­rate agri­cul­ture and assert their demo­c­ra­t­ic rights to pro­tect them­selves. Label­ing allows the pub­lic to engage with spe­cif­ic poli­cies and prod­ucts with­in the vast com­plex­i­ty of the food sys­tem and, in real time, push back in a focused way against cor­rup­tion and dis­hon­esty. There aren't too many chances to do that in Amer­i­ca today.

("There's Noth­ing Parochial About the Issue of GMO Food Label­ing" was orig­i­nal­ly pub­lished on Inde​pen​dentScience​News​.org and is repost­ed on Rur­al Amer­i­ca In These Times with per­mis­sion from the author. To view the USDA's most recent GMO pro­pos­al, click here. To read the full arti­cle by Michael Pol­lan, Olivi­er de Schut­ter, Mark Bittman and Ricar­do Salvador's that prompt­ed this reply, click here. The pas­sage in ques­tion reads:

Excerpt from ​"Food and More: Expand­ing the Move­ment for the Trump Era"—pub­lished Jan. 16, 2017 on CivilEats​.com.)
[If you like what you've read, help us spread the word. ​

"

Like" Rur­al Amer­i­ca In These Times on Face­book. Click on the ​

"

Like Page" but­ton below the bear on the upper right of your screen. Also, fol­low RAITT on Twit­ter @RuralAmericaITT]