'Go Ahead, Try and Make Me Pay You': Wage Theft and S.B. 1070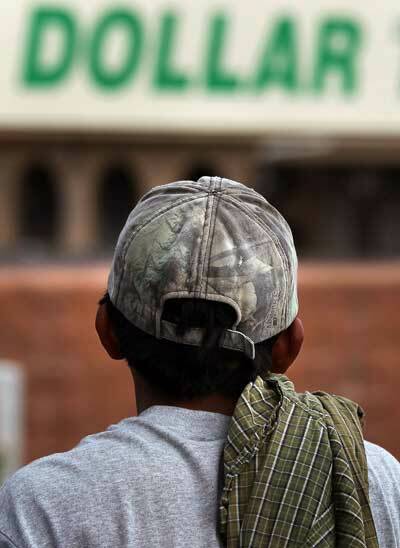 The Ari­zona Inter­faith Alliance for Work­er Jus­tice, a work­er cen­ter in Phoenix, has seen a ​"huge spike" in wage theft since SB 1070, Arizona's dra­con­ian immi­gra­tion law, passed in April. Tri­na Zelle, the group's exec­u­tive direc­tor, has seen a ​"notice­able shift" in the four months since the mea­sure was signed into law.
"Employ­ers are even more brazen in their mis­treat­ment of work­ers," Zelle says. ​"Increas­ing­ly, ​"Go ahead, try and make me pay you" is the response work­ers hear when they con­front their employ­ers over unpaid wages.
Under S.B. 1070, sched­uled to be imple­ment­ed on Thurs­day, the police are required to ques­tion any­one they have a ​"rea­son­able sus­pi­cion" is in the coun­try ille­gal­ly, and arrest and move to deport any­one who can't prove their legal sta­tus. The law will lead to racial pro­fil­ing, deter immi­grants from report­ing crimes, and fur­ther exac­er­bate racism and intolerance.
As ear­ly as May, the mea­sure had cast an omi­nous shad­ow. A friend of Zelle's, a Lati­no U.S. cit­i­zen, was pulled over by police and asked for his birth cer­tifi­cate. Nat­u­ral­ly incred­u­lous – who trav­els with their birth cer­tifi­cate? – he was told by the cop, ​"Well, you look like an ille­gal."

So even before its offi­cial imple­men­ta­tion, the law has made a pal­pa­ble impact. The measure's mere pas­sage, say work­er cen­ter orga­niz­ers, has begun to dri­ve immi­grant work­ers even fur­ther under­ground, hav­ing a silenc­ing effect on them in the face of ram­pant vio­la­tions of their rights in the work­place.

The Hous­ton Inter­faith Work­er Jus­tice Cen­ter has also seen more cas­es of wage theft recent­ly. ​"Work­ers do fre­quent­ly men­tion that employ­ers ver­bal­ly abuse them because of their immi­gra­tion sta­tus (or assumed immi­gra­tion sta­tus)," says Lau­ra Boston, the work­er center's direc­tor. ​"Fre­quent­ly," she adds, ​"employ­ers use immi­gra­tion sta­tus as an excuse to jus­ti­fy not pay­ing them."

​"We've cer­tain­ly seen a marked dif­fer­ence," says José Oli­va, Pol­i­cy Coor­di­na­tor for the Restau­rant Oppor­tu­ni­ties Cen­ters (ROC) Unit­ed, which orga­nizes restau­rant workers:
Work­ers, on the one hand, are a lot more fear­ful to start work­place jus­tice cam­paigns with us. What used to take our orga­niz­ers a cou­ple of weeks of house vis­its and one-on-one meet­ings is now drag­ging on for months.

On the oth­er hand, high-road employ­ers who are pay­ing liv­ing wages and pro­vid­ing ben­e­fits are fear­ful and con­fused – even if they're not in Ari­zona, they some­how think cops any­where can bust in and check peo­ples' doc­u­ments. It's def­i­nite­ly a lot worse, and the law isn't even being enforced yet!
Pablo Alvara­do, Exec­u­tive Direc­tor of the Nation­al Day Labor­er Orga­niz­ing Net­work (NDLON), sees the new law as a direct attack on workers.
"The first place the author­i­ties will go is to day labor­er cor­ners," he says. On Mon­day, a day labor­er from Guatemala fell off a roof and died in Phoenix. ​"The employ­er is nowhere to be found," says Alvara­do. ​"When S.B. 1070 goes into effect, do you think the wife of that man is going to call the police or the Depart­ment of Labor? Peo­ple are not going to be fil­ing claims. The abuse is going to get worse. It's a human rights cri­sis."

This is what Michelle Chen, writ­ing for this blog, recent­ly called ​"the down­ward spi­ral of exploita­tion across the entire labor force." And with a bro­ken nation­al immi­gra­tion sys­tem, leg­is­la­tors in more than 20 states are con­sid­er­ing copy­cat mea­sures, tap­ping into anti-immi­grant sen­ti­ment that has only been exac­er­bat­ed by the eco­nom­ic cri­sis.

But despite the media hype sur­round­ing those mea­sures, anti-immi­grant ini­tia­tives around the coun­try in the wake of S.B. 1070's pas­sage seem to be fail­ing. As the Pro­gres­sive States Net­work points out, ​"the real­i­ty is that from Neva­da to Arkansas to Mass­a­chu­setts to Kansas and Rhode Island, anti-immi­grant bills and bal­lot ini­tia­tives large­ly didn't move or failed to make this fall's bal­lot."

We believe this is a direct result of the huge nation­al out­cry and mobi­liza­tion in oppo­si­tion to S.B. 1070 on the part of immi­grant rights activists, work­er advo­cates, and faith groups. Any state leg­is­la­ture con­sid­er­ing pass­ing a sim­i­lar mea­sure is con­front­ed with the real­i­ty of the huge eco­nom­ic and social costs the state of Ari­zona has had to endure after pass­ing SB 1070.

The key to stem­ming the down­ward spi­ral of exploita­tion is tougher labor law enforce­ment. ​"If we ever hope to bring immi­grant work­ers out of the shad­ows in which they've been labor­ing," says Kim Bobo, author of Wage Theft in Amer­i­ca and the Exec­u­tive Direc­tor of Inter­faith Work­er Jus­tice, ​"we need to force­ful­ly oppose anti-immi­grant leg­is­la­tion and stand up for both com­pre­hen­sive immi­gra­tion reform and vig­or­ous enforce­ment of the nation's labor laws."

And those labor laws apply to all work­ers employed in the U.S. regard­less of immi­gra­tion sta­tus – a fact con­stant­ly under­scored by U.S. Labor Sec­re­tary Hil­da Solis.

Anoth­er Pro­gres­sive States Net­work report points in the same direc­tion, under­scor­ing that the fed­er­al government's ​"sys­tem­at­ic lack of wage law enforce­ment has con­tributed to the dys­func­tion of our immi­gra­tion sys­tem." The report adds an inter­est­ing strate­gic twist:

Since going after employ­ers who vio­late wage laws polit­i­cal­ly unites all work­ers, immi­grant and native alike, crack­ing down on those employ­ers will actu­al­ly strength­en the pro­gres­sive polit­i­cal base.

Wage enforce­ment cam­paigns, the report points out, have served to under­mine anti-immi­grant attacks. When the Iowa Sen­ate, for exam­ple, approved a bill to tight­en enforce­ment on employ­ers who vio­late Iowa wage laws, it stalled move­ment of an anti-immi­grant bill approved in the state's House and effec­tive­ly put the kibosh on anti-immi­grant leg­is­la­tion.

The S.B. 1070 knife cuts both ways, observes Jacob Lesniews­ki, orga­niz­er with the Arise Chica­go Work­er Cen­ter. It
pos­es an exis­ten­tial threat that either push­es peo­ple fur­ther into the shad­ows or moves them to take action. Some peo­ple are so fear­ful that they won't even come for­ward, but some are so angry that they're will­ing to risk a lot to claim their rights. If you can get deport­ed just walk­ing around, why not put up a fight? It's Zapata's admo­ni­tion that it's bet­ter to die stand­ing than to live on your knees.
Dan­ny Pos­tel
is North Amer­i­ca Co-Chair of the Iran Labor Sup­port Com­mit­tees and a mem­ber of Chicago's No War on Iran Coali­tion. He is com­mu­ni­ca­tions coor­di­na­tor of Inter­faith Work­er Jus­tice, and a con­tribut­ing edi­tor of Logos.
Ted Smuk­ler
is Pub­lic Pol­i­cy Direc­tor for Inter­faith Work­er Jus­tice. He has authored sev­er­al IWJ resources, includ­ing reports on work­er abuse in New Orleans fol­low­ing Hur­ri­cane Kat­ri­na and For You Were Once a Stranger, IWJ's man­u­al on immi­gra­tion and faith. For more than
20
years, he was a com­mu­ni­ty orga­niz­er in the Chica­go met­ro­pol­i­tan area, work­ing on issues such as afford­able hous­ing, school reform and parental lead­er­ship involve­ment, pub­lic safe­ty and treat­ment for addicts.