Goldman Sachs' Strongman in Puerto Rico
Trump's Puerto Rico policy is a backdoor bailout for the financial giant.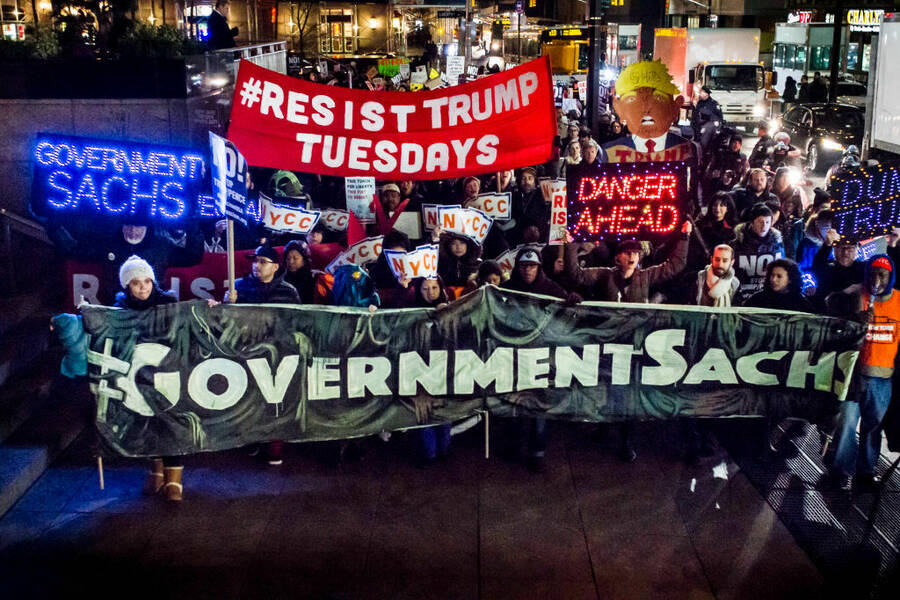 Don­ald Trump took to Twit­ter this week to deride an alleged bailout of Puer­to Rico. How­ev­er, his tweets belie the uncom­fort­able truth that his administration's posi­tion on Puer­to Rico actu­al­ly amounts to a back­door bailout of Wall Street firms like Gold­man Sachs, whose alum­ni con­trol much of his White House.
"Trump should use all the tools at his disposal to help American citizens living in Puerto Rico shed the predatory debt that Goldman Sachs and other Wall Street firms sold them. Instead, he is giving the banks a free pass and using the bully pulpit to shift blame onto the people of Puerto Rico."
Gold­man Sachs played an impor­tant role in caus­ing Puer­to Rico's debt cri­sis by tar­get­ing the com­mon­wealth with preda­to­ry finan­cial deals. The bank helped under­write $2.5 bil­lion in cap­i­tal appre­ci­a­tion bonds, the munic­i­pal bond market's ver­sion of a pay­day loan, for which Puer­to Rico will pay $18.8 bil­lion in inter­est — an effec­tive inter­est rate of 746 percent.
Fur­ther­more, Gold­man Sachs was lead under­writer on $224 mil­lion in auc­tion rate secu­ri­ties for the com­mon­wealth and the coun­ter­par­ty to relat­ed inter­est rate swaps. Auc­tion rate secu­ri­ties are a form of vari­able-rate debt, sim­i­lar to an adjustable-rate mort­gage, and a swap is a finan­cial instru­ment that bor­row­ers some­times pur­chase to pro­tect them­selves from unex­pect­ed spikes in inter­est rates on vari­able-rate debt. Both the auc­tion rate secu­ri­ties and swap mar­kets went hay­wire in 2008 as a result of the finan­cial cri­sis caused by Wall Street's reck­less behav­ior. Over the next sev­er­al years, Puer­to Rico was forced to pay $40 mil­lion in penal­ties to get out of the tox­ic swap deals and had to pay mil­lions more in fees to restruc­ture its auc­tion rate secu­ri­ties into tra­di­tion­al, plain vanil­la bonds.
The fed­er­al ​"fair deal­ing" rule pro­hibits finan­cial insti­tu­tions from mis­rep­re­sent­ing or omit­ting ​"facts, risks, poten­tial ben­e­fits, or oth­er mate­r­i­al infor­ma­tion" when doing busi­ness with munic­i­pal bor­row­ers like Puer­to Rico. It was stan­dard indus­try prac­tice for bond under­writ­ers that pitched vari­able-rate debt deals to vio­late this rule.
The Secu­ri­ties and Exchange Com­mis­sion (SEC) has the pow­er to bring a dis­gorge­ment action against Gold­man Sachs for vio­lat­ing the fair deal­ing rule and to make the bank return its ill-got­ten gains from these preda­to­ry deals to Puer­to Rico. In fact, the SEC has already tak­en sim­i­lar action on behalf of bond­hold­ers harmed by banks that mis­led them about vari­able-rate munic­i­pal finance deals. How­ev­er, Trump's nom­i­nee to run the SEC is Jay Clay­ton, an attor­ney whose clients include Gold­man Sachs and whose wife still works for the bank. By nom­i­nat­ing a fox to guard the hen­house, Trump is cre­at­ing a con­flict of inter­est that could cost the peo­ple of Puer­to Rico mil­lions of dollars.
But Clay­ton is just the tip of the ice­berg. Trump's chief eco­nom­ic advis­er and his choice to run the Nation­al Eco­nom­ic Coun­cil is Gary Cohn, who was the pres­i­dent and chief oper­at­ing offi­cer of Gold­man Sachs until he resigned to assume his post in Trump's admin­is­tra­tion. His Trea­sury Sec­re­tary is Steven Mnuchin, anoth­er Gold­man alum who lat­er went on to run OneWest Bank, the bank whose fore­clo­sure prac­tices earned him the moniker, ​"Fore­clo­sure King." Steve Ban­non, Trump's chief strate­gist who has recent­ly fall­en out of favor, also used to work at Gold­man Sachs. And these men are just a sam­pling of the Gold­man alum­ni who hold high posts in Trump's White House.
Trump should use all the tools at his dis­pos­al to help Amer­i­can cit­i­zens liv­ing in Puer­to Rico shed the preda­to­ry debt that Gold­man Sachs and oth­er Wall Street firms sold them. Instead, he is giv­ing the banks a free pass and using the bul­ly pul­pit to shift blame onto the peo­ple of Puer­to Rico. The SEC has the legal author­i­ty to force Gold­man Sachs to return mil­lions of dol­lars to Puer­to Rico but Trump has nom­i­nat­ed a man with very close ties to the bank to run the SEC, poten­tial­ly sti­fling any legal action. This amounts to a back­door bailout of Gold­man Sachs. This is dis­ap­point­ing but not sur­pris­ing, since — true to the firm's nick­name, ​"Gov­ern­ment Sachs" — Gold­man Sachs alum­ni run the Trump White House.