GOP Breaks 
Tea Party Lines
Will the Republican Party gerrymander freshman insurgents into submission?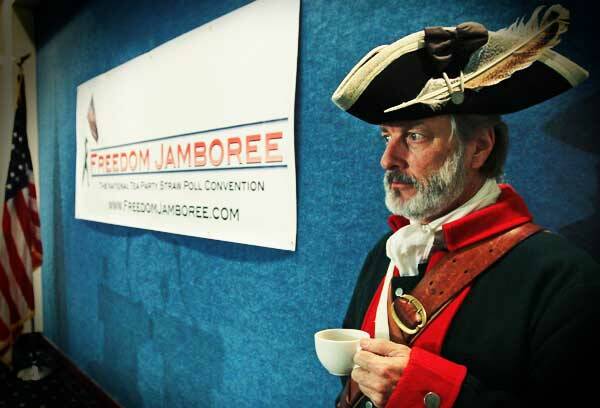 Being brand­ed an anti-estab­lish­ment move­ment helped Tea Par­ty can­di­dates gain sup­port dur­ing the 2010 midterm elec­tion sea­son. But its mem­bers' refusal to embrace the GOP estab­lish­ment may have caught up with them, as Repub­li­can lead­ers look to oust some of their fresh­man col­leagues through the decen­ni­al redis­trict­ing process, cur­rent­ly under­way fol­low­ing the 2010 U.S. census.
Hoping to purge the party of its moderate members, elected Tea Party members remain a thorn in the side of the Republican establishment.
Tea Par­ty can­di­dates chal­lenged incum­bent and par­ty-backed con­tenders alike dur­ing the pri­maries lead­ing up to last year's midterm elec­tions, often times forc­ing their way onto the gen­er­al elec­tion bal­lot in Novem­ber. Those asso­ci­at­ed with the Tea Par­ty move­ment tout­ed their con­nec­tion to con­ser­v­a­tive vot­ers and put the Repub­li­can Nation­al Com­mit­tee in a predica­ment: It could either back its pre­ferred can­di­dates or jump on the Tea Par­ty band­wag­on. Hop­ing to cap­i­tal­ize on the Tea Party's pub­lic­i­ty, the RNC, under the lead­er­ship of Chair­man Michael Steele, large­ly turned a blind eye to the challengers.
"The RNC did an awful job of man­ag­ing the Tea Par­ty move­ment last cycle," says Bri­an Jones, for­mer RNC com­mu­ni­ca­tions direc­tor and advi­sor to John McCain's 2008 pres­i­den­tial run. ​"Chair­man Steele sent sig­nals that it was OK to go after RINOs [Repub­li­cans in Name Only]. That's just bad politics."
Unwill­ing to work with many GOP col­leagues and hop­ing to purge the par­ty of its mod­er­ate mem­bers, elect­ed Tea Par­ty mem­bers remain a thorn in the side of the Repub­li­can estab­lish­ment. With Steele's tenure now only a bad mem­o­ry for many inside the par­ty, estab­lish­ment Repub­li­cans appear to be using their redis­trict­ing pow­ers to mar­gin­al­ize the Tea Party.
Before Reince Priebus took over as RNC chair­man in Jan­u­ary, the Tea Par­ty-aligned Repub­li­can Lib­er­ty Cau­cus of Wis­con­sin (the state where Priebus had pre­vi­ous­ly served as chair of the GOP), pre­dict­ed that Priebus ​"will change Repub­li­can Nation­al Com­mit­tee rules to strength­en GOP par­ty boss­es to the detri­ment of pri­ma­ry vot­ers and Tea Par­ty activists. Priebus sup­ports a top-down approach where par­ty boss­es decide which can­di­dates should receive sup­port, rather than a grass­roots, bot­tom-up approach." While Priebus and oth­er GOP lead­ers haven't made their redis­trict­ing goals explic­it, recent events make Lib­er­ty Cau­cus look prescient.
The midterm elec­tion gave Repub­li­cans com­plete con­trol over how 202 con­gres­sion­al dis­tricts will be rede­fined for the 2012 elec­tion. But in an iron­ic twist, because of their dra­mat­ic increase in rep­re­sen­ta­tives, Repub­li­cans are forced to can­ni­bal­ize some of their own dis­tricts in order to strength­en oth­ers – and Tea Par­ty fresh­men appear to be on the chop­ping block. Ohio, home of House Speak­er John Boehn­er, is set to lose two con­gres­sion­al dis­tricts due to pop­u­la­tion loss. While plans aren't final­ized, it is the state's rep­re­sen­ta­tives aligned with the Tea Par­ty move­ment – notably Reps. Jean Schmidt, Bill John­son, Bob Gibbs and Jim Renac­ci, all fresh­men – who appear most in dan­ger of los­ing their districts.
In Louisiana, the mass exo­dus fol­low­ing Hur­ri­cane Kat­ri­na means the state will lose one con­gres­sion­al dis­trict. Repub­li­can law­mak­ers have already decid­ed to divvy up the 3rd dis­trict to the sur­round­ing dis­tricts, leav­ing Tea Par­ty fresh­men Rep. Jef­frey Landry (R‑La.) pos­si­bly out of a job. Even Tea Par­ty move­ment lead­ers aren't safe: Rep. Allen West (R‑Fla.) is one of the more promi­nent mem­bers of the fresh­man class, yet Repub­li­cans are con­sid­er­ing a plan to weak­en his dis­trict in order to solid­i­fy those of incum­bent Rep. Tom Rooney (R‑Fla.).
Repub­li­cans may owe the Tea Par­ty thanks for their role in last fall's his­toric ​"shel­lack­ing" of Democ­rats, but giv­en the choice between move­ment rep­re­sen­ta­tives and main­stream can­di­dates, the GOP seems to favor its own breed rather than fresh­men who have demon­strat­ed lit­tle alle­giance to the GOP brand.