The GOP's Latest Red-Baiting Tactic? Tying a Democratic Challenger to In These Times.
In a desperate move, Colorado Republican Rep. Scott Tipton is attempting to paint his opponent Diane Mitsch Bush as a socialist threat because she subscribed to In These Times.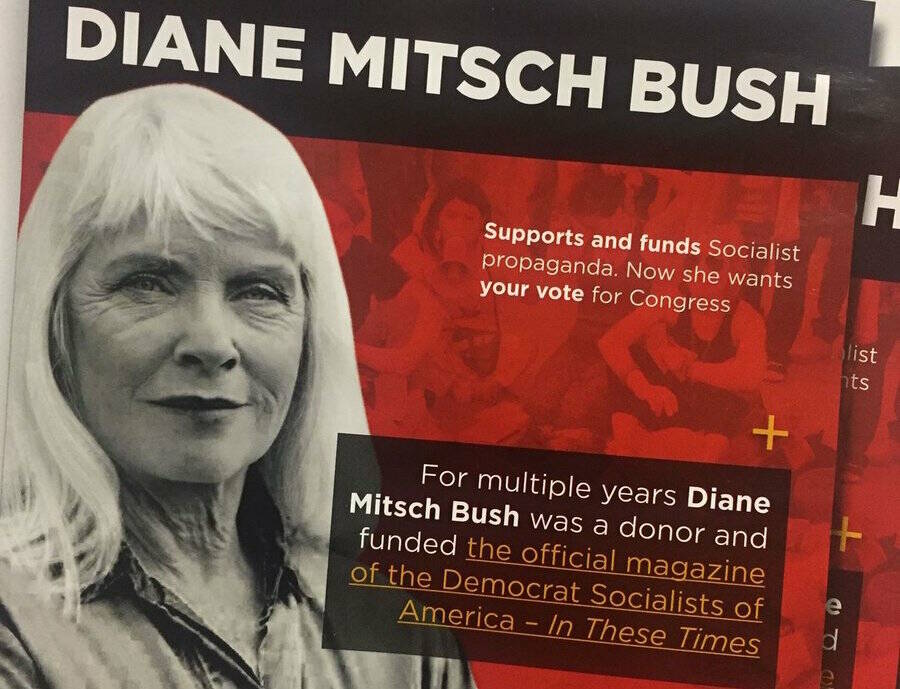 This month, In These Times mag­a­zine became a cam­paign issue in the 2018 midterms when Repub­li­can Rep. Scott Tip­ton of Colorado's 3rd Dis­trict accused Demo­c­ra­t­ic chal­lenger Diane Mitsch Bush of hav­ing ​"helped fund a lead­ing social­ist mag­a­zine" by sub­scrib­ing to ITT.
As a Democrat running in 2018, it's easy to see why Mitsch Bush would want to read "a leading socialist magazine"—to see what more than half of her constituency wants.
In an attack ad released Octo­ber 17, Tip­ton first invoked the Demo­c­ra­t­ic Social­ists of Amer­i­ca — an orga­ni­za­tion with no appar­ent con­nec­tion to Mitsch Bush — say­ing that mem­bers of the orga­ni­za­tion ​"open­ly pro­pose to do away with cap­i­tal­ism." The ad then non-sequiturs to ITT as a ​"lead­ing social­ist mag­a­zine" — and con­cludes that ​"it's no won­der Mitsch Bush sup­ports a gov­ern­ment takeover of our health­care sys­tem," i.e. Medicare for All.
Mitsch Bush does not call her­self a social­ist: ​"For the record, I am not a social­ist, I'm a Demo­c­rat," she says. Her eco­nom­ic plat­form includes busi­ness-friend­ly promis­es to ​"imple­ment effec­tive busi­ness tax pol­i­cy, encour­ag­ing cor­po­ra­tions to operate…in the US," and to ​"incen­tivize small busi­ness expan­sion," along with more pro-labor pro­pos­als like rais­ing the min­i­mum wage and sup­port­ing col­lec­tive bar­gain­ing. She endors­es sin­gle-pay­er health­care, but her edu­ca­tion plan calls for defend­ing Pell Grants, not for elim­i­nat­ing tuition at pub­lic schools.
If her min­i­mal sup­port for ITT makes her respon­si­ble for the oper­a­tions of the pub­li­ca­tion, Mitsch Bush is some­thing of a media mogul — her cam­paign says she also has sub­scrip­tions to the New York Times, Wash­ing­ton Post, Den­ver Post, Time and Newsweek, as well as Ms., The Nation and High Coun­try News. Not even Rupert Mur­doch con­trols so many influ­en­tial outlets.
But Tip­ton obvi­ous­ly believed he could score points by tying Mitsch Bush to ITT, and there­fore to the bogey­man of ​"social­ism." Even as guilt by asso­ci­a­tion goes, this requires a cou­ple more steps; while in its incep­tion ITT iden­ti­fied itself as ​"an inde­pen­dent social­ist news­pa­per," the pub­li­ca­tion hasn't done so for almost 30 years.
When ITT was found­ed in 1976 by social­ist and his­to­ri­an James Wein­stein, he hoped to emu­late the suc­cess of the Appeal to Rea­son, a Kansas-based social­ist paper whose cir­cu­la­tion reached a peak of 750,000 in the years before World War I. That paper thrived in tan­dem with the now large­ly for­got­ten rise of home­grown social­ism in the ear­ly 20th cen­tu­ry — and fell like­wise when World War I and the Russ­ian Rev­o­lu­tion led to a wave of gov­ern­ment repres­sion and insti­tu­tion­al­ized redbaiting.
The mid-1970s were a brief moment when it looked like the pow­er of that red­bait­ing was ebbing as the end of the Viet­nam War and the fall of Richard Nixon sug­gest­ed that a New Left might be able to match or even sur­pass the suc­cess of the Eugene V. Debs-era social­ist move­ment. Alas, it was not to be: The right turn the 1980s led to a re-inten­si­fied Cold War and a shrink­ing of the ide­o­log­i­cal space avail­able to the Left.
A wor­ry that the social­ist label was pre­vent­ing ITT from con­nect­ing with the broad-based left­ist move­ment Wein­stein want­ed his pub­li­ca­tion to serve led him to remove ​"social­ist" from the mast­head in 1989, and insert the mot­to "…with lib­er­ty and jus­tice for all." As Joel Blei­fuss, Weinstein's suc­ces­sor as ITT​'s edi­tor and pub­lish­er, points out, ​"This is the last phrase of the Pledge of Alle­giance, writ­ten by Fran­cis Bel­lamy, a Chris­t­ian social­ist min­is­ter and author."
Tak­ing excep­tion to the Tip­ton campaign's claims that ITT is ​"anti-Amer­i­can," Blei­fuss says, ​"Like Mitsch Bush, the integri­ty of our mag­a­zine has been called into ques­tion by a des­per­ate, fail­ing campaign."
Almost 30 years on, the Cold War is over. The ​"War on Ter­ror" and great-pow­er rival­ry with Rus­sia and Chi­na con­tin­ue to jus­ti­fy an enor­mous mil­i­tary indus­tri­al com­plex, but nei­ther Islam­o­pho­bia nor invo­ca­tion of Vladimir Putin can effec­tive­ly tamp down the domes­tic left-wing polit­i­cal scene the way the Red Men­ace did: You can't scare peo­ple away from crit­i­ciz­ing cap­i­tal­ism by accus­ing them of being ISIS lovers, after all. And these days lib­er­als are more eager than con­ser­v­a­tives to accuse their oppo­nents of being Russ­ian stooges.

With­out a con­vinc­ing way to tie the idea of a peo­ple-cen­tered econ­o­my to sin­is­ter for­eign pow­ers (no, Venezuela does not qual­i­fy), social­ism has made some­thing of a come­back. A Fox News poll this year showed that 36 per­cent of the pop­u­la­tion say it would be a ​"good thing for the Unit­ed States to move away from cap­i­tal­ism and move toward social­ism." Gallup found that 57 per­cent of Democ­rats, and even 16 per­cent of Repub­li­cans, have a pos­i­tive view of social­ism, as do 51 per­cent of all peo­ple under 30. Mean­while, cap­i­tal­ism has no more than 60 per­cent sup­port among any age group.
Since a 2017 redesign, the mast­head of ITT has fea­tured a quote from Wein­stein: ​"No polit­i­cal move­ment can be healthy unless it has its own press to inform it, edu­cate it and ori­ent it." The polit­i­cal move­ment served by ITT may not be iden­ti­fied strict­ly as social­ism, but it def­i­nite­ly includes social­ists — no left-of-cen­ter pol­i­tics can suc­ceed with­out includ­ing social­ist sym­pa­thiz­ers and crit­ics of capitalism.

As a Demo­c­rat run­ning in 2018, it's easy to see why Mitsch Bush would want to read ​"a lead­ing social­ist mag­a­zine" — to see what more than half of her con­stituen­cy wants. The real ques­tion is: Why aren't more Democ­rats sub­scrib­ing to In These Times?
Jim Nau­reckas
is the edi­tor of FAIR​.org, the media crit­i­cism web­site, and has edit­ed FAIR's print pub­li­ca­tion Extra! since
1990
. James Wein­stein gave him his first job in jour­nal­ism, when he hired him in
1987
to write about the Iran/​Contra Scan­dal for In These Times. He is the co-author of The Way Things Aren't: Rush Limbaugh's Reign of Error, and co-edi­tor of The FAIR Read­er. He was an inves­tiga­tive reporter for In These Times and man­ag­ing edi­tor of the Wash­ing­ton Report on the Hemi­sphere. Born in Lib­er­tyville, Illi­nois, he has a poli sci degree from Stan­ford. Since
1997
he has been mar­ried to Janine Jack­son, FAIR's pro­gram director.