The New York Times Missed Trump's Biggest Lie
The corporate media is fact-checking our new Liar-in-Chief--but only to a point.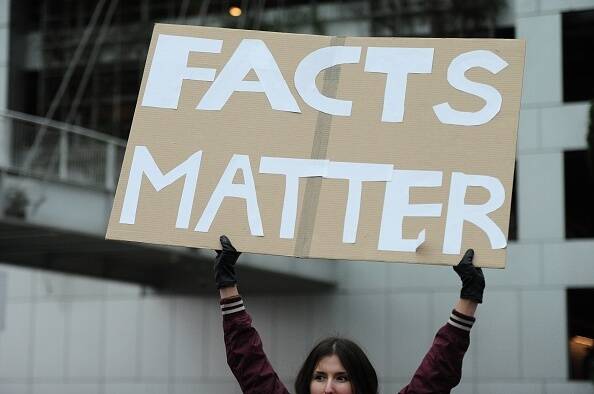 You can't just say the pres­i­dent is lying," New York Times reporter Elis­a­beth Bumiller told an audi­ence of North­west­ern jour­nal­ism stu­dents in 2004. ​"You can say Mr. Bush's state­ment was not fac­tu­al­ly accu­rate. You can't say the pres­i­dent is lying — that's a judg­ment call."
As long as establishment media like the New York Times cling to the myths that allow power to go unchallenged, they'll be part of the problem and not part of the resistance.
The paper has come a long way in 12 years. On Jan­u­ary 24, the Times pub­lished a front-page sto­ry under the head­line, ​"Meet­ing With Top Law­mak­ers, Trump Repeats an Elec­tion Lie" — refer­ring to the false claim that he lost the pop­u­lar vote due to mil­lions of ille­gal votes. The Times fol­lowed up with ​"Press Sec­re­tary Affirms that Trump Believes Lie of Mil­lions of Ille­gal Vot­ers" and ​"Trump Won't Back Down From His Vot­ing Fraud Lie. Here Are the Facts."
The shift from, in 2004, being unable to acknowl­edge that a pres­i­dent can lie — even a pres­i­dent whose lies, car­ried in that very paper, dragged the coun­try into a cat­a­stroph­ic war — to call­ing out par­tic­u­lar lies in front-page head­lines is an impor­tant one. Cooked intel­li­gence about WMDs wasn't enough to make the Times reeval­u­ate the sacred­ness of its ​"on the one hand" equiv­o­cat­ing, but a chief exec­u­tive who seems to believe that his every state­ment rewrites real­i­ty has com­pelled a rethink.
It's a jour­ney that, so far, most of the Times' col­leagues have been unwill­ing to join. NPR Senior Vice Pres­i­dent of News Michael Oreskes, for one, declared, ​"I think the minute you start brand­ing things with a word like ​'lie,' you push peo­ple away from you." Wall Street Jour­nal Edi­tor in Chief Ger­ard Bak­er con­curred, say­ing, ​"You run the risk that you look like you're not being objective."
Note the con­cern for appear­ance that dri­ves the leer­i­ness about label­ing lies. If part of your audi­ence will object to your judg­ment that the pres­i­dent is being delib­er­ate­ly decep­tive, the self-inter­est­ed thing to do is keep it to your­self. That goes dou­ble if your out­let is depen­dent on gov­ern­ment funds, like NPR, or is owned by a leader of the right-wing move­ment, like Rupert Murdoch's Jour­nal.
But there is a dan­ger, when one calls out Trump's most obvi­ous, straight­for­ward lies, of appear­ing to give cre­dence to his larg­er, sub­tler ones. Take the Times' lead news analy­sis of Trump's inau­gur­al speech. Mark Ländler wrote, ​"It remains an open ques­tion whether he will con­tin­ue to be the relent­less pop­ulist who was on dis­play on Friday."
Real­ly? After stock­ing his admin­is­tra­tion with plu­to­crats like ​"Fore­clo­sure King" Steve Mnuchin as trea­sury sec­re­tary; a fast-food CEO who prefers robots to human work­ers, Andrew Puzder, as sec­re­tary of labor; and bil­lion­aire investor Wilbur ​"the 1% is being picked on for polit­i­cal rea­sons" Ross as sec­re­tary of com­merce, the jury is still out on whether Trump is gen­uine­ly a populist?
This is per­haps Trump's most impor­tant lie: As long as his remain­ing fol­low­ers believe him when he says, ​"I will nev­er stop fight­ing for you," he doesn't need them to believe any­thing else. Yet on the ques­tion of Trump's polit­i­cal ide­ol­o­gy, the Times seems deter­mined to report only what he says, not what he does.
Then there are the lies of the Times itself, basic fic­tions that come from the paper's long­stand­ing role as the paper of record that speaks to and for a cor­po­rate estab­lish­ment. For exam­ple, in ​"Trump Revives Key­stone Pipeline Reject­ed by Oba­ma," the Times assured read­ers that the Key­stone XL pipeline ​"would not have a momen­tous effect on … the envi­ron­ment," with val­i­da­tion from an ener­gy con­sul­tant. The Times would nev­er claim that cli­mate change is a Chi­nese hoax — but it will advance the equal­ly absurd con­clu­sion that its oil indus­try adver­tis­ers can sell all the crude they've dis­cov­ered with­out dis­as­trous consequences.
Or take ​"What's in the Shop­ping Cart of a Food Stamp House­hold? Lots of Sug­ary Soda," a moral­i­ty play of a health piece that dis­torts a USDA report beyond recog­ni­tion. In fact, the report found that food-stamp fam­i­lies had pret­ty much the same diet as non-food-stamp fam­i­lies. The point of bash­ing the poor is to reas­sure afflu­ent read­ers that they live in a mer­i­toc­ra­cy — but this piece will come in handy when Trump's GOP allies take an axe to food subsidies
These are dire times for democ­ra­cy, and call­ing Trump out on his most basic gaslight­ing is a nec­es­sary defense. But as long as estab­lish­ment media like the New York Times cling to the myths that allow pow­er to go unchal­lenged, they'll be part of the prob­lem and not part of the resistance.
Jim Nau­reckas
is the edi­tor of FAIR​.org, the media crit­i­cism web­site, and has edit­ed FAIR's print pub­li­ca­tion Extra! since
1990
. James Wein­stein gave him his first job in jour­nal­ism, when he hired him in
1987
to write about the Iran/​Contra Scan­dal for In These Times. He is the co-author of The Way Things Aren't: Rush Limbaugh's Reign of Error, and co-edi­tor of The FAIR Read­er. He was an inves­tiga­tive reporter for In These Times and man­ag­ing edi­tor of the Wash­ing­ton Report on the Hemi­sphere. Born in Lib­er­tyville, Illi­nois, he has a poli sci degree from Stan­ford. Since
1997
he has been mar­ried to Janine Jack­son, FAIR's pro­gram director.