"We Will Be Out in the Streets": What's Next in the Fight Against the GOP Tax Bill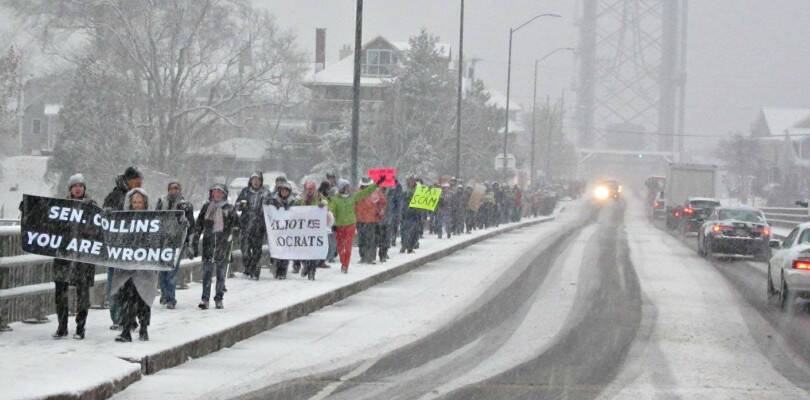 Wel­come to Inter­views for Resis­tance. We're now sev­er­al months into the Trump admin­is­tra­tion, and activists have scored some impor­tant vic­to­ries in those months. Yet there is always more to be done, and for many peo­ple, the ques­tion of where to focus and how to help remains. In this series, we talk with orga­niz­ers, agi­ta­tors, and edu­ca­tors, not only about how to resist, but how to build a bet­ter world.
Sarah Chais­son-Warn­er: My name is Sarah Chais­son-Warn­er and I'm an orga­niz­er with Peo­ple's Action.
Sarah Jaffe: We are talk­ing on Mon­day morn­ing and it is the down-to-the-wire moment for stop­ping the tax bill. First off, tell me what some of your groups were up to over the weekend.
SCW: Over the last three weeks, the affil­i­ates of Peo­ple's Action have held 53 actions across the coun­try with peo­ple stand­ing up to say ​"We will not stand for this tax scam, this is not what we want, this is not what will help our com­mu­ni­ties, our econ­o­my or our country."
Maine Peo­ple's Alliance held a large march in Kit­tery, ME through a snow­storm. Peo­ple there were com­mit­ted to show­ing Sen. Collins that they oppose this bill, that this tax scam bill does noth­ing to help their com­mu­ni­ties, and that all it does is sup­port the inter­ests of the wealthy and big corporations.
We also had events in West Vir­ginia, where our affil­i­ate and some of their allies held a ral­ly and a ban­ner drop and sang Christ­mas car­ols out­side Rep. Mooney​'s office, where Christ­mas car­ol lyrics were changed to reflect the tax scam bill. Going for­ward, our mem­bers are con­tin­u­ing to make calls to mem­bers of Con­gress across the coun­try to show our oppo­si­tion to this bill.
We are lit­er­al­ly every­where: We are in the streets, we are in the papers, we are on the phones. We are doing every­thing that we can to raise and mobi­lize the voic­es of peo­ple who are say­ing no to this bill.
We will con­tin­ue to work in large­ly Repub­li­can dis­tricts and should Con­gress vote for the bill this week our affil­i­ates are ramp­ing up for a rapid response. If they pass this bill, it will not be qui­et in the states. Peo­ple are angry about this, and almost no one wants this bill to pass — you see it in the polls. We will be out in the streets and every­where else show­ing mem­bers of Con­gress that this was the wrong decision.
SJ: Next year is going to be an elec­tion year for a lot of these peo­ple in Con­gress and we're already hear­ing some dec­la­ra­tions from some fair­ly promi­nent mem­bers — even rumors that Paul Ryan might not run for reelec­tion. It seems like per­haps they know that if they pass this they are going to pay a price at the bal­lot box.
SCW: Absolute­ly. There is a polit­i­cal price to be paid for this. Peo­ple across the coun­try, when they went into the vot­ing booth, did not vote for more tax breaks for the rich and big cor­po­ra­tions. When mem­bers who vote for this bill come back to their con­stituen­cies they are going to have to meet with peo­ple and they're going to have to stand by what they did. Peo­ple won't for­get this.
Our work over the next year will be to help edu­cate peo­ple on the impact of this tax scam bill, who vot­ed for it and why they made the wrong decision.
SJ: What's been most sur­pris­ing to you about the last year in fight­ing back, in resis­tance, in the orga­niz­ing that you're doing on the ground?
SCW: We've had some good sur­pris­es and we've had some not-so-good sur­pris­es this year. In terms of good sur­pris­es, we've been impressed by the mag­ni­tude and the excite­ment of peo­ple to stand up for them­selves, to stand up for their neigh­bors, to stand up for their fam­i­ly mem­bers and their com­mu­ni­ties to say no to poli­cies that are just plain wrong on so many lev­els. That's been a real­ly won­der­ful sur­prise, just how moti­vat­ed peo­ple are to con­tin­ue the resistance.
On the neg­a­tive side, I've been incred­i­bly sur­prised that this Con­gress has let fund­ing for the Chil­dren's Health Insur­ance Pro­gram expire. This is a pro­gram that has enjoyed bipar­ti­san sup­port for many years and fund­ing for the pro­gram expired on Sep­tem­ber 30th. So while many of these mem­bers were rush­ing to give mas­sive tax cuts to the wealthy and big cor­po­ra­tions, they let fund­ing for chil­dren's health insur­ance expire and they still have not passed a bill to fund those pro­grams. That's had a mas­sive impact.
SJ: How can peo­ple keep up with you and Peo­ple's Action and all the things you'll be doing in the next year?
SCW: The best way to keep up with us is to go to our web­site at Peo​ple​sAc​tion​.org, sign up for our updates, learn more about where there are affil­i­ates near you that you can be a part of.
— — -
On Fri­day, I also spoke with Jes­si­ca Juarez Scrug­gs of People's Action, as the GOP dropped its ​"final" ver­sion of the bill.
Jes­si­ca Juarez Scrug­gs: Hi, my name is Jes­si­ca Juarez Scrug­gs. I am the Deputy Pol­i­cy Direc­tor with People's Action and People's Action Insti­tute, which is a nation­al net­work of grass­roots orga­ni­za­tions that fights for racial, eco­nom­ic and gen­der justice.
SJ: What do we expect to see in this final ver­sion of the bill that they plan to pass?
JJS: They have changed a bit around the edges, but it is still a mas­sive trans­fer of wealth to bil­lion­aires and a few mul­ti-mil­lion­aires. And it is a trans­fer of wealth away from work­ing class folks and the mid­dle class toward the rich­est of the rich. So, the fun­da­men­tals have not changed.
SJ: I heard that the tax hike on grad­u­ate stu­dents was out, that Mar­co Rubio got his increase in the child tax cred­it – very minor increase in the child tax cred­it, as far as I could tell. So, what we are look­ing at now is the one thing that they might actu­al­ly suc­ceed in pass­ing through Con­gress this year.
JJS: I think we are see­ing the one thing the GOP can still all get behind, which is giv­ing mon­ey to the wealthy. They might not be able to get togeth­er on exact­ly how to take health­care away from every­body, but they cer­tain­ly were able to find a path to suc­cess here.
I don't want to for a sec­ond say that we are throw­ing in the tow­el and allow­ing this to hap­pen. There are peo­ple camped out in front of offices all across the coun­try. We have orga­niz­ers chas­ing Con­gress peo­ple down on planes. We are not about to sit down and allow this to hap­pen with­out our voic­es reg­is­ter­ing, but it cer­tain­ly is a tough task.
SJ: Talk a lit­tle bit about what your mem­ber orga­ni­za­tions have been doing all week. There have been arrests in D.C., arrests in sev­er­al dif­fer­ent con­gres­sion­al offices, con­gress peo­ple hid­ing from their constituents.
JJS: We have had over 50 actions in the last three weeks in Repub­li­can dis­tricts across the coun­try. Peo­ple are real­ly, real­ly con­cerned about giv­ing mas­sive tax breaks to the wealthy and cor­po­ra­tions. We all know that this has been achieved by bud­get mag­ic and the only way they are going to pay for this is through cuts to Social Secu­ri­ty, Medicare and Med­ic­aid — the pro­grams that our folks depend on to stay alive and keep their fam­i­lies healthy.
SJ: I think one of the things about this bill is that this is not just a mas­sive tax break for bil­lion­aires, this does actu­al­ly raise tax­es on work­ing peo­ple. That seems like kind of a bold move for an unpop­u­lar par­ty and a quite unpop­u­lar president.
JJS: Yes. I think they have sort of been scrap­ing wher­ev­er they can to get the rev­enue they need to pay for some of these mas­sive give­aways, like the pass-through, which is a deduc­tion allow­ing the first 20% of income from a pass-through com­pa­ny to be essen­tial­ly tax free. That is some­thing that is only going to ben­e­fit the very, very wealthy. To get the mon­ey to pay for those tax cuts and still stay under the $1.5 tril­lion line, they real­ly have to go through the mid­dle class. It is the only way to raise the revenue.
SJ: One of the upsides of this year is that if this bill pass­es, this will be the only big piece of leg­is­la­tion that this Con­gress pass­es at all. Although this would be a bad note to end the year on, it has been an inter­est­ing expe­ri­ence to see how much can be stopped.
JJS: If you had asked me in Jan­u­ary where we would be today, I would have paint­ed a dark­er pic­ture. The only rea­son it is not worse is because of the mil­lions of peo­ple who have called and emailed and got­ten arrest­ed and stood out­side in the freez­ing cold and sung tax-themed Christ­mas car­ols and every­thing else. I think it is proof of what we can do when we are unit­ed and get orga­nized and get out in the streets. I am just look­ing for­ward to see­ing that applied through the elec­toral sphere in the near future.
SJ: Speak­ing of that, next year is going to be a Con­gres­sion­al elec­tion year. There are going to be some big Sen­ate seats up. Paul Ryan might retire. What do you want to see from peo­ple who are run­ning to replace some of the peo­ple who are going to vote for this tax bill? What are some of the things that you want these peo­ple to have in their platforms?
JJS: We actu­al­ly have a plat­form that we are ask­ing folks to run on. It is our Protest to Pow­er plat­form. I can name some spe­cif­ic pri­or­i­ties, but I think the biggest thing is that we are real­ly look­ing for folks who are will­ing and excit­ed to co-gov­ern with the peo­ple in their com­mu­ni­ties. Peo­ple who are not try­ing to get elect­ed and then shut the door, but real­ly lis­ten to what their con­stituents are say­ing, and trans­fer as much pow­er as pos­si­ble away from spe­cial inter­ests and into our hands.
SJ: Where can peo­ple find this plat­form and how can they keep up with you and your organization?
JJS: The plat­form is on our web­site which is www​.Peo​ple​sAc​tion​.org. Also, a great way to keep up with us is with social media: Face­book and Twit­ter.
Inter­views for Resis­tance is a project of Sarah Jaffe, with assis­tance from Lau­ra Feuille­bois and sup­port from the Nation Insti­tute. It is also avail­able as a pod­cast on iTunes. Not to be reprint­ed with­out permission.
Sarah Jaffe
is a for­mer staff writer at
In These Times
and author of
Nec­es­sary Trou­ble: Amer­i­cans in Revolt
, which Robin D.G. Kel­ley called ​
"
The most com­pelling social and polit­i­cal por­trait of our age." You can fol­low her on Twit­ter
@sarahljaffe
.