GOP Uses Government to Hurt, Not Help
Republicans are stingy when it comes to disaster relief, but spend big to fund discrimination.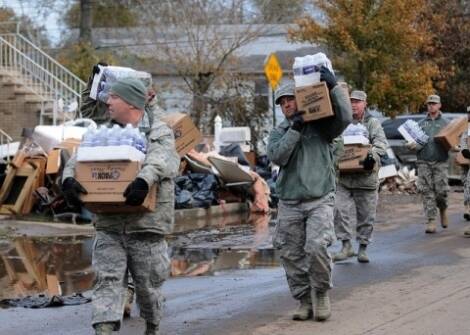 Last week, as Con­gress opened its new ses­sion, two reg­u­lar Joes—Sen. Manchin of West Vir­ginia and Vice Pres­i­dent Biden of Delaware—gave a hand to Sen. Mark Kirk, a Repub­li­can from Illi­nois, who'd suf­fered a stroke a year earlier.
Here's the kicker: Although the measure passed, 67 House Republicans voted against the aid for storm victims whose houses were flooded, wind-whipped or burned to the ground.
Joe and Joe assist­ed Sen. Kirk in climb­ing the 45 Capi­tol steps to take his seat once again in the Sen­ate cham­ber. It's what every reg­u­lar Joe in Amer­i­ca does. They help their co-work­ers, fam­i­ly, friends and neighbors.
Sim­i­lar­ly, Amer­i­cans believe their gov­ern­ment should help when nec­es­sary. When the task is too big for a cou­ple of Joes to achieve, Amer­i­cans want their gov­ern­ment to step up. Dis­as­ter relief is such a task. Repub­li­cans just don't get this. The GOP uses gov­ern­ment to hurt Amer­i­cans, not to lend a help­ing hand.
That's what the GOP did last week. The major­i­ty of Repub­li­cans in the U.S. House—64 per­cent—vot­ed against extend­ing tax breaks for work­ing Americans.
Those Repub­li­cans vot­ed to raise tax­es on—to hurt—99 per­cent of Amer­i­cans, most of whom bad­ly need the tax break as a result of the Great Reces­sion, the decline in hous­ing val­ues and the decade-long stag­na­tion in wages. Those Repub­li­cans also vot­ed to wound the Amer­i­can finan­cial sys­tem, which needs work­ers to have mon­ey so they can spend it and revive the economy.
But that's just the begin­ning. Those Repub­li­cans in the House, who con­stant­ly claim to be so very wor­ried about deficits, also vot­ed to spend more mon­ey—that is, more than the $1.5 mil­lion already wast­ed—defend­ing dis­crim­i­na­tion against gay people.
The Repub­li­cans gave addi­tion­al pay­ments to attor­neys who will ask the U.S. Supreme Court to immor­tal­ize the inequitable Defense of Mar­riage Act. DOMA has been struck down by low­er courts. The Oba­ma admin­is­tra­tion has deemed DOMA uncon­sti­tu­tion­al. And the major­i­ty of Amer­i­cans oppose it, par­tic­u­lar­ly those in three states that approved same-sex mar­riage in ref­er­en­dums last fall.
Before the 2012 leg­isla­tive ses­sion expired, Repub­li­cans found the time and mon­ey to put that hurt on gay peo­ple. But Repub­li­cans just couldn't make the time or find the mon­ey to help the hun­dreds of thou­sands of East Coast res­i­dents dev­as­tat­ed by Hur­ri­cane Sandy.
They didn't care to give a hand to the storm-rav­aged Amer­i­cans still with­out elec­tric­i­ty or sleep­ing on cots or striv­ing to rebuild with­out promised fed­er­al aid.
Final­ly, on Fri­day, three days after decid­ing to fur­ther finance dis­crim­i­na­tion against same-sex cou­ples, Repub­li­cans in the U.S. House got around to vot­ing to pro­vide a tiny frac­tion of the aid need­ed by Sandy vic­tims—an addi­tion­al $9.7 billion.
Here's the kick­er: Although the mea­sure passed, 67 House Repub­li­cans vot­ed against the aid for storm vic­tims whose hous­es were flood­ed, wind-whipped or burned to the ground.
GOP House Speak­er John Boehn­er stalled until Jan­u­ary 15 a vote on the bulk of the $60.4 bil­lion in aid that the Sen­ate had approved dur­ing the 112th leg­isla­tive ses­sion last year. If Repub­li­can House mem­bers actu­al­ly approve the relief then, two-and-a-half months will have elapsed since the worst storm to hit the East Coast in decades, one that killed 130 Amer­i­cans and caused more than $82 bil­lion in damage.
New York Gov. Andrew Cuo­mo, a Demo­c­rat, said after Boehn­er closed the 2012 leg­isla­tive ses­sion with­out call­ing a vote on the aid pack­age, ​"When Amer­i­can cit­i­zens are in need, we come to their aid. That tra­di­tion was aban­doned in the House last night."
Amer­i­cans give a help­ing hand. But not House Republicans.
House Repub­li­cans also spurned anoth­er group of blame­less vic­tims—women who suf­fer vio­lence. The House GOP refused to approve a renew­al of the Vio­lence Against Women Act, which the Sen­ate passed last April.
Here's why House Repub­li­cans oppose reau­tho­riz­ing the law cred­it­ed with reduc­ing the num­ber of both women and men killed by domes­tic vio­lence: the new ver­sion extends pro­tec­tion to immi­grants, Native Amer­i­cans, les­bian, gay, bisex­u­al and trans­gen­dered peo­ple. The House Repub­li­cans have made it clear they don't want to help MORE peo­ple. So they passed noth­ing at all—no help for abused women!
After Boehn­er blocked a vote on Sandy relief on New Year's Day, New Jer­sey Gov. Chris Christie, a Repub­li­can, said it illus­trat­ed ​"why the Amer­i­can peo­ple hate Con­gress." But that state­ment is too broad. Half of Con­gress, the Demo­c­ra­t­ic-con­trolled Sen­ate, had passed the legislation.
And Amer­i­cans know that it's Boehn­er and his band of GOP House mem­bers that have repeat­ed­ly refused to help. Vot­ers demon­strat­ed that knowl­edge and their dis­dain for that GOP phi­los­o­phy when they elect­ed more Democ­rats to the House last fall.
When Boehn­er wait­ed until the last pos­si­ble sec­ond to pre­vent the coun­try from falling off the fis­cal cliff, the New York Times wrote this about him and the House Republicans:
​"The unwill­ing­ness of Mr. Boehner's cau­cus to join such deci­sions for the com­mon good sug­gests that the 113th Con­gress … will be bit­ter­ly unpro­duc­tive, and pos­si­bly even more dan­ger­ous than the last Congress."
On Thurs­day, before the 113th Con­gress opened, the third Sen­a­tor who stood with Repub­li­can Kirk at the bot­tom of the Capi­tol steps, ready to help, was major­i­ty whip Dick Durbin of Illi­nois, a Democrat.
Repub­li­cans didn't even help when it was one of their own.
Full dis­clo­sure: The Unit­ed Steel­work­ers union is a spon­sor of In These Times.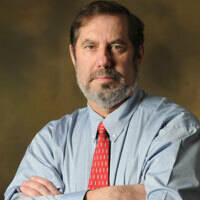 Leo Ger­ard is inter­na­tion­al pres­i­dent of the Unit­ed Steel­work­ers Union, part of the AFL-CIO. The son of a union min­er; Ger­ard start­ed work­ing at a nick­el smelter in Sud­bury, Ontario, at age
18
, and rose through the union's ranks to be appoint­ed the sev­enth inter­na­tion­al pres­i­dent Feb.
28
,
2001
. For more infor­ma­tion about Ger­ard, vis­it
usw​.org
.