What Today's Socialists Can Learn From the Heyday of American Communism
A 43-year-old classic text of Communist history has been rereleased this month. Young democratic socialists should dig in.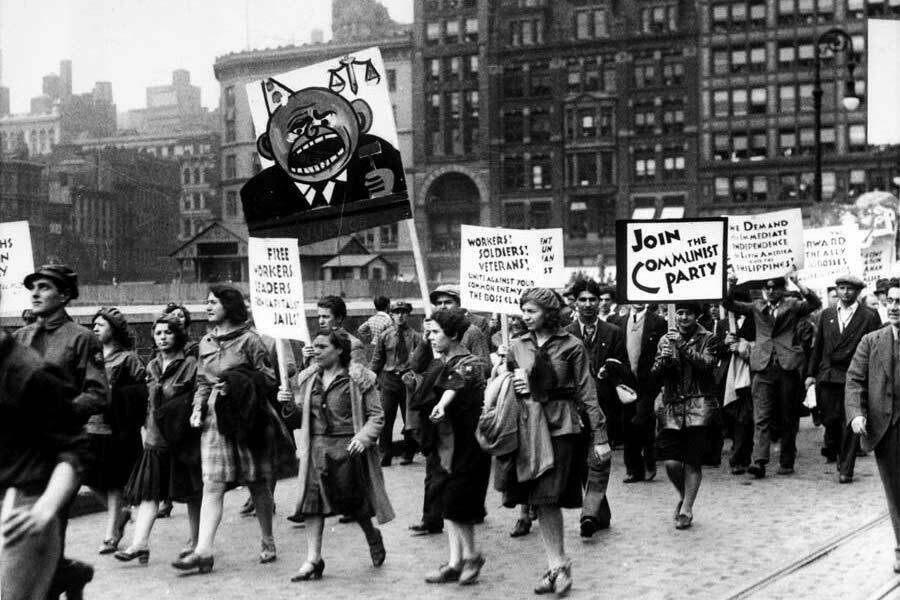 After Vivian Gor­nick­'s The Romance of Amer­i­can Com­mu­nism first appeared in 1977, it's no sur­prise that In These Times—found­ed as a social­ist newsweek­ly the year pri­or — reviewed it. Gor­nick is an impor­tant chron­i­cler of the sec­ond-wave fem­i­nist move­ment with more than a dozen books to her name. Romance, her sec­ond, helped reshape the his­to­ri­og­ra­phy of the Com­mu­nist Par­ty in the Unit­ed States, final­ly includ­ing not just the Sovi­et Union's con­trol over the Amer­i­can Com­mu­nist Par­ty but its mem­bers' own orga­niz­ing and the lives they lived with­in the par­ty, which were far rich­er than anti-com­mu­nist writ­ers let on.
In reading and rereading Romance, we didn't see "flat and unconvincing" portraits of socialist militants. We saw ourselves.
The book, a col­lec­tion of oral his­to­ries of Amer­i­can Com­mu­nist Par­ty mem­bers and their expe­ri­ences most­ly in the party's hey­day in the 1930s through its decline two decades lat­er, has been reis­sued this month by the left pub­lish­er Ver­so with a new intro­duc­tion by the author.
Gor­nick was born dur­ing the height of the party's influ­ence in 1935 and grew up in New York's Low­er East Side. With its 3,000 mem­bers, she writes, ​"Nev­er before or since have Amer­i­can Com­mu­nists been more like the fish that swims in the sea of the peo­ple." Her par­ents were Ukrain­ian-Jew­ish immi­grants and social­ist ​"fel­low trav­el­ers," while oth­er rel­a­tives were par­ty members.
In Gornick's world, the par­ty stood ​"at the cen­ter of the globe" and were seen as vital mem­bers of her com­mu­ni­ty even by those who dis­agreed with them. His­to­ri­an Mau­rice Isser­man quotes one of Gornick's inter­vie­wees in his March 1978 review for In These Times: ​"No mat­ter what hap­pened polit­i­cal­ly in the ​'30s, on the Low­er East Side every­one always want­ed to know what the Com­mu­nists were doing. … Even when they hat­ed us, we were still their own."
Yet when Gor­nick read about the par­ty at the time, by writ­ers rang­ing from anti-Stal­in­ist social­ists to hard-right reac­tionar­ies, she saw a typ­i­cal par­ty mem­ber depict­ed as ​"a crea­ture who walks through one door a warm human indi­vid­ual and emerges through anoth­er a rub­ber-stamped robot." That didn't square with her expe­ri­ence: ​"The Com­mu­nist expe­ri­ence was, both in its glo­ry and in its debase­ment, an awe­some move toward human­ness; an immense and tor­ment­ed effort of the heart, will and brain that cried out ​'I must have jus­tice or I will die.' "
So Gor­nick set out to cap­ture that expe­ri­ence through con­ver­sa­tions with dozens of mem­bers through­out the coun­try, from par­ty intel­lec­tu­als to for­mer par­ty func­tionar­ies to shop-floor union militants.
How did Gornick's telling hold up? Not well, accord­ing to Isser­man, a grad­u­ate stu­dent at the time (who would become a pre­mier his­to­ri­an of the U.S. Left). Isser­man enjoyed some of Gornick's anec­dotes and appre­ci­at­ed her nuance, but ulti­mate­ly panned the book. Gornick's por­trait of the pas­sion­ate highs of some par­ty mem­bers were too high and the deject­ed lows of oth­er mem­bers too low, Isser­man thought: "[Gor­nick] ends up devel­op­ing a set of stereo­types of the Com­mu­nist expe­ri­ence as flat and uncon­vinc­ing as those churned out by the sec­tar­i­an and witch-hunt­ing schools of com­mu­nist historiography."
In the decades since, young social­ists like me have dis­agreed sharply. Despite being long out of print, Romance gained a kind of cult sta­tus among mem­bers of the Demo­c­ra­t­ic Social­ists of Amer­i­ca (DSA), espe­cial­ly since the U.S. social­ist movement's recent rebirth.
Polit­i­cal sci­en­tist Corey Robin summed up why in New York mag­a­zine in 2019: ​"Yes, Gor­nick was talk­ing about mem­bers of the Com­mu­nist Par­ty, but she was real­ly talk­ing about every­one in the social­ist tra­di­tion who was fun­da­men­tal­ly com­mit­ted to cre­at­ing a world with­out cap­i­tal­ism [and] why they saw their per­son­al des­tiny bound up with that struggle."
In 2015, I orga­nized a read­ing group on the book that met in In These Times' Chica­go office. In read­ing and reread­ing Romance, we didn't see ​"flat and uncon­vinc­ing" por­traits of social­ist mil­i­tants. We saw ourselves.
Dis­il­lu­sioned by ram­pant inequal­i­ty and des­ic­cat­ed democ­ra­cy, and inspired by a new sense of pos­si­bil­i­ty fol­low­ing the 2016 Bernie Sanders cam­paign, we threw our­selves into orga­niz­ing, from labor cam­paigns to afford­able hous­ing fights and bat­tles for immi­grant rights. When the 2020 Bernie cam­paign launched, we threw our­selves into that, too.
Today, Gor­nick isn't as enthused about the new social­ist wave as I am. (Nor about Bernie — she recent­ly told Jew­ish Cur­rents, ​"He's old and he's Jew­ish and he rants and he raves.") But she writes in the new intro­duc­tion that the Com­mu­nist Par­ty ​"induced in the most ordi­nary of men and women a sense of one's own human­i­ty that made life feel large; large and clar­i­fied." Through DSA and Bernie, our human­i­ty, too, felt large and clarified.
Gor­nick also cap­tures the dev­as­ta­tion that Stalin's crimes wrought upon this process of per­son­al trans­for­ma­tion. Many of her inter­vie­wees tell of their wrench­ing dis­il­lu­sion­ment upon learn­ing that the tales of gulags and mass mur­der in the Sovi­et Union, pre­vi­ous­ly writ­ten off as impe­ri­al­ist lies spread by a con­niv­ing Uncle Sam, were true. Under Stal­in, the Sovi­et Union killed at least 2 mil­lion polit­i­cal oppo­nents, includ­ing the deaths in the forced labor camps where 18 mil­lion Sovi­et cit­i­zens were sent. Most of the peo­ple Gor­nick inter­viewed were embit­tered and left the par­ty soon after; many nev­er returned to politics.
Today's demo­c­ra­t­ic social­ists have not put hope in a far-off work­ers' par­adise. We are com­mit­ted to democ­ra­cy and tend to be skep­ti­cal of utopi­an promis­es. But we are des­per­ate for an affir­ma­tion that our new­found lives as activists are noble and worth­while — as we con­tin­ue to run up against the most pow­er­ful cap­i­tal­ist class in the world and a Demo­c­ra­t­ic Par­ty estab­lish­ment hell-bent on stop­ping demo­c­ra­t­ic-social­ist politi­cians as inspir­ing as Bernie Sanders and Alexan­dria Ocasio-Cortez.
It isn't that Isserman's assess­ment was wrong; a sober, aca­d­e­m­ic account of the par­ty may indeed offer a fuller, more bal­anced pic­ture of its inter-nal life. But some­times sobri­ety and nuance aren't what mem­bers of nascent move­ments need — some­times, they need their pas­sions affirmed and stoked. The Romance of Amer­i­can Com­mu­nism does just that.
Views expressed are the author's. As a 501©3 non­prof­it, In These Times does not sup­port or oppose can­di­dates for polit­i­cal office.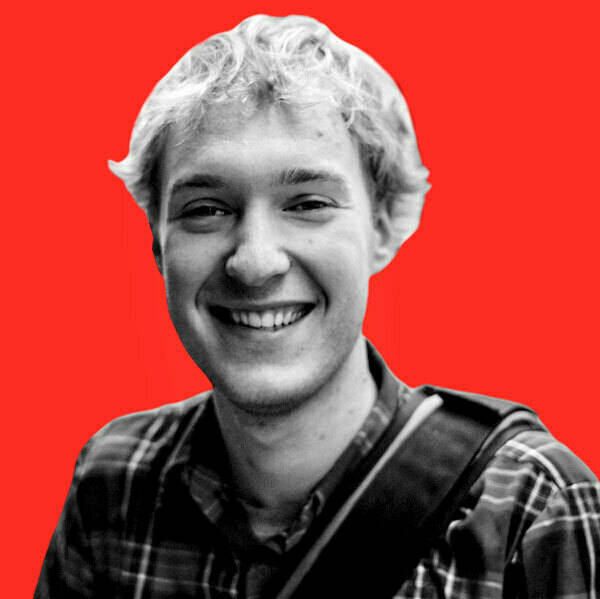 Mic­ah Uet­richt is the deputy edi­tor of Jacobin mag­a­zine and host of its pod­cast The Vast Major­i­ty. He is a con­tribut­ing edi­tor and for­mer asso­ciate edi­tor at In These Times. He is the author of Strike for Amer­i­ca: Chica­go Teach­ers Against Aus­ter­i­ty (Ver­so 2014), coau­thor of Big­ger Than Bernie: How We Go From the Sanders Cam­paign to Demo­c­ra­t­ic Social­ism (Ver­so 2020), and is cur­rent­ly at work on a book on New Left­ists who ​"indus­tri­al­ized." He pre­vi­ous­ly worked as a labor orga­niz­er. Fol­low him on Twit­ter at @micahuetricht.