Grandparents Join Their Grandchildren in a 60-Mile Hike for Climate Justice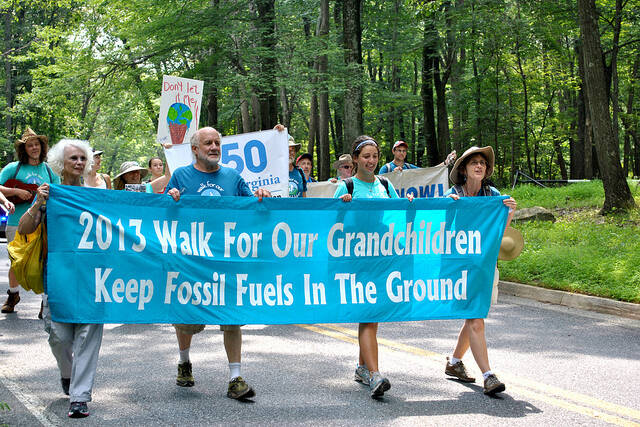 Four months ago, Steve Norris, 70, was lying awake in his bed in Asheville, N.C.
​"I was thinking, oh my god, what kind of planet are my great-grandchildren going to have when they're 70," says Norris, who has four children, six grandchildren, and three great-grandchildren. ​"It does scare me, you know, that the kind of civilization we have, we won't be able to sustain that because of sea level rises, climate changes, droughts and so on. There's a whole range of possible consequences that could come out of climate change."
So Norris reached out to some older activists in the Asheville area with the general idea of organizing a march on Washington. Eventually the group decided to get younger people involved too, earned the support of established environmental groups like the Chesapeake Climate Action Network and 350​.org, and the Walk for Our Grandchildren was born.
This week, roughly 60 activists — who range in age from a 14-year old high school student to grandparents and great-grandparents in their 70s — set off from Harper's Ferry, W.Va., en route to Washington, D.C. A smaller group of about 20 activists began even further away, at Camp David in Maryland, before meeting up with the others at Harper's Ferry. The Walk for Our Grandchildren is part of a larger national week of action organized by 350​.org called Summer Heat, which will culminate this weekend with civil disobedience and a protest in front of the White House.
The walk reflects the increasing diversity of the growing American environmental movement in addition to the increasing willingness of environmental activists to engage in direct action. Marchers are asking that the President not approve the Keystone XL pipeline — which the administration has said it will not do if it ​"significantly exacerbates" greenhouse gas emission. Marchers are also asking for fossil fuels to ​"stay in the ground." In order to help their movement to gain traction, they stress the moral imperative to protect the planet for future generations and highlight the human bonds that connect different generations to one another.
It was this kind of spirit that attracted Anna Farlessyost, 14, to the march. She says she didn't have any experience in any sort of activism before this.
​"Our futures matter. They matter more than cheap energy. They matter more than getting a six-month low-paying job for people," Farlessyost says, in reference to the minor temporary employment boost that is sometimes used to justify construction of the Kesytone XL pipeline. ​"It's definitely important to make sure that we leave a world for our kids and the kids behind them and all the generations to come."
Norris says that the decision to start the walk in Harper's Ferry has to do with the site's historical significance — not just its relative proximity to the DC Metro Area.
​"We had a rebellion against slavery in Harper's Ferry, we're looking for a rebellion, a non-violent rebellion, against fossil fuels, [I thought] maybe we should start in Harper's Ferry," he says. ​"Slavery was many things — it had enormous human dimensions. But it also was a very cheap energy source for this country, which helped to build this country, the infrastructure, all the capital and wealth of this country. This country was addicted to slavery and it took a major rebellion and conflict to end slavery. And here we are 150 years after the Emancipation Proclamation, so Harper's Ferry seemed like an interesting place to start."
In These Times will continue covering the Summer Heat actions in Washington.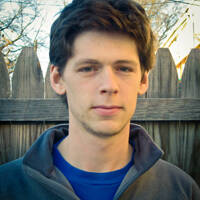 Cole Stangler
writes about labor and the environment. His reporting has also appeared in The Nation, VICE, The New Republic and International Business Times. He lives in Paris, France. He can be reached at cole[at]inthesetimes.com. Follow him
@colestangler
.