Only Bernie's Green New Deal Answers Greta's Call for Action
To fulfill the promise of the climate strikes, we need a bold policy solution.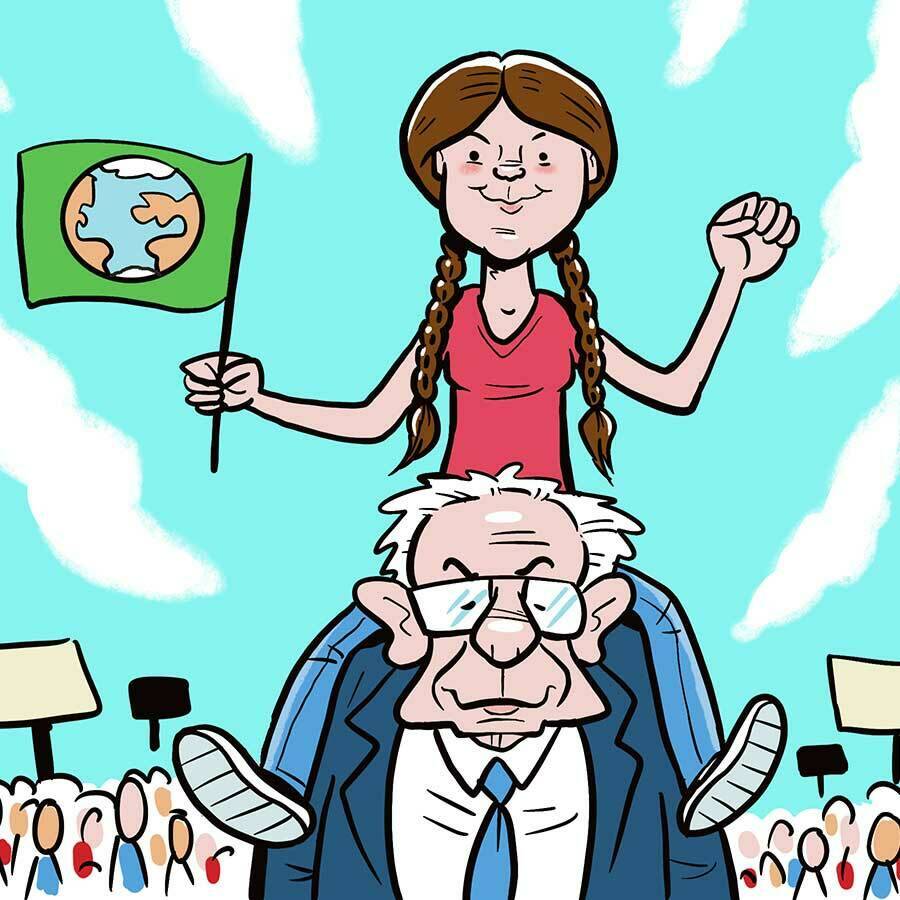 In a bit of reverse par­ent­ing, the young cli­mate strik­ers are teach­ing the rest of us an embar­rass­ing­ly obvi­ous les­son in moral clar­i­ty and courage. Mobi­liz­ing more than 7 mil­lion peo­ple across 185 coun­tries Sep­tem­ber 20 – 27 — with about 1,000 actions in the Unit­ed States alone — youth struck a thun­der­ous blow against adults' insane intran­si­gence regard­ing our cli­mate melt­down.
It 'simply won't be enough if it stops this week and people just go home.' To reverse today's climate madness, we must connect the strikes and protests with politics and policy.
Stu­dents have been strik­ing for our cli­mate future since at least 2015, but September's actions were by far the largest, fea­tur­ing huge march­es, civ­il dis­obe­di­ence (activists shut down the ​"Wall Street West" finan­cial cen­ter in San Fran­cis­co on Sep­tem­ber 25), and truthtelling before the Unit­ed Nations — sig­nif­i­cant­ly ratch­et­ing up aware­ness and pressure.
The ques­tion fol­low­ing this pro­found inspi­ra­tion is: What next?
As the glob­al cli­mate strike's web­site warns, it ​"sim­ply won't be enough if it stops this week and peo­ple just go home." To reverse today's cli­mate mad­ness, we must con­nect the strikes and protests with pol­i­tics and policy.
Here, too, young folks are show­ing us the way, with strike orga­niz­ers demand­ing an end to all fos­sil fuel extrac­tion, a rapid tran­si­tion to 100 per­cent clean ener­gy and sup­port for the vic­tims of cli­mate chaos, which is ​"main­ly caused by rich peo­ple and most­ly suf­fered by the poor."
But the adults still hold the levers of polit­i­cal and eco­nom­ic pow­er (for now). In 2018, car­bon emis­sions rose to an all-time high, and the adults still aren't act­ing. As Swedish teen activist Gre­ta Thun­berg observed in her scathing speech before the UN Cli­mate Sum­mit, ​"We are in the begin­ning of a mass extinc­tion, and all you can talk about is mon­ey and fairy tales of eter­nal eco­nom­ic growth."
Even the UN sum­mit lead­ers who claim to sup­port Thunberg's mes­sage are dither­ing as the world burns. ​"There's a big dis­so­nance between every leader say­ing to Gre­ta ​'we hear you' and the com­mit­ments they are putting onto the table," Isabel Cave­li­er, a for­mer cli­mate nego­tia­tor for Colom­bia, told the Guardian. ​"Chi­na said absolute­ly noth­ing new, India men­tioned com­mit­ments made in the past, the U.S., Cana­da and Aus­tralia aren't here."
In the Unit­ed States, while a cli­mate denier sits in the Oval Office, the Democ­rats are fum­bling away our future in their own fog of delay and denial. In 2018, Demo­c­ra­t­ic House Speak­er Nan­cy Pelosi side­lined the Green New Deal while form­ing a rel­a­tive­ly tooth­less cli­mate com­mit­tee. This sum­mer, the Demo­c­ra­t­ic Nation­al Com­mit­tee (DNC) refused to hold a cli­mate debate to put a spot­light on can­di­dates' cli­mate plans
These moves reveal a main­stream Demo­c­ra­t­ic Par­ty that is in deep denial about the dan­ger of its cud­dly rela­tion­ship with cap­i­tal­ism and cor­po­rate pow­er, two chief dri­vers of cli­mate dis­as­ter. As Moth­er Jones report­ed, in 2018 oil and gas com­pa­nies gave $198,000 to the nine Democ­rats sit­ting on Pelosi's cli­mate com­mit­tee. The DNC had briefly banned accept­ing dona­tions from the fos­sil fuel indus­try that year, until DNC Chair Tom Perez reversed the policy.
To meet this moment, we must cre­ate a new pol­i­tics, eco­nom­ics and cul­ture — a new sys­tem of pro­duc­ing and con­sum­ing far less — that makes cli­mate repair and jus­tice the cen­tral dri­ving force of our actions. Cli­mate change is not ​"anoth­er issue," but the issue that defines the others.
Only one major U.S. politi­cian has put forth a seri­ous, urgent and com­pre­hen­sive Green New Deal pro­pos­al: Sen. Bernie Sanders. Invest­ing $16 tril­lion over 10 years (near­ly five times what fel­low pres­i­den­tial can­di­date Sen. Eliz­a­beth War­ren calls for), Sanders' plan stands out for cre­at­ing mil­lions of jobs for dis­placed fos­sil fuel work­ers; push­ing for pub­licly owned pow­er com­pa­nies; dra­mat­i­cal­ly increas­ing finan­cial sup­port to decar­bonize the Glob­al South; and zero­ing all emis­sions from elec­tric­i­ty and trans­porta­tion by 2030 — all of it on a faster time­line than his rivals.
If we are to cel­e­brate Gre­ta and the cli­mate-strik­ing youth, we must embrace Sanders' sweep­ing Green New Deal. Oth­er­wise, what are we ral­ly­ing and march­ing and strik­ing for?
Main­stream media and hand-wring­ing lib­er­als fret over the price tag, but the alter­na­tive would cost more. As Sanders' web­site states, ​"Econ­o­mists esti­mate that if we do not take action, we will lose $34.5 tril­lion in eco­nom­ic activ­i­ty by the end of the cen­tu­ry. And the ben­e­fits are enor­mous: by tak­ing bold and deci­sive action, we will save $2.9 tril­lion over 10 years."
We can­not afford inac­tion: Pay big now, or pay far more in dol­lars and lives soon. Regard­less of who you like for pres­i­dent, rad­i­cal and imme­di­ate cli­mate action must be job num­ber one.
How do we turn the cli­mate strikes into con­crete suc­cess? The vital array of direct action and street-heat move­ments, along with cli­mate pol­i­cy pres­sure groups, must con­tin­ue to coa­lesce, put tan­gi­ble pres­sure on politi­cians and force imme­di­ate pol­i­cy change, start­ing with the Green New Deal. The cli­mate chaos bill has come due, and it's time to pay it down and forward.
Christo­pher D. Cook
is an award-win­ning jour­nal­ist and author of
Diet for a Dead Plan­et: Big Busi­ness and the Com­ing Food Cri­sis
. His writ­ing has appeared in
Harper's
,
The Atlantic
,
The Nation
, the
Los Ange­les Times
and else­where. You can reach him at
http://​www​.christo​pherd​cook​.com/
.