Los Angeles
—Mark Norton is one of 70,000 workers locked out or forced on strike in Southern California. Hundreds of thousands more may soon face the same difficult predicament.
Across the country, the system for financing healthcare benefits for union workers is breaking down, as managed care drives up the costs of medical insurance. Some employers, like Safeway, which owns the Von's store where Norton works, can pay the increases from rising profits but won't. More than 43 million Americans are without healthcare, and the growing crisis threatens to make 2004 a year of massive strikes and labor wars.
Norton went to work for Von's 18 years ago. He'd become a grocery manager by the time the strike started October 11. That gave him a full-time job with earnings capable of supporting a family in an industry where that's become rare. Nationally, the retail industry pays close to minimum wage for most workers. Union supermarket workers have been able to maintain a better standard of living than most, yet more than three-quarters of the baggers, checkers and stock clerks in L.A. supermarkets have trouble accumulating the hours needed to survive.
Von's demanded that existing employees begin paying for their health insurance. "They said they were just asking for $5 a week, or $15 for family coverage. When we did the numbers, it turns out it could cost as much as $95 a week by the end of the contract," Norton says. The average weekly wage for a Los Angeles supermarket worker is $312.
An even bigger threat was Safeway's proposal to begin hiring new workers at lower wages, with an insurance plan most wouldn't be able to afford. "They want a two-tier system where they can bring in new employees at several dollars less an hour with little to no benefits at all," Norton says. "A lot of us believe they'll weed out the rest of us once they hire these new employees."
Once Norton and his coworkers struck, the two other large grocery chains in Southern California, Albertsons and Ralph's (a division of Kroger Stores), locked out their workers—a longstanding practice now being investigated by California Attorney General Bill Lockyer as a possible violation of anti-trust laws.
The chains say they need concessions in order to compete with the world's largest corporation, Wal-Mart. Wal-Mart pays close to minimum wage and its health plan is so expensive that most employees can't afford coverage. The retailer is one of the most important organizing targets of the United Food and Commercial Workers (UFCW) and the AFL-CIO, but a union contract there still is a long way off.
The grocery chains claim that Wal-Mart represents an immediate threat to their market share. Yet most Southern California Wal-Marts don't sell groceries, and even if the company carried through on plans to build 40 super centers in the state, it would gain only 1 percent of the grocery market, compared to the 60 percent held by the big three.
Norton and other strikers extended their picket lines to other areas of the state, where they say they've found a sympathetic public. Supermarket workers—mostly young and often people of color—talk with store customers all the time. But solidarity has another source: This year workers in other unions, from hotel room cleaners to hospital nurses and dietitians, will face similar demands from employers. "We're expecting a major confrontation with hotel chains over healthcare costs when our contract comes up this summer," says Mike Casey, president of San Francisco's Local 2 of the Hotel and Restaurant Employees. The Service Employees Union will be negotiating with hospital chains in all major West Coast cities this year, and healthcare costs will be the No. 1 issue.
Northern California's 50,000 supermarket workers are watching with the most concern; their contract is up in September. "We certainly expect this fight to be on our doorstep then," says Rich Benson, president of UFCW Local 870. "That's why our local unions fully support the efforts of unions in Southern California. Safeway has contracts from Virginia to Colorado, Washington and Nevada. This is a watershed moment, not just for the UFCW but for the whole labor movement."
California labor took a step toward a longer-term solution to rising costs by pushing legislation this fall to begin taking healthcare out of competition. Just before being recalled, Gov. Gray Davis signed SB-2, a bill requiring large employers to provide employee health coverage. Another bill to establish a single-payer system was introduced but didn't come up for a vote. Unions supported SB-2 and will have their hands full just hanging onto it. Gov. Arnold Schwarzenegger has promised to place an initiative on the ballot to repeal it.
"I'd like to ask (Safeway CEO) Steve Burd at what point in his life he stopped caring about people and only about money," Norton says angrily. "How can he tell his stockholders that putting 80,000 people on the street is an investment in their future? No one's going to get rich doing our job; we just want to make a living."
For a limited time: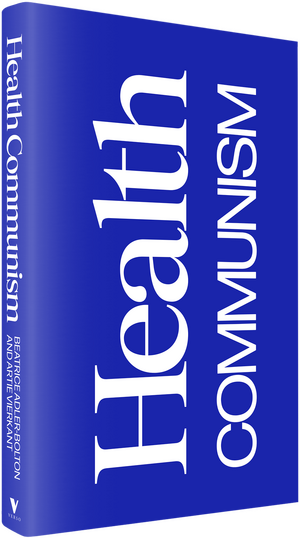 Donate $25 or more to support In These Times and we'll send you a copy of Health Communism.
A searing analysis of health and illness under capitalism from hosts of the hit podcast "Death Panel," Health Communism looks at the grave threat capitalism poses to global public health, and at the rare movements around the world that have successfully challenged the extractive economy of health.
"This is a book you should read before you die, because the ideas synthesized by Adler-Bolton and Vierkant could save our collective lives." –Jon Shaffer
David Bacon
is a writer, photographer and former union organizer. He is the author of The Right to Stay Home: How US Policy Drives Mexican Migration (
2013
), Illegal People: How Globalization Creates Migration and Criminalizes Immigrants (
2008
), Communities Without Borders (
2006
), and The Children of NAFTA: Labor Wars on the US/​Mexico Border (
2004
). His website is at dba​con​.igc​.org.