The Next Wave of Labor Unrest Could Be in Grocery Stores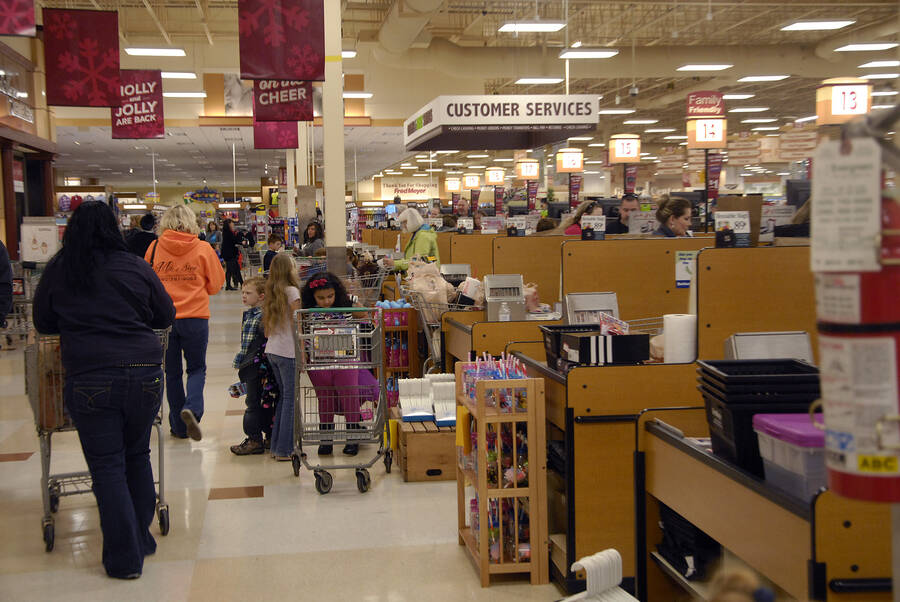 On August 24, mem­bers of Unit­ed Food and Com­mer­cial Work­ers (UFCW) Local 555 over­whelm­ing­ly vot­ed to autho­rize a strike for 20,000 gro­cery employ­ees at Safe­way, Albert­sons, QFC and Fred Mey­er loca­tions in the Pacif­ic North­west. That move came rough­ly two months after mem­bers of the union vot­ed to autho­rize a strike for about 46,000 gro­cery employ­ees in south­ern and cen­tral Cal­i­for­nia, and four months after the union declared vic­to­ry in New Eng­land fol­low­ing a suc­cess­ful 11-day strike by Stop & Shop workers.
The work­ers in Cal­i­for­nia have report­ed­ly reached a ten­ta­tive deal that could avert a strike, but whether or not union mem­bers vote to rat­i­fy the agree­ment won't be known until lat­er this week.
Gro­cery work­ers in the Pacif­ic North­west are demand­ing high­er wages and an end to the gen­der pay gap that per­me­ates their stores. They have estab­lished proof for the lat­ter, com­mis­sion­ing a third-par­ty group to pro­duce a report on the issue. The research group Olympic Ana­lyt­ics looked at the data on hourly wage, gen­der, age, years of Fred Mey­er expe­ri­ence, and job title for 1,919 Fred Mey­er work­ers employed in the area. It found that women are almost twice as like­ly to be giv­en lead posi­tions, but make about an aver­age of $1.68 less than their male coun­ter­parts at those posi­tions. In 2018, near­ly 80% of the store's bak­ery employ­ees were women, while the high­er-pay­ing pro­duce depart­ment was male-dom­i­nat­ed. The gap between these two depart­ments has bare­ly shift­ed over the last 81 years: The pay gap between the two depart­ments was 27.3% in 1937 and had only dropped to 21.5% by 2018.
Jane Thomp­son has been work­ing at a Fred Mey­er store in Bend, Ore­gon for 18 years, and has been in the Seafood Depart­ment for 12 of them. She hopes the strike autho­riza­tion vote will lead to bet­ter pay for her and her co-work­ers. ​"The com­pa­ny keeps tak­ing more and more away from us," she told In These Times. Accord­ing to the U.S. Cen­sus, the pop­u­la­tion of Bend increased by almost 30% between 2010 and 2018. While the boom has meant more cus­tomers, Thomp­son said it hasn't meant addi­tion­al hires or high­er pay. ​"I'm doing the job of two peo­ple now," said Thompson.
Ann Poff is a mem­ber of the union's bar­gain­ing com­mit­tee and has worked as a deli clerk at Safe­way for near­ly 22 years. She cur­rent­ly makes $1.85 above min­i­mum wage, but the min­i­mum wage is set to increase in Ore­gon over the next few years. This means that she'll make just $1.45 above min­i­mum wage for two years, before mak­ing just 75 cents above it in the year after that. ​"The min­i­mum wage is going up, but our wages are going down," she rea­soned. Accord­ing to Poff, when she once asked to be trans­ferred to a dif­fer­ent posi­tion, her request was denied despite hav­ing spent over 20 years on the job. A male co-work­er with less than a year of expe­ri­ence was allowed to switch to the posi­tion instead, she said.
At the last bar­gain­ing meet­ing, the employ­ers actu­al­ly offered a pro­pos­al that inex­plic­a­bly paid many depart­ments less than min­i­mum wage by the year 2022. When con­front­ed about this fact, man­age­ment offered a mere dime over the state's min­i­mum wage. ​"Fred Meyer/​Kroger seem to be odd­ly com­fort­able being known as the gro­cer who prof­its off the deval­u­a­tion of their workers…specifically women," said the union in a statement.
Local 555's pres­i­dent has indi­cat­ed that there is a ​"high like­li­hood that we will see an eco­nom­ic action tak­en against stores in the near future" and has promised to release details before Sep­tem­ber 10. Mean­while, Cal­i­for­nia gro­cery work­ers at Ralphs, Albert­sons, Vons and Pavil­ions stores have been work­ing with­out a con­tract since March and have already vot­ed to autho­rize a strike. On Sep­tem­ber 8, it was announced that the union and the employ­ers had reached a ten­ta­tive deal, but mem­bers have yet to vote on it and no details have been released.
This isn't the first labor fight that has gripped the gro­cery indus­try this year. In April, rough­ly 31,000 employ­ees at the New Eng­land gro­cery chain Stop & Shop went on strike at over 240 stores. The work­ers, who were also rep­re­sent­ed by the UFCW, were fight­ing against attacks on their pen­sions, ris­ing health­care costs, and the poten­tial elim­i­na­tion of cer­tain over­time pay. After strik­ing for 11 days, the union agreed to a new con­tract and announced that the com­pa­ny had met their major demands. Ahold Del­haize, Stop & Shop's par­ent com­pa­ny, says that the strike cost them $345 million.
That num­ber might be fright­en­ing for the gro­cery employ­ers cur­rent­ly fac­ing poten­tial strikes, but it's also caught the eye of right-wing, anti-labor forces. The Nation­al Right to Work Legal Defense Foun­da­tion aims to dam­age orga­nized labor by fight­ing com­pul­so­ry union mem­ber­ship in courts. Most notably, it was one of the groups that rep­re­sent­ed child sup­port spe­cial­ist Mark Janus, who ulti­mate­ly achieved a mas­sive vic­to­ry for the polit­i­cal right at the Supreme Court. The group has filed two unfair labor prac­tice charges against Stop & Shop for an employ­ee named Matthew Cof­fey who opposed the strike.
Sam Hugh­es is a social media coor­di­na­tor at UFCW and a for­mer deli work­er at Fred Mey­er. Hugh­es, who prefers ​"they" pro­nouns, told In These Times that they had to work addi­tion­al jobs because they often couldn't get enough hours from the store. ​"I found myself being paid low wages on food stamps, cut­ting deals with my land­lord just to afford below-mar­ket rent," said Hugh­es. Hugh­es also said the strike autho­riza­tion vote was a way to fight against the ​"dehu­man­iza­tion of work­ers," and that relat­ed labor vic­to­ries through­out the coun­try under­scored an impor­tant point: ​"There's a lot more of us than there are of them."
"
Michael Arria
is the U.S. cor­re­spon­dent for Mon­doweiss. Fol­low him on Twit­ter: @michaelarria.