In Guam, the Gravest Threat Isn't North Korea—It's the United States
The United States is using this Pacific colony as its own private firing range.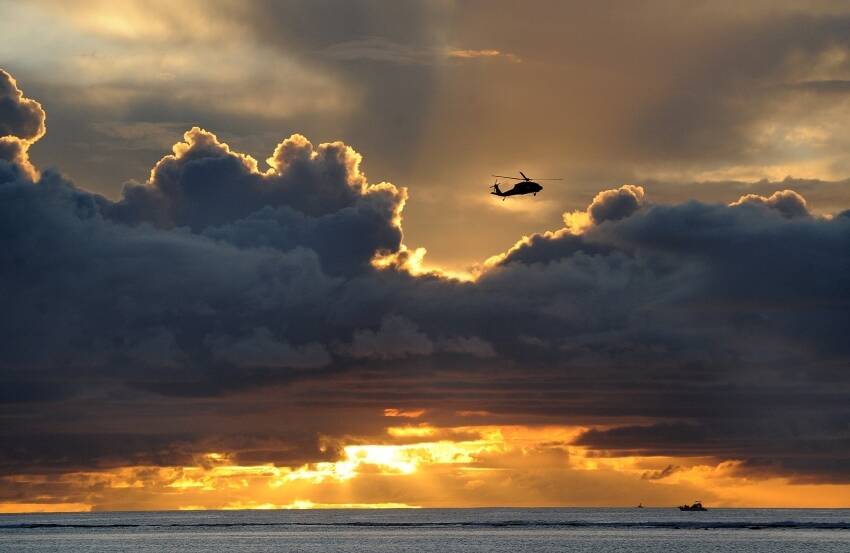 This arti­cle was pro­duced in part­ner­ship with For­eign Pol­i­cy in Focus.
Indigenous groups have largely led the fight against military pollution.
This past Fourth of July, while I lis­tened to the fire­works out­side the Capi­tol build­ing, my phone start­ed buzzing with news alerts. North Korea, they said, had test­ed an inter­con­ti­nen­tal bal­lis­tic mis­sile. Head­lines empha­sized that it could sup­pos­ed­ly reach Alaska.
But much clos­er than Alas­ka is the tiny island of Guam — a U.S. colo­nial pos­ses­sion in the Pacif­ic long exploit­ed as a mil­i­tary base. My grand­moth­er was born there, and much of my fam­i­ly remains. At just 30 miles long and 8 miles wide, Guam is often called ​"the unsink­able air­craft car­ri­er," as a third of the island is cov­ered in mil­i­tary bases.
That's long made it a strate­gic tar­get for ene­mies of the Unit­ed States. In fact, dur­ing the Cold War, it was said that the Sovi­ets were the only ones who could point out Guam on a map. For as long as the West has been aware of Guam's exis­tence, it's been a target.
Dur­ing World War II, while my grand­moth­er still lived there, the Japan­ese occu­pied Guam and ter­ror­ized the indige­nous Chamoru pop­u­la­tion, round­ing them up and herd­ing them into con­cen­tra­tion camps. In the Maneng­gon camp, 18,000 Chamorus were interned and sur­round­ed by machine guns set up by the Japan­ese sol­diers for a planned massacre.
Today, with the Japan­ese long gone and the Sovi­et Union dis­solved, the island still faces a bat­tery of live-fire mil­i­tary ammu­ni­tion with no fore­see­able end. But the imme­di­ate dan­ger does­n't come from North Kore­an mis­siles. It comes from the Unit­ed States mil­i­tary, which freely uses the Pacif­ic ter­ri­to­ry as its own pri­vate fir­ing rage.
While tourist ads depict the South Pacif­ic as a tran­quil safe haven, that tran­quil­i­ty is pierced by the roars of B‑52 bombers and sub­ma­rine water-to-shore artillery blasts. For as long as the Unit­ed States has main­tained Guam as a colony, it has been a sim­u­lat­ed warzone.
It's not sim­ply the mil­i­tary fir­ing weapons that can make life dif­fi­cult for locals, how­ev­er. The issue is often the pres­ence of the mil­i­tary itself.
With mil­i­tary bases come extreme pol­lu­tion, the occu­pa­tion of sacred lands, and what some schol­ars describe as an invis­i­ble pub­lic health cri­sis. While the pri­ma­ry argu­ment for these bases is nation­al secu­ri­ty, there are count­less exam­ples of these bases dam­ag­ing the health and secu­ri­ty of the local population.
Over the years Guam has been home to nuclear weapons, mus­tard gas, and count­less oth­er car­cino­gens. In the 1980s, the Navy dis­charged radioac­tive water into a har­bor my fam­i­ly has used for fish­ing. This increased expo­sure to radioac­tiv­i­ty is linked to tox­ic goi­ters, a major con­trib­u­tor to thy­roid issues which are now abun­dant in the local pop­u­la­tion. Mul­ti­ple wells access­ing the island's one aquifer have had to be shut down due to chem­i­cal con­t­a­m­i­na­tion from areas under or adja­cent to these mil­i­tary bases.
Indige­nous groups have large­ly led the fight against mil­i­tary pol­lu­tion. The large­ly Chamoru-led We Are Guahån—Guahån is the indige­nous name for the island — has worked for years to engage and mobi­lize the local com­mu­ni­ty to pre­vent fur­ther mil­i­tary buildup. Their efforts are fun­da­men­tal to the mis­sion of a sus­tain­able Guam.
In this, they're draw­ing inspi­ra­tion from activists on Puer­to Rico — which, like Guam, is a U.S. impe­r­i­al acqui­si­tion from the Span­ish-Amer­i­can war whose strate­gic loca­tion has sub­ject­ed it to exploita­tion from the U.S. mil­i­tary. There, res­i­dents of Vieques led protests in 1999 that ulti­mate­ly result­ed in the shut­down of the Navy's base on the small island, which lies off the coast of Puer­to Rico prop­er. Unfor­tu­nate­ly, the last­ing con­se­quences of these bases, active or aban­doned, are faced by locals daily.
Vieques was a live fire train­ing site for the Navy for over 60 years and has since become one of the sin­gle sick­est pop­u­la­tions in the Caribbean. Along with sky­rock­et­ing rates of can­cer, the peo­ple liv­ing on Vieques have a sev­en times high­er risk of dia­betes and eight times high­er risk of car­dio­vas­cu­lar dis­ease than the rest of Puer­to Rico.
The Navy has since admit­ted to the use of heavy met­als and chem­i­cal agents on Vieques, includ­ing deplet­ed ura­ni­um and Agent Orange, but denies any link between their use and the health of the res­i­dents. But Arturo Mas­sol Deyá , a pro­fes­sor of micro­bi­ol­o­gy and ecol­o­gy at the Uni­ver­si­ty of Puer­to Rico at Mayagüe — and the only inde­pen­dent sci­en­tist allowed to con­duct research on Vieques — con­tin­ues to find high con­cen­tra­tions of heavy met­als in his sam­ples of veg­e­ta­tion, crabs, lagoons, and oth­er local food sources.
In both Guam and Puer­to Rico, such pol­lu­tion is dev­as­tat­ing to the ecol­o­gy of the local areas — and to any argu­ment that the bases encour­age eco­nom­ic growth for the impov­er­ished local pop­u­la­tions. In fact, they restrict the indige­nous pop­u­la­tions' abil­i­ty to engage in tra­di­tion­al means of sub­sis­tence and poi­son the resources locals rely on for self-sustainability.
In places like these, plans to expand U.S. mil­i­tary facil­i­ties — which could soon cov­er 40 per­cent of Guam, if plans ini­ti­at­ed dur­ing the Oba­ma admin­is­tra­tion go through — are a far greater threat than any mis­siles from Korea.
These bases of empire are an affront to self-deter­mi­na­tion and a reminder of our fam­i­lies caught in the cross­fire of West­ern wars for ​"rights" and ​"free­dom" that my grand­moth­er and my fam­i­ly should have, too.
Leilani Ganser
is an indige­nous rights orga­niz­er and polit­i­cal sci­ence major at Reed Col­lege. She's a Next Leader at the Insti­tute for Pol­i­cy Studies.