Is Guatemala the Next Uber Frontier? Taxi Drivers Say 'Hell No'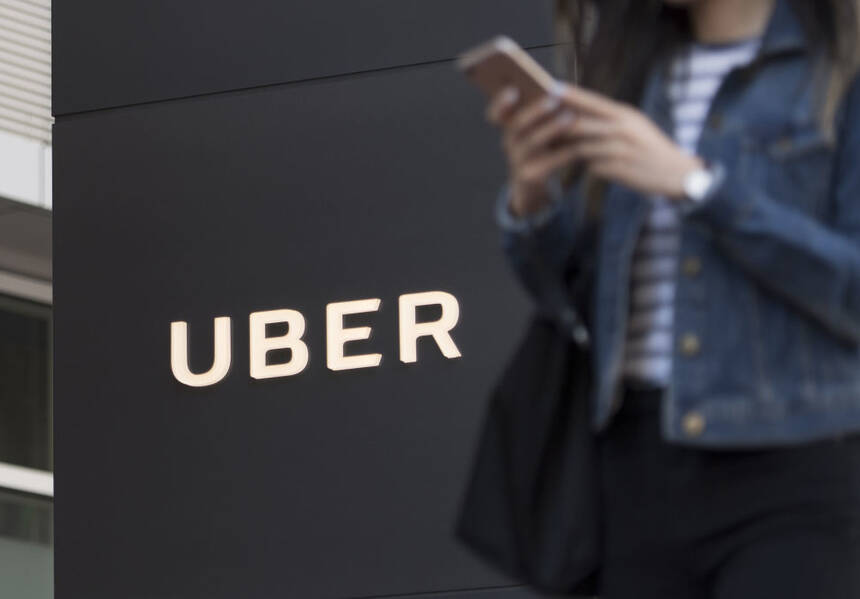 Reader donations, many as small as just $1, have kept In These Times publishing for 45 years. Once you've finished reading, please consider making a tax-deductible donation to support this work.
More than 1,000 taxi drivers took to the streets of Guatemala City on June 7 to protest the arrival of the ride-sharing app, Uber, to Guatemala. The workers blocked bus routes and shut down sections of the historic center of Guatemala City, before they drove to the municipal building to demand a dialogue.
"There really are not a lot of opportunities for work here in Guatemala, but I have the chance to work as a taxi driver," said Carlos Calel, a taxi cab driver in Guatemala City. ​"But Uber has arrived to our country, and they are taking our work by stealing our clientele with their lower prices, and they are not paying any taxes."
Uber began operating in Guatemala in December 2016. Since February, the taxi cab drivers of Guatemala have organized to protest the ride-sharing app. They are demanding that the municipality of Guatemala City terminate Uber's operations in Guatemala and put an end to moto-taxis and pirate taxis. They are also calling for lower fees for operations.
According to Roberto Estrada, the President of the Taxi Cab Drivers Movement, taxi drivers are required to pay fees to the municipality of Guatemala City in order to operate within the city. These fees are around 330 Quetzales, or about 50 U.S. dollars a year, and include money that is paid monthly and annually. The taxi drivers also face fees from the municipal police that reach as high as 500 Quetzales, or about 65 U.S. dollars.
But the mayor of Guatemala City, Álvaro Arzú, and members of the municipal police, have refused to meet with the drivers.
"They are not listening to us," said Byron, a taxi cab driver who declined to provide his full name out of fear of repercussions. ​"Arzú has stated that there will not be any sort of meeting between us and the municipality. They do not want to dialogue."
The protests in Guatemala City join the movements across the globe against services such as Uber. Similar concerns among taxi cab drivers have led to protests in England, France, Spain, Poland, Mexico, Brazil, Costa Rica, Colombia, Puerto Rico and the United States.
Estrada says there are around 25,000 taxi cabs authorized to work in Guatemala City, with 10,000 working between a 12 to 16-hour shift daily.
He argues that the loss of clients for drivers means that their families be affected, as well as the mechanics who provide services to the drivers and the workers who paint and maintain the cars. ​"The entrance of Uber has greater impacts for our jobs and our communities," said Estrada. ​"The loss of clientele impacts our families."
The taxi drivers have raised concern that Uber drivers are not held to the same standards as taxi drivers, and that the company is able to operate without the same regulation and requirements that drivers face.
Taxi cab drivers authorized with the municipality of Guatemala City must receive courses, accreditation and specific documentation from the municipality prior to working as a taxi cab driver.
"Uber drivers are not going through the same trainings that we have to," said Calel. ​"They are not being held up to the same standards as us."
Estrada argues that the municipality is favoring Uber by promoting the company as an alternative to the insecurity in Guatemala City. Taxi cab drivers regularly face extortion and violence by gangs.
Representatives for the taxi cab drivers state that they will continue protesting until the municipality respects and responds to their demands. According to Estrada, protests will continue to sweep Guatemala City as more drivers join the movement.
"We are going to shut down the entire capital, all cardinal points," said Estrada. ​"We will keep going until the municipality will listen to us. We cannot let them take our means of supporting our families."
Your donation makes In These Times possible
Jeff Abbott
is an independent journalist currently based out of Guatemala. He has covered human rights, social moments, and issues related to education, immigration, and land in the United States, Mexico, and Guatemala. He has written for the North American Congress on Latin America, Wagin​non​vi​o​lence​.org, and Upside​down​world​.org. Follow him on twitter @palabrasdeabajo