Soccer Players Are Workers Too. And In Guatemala, They Just Went On Strike.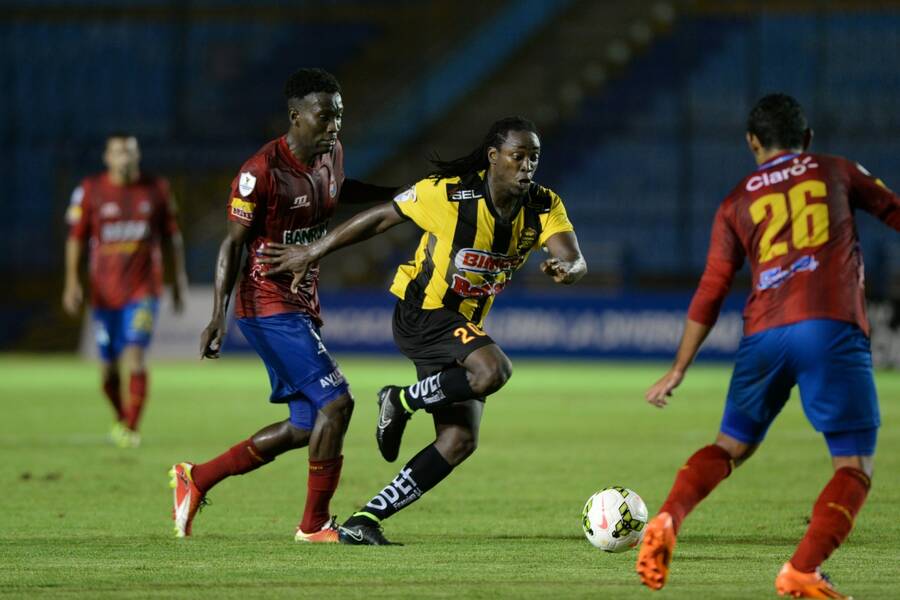 Across Latin Amer­i­ca, soc­cer is like a reli­gion for many. Each week­end, fans cram into sta­di­ums to cheer on their teams. Eduar­do Galeano, the renowned Uruguayan author and out­spo­ken fan of soc­cer who passed away in 2015, once declared that soc­cer was ​"the only reli­gion with­out atheists."
The Cen­tral Amer­i­can coun­try of Guatemala is no different.
Yet in spite of the spe­cial place that soc­cer has in Latin Amer­i­ca and Guatemala, the play­ers can face dif­fi­cult labor con­di­tions, includ­ing con­tact vio­la­tions, intim­i­da­tion and overt racism from fans.
Faced with this sit­u­a­tion, rough­ly 250 mem­bers of the Pro­fes­sion­al Soc­cer Play­ers of Guatemala Union (Sindi­ca­to de Fut­bolis­tas Pro­fe­sion­ales de Guatemala, or SIFUPGUA) announced on Sep­tem­ber 21 that they were going on strike from play­ing match­es. The strike last­ed until Sep­tem­ber 24, tak­ing place as the Nation­al League entered week 10 of matches.
"The pro­fes­sion­al play­ers were send­ing the mes­sage that they are unit­ed and that they would not play until the league responds to their demands," Car­los Figueroa, a for­mer soc­cer play­er in the Guatemala Nation­al League and cur­rent gen­er­al sec­re­tary of SIFUPGUA, told In These Times.
"We have years of solic­it­ing the clubs and the league to improve work­ing con­di­tions, but we have nev­er received any respons­es. We have been ignored by the league and club own­ers," Figueroa said. ​"There have been cas­es where play­ers have been hit with exces­sive sanc­tions, oth­er play­ers who were poor­ly treat­ed, and play­ers who were insult­ed with racist terms in a sta­di­um. This rose the indig­na­tion of play­ers and we took the means to be heard."
The announce­ment fol­lowed two recent high-pro­file inci­dents against players.
Fol­low­ing a match in Antigua Guatemala in August 2018, Fredy Thomp­son, a mid­field­er for the team Antigua FC and mem­ber of the Guatemalan Nation­al team, made a series of remarks crit­i­ciz­ing the Guatemalan Soc­cer league and its lead­er­ship, refer­ring to them as a ​"mafia." In response, the league sanc­tioned Thomp­son a fine of 10,000 Quet­za­les (rough­ly 1,333 dol­lars U.S. dol­lars) and sus­pend­ed from play­ing for 6 months.
"It was wrong that Thomp­son crit­i­cized the league," said Figueroa. ​"But the sanc­tion was excessive."
Thomp­son lat­er apol­o­gized for the comments.
The next inci­dent occurred Days lat­er, dur­ing week 8 of the 22-week sea­son. In protest, Mar­vin Ávi­la, a mid­field­er with Siquinalá FC and mem­ber of the Guatemalan Nation­al team, picked up the ball abrupt­ly stop­ping the match against Mala­cate­co FC on Sep­tem­ber 9 dur­ing the 70th minute of the match. Ávi­la, who is of African decent, had received racist remarks through­out the match from the fans of Mala­cate­co. Upon stop­ping the match, the oth­er play­ers from both Siquinalá FC and Mala­cate­co FC stood in sol­i­dar­i­ty with Ávila.
The strike did lit­tle to deter clubs from con­tin­u­ing the week­end match­es. Accord­ing to Figueroa, clubs brought play­ers from the youth leagues in to break the strike and con­tin­ue with week 10.
Nego­ti­a­tions with the League
The strike, which last­ed only a few days, gen­er­at­ed a nation­al debate in the nation­al media and on social media. Some took to social media to praise the action, but many oth­ers crit­i­cized play­ers for striking.
Yet the strike suc­cess­ful­ly got the nation­al soc­cer league to the nego­ti­a­tion table after over a year of denounce­ments. By Sep­tem­ber 24, the play­ers and the 12 pro­fes­sion­al clubs had reached an agree­ment to improve the work­ing con­di­tions that play­ers face.
"An agree­ment was signed with the fed­er­a­tion [to resolve the strike]," Figueroa told In These Times. ​"The agree­ment put in place a date for the imple­men­ta­tion of the rights of the play­ers, the reg­u­la­tion of con­tracts, and the play­ers will be paid month­ly rather than 8 or 10 times per year."
Figueroa points out that the pro­fes­sion­al play­ers could go on strike once again if the league and clubs fail to com­ply with the agreement
The play­ers quick­ly obtained a dia­logue between the nation­al fed­er­a­tion and the union to improve basic work­ing conditions.
Poor Work­ing Con­di­tions for Players
The strike marks the first major action that the union has tak­ensince it was found­ed in April 2018 and offi­cial­ly rec­og­nized by the Guatemalan Min­istry of Labor in Novem­ber 2017. The Pro­fes­sion­al Soc­cer Player's Union is a mem­ber of the Inter­na­tion­al Fed­er­a­tion of Pro­fes­sion­al Foot­ballers (FIF­PRO).
Near­ly a year after its found­ing, the union has come to rep­re­sent approx­i­mate­ly 250 of the almost 450 pro­fes­sion­al soc­cer play­ers in Guatemala.
Since its found­ing, the union has sought to improve con­di­tions for play­ers with­in the Nation­al League, yet the clubs and asso­ci­a­tions have showed lit­tle inter­est in dia­logu­ing with the play­ers. The most recent inci­dents that pro­voked the strike are only a few exam­ples in a series of events of intim­i­da­tion of play­ers, poor work­ing con­di­tions and con­tract vio­la­tions that play­ers have faced in recent years.
"There was a series of vio­la­tions of rights, con­tracts, and the play­ers were unpro­tect­ed in their work" Figueroa said. ​"The play­ers want sta­bil­i­ty and a guar­an­tees for their work."
The union grew out of the Soc­cer Play­ers Asso­ci­a­tion, which had been rep­re­sent­ing soc­cer play­ers since 2011. Yet the asso­ci­a­tion was unable to guar­an­tee the rights of players.
"[With the asso­ci­a­tion] we were unable to obtain our objec­tives," explained Figueroa. ​"We believed that form­ing a union would allow us the means to pro­tect the rights of the play­ers, the workers."
"The union allows the mem­bers to nego­ti­ate with the clubs, an asso­ci­a­tion does not," explained Luis Fuentes, the nation­al coor­di­na­tor for the AFL-CIO Sol­i­dar­i­ty Cen­ter in Guatemala. ​"They have been nego­ti­at­ing with the fed­er­a­tion and clubs for a min­i­mum reg­u­la­tion of the league."
The War on Unions
Union orga­niz­ing has his­tor­i­cal­ly proven to be a dan­ger­ous endeav­or in Guatemala. Since 2004, at least 81 union orga­niz­ers and mem­bers have been killed, includ­ing three in the last two months. As a result of the vio­lence, the Inter­na­tion­al Fed­er­a­tion of Trade Unions has declared Guatemala one of the top 10 most dan­ger­ous coun­tries for union mem­bers and union orga­niz­ing in 2017.
Com­pa­nies have tak­en steps to evade and lim­it union orga­niz­ing with­in their firms. These tac­tics are detailed in the SACA­PA doc­u­ment, which was pro­duced in Novem­ber 1996 for the Wack­en­hut de Guatemala S.A. secu­ri­ty com­pa­ny, now G4S security.
The SACA­PA doc­u­ments pro­vides rec­om­men­da­tions to derail­ing orga­niz­ing with­in firms, includ­ing ​"infus­ing fear and respect" at times of orga­niz­ing, as well as estab­lish­ing satel­lite firms that can be ​"dis­posed of" if ​"orga­nized."
As a result of these efforts, union mem­ber­ship has tak­en a major hit in the two decades since the end of Guatemala's inter­nal armed con­flict. In 1996, unions rep­re­sent­ed rough­ly 12 per­cent of work­ers, but this has fall­en to 1.2 per­cent today.
Club own­ers and league offi­cials have remained hos­tile to the union.
"The clubs have been resis­tance to changes," said Figueroa. ​"They have placed obsta­cles to orga­niz­ing. But we con­tin­ue to push for more inter­ac­tion between play­ers and the clubs in the improve­ment of conditions."
There was a brief peri­od in Guatemalan his­to­ry when union mem­ber­ship flour­ished in Guatemala fol­low­ing the Octo­ber 1944 rev­o­lu­tion. Laws that had barred labor unions were reformed and work­ers began to mobi­lize to form unions in indus­tries across the coun­try, includ­ing in the banana indus­try, which was owned by the U.S.-based com­pa­ny Unit­ed Fruit Company.
After the C.I.A.-backed coup d'état against the pro­gres­sive gov­ern­ment of Jacobo Arbenz in June 1954, the new régime of Gen­er­al Car­los Castil­lo Armas quick­ly banned unions and accused them of sup­port­ing com­mu­nism in the country.
Yet the actions of the soc­cer play­ers' union have proven that labor orga­niz­ing in the face of vio­lence still can occur in a coun­try that is overt­ly hos­tile to trade unions.
"It is a very valiant deci­sion that the soc­cer play­ers took," Fuentes told In These Times. ​"It is valiant because of the his­toric stig­ma, the attacks, and the his­toric repres­sion against unions in Guatemala."
Jeff Abbott
is an inde­pen­dent jour­nal­ist cur­rent­ly based out of Guatemala. He has cov­ered human rights, social moments, and issues relat­ed to edu­ca­tion, immi­gra­tion, and land in the Unit­ed States, Mex­i­co, and Guatemala. He has writ­ten for the North Amer­i­can Con­gress on Latin Amer­i­ca, Wagin​non​vi​o​lence​.org, and Upside​down​world​.org. Fol­low him on twit­ter @palabrasdeabajo