What You Need To Know About a Federal Gun Buyback
A brief guide to the gun control measure that's dividing the presidential candidates.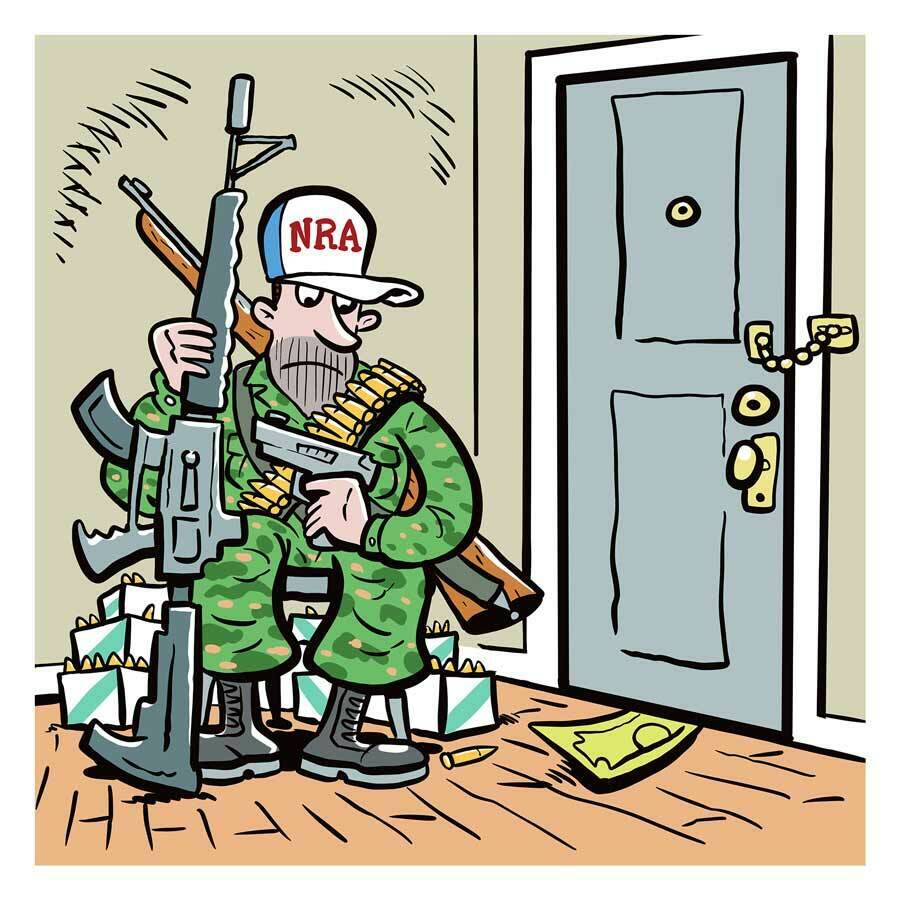 gun buy•backs
noun
1. Pro­grams that offer cash in exchange for guns
"We will NEV­ER turn in our AR-15s. We … fight to pro­tect our Sec­ond Amend­ment so we can effec­tive­ly defend our­selves, our com­mu­ni­ties, and our loved ones." —The NRA on Sep­tem­ber 18, oppos­ing Beto O'Rourke's buy­back plan
In oth­er words, ​
"

Hell yes we're going to take your AR-

15

s"?

Beto O'Rourke's break­out moment in the Sep­tem­ber Demo­c­ra­t­ic debate was a full-throat­ed defense of a ban on assault weapons and a manda­to­ry nation­al buy­back pro­gram to con­fis­cate them. His cam­paign is even sell­ing T‑shirts embla­zoned with this one-lin­er. Kamala Har­ris and Cory Book­er also sup­port manda­to­ry buy­backs, and Bernie Sanders, Joe Biden and oth­ers sup­port vol­un­tary buy­backs. Polls show a nation­al buy­back pro­gram gets around 45% sup­port among Amer­i­cans in gen­er­al, but 70% among Democrats.
I can't tell Beto and Buttigieg apart phys­i­cal­ly or ide­o­log­i­cal­ly, but I under­stand that they dis­agree on this?
While Beto has buck­led down on aggres­sive gun con­trol and curs­ing to revive his flail­ing cam­paign, May­or Pete con­tin­ues to make bland what-about-ism the cen­ter of his. Fol­low­ing the debate, Buttigieg said propos­ing a manda­to­ry buy­back would stoke Repub­li­can fears, pre­vent­ing bipar­ti­san sup­port. Because Repub­li­cans are usu­al­ly so good at compromise.
Do gun buy­backs work?
Ah, the impor­tant ques­tion! Stud­ies from the 1990s, when many cities imple­ment­ed buy­back pro­grams to cut crime, found they had lit­tle impact. Instead, they func­tioned more like pub­lic­i­ty stunts for local gov­ern­ments and police depart­ments. But a nation­al, manda­to­ry pro­gram would be new, and it's hard to pre­dict what kind of impact a more coor­di­nat­ed and con­cert­ed effort might have. Fol­low­ing a 1996 mass shoot­ing, Aus­tralia con­fis­cat­ed 650,000 guns; in the fol­low­ing sev­en years, the gun homi­cide rate fell by 42%. But of course, the U.S. has far more peo­ple and far, far more guns — not to men­tion sit­ting Repub­li­can politi­cians who are already vow­ing not to com­ply with any such program.
So what else can we do?
The U.S. doesn't have just one gun vio­lence cri­sis — it has at least four, with­out a one-size-fits-all solu­tion: mass shoot­ings; gun sui­cide; high shoot­ing rates in poor, urban neigh­bor­hoods; and gun vio­lence in inti­mate and fam­i­ly rela­tion­ships. With or with­out a buy­back, we must also repeal the broad immu­ni­ty cur­rent­ly enjoyed by gun man­u­fac­tur­ers, ade­quate­ly fund vio­lence pre­ven­tion pro­grams and men­tal health cen­ters, and gen­er­al­ly take a big-pic­ture approach.
This is part of ​"The Big Idea," a month­ly series offer­ing brief intro­duc­tions to pro­gres­sive the­o­ries, poli­cies, tools and strate­gies that can help us envi­sion a world beyond cap­i­tal­ism. For recent In These Times cov­er­age of gun con­trol, see, ​"While Democ­rats Call for Gun Con­trol at Home, They Push Dead­ly Arms Deals Abroad," ​"We Can Fight for Gun Con­trol With­out Lock­ing Peo­ple Up​" and ​"It's Nev­er Been About the Sec­ond Amend­ment. It's About Cor­po­rate Prof­its.​"