Thousands of Haitian Workers Are on Strike Against Foreign-Owned Sweatshops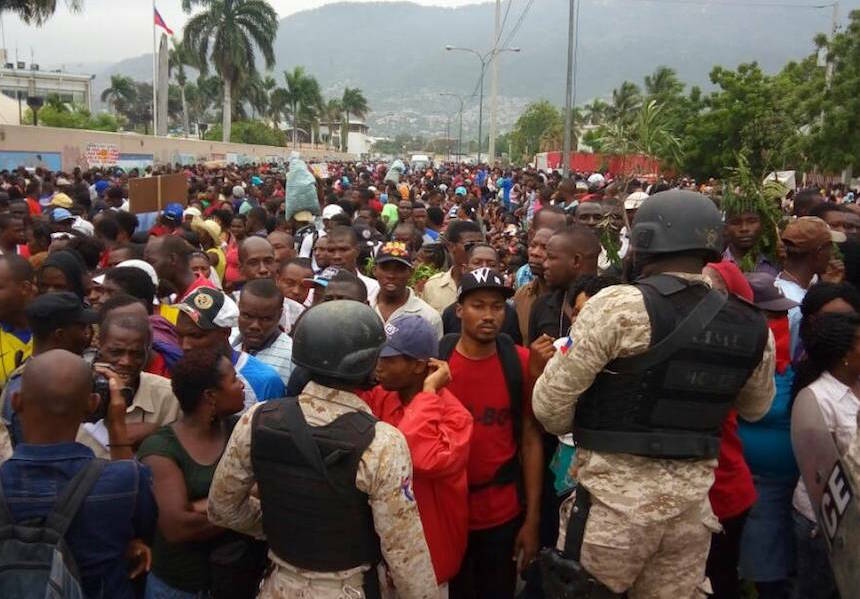 Thou­sands of tex­tile work­ers in Haiti have stopped work in fac­to­ries and tak­en to the streets to demand of improved work­ing con­di­tions in the country's maquilado­ra export indus­try. For more than three weeks, work­ers have mobi­lized to demand high­er wages, an eight-hour work­day and pro­tec­tions against increased quo­tas across the indus­tri­al cen­ters of Port-au-Prince, Car­refour, Ounaminthe and Caracol.
The strike fol­lows the annu­al com­mem­o­ra­tion of Inter­na­tion­al Work­ers' Day.
Cur­rent­ly, work­ers receive a dai­ly wage of rough­ly 300 gour­des, or about 4.77 U.S. dol­lars (USD), for a day's work. Strik­ers are demand­ing that the wage is raised to 800 gour­des, or 12.72 USD — and that the eight-hour day be respected.
Work­ers face poor labor con­di­tions in the country's assem­bly-line fac­to­ries, where they pro­duce tex­tiles for large U.S. com­pa­nies such as Levi Jeans and Fruit of the Loom. Fac­to­ry own­ers have long called for the use of vio­lence against work­ers' rights activists in Haiti and fired any­one known to asso­ciate with the unions.
The work­ers are sup­port­ed by a coali­tion of inde­pen­dent labor unions, SOTA-BO and PLA­SIT-BO, which rep­re­sent tex­tile work­ers. These unions are asso­ci­at­ed with the inde­pen­dent worker's move­ment, Batay Ouvriye, or Work­ers' Fight.
"We can­not work with dig­ni­ty for 300 gour­des per day," said Didi­er Dominique, the spokesman for Batay Ouvriye, in an inter­view over the phone. Dominique points out that it is impos­si­ble for a fam­i­ly to sur­vive on the low wages, in part due to the out of con­trol infla­tion in the Caribbean country.
"It's got­ten to the point where I can't take care of my son. I don't see any future in this," said Esper­an­cia Mer­nav­il, a tex­tile work­er asso­ci­at­ed with the Gost­tra union, told the Asso­ci­at­ed Press.
On May 19, strik­ers shut down dozens of fac­to­ries and tem­porar­i­ly blocked the road to the Tou­s­saint Lou­ver­ture Inter­na­tion­al air­port in Port-au-Prince as part of their actions. They then marched in the direc­tion of the Pres­i­den­tial Palace before they were met by riot police, who deployed tear gas against the workers.
The Asso­ci­a­tion of Indus­tries of Haiti has denounced the strike, stat­ing that the strikes are being led by iso­lat­ed ​"mil­i­tants and syn­di­cal­ists." They also levied accu­sa­tions against strik­ers stat­ing that they attacked the fac­to­ries, as well as their fel­low work­ers with­in, lead­ing to the tem­po­rary clo­sure of fac­to­ries on May 19.
The work­ers have main­tained their will­ing­ness to con­tin­ue the strike, but cracks in their mobi­liza­tion are begin­ning to show. Haiti's con­stant cri­sis of pover­ty makes it dif­fi­cult for the strike to main­tain momen­tum over the long run.
"After three weeks of protests, peo­ple are get­ting tired," said Dominique. ​"Fam­i­lies are begin­ning to have finan­cial issues."
But Batay Ouviye and the oth­er unions are already plan­ning their next actions in the event that the strike comes to an end.
The cur­rent strike con­tin­ues years of actions to demand an increase in wages and improved labor con­di­tions for tex­tile and fac­to­ry work­ers. The first min­i­mum wage was estab­lished in the 1980s, and it was raised again in 1995. Since then, the min­i­mum wage has not kept up with inflation.
"Every year it gets more and more dif­fi­cult to sur­vive," said Dominique. ​"The infla­tion takes more and more of the worker's mon­ey. There is no sta­bil­i­ty. Because of this the work­ers are demand­ing high­er wages."
In 2008, the Hait­ian par­lia­ment dis­cussed rais­ing the min­i­mum wage in order to keep up with infla­tion. But these efforts were derailed by pres­sure from the Unit­ed States, with the U.S. Embassy telling offi­cials that any efforts to raise the min­i­mum wage would hurt the econ­o­my and threat­en trade agreements.
Secret embassy cables exposed by Wik­ileaks in 2011 high­light the col­lu­sion between the Unit­ed States and busi­ness­es to keep the min­i­mum wage low. These rev­e­la­tions led The Nation Mag­a­zine and Haiti Lib­erte to con­clude, ​"U.S. Embassy in Haiti worked close­ly with fac­to­ry own­ers con­tract­ed by Levi's, Hanes, and Fruit of the Loom to aggres­sive­ly block a pal­try min­i­mum wage increase."
Despite the push­back from the Unit­ed States and com­pa­nies, the Hait­ian Par­lia­ment suc­cess­ful­ly raised the min­i­mum wage to rough­ly 5.11 U.S. dol­lars for an eight-hour work­day in 2014. Yet, this raise does lit­tle to assist fam­i­lies that teeter on the pover­ty line.
"The com­pa­nies take mil­lions of dol­lars from the coun­try, and we are left work­ing in poor con­di­tions for lit­tle mon­ey," said Dominique. ​"It is slav­ery all over again."
Jeff Abbott
is an inde­pen­dent jour­nal­ist cur­rent­ly based out of Guatemala. He has cov­ered human rights, social moments, and issues relat­ed to edu­ca­tion, immi­gra­tion, and land in the Unit­ed States, Mex­i­co, and Guatemala. He has writ­ten for the North Amer­i­can Con­gress on Latin Amer­i­ca, Wagin​non​vi​o​lence​.org, and Upside​down​world​.org. Fol­low him on twit­ter @palabrasdeabajo