Hard Times For Turkish Dissenters
Many tout Turkey as a model for "Arab democracy," but its human rights record raises troubling questions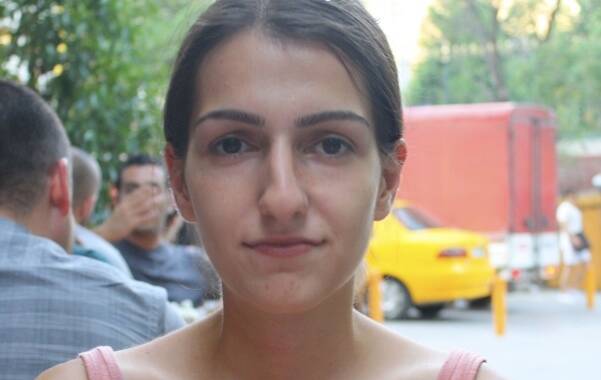 ISTAN­BUL — Sey­ma Ozcan is painful­ly thin and deeply worried.
Before prison, she was frail. But she couldn't eat in prison, because of the food, the crowd­ing and the men­tal tor­ture of the ques­tion­ing — unnerv­ing jolts for a 22-year-old thrown in with mur­der­ers and crim­i­nals along with dozens of uni­ver­si­ty stu­dents like herself.
She still can't eat nor­mal­ly, but she also can't seem to catch her breath. That anx­i­ety start­ed dur­ing her five months in a Turk­ish prison and it lingers as she awaits a court date.
​"I don't think about my future," she says, sit­ting uneasi­ly in a café here. ​"I got out of prison, but I don't have a nor­mal life."
Long bedev­iled by mil­i­tary coups, an intol­er­ance for dis­sent, upris­ings from the right and left and a wors­en­ing strug­gle with its large Kur­dish minor­i­ty and mil­i­tants, Turkey is trapped by its dis­re­gard for human rights.
It's a lega­cy that has put jour­nal­ists, stu­dents, union mem­bers and lawyers in prison for what human rights advo­cates say are broad­ly employed anti-ter­ror­ism laws that vio­late free­dom of expres­sion and fair tri­al rights. Most­ly this has meant a crack­down on those sup­port­ing Kur­dish issues, but it has spilled over onto oth­ers sup­port­ing left­ist issues and those involved in issues as basic as demon­strat­ing on behalf of free uni­ver­si­ty education.
More than 90 jour­nal­ists have been held in Turk­ish pris­ons for most of the last year, mak­ing Turkey the world's num­ber one jail­er of jour­nal­ists. Most of the jour­nal­ists come from the Kur­dish news media, but a small num­ber work for main­stream and left­ist news outlets.
A stu­dent sup­port group counts more 770 stu­dents in prison and the Turk­ish Jus­tice Min­istry in August said 609 stu­dents were in prison for belong­ing to an ​"armed ter­ror­ist" group and anoth­er 178 face the same charges but were not in custody.
Even defend­ing some­one fac­ing ter­ror-relat­ed charges has become a dan­ger. Lawyers for per­sons in cas­es linked to ter­ror­ism have been detained, charged and pros­e­cut­ed, accord­ing to a May report for the Human Rights Coun­cil of the Unit­ed Nations' Gen­er­al Assembly.
​"This regret­tably seems to be increas­ing­ly the case in Turkey," it added.
With Turkey posi­tion­ing itself for a greater voice in the region and oth­ers view­ing it as a mod­el for the Arab nations first embrac­ing democ­ra­cy, its human rights record rais­es questions.
​"A nation that doesn't tol­er­ate dis­sent­ing voic­es can­not be a mod­el for this region, a region where there are so many prob­lems with minor­i­ty rights," says Emma Sin­clair-Webb, the Turkey researcher at Human Rights Watch.
​"It is a very seri­ous sit­u­a­tion," says Rob Mahoney, exec­u­tive direc­tor of the Com­mit­tee to Project Jour­nal­ists. ​"You have a whole array of laws that can be used or mis­used to silence jour­nal­ists and intim­i­date a free press. We've seen waves of arrests of jour­nal­ists, par­tic­u­lar­ly Kur­dish jour­nal­ists, which is unac­cept­able in a democracy."
When the rul­ing AK Par­ty (Jus­tice and Devel­op­ment) came to pow­er in 2002, it vowed to undo many of the legal knots Turks have lived under since the nation's found­ing. And, ini­tial­ly, they lived up to their promise.
But the right-lean­ing, reli­gious­ly con­ser­v­a­tive party's appetite for such change has appar­ent­ly slowed in recent years. Some of it may be blamed on its deep­en­ing and bloody entan­gle­ment with Kur­dish mil­i­tants; some on its pre­oc­cu­pa­tion with sweep­ing away the old mil­i­tary elite and its allies who watched over Turkey for decades; some on the inabil­i­ty to root out old ways in its courts and police; and some on its dis­in­cli­na­tion to give up the pow­er it inherited.
How seri­ous is the problem?
The Euro­pean Court of Human Rights offers a good mea­sure of the sit­u­a­tion. The court's records show that Turkey account­ed for the great­est num­ber of its judg­ments among its 47 mem­ber nations in deal­ing with free­dom of expres­sion vio­la­tions since 1959: 43 per­cent of all cas­es. Turkey also led in the num­ber of judg­ments involv­ing the right to a fair tri­al and pro­tect­ing one's right to lib­er­ty and secu­ri­ty, the records indicate.
Such a record mat­ters as the Euro­pean Union decides whether to admit Turkey to it ranks.
An exten­sive exam­i­na­tion of Turkey's human rights sit­u­a­tion issued in Jan­u­ary by the Com­mis­sion­er for Human Rights of the Coun­cil of Europe didn't help. Turkey received praise for its progress but also blis­ter­ing crit­i­cism for ongo­ing problems.
One of the nation's biggest prob­lems, the report said, has been the prac­tice of judges and pros­e­cu­tors to give ​"prece­dence to the pro­tec­tion of the state over the pro­tec­tion of human rights."
The report also point­ed to exces­sive­ly long tri­als and cas­es last­ing ​"for more than 10 or even 15 years." It ques­tioned pros­e­cu­tors' ​"long-estab­lished" prac­tice of arrest­ing per­sons before col­lect­ing need­ed evi­dence against them. It wor­ried about of the ​"inef­fec­tive­ness" of legal pro­ceed­ings against secu­ri­ty forces charged with seri­ous human rights vio­la­tions. And it chal­lenged the pros­e­cu­tion of per­sons for non-vio­lent state­ments match­ing those of ter­ror groups.
Turk­ish offi­cials wel­comed the report's praise for their progress, but blunt­ly replied that it was not bal­anced, had relied on uncon­firmed infor­ma­tion, and they chal­lenged a num­ber of the findings.
Basak Cali, a senior lec­tur­er in human rights and inter­na­tion­al law at Uni­ver­si­ty Col­lege Lon­don, agrees that Turkey has made advances. ​"But," she adds, ​"there are still many sig­nif­i­cant prob­lems." And in some cas­es, the sit­u­a­tion is ​"sig­nif­i­cant­ly worse," she says, point­ing to a record num­ber of per­sons, among them jour­nal­ists and stu­dents, in pre­tri­al detention.
Turk­ish offi­cials staunch­ly insist, how­ev­er, that they are mak­ing progress.
They point to a recent­ly enact­ed judi­cial reform, which they say will ulti­mate­ly release about 10,000 per­sons now in prison, but not con­vict­ed of crimes. They say that up to 3,200 per­sons now serv­ing time should also be released as part of the reform.
Look­ing ahead, they say the gov­ern­ment will bring up anoth­er round of reforms to Par­lia­ment in the fall. One pro­posed change would pro­tect those who speak out on con­tro­ver­sial issues, but are not linked by any evi­dence to vio­lence or a vio­lent orga­ni­za­tion. Human rights advo­cates say this is a com­mon rea­son cur­rent­ly for many arrests.
​"Turkey is mak­ing an effort to right­ly bal­ance between the need to expand the free­dom of speech and pre­vent­ing the prais­ing of vio­lence and ter­ror­ist pro­pa­gan­da," said a Min­istry of For­eign Affairs offi­cial, who asked not to be named, in an email.
But human rights advo­cates and oth­ers are skeptical.
​"We've talked to the gov­ern­ment about human rights for years and I'm quite dispir­it­ed," says Sin­clair-Webb of Human Rights Watch.
The government's inten­tions aren't clear either to one of Seyma's instruc­tors at Bogazi­ci Uni­ver­si­ty in Istan­bul, one of Turkey's elite state-run uni­ver­si­ties. It trou­bled him that her only mis­deed, as far as he can tell, is belong­ing to a left­ist stu­dent group and apply­ing for an intern­ship with a Kur­dish news out­let. When arrest­ed in Decem­ber 2011, she was charged with mem­ber­ship in the out­lawed Rev­o­lu­tion­ary Head­quar­ters group, accord­ing to news report.
Awak­ened to the prob­lem of arrest­ed stu­dents, he shared his con­cerns about Sey­ma with oth­er fac­ul­ty and has kept up to date on her sit­u­a­tion. But he's been cau­tious about becom­ing too pub­lic with his con­cerns for fear that it could hurt him with officials.
​"What we call aca­d­e­m­ic free­dom is def­i­nite­ly not what it was a few years ago," he says, adding that his name couldn't be used in this article.
Ali Kerem Saysal, anoth­er pro­fes­sor at the uni­ver­si­ty, has no qualms, how­ev­er, about speak­ing up about arrest­ed stu­dents. He is one of the founders of a new group called Don't Touch My Stu­dents. It only has about 10 mem­bers, he says, but it has drawn large num­bers to its gatherings.
A con­tro­ver­sial 11-year prison term this Spring for one stu­dent at Galatasaray Uni­ver­si­ty in Istan­bul on what many con­sid­ered skimpy evi­dence jolt­ed per­sons like him­self to speak out. He wish­es more fac­ul­ty would take part, but that hasn't been the case.
​"I don't act out of opti­mism. Rather, what we have to do is quite clear," he says emphat­i­cal­ly. ​"And maybe there will be a change," he adds almost as an afterthought.
When a dozen police stormed the apart­ment where Sey­ma was liv­ing with her boyfriend ear­ly one morn­ing last Decem­ber, she was stunned. After they were told about the charges sev­er­al hours lat­er, the two denied belong­ing to the orga­ni­za­tion, she says.
For the next four days she was ques­tioned by secu­ri­ty offi­cials two or three times a day and some­times at night, and each time, she says she repeat­ed her dis­avow­al of vio­lence. She didn't see a lawyer for the first two days.
Dur­ing the inter­ro­ga­tions, she was asked why she had attend­ed protest meet­ings and why she had called the Kur­dish news­pa­per for a job, she says.
She was sent off to a women's prison and cell where there were 25 beds for 30 women and where hot water flowed only three days of the week. While in prison she mar­ried her boyfriend. They hadn't planned on that, but it was the only way she could see him, she explains. He was released in August pend­ing their trial.
What will hap­pen next?
​"In Turkey," she says, ​"you don't know when you will go to court or what the court will do or what the pros­e­cu­tors will do."
The Pulitzer Cen­ter on Cri­sis Report­ing sup­port­ed this report­ing effort.
Stephen Franklin is a for­mer labor and work­place reporter for the Chica­go Tri­bune, was until recent­ly the eth­nic media project direc­tor with Pub­lic Nar­ra­tive in Chica­go. He is the author of Three Strikes: Labor's Heart­land Loss­es and What They Mean for Work­ing Amer­i­cans (2002), and has report­ed through­out the Unit­ed States and the Mid­dle East.